Starting an Amazon Affiliate website, or growing a existing one, can be a daunting task. Almost all of us are using WordPress to power our sites, but your choice of theme will make a huge difference when it comes to how your pages look and perform.
With literally thousands of WordPress themes out there, how do you pick the right one for an Amazon affiliate site?
Using my own experience running successful Amazon affiliate sites, and the independent research I've done on top-ranking affiliate sites in a wide range of niches, I've collected together a list of field-tested theme recommendations for affiliates to help you choose the right one for your needs.
This is not your usual boring theme listicle post: I've included 3 themes for you to choose from in this list because a) lists of 100+ themes are pointless and don't help you make an informed decision, and b) there really are only a couple of really great WordPress themes out there. There are free and paid themes in the list, so go with whatever your budget can handle.
I'll even show you some examples of real affiliate sites so you can see the themes in action on live, income-generating Amazon affiliate sites.
Let's get straight into it.
Quick Answer: The 3 Best Amazon Affiliate Themes Compared
| | Price | Speed | Support |
| --- | --- | --- | --- |
| GeneratePress | Free or $59 for 1 year of updates, $249 lifetime | Very fast | Very good |
| Carbonate | $79 lifetime, unlimited sites | Very fast | None |
| Astra | Free or $59 unlimited sites, 1 year of updates | Fast | Very good |
What you need from a WordPress theme
Here are the features you'll need from a theme if you want to have the advantage over the competition with your Amazon affiliate niche site:
Fast-loading
Easy to setup and use
Responsive and mobile-first
As an Amazon affiliate, website speed is very important and can help you outrank the competition on search engines.
Amazon affiliate sites don't need to be complicated. Aside from pulling Amazon product data (which is best done via a plugin like AmaLinks Pro), your site doesn't need to be anything other than simple, fast-loading and mobile-friendly.
What to avoid when choosing an Amazon affiliate theme
Avoid themes with "Amazon" in the name
Avoid anything sold on Themeforest
If you're a beginner, start with a free theme
You don't need a 'specialist' Amazon theme (aka a theme that puts Amazon right in the name). In my experience, these themes tend to be well-marketed and poorly coded. And there's a reason you'll never see any top-earning affiliate sites using them. If you need specialist Amazon functionality (e.g. integrating with Amazon's API to pull product images or prices), then you can use a specialist Amazon affiliate plugin, like my favorite, AmaLinks Pro (review and walkthrough here).
WordPress themes on Themeforest can also be problematic: they are often bloated, slow-loading and packed with features and options you will never need. In my test of the fastest WordPress themes, some of Themeforest's offering scored very poorly on page load speed tests.
If you're new to Amazon affiliate marketing or niche site building, start with a free theme. You can always grow into a premium or custom theme are your income starts to roll in. There's no need to spend money to have a good, functioning WordPress theme.
Top 3 Amazon Affiliate WordPress Themes in 2021
1. GeneratePress
GeneratePress is hand's down the best WordPress theme for Amazon affiliate websites. I use it on this very website and almost all of my Amazon affiliate sites. Here's why:
GeneratePress is lightning fast
GeneratePress is available for free, or Premium for $49.95 on unlimited sites
GeneratePress Premium comes with a site library so you can import a pre-designed layout
GeneratePress has an awesome support forum, documentation and frequent updates
Already got an Amazon affiliate site? Here's how to change your WordPress theme to GeneratePress.
How fast is GeneratePress?
GeneratePress is one of the fastest WordPress themes you can get. It came top in our fastest WordPress themes test.
Here's how fast my post on the best Amazon affiliate plugins loads using GeneratePress:
That's a Google PageSpeed Insights score of 93/100 on mobile and 99/100 on desktop. I only use cheap $10/month cloud hosting from Cloudways and some additional plugins to speed up WordPress, like WP Rocket and perfmatters.
Amazon affiliate websites that use GeneratePress
In addition to this site, here are some really successful Amazon affiliate sites that make great use of GeneratePress.
MyFriendsCoffee.com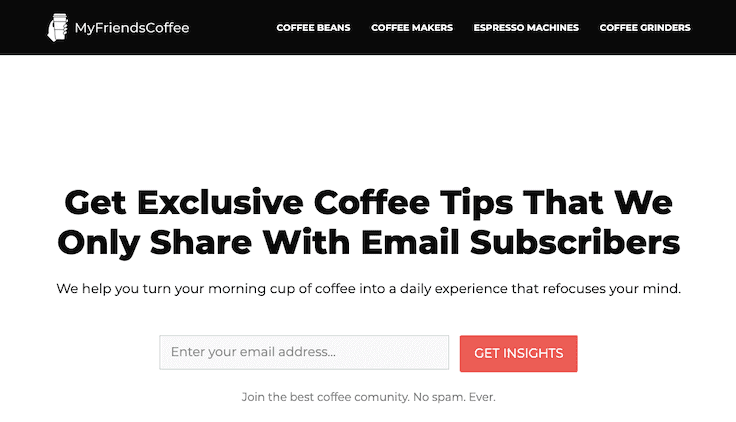 MyFriendsCoffee.com is a coffee niche site that reviews coffee beans, makers, grinders and machines. While it does diversify, most of the affiliate links on MyFriendsCoffee.com go over to Amazon.com.
According to SpyFu, MyFriendsCoffee.com gets an estimated 241,000 monthly organic clicks and ranks for almost 3,000 keywords. Not bad for a site with less than 70 posts.
The affiliate niche site makes good use of the GeneratePress Premium theme, and has a very clean, simple layout.
You can see how simple the site is, yet it's very effective. There's a clear FTC-friendly Amazon affiliate disclaimer at the top of posts. The navigation menu is simple and provides links to the site's top content. There are lists of top products at the start of posts (you can do this with a little custom CSS), The site is optimized with a mobile-first design and is responsive on desktop and mobile.
TheGeekyCyclist.com
TheGeekyCyclist.com is a very successful affiliate site in the cycling niche that uses the GeneratePress Premium theme. The site uses simple navigation to silo different categories, a no sidebar layout that's optimized for mobile and desktop and a very clean, basic design. They don't even bother with a logo (top tip: you don't need one!).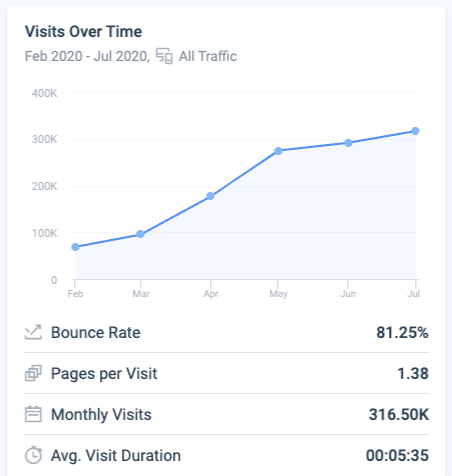 When I first covered the site in my post on small successful affiliate sites, TheGeekyCyclist.com was getting 100,000 pageviews after 9 months. Now, 2 years since it was launched, it's getting over 3x that figure, with over 316,000 monthly pageviews. Needless to say, the site will be generating some serious 5-figure income each month.
In addition to Amazon, TheGeekyCyclist.com makes money from other affiliate programs and uses Mediavine to monetize display ads on the site (see more about how you can diversity your Amazon site).
TheGeekyCyclist.com is proof that, with a simple, fast WordPress theme like GeneratePress, you can build an incredibly successful affiliate website without any specialist design or coding skills. Simply focus on your content.
Here are some more examples of GeneratePress in action, on affiliate and other sites.
What's the difference between GeneratePress free and GeneratePress Premium?
As a free theme, GeneratePress is great, but you'll be unable to modify a lot of the layout and style options without CSS knowledge. With GeneratePress Premium, you get access to a bunch of easy-to-use modules that let you customize your site without coding knowledge.
Only GeneratePress Premium users can use the site library and import ready-made demo content – ideal if you're starting a new affiliate site and don't want to spend time on the design.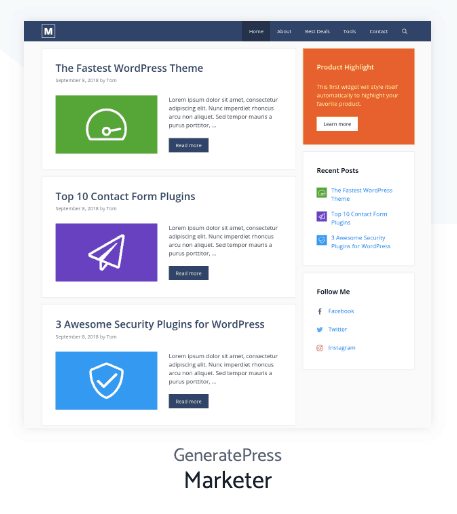 I recommend the Marketer demo site, which is designed specifically for affiliate marketers.
Top affiliate marketers who recommend GeneratePress
I'm not the only affiliate marketer that's raving about GeneratePress. Here are a couple of other recommendations from successful affiliates:
My new thing is GeneratePress because it's easy… I can re-theme a website in half an hour…. They have a bunch of pre-built stuff so if you're not a coder… it's very visual, very easy to customize.

– Melissa, affiliate marketer earning $300+/month, The Doug Show Podcast, Episode 169
A couple of years ago I decided to give GeneratePress a try… it's by far the best WordPress theme I've found in 10 years. I was blown away and have moved all my sites to GeneratePress.

– Brian Jackson, WordPress developer and founder of NoGluten.com, PennyBros.com and Woorkup.com (source)
Ok, to be honest, I don't know why you're still reading this article, because, frankly, you cannot go wrong with GeneratePress (go test it out already!). However, if you're curious to see what else is out there, I've got 2 other themes for you to look at.
2. Carbonate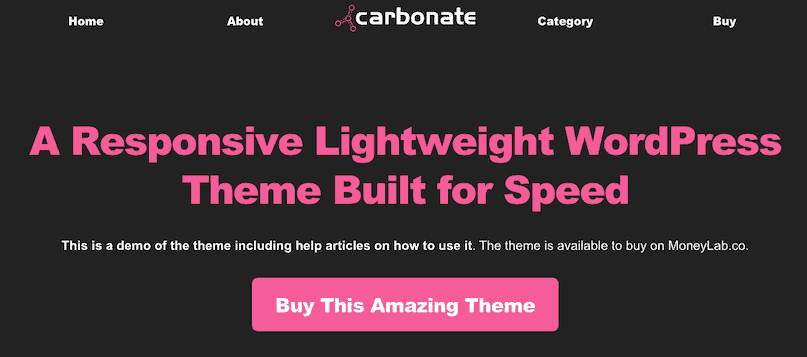 Carbonate is a fast, lightweight WordPress theme, created by affiliate marketer Matt Giovanisci.
Here's what's good about the Carbonate theme for affiliates:
Unfortunately, there are also a couple of downsides:
If you want to make modifications to the Carbonate theme, you'll need to do some CSS coding yourself
There's no customer support, and only a basic setup guide provided
Carbonate was launched in November 2019. Back in 2018, I reached out to Matt to see if he would build a theme as his own affiliate sites, like SwimUniversity.com, were looking sharp:
How fast is Carbonate?
Matt claims that Carbonate was built for speed, and the theme files themselves are less than 50kb, so it's definitely lightweight.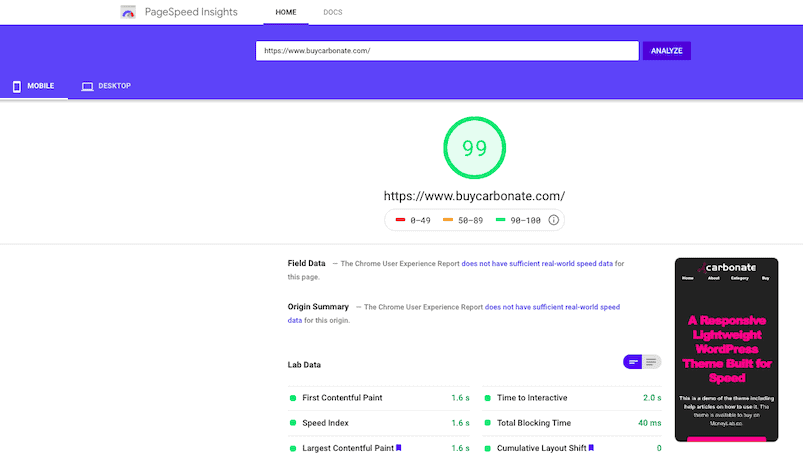 The theme demo site, BuyCarbonate.com, scores an excellent 99/100 on mobile and desktop on Google's PageSpeed Insights test. However, it's important to note that the site is very basic and does not contain any of the plugins, scripts or images that a standard WordPress site might.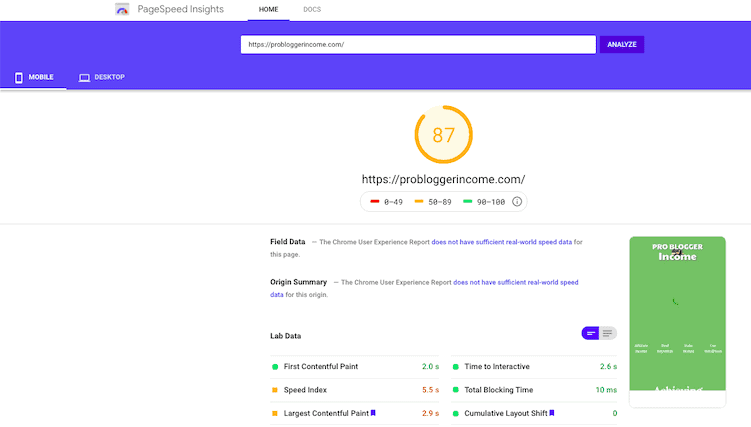 In the 'real world', your results may differ. For example, an affiliate site that uses Carbonate, ProBloggerIncome.com, scored a much lower 87/100 on mobile and 98/100 on desktop. This is still much faster than your average WordPress site, especially if they've not done any additional optimizations.

Amazon affiliate websites that use Carbonate
Carbonate has a much smaller userbase than GeneratePress, but the best examples of Carbonate in action are on Matt's own affiliate sites.
SwimUniversity.com
I love the design of SwimUniversity.com, it has a mobile-first, content-first layout that keeps visitors focused on posts. Bear in mind that if you want to get the Carbonate theme looking as good s some of Matt's sites, you will need to do some CSS modifications.
Matt's provided basic instructions for Carbonate on how to customize colors and fonts, create category pages and add author boxes, which should be enough for most Amazon affiliate sites.
Recommendations for Carbonate
As I've said before, Carbonate is a relatively new theme, with a very specialized target market (affiliate marketers!), so there aren't many users just yet. However, it's starting to gain traction with affiliate site builders, and one member of SEO forum BlackHatWorld sums up the theme perfectly:
I use the Carbonate theme from MoneyLab. It's superfast but you need to know a little about HTML since the theme doesn't have any support.
3. Astra
Astra is a popular free WordPress theme (with a $59 premium option), used on over 1 million WordPress sites.
The Astra theme is a reliable choice for Amazon affiliates for a couple of key reasons:
Astra is available for free
Astra is used on many sites, so there's a lot of support and tutorials
Astra is fast-loading
How fast is Astra?
I included the free version of Astra in my test to find the fastest WordPress themes, and it scored very highly on desktop
See this section on "how fast is Astra?" for more details.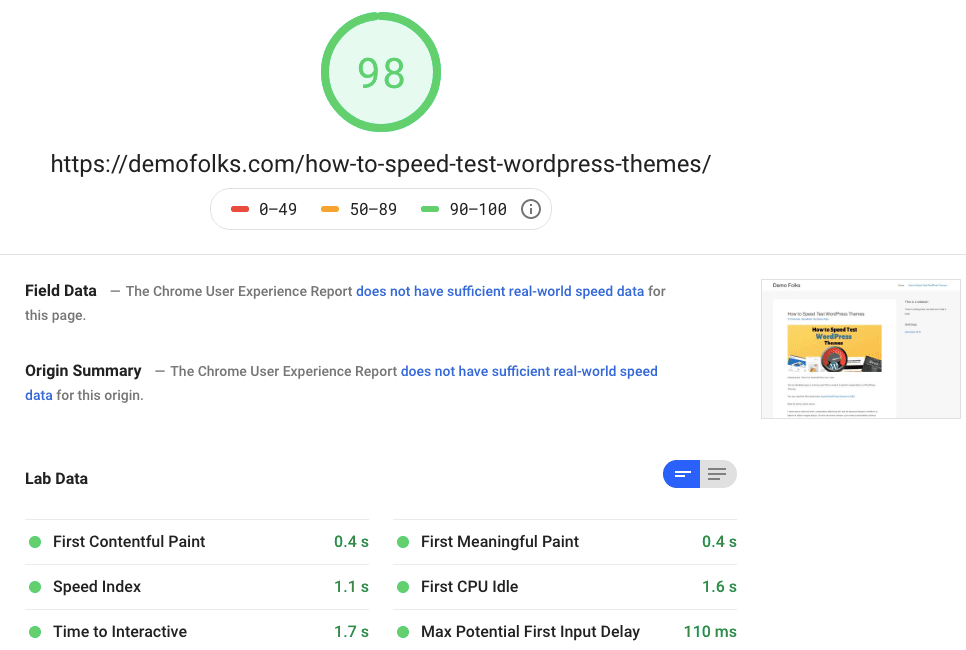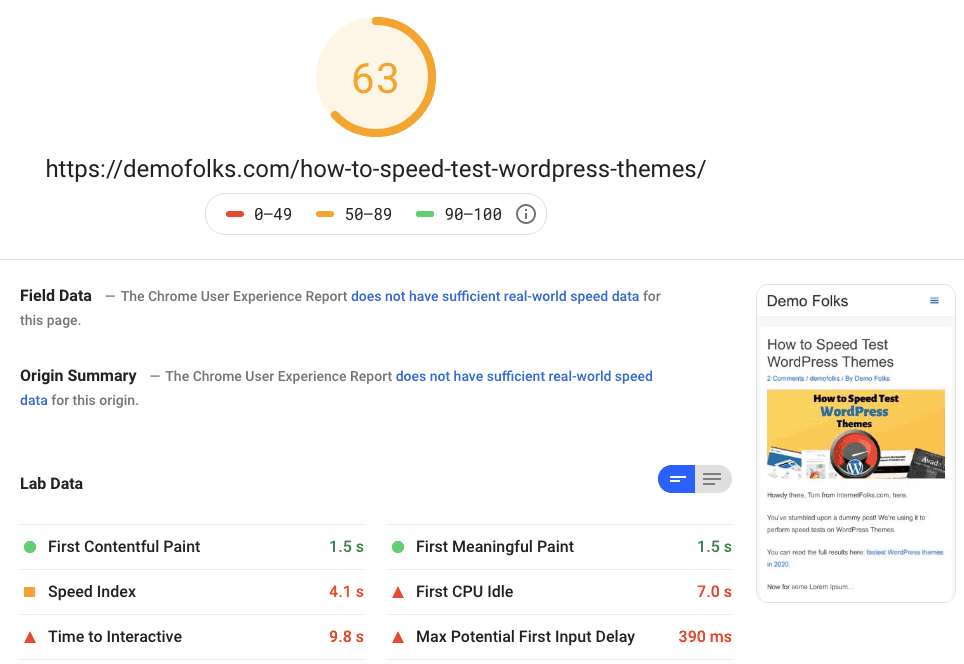 My test site using Astra (free) scored 98/100 on desktop but only 63/100 on mobile on Google's PageSpeed Insights speed test. The page load times weren't quite as fast as GeneratePress in our experiment, but it's by no means slow.
In her comparison of GeneratePress Premium and Astra Pro, affiliate marketer Shawna Newman found that simply switching from Astra to GeneratePress took her site from loading in 2.2 seconds down to 0.7 seconds.
Amazon affiliate websites that use Astra
ActiveWeekender.com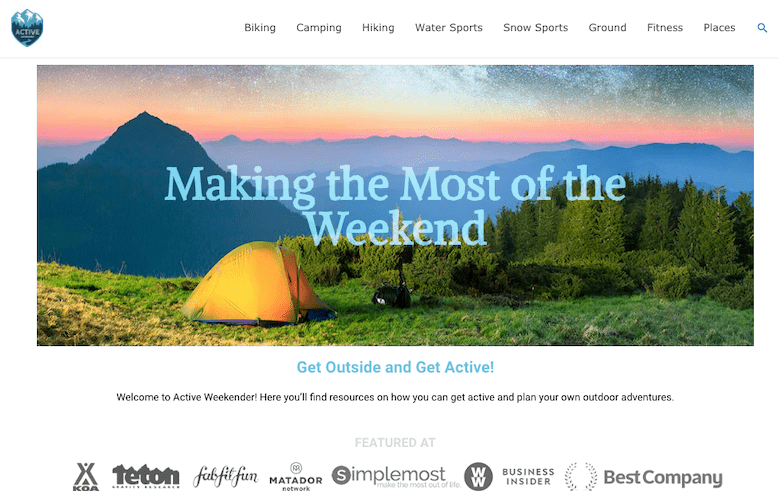 ActiveWeekender.com is a successful Amazon affiliate site in the outdoor niche. In addition to Amazon, ActiveWeekender.com also makes great use of other niche affiliate programs, like REI, and display advertising from Mediavine.
What's the difference between Astra free and Astra Pro?
The main difference between Astra's free version and Astra Pro is the addition of customization options. Astra Pro users can modify site layouts, typography, colors, add more header and footer widgets, use mega menus, integrate with WooCommerce and even white label the theme (useful if you're selling it to clients).
Astra basically works in the same way as GeneratePress – the premium version simply unlocks easy-to-use customization options.
Top affiliate marketers who recommend Astra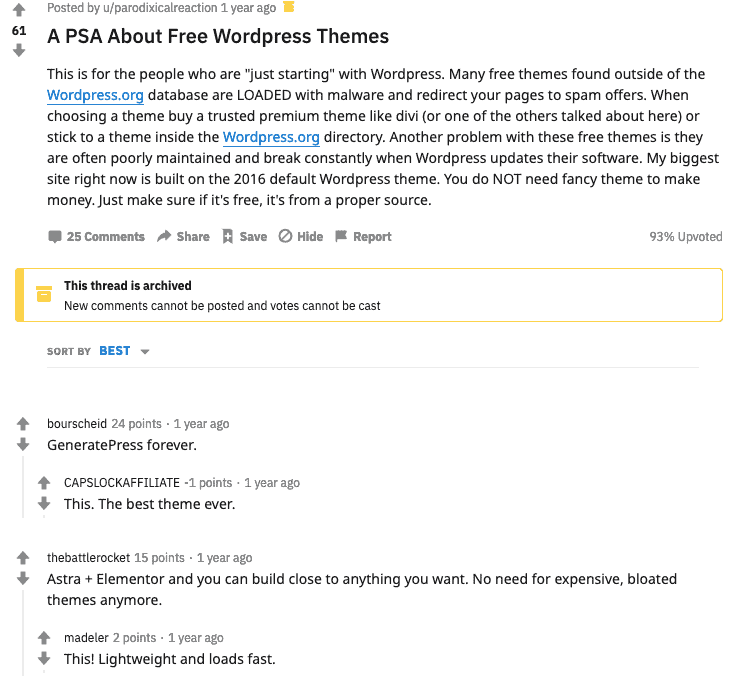 In a post on the affiliate marketing subreddit JustStart about why (some) free WordPress themes can be bad for your website, contributors brought up GeneratePress and Astra as good free options:
Astra + Elementor and you can build close to anything you want. No need for expensive, bloated themes anymore.

– thebattlerocket, via Reddit
If you're interested in using a page builder to design content on your Amazon affiliate site, take a look at my comparison of Elementor and Thrive Architect.
Final Thoughts
I've made an effort to keep your choice simple in this post by only discussing the top 3 themes that you could use. Ultimately, you just need to dive in and pick one. You will probably end up switching themes at some point in the future anyway. And it's a lot better to spend your precious time and effort creating content and ranking in Google than picking a theme.
Don't waste your energy trying to build a pixel-perfect website: pick a theme, even if it's free, give it a name (no need for a logo even!) and focus on what really matters.
Amazon Affiliate WordPress Theme FAQs
What is the best WordPress theme for an Amazon affiliate or niche website?
In my experience as an affiliate marketer, GeneratePress Premium is the best WordPress theme for an Amazon affiliate or niche site. It's affordable, easy to customize and loads quickly.
Is page speed important for Amazon affiliate sites?
Yes, having a fast-loading website can help you rank higher on search engines like Google, and stop visitors from leaving your website for competitors, helping funnel clicks through to Amazon.
As an Amazon Associate myself, I know that SEO is the primary way that we drive traffic to our websites, because it's affordable and scales even when affiliate commissions are low.
Can I add other income streams to my Amazon affiliate site?
As many of us know, relying solely on Amazon for affiliate income is not a sensible strategy. Starting off with Amazon is fine, but you'll make more money and diversify risk of you expand to include other affiliate programs and display advertising. See this article on Amazon affiliate alternatives for ideas.
Do I need a premium WordPress theme for my Amazon affiliate website?
No, you do not need to use a premium or paid theme to create a successful Amazon affiliate site. The free version of GeneratePress and the free version of Astra are both great themes for affiliates to get started with.
Amazon Affiliate Resources
If you're just starting out, you may find my guide on how to start an Amazon affiliate site useful. I've also written about the best Amazon affiliate plugins for WordPress, and recommend AmaLinks Pro as it works for those both with and without Amazon API access.