Amazon Associates is one of the most popular affiliate programs in the world. In 2022, 33% of all websites with affiliate links promote Amazon. Couple that with the knowledge that over 30 million websites use WordPress as their CMS, and there are a whole lot of people interested in using an Amazon affiliate WordPress plugin.
There are several popular and not so popular plugins out there to help WordPress users display Amazon products and increase affiliate clicks. In this post, we run down the top free and paid Amazon plugins, their pros and cons, alongside real examples of the plugins in action and tips we've learned from our own experience with the Amazon Associates program.
Let's get to it.
What is an Amazon Affiliate plugin?
An amazon affiliate plugin is a tool designed to create Amazon affiliate links, comparison tables and import product images, the latest prices and product ratings into WordPress.
Do I need an Amazon Associates plugin?
Nobody needs an Amazon plugin in order to join and earn affiliate commission from the Amazon Associates program. You can simply add an affiliate link directly into your blog posts.
For example, here's an Amazon affiliate link to a 7″ Fire Tablet. You simply need to append any Amazon link with your unique affiliate tag, like so:
https://www.amazon.com/dp/B07FKR6KXF/?tag=internetfolks-20
It's as simple as that.
But if you want to show more information to your site visitors, like the review score, price or product image, you cannot simply add them to your site.
To comply with Amazon Associate terms (also known as the program policy), you need to pull dynamic content using an API request, and that's where plugins come in handy:
Amazon Affiliate plugins can automatically pull product images, review scores and prices and keep them updated. What's more, most plugins can also help you build attractive product comparison and feature tables, making it easy for users to pick the right product for them.
Seeing the easy-to-scan tables with latest product ratings and prices can help increase click-through rate (CTR) and earn you more commissions.
In short, the two main benefits of Amazon Associate plugins are:
Automatically pull updated product prices and images from Amazon
Display products in feature boxes and comparison charts
If you only want to use text links to Amazon, then you don't need a plugin. If you want to dynamically display product data and tables, you can use an affiliate plugin.
Don't forget that you can also create dynamic product links and boxes straight from your Amazon Associates Central dashboard  by going to Dashboard > Product Linking.
I recommend using the Native Shopping Ads feature to create a Custom Ad with price and ratings like this:
You can also create image links and a number of other widgets. Yes, it takes longer than using a plugin, but it's free and guaranteed to be 100% compliant with Amazon's terms.

Note: Amazon's ad widgets will get blocked by AdBlock and other advertising-blocking scripts, like Brave's browser, whereas affiliate plugins can go under the radar.
I've added a custom Amazon add above, which you'll only see if you're not using an adblocker!
How to use WordPress Amazon Affiliate plugins
The key thing to understand is that most Amazon plugins for WordPress require you to generate a Product Advertising API key directly from your Amazon Associates account.
You will need an active Amazon Associates account to have API access. The good news is that anyone can apply to become an Amazon affiliate, even if your website is new. The bad news is that you must generate at least 3 affiliate sales in 180 days (6 months) to get API access.
There a few affiliate plugins that work without using an API, but their functionality will be limited. We'll let you know which plugins require API setup in the list below.
An important note about Amazon's API and displaying star ratings
Amazon's affiliate program policy clearly states:
You will not display or otherwise use any of our customer reviews or star ratings, in part or in whole, on your Site unless you have obtained a link to that customer review or star rating through PA API
Most Amazon affiliate plugins pull data using the Product Advertising API. As of the beginning of November 2019, Amazon rolled out API 5, which does not pull review data. API 4 was only honored until March 9th 2020, but now it's not possible for any plugin to pull review data using Amazon's API.
Some plugins have developed creative work-arounds to display review data despite Amazon's API change.
AAWP admits they pull star ratings and reviews by manually scraping Amazon:
Unfortunately Amazon doesn't provide [review] data via their API. That's why the plugin has to scrape the rating and reviews out of the relevant product pages on Amazon.
While it's a nice feature to have on your affiliate site, using scraped review data is clearly against Amazon's terms, putting your website at risk of getting banned.
If you choose an Amazon affiliate plugin that uses scraped review data (like AAWP), I recommend not using the ratings element to remain compliant.
If you still want to show Amazon reviews on your WordPress website, you'll need to use Amazon's built-in custom ad builder, to create a custom ad like this:

Top Amazon Associate Plugins 2021
Price: $67 for 1 site, 1 year of updates
Amazon API access required? No, but can be added for extra functionality
What is AmaLinks Pro?
AmaLinks Pro is an Amazon Affilite plugin for WordPress, created by affiliate marketer Matthew Allen, from DumbPassiveIncome (see what he did there?!) and the mysterious "AlchemyCoder", who created the now-defunct Amazon plugin AzonTables. It's different to most of the other similar plugins out there, because it will work with or without Amazon API access.
Of course, non-API content will be limited (you can't pull prices), but you can still create attractive buttons, links and comparison tables, and even pull images via Site Stripe (if you're logged into an Amazon Associates account).
With API access, AmaLinks Pro is a very powerful Amazon Affiliate plugin that rivals the more popular AAWP for functionality, and you can create dynamic text links, buttons, product boxes and comparison tables.
It's used by some big names in affiliate marketing, like Spencer Haws from Niche Pursuits, who still uses AmaLinks Pro, even though he created one of its competitors (see Table Labs review below).

How to use AmaLinks Pro
AmaLinks Pro has the most impressive interface of any of the affiliate plugins I've reviewed.
Click the AmaLinks Pro button from the Add New Post dashboard (in Gutenberg or Classic Editor) to enter setup.
There's an easy-to-use Table Editor, which allows you to create comparison tables or product lists. It's responsive, mobile-friendly and easy to build with a drag-and-drop WYSIWYG editor. This is miles easier to use that the clunky editors in all the other Amazon link plugins I've tested.
My favorite feature of AmaLinks Pro is something they call the "showcase box". It's a great-looking product box that pulls product highlights directly from Amazon, like this: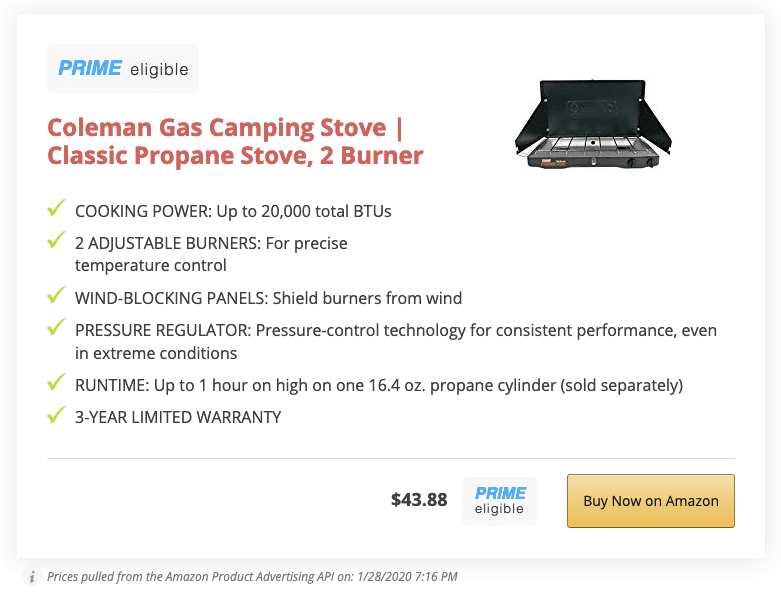 Visually, AmaLinks Pro is the sleekest, with the most intuitive dashboard and front-end design. You can see how elements will look while you're creating them (WYSIWYG), and customize colors, button text etc.
The only feature that I'd love to see in a future iteration is an affiliate disclaimer option, perhaps when people hover over links or on elements, which would help us all stay ahead of FTC rules on affiliate disclosure.
Pros:
✅ Works with or without API access
✅ WYSIWYG editor
✅ Customizable text and colors
✅ Responsive tables
✅ Multiple element options (boxes, buttons, text links, tables)
✅ WordPress shortcodes
✅ Works with Elementor and Thrive Architect
✅ Excellent documentation
Cons:
❌ More expensive than other plugins
❌ No analytics
❌ No review scores (due to following Amazon terms, which is a good thing!)
Is AmaLinks Pro worth it?
If you don't have access to Amazon's API as a new or small-volume affiliate, then AmaLinks Pro is the best plugin to use. But that's not the only reason to use it. For me, AmaLinks Pro is the best Amazon affiliate plugin out there, thanks to it's intuitive dashboard and excellent range of features. Yes, it's the most expensive, and lacks analytics, but I rate it top for functionality: it's the quickest to use and produce CTR-friendly elements
Sidenote: It's so good, I actually switched over to AmaLinks Pro from AAWP while putting together this review! – read my detailed AmaLinks Pro review for more info.
Price: €39 (around $43) for 1 site, 1 year of updates
Amazon API access required? Yes
What is AAWP?
AAWP (simply meaning "Amazon Affiliate WordPress Plugin"), is the most popular premium plugin for Amazon Associates. It comes recommended by some big names, including Authority Hacker and Kinsta.
Here's a look at AAWP in action on real affiliate sites:
Affiliate site TechSpectacle.com uses AAWP to create simple responsive product comparison tables and product boxes. They've gone with "Read Amazon Reviews" as their CTA (call-to-action). You're free to customize this text however you like.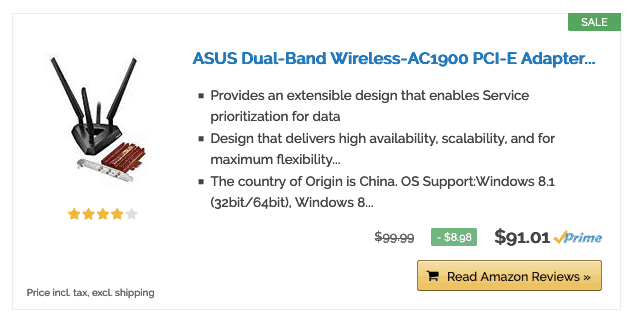 I also like the use of simple price buttons on affiliate site LaptopUnderBudget.com. AAWP pulls the price using an API request, so it's always accurate and complies with the Amazon Associate terms.
How to use AAWP
AAWP is not for complete beginners. You need access to an Amazon API before you can use it. Don't even think about buying AAWP until you have made at least 3 affiliate sales in 180 days.
Once you have added your API credentials, AAWP is fairly straightforward to use, but it still will take a little time to master, especially if you want to design attractive elements that stand out from the competition.
Here's a look at the table creation dashboard: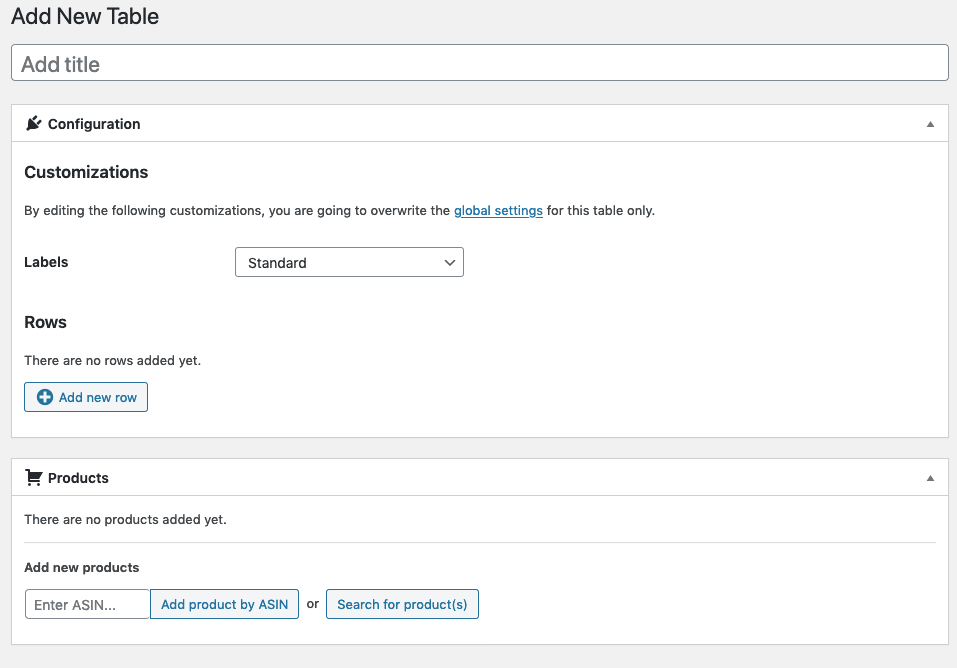 It takes a bit of time to add Amazon products by ASIN or via the search function, and you need to make all your edits in the admin area – there's no WYSIWYG view.
Another thing to bear in mind is that you must ensure your WordPress hosting environment is using the latest version of PHP, cURL and OpenSSL, so check with your host to make sure it's supported. I ran into a problem with Cloudways hosting as they use an outdated version of PHP cURL that did not allow AAWP to function.
Once you've got a handle on how to use the plugin, the functionality is excellent, and you can rely on the responsive tables updating to the latest prices or whatever you've used without any further work. There's also a built-in geo-targeting feature that allows to to monetize traffic from numerous countries (provided they also offer Amazon there) without too much effort. This works out more cost-efficient than using a paid service like Geniuslink.
Another benefit of AAWP is that they've published a fairly comprehensive selection of help guides and documentation, so it's not hard to find the answers you need when starting out.
Pros:
✅ Pulls price, star ratings, images from API
✅ Adds Amazon disclaimer
✅ Customizable button text and colors
✅ Responsive tables
✅ Can create a range of tables, buttons, text links with little effort
✅ Geo-targeting
✅ Pre-built-templates
Cons:
❌ Scrapes review data going against Amazon's terms
❌ No WYSIWYG preview option in table editor
❌ Requires latest version of PHP cURL – check with your host
❌ Will not work without Amazon API access
❌ Takes a bit of time to learn how to use admin panel
Is AAWP worth it?
Overall, I like AAWP, and use it myself on some of my affiliate sites (although I now prefer AmaLinks Pro). It's a powerful and flexible tool that, once you've got over the learning curve, will let you build attractive product tables, buttons and boxes with updated prices, review scores and images. However, the review score scraping directly contravenes Amazon's terms, so I'm reluctant to risk using it on my own site in 2021. Use it at your own risk.
Price: Free
Amazon API access required? Yes
What is Amazon Associates Link Builder?
Amazon Associates Link Builder is Amazon's own official WordPress affiliate plugin. You'd think that it would be an easy decision to use the official plugin – after all, Amazon must be the best, right? Hmm, it's not quite that simple.
There are some major issues with Amazon's WordPress plugin, most-notably that it has not been updated in over 6 months, in which time WordPress has had 3 separate updates. I mean, the user guide was last updated in 2016, which is not a great sign.
The plugin also has a lot of negative reviews on WordPress.org:
But, to be honest, it's not that bad. The plugin does a fine job of inserting dynamic Amazon affiliate links into your WordPress content, and it's not hard to use.
How to use Amazon Associates Link Builder
Installing Amazon Associates Link Builder is free and easy – simply search from your WordPress dashboard.
You need to add API credentials, like most Amazon affiliate plugins, and it will not work at all without them.
Adding a link is simple – just search for a product in the Amazon box that will show about your post or page editor.
The plugin will generate shortcode for your widget of choice. There are a couple of standard types: price link, product carousel, product grid, product link etc.
Amazon has published a useful guide on how to use their WordPress plugin that gives you a good overview of what you can do with it.
If you just want to add simple, dynamically updated product boxes, Amazon Associates Link Builder does the job, and doesn't cost a penny. If you're after more advanced table building and customization options, it is possible to do but you'll need more experience using custom HTML and CSS to make things work.
Pros:
✅ Free
✅ Made by Amazon, so no risk of not being compliant with terms
✅ Easy to setup and use
Cons:
❌ Limited range of options
❌ No user support
❌ Requires Amazon API access
❌ Not updated often
Is Amazon Associates Link Builder worth it?
For most small-time affiliates, Amazon Associated Link Builder has everything you need. You can add product boxes to content and they will update with the latest data for you. According to WordPress.org, the plugin is used on over 50,000 active websites, so it can't be all that bad. What more do you want for free?
Price: $39 for 1 site, 1 year of updates
Amazon API access required? Yes
What is AzonPress?
AzonPress is an Amazon Affiliate WordPress plugin from WP Manage Ninja, who are probably most famous for being the team behind Ninja Tables (which is a great TablePress alternative, by the way).
In terms of functionality, AzonPress is very similar to AAWP – you can create product tables, comparison tables and bestseller lists with a little bit of fiddling about in the dashboard.
How to use AzonPress
AzonPress setup is straightforward: you need to generate and add Amazon API keys for any functionality, then click the "AzonPress" button when in the Post or Page editor in the WordPress dashboard.
There's a simple shortcode generator that allows you to create a couple of different table types, a bestseller list and product boxes.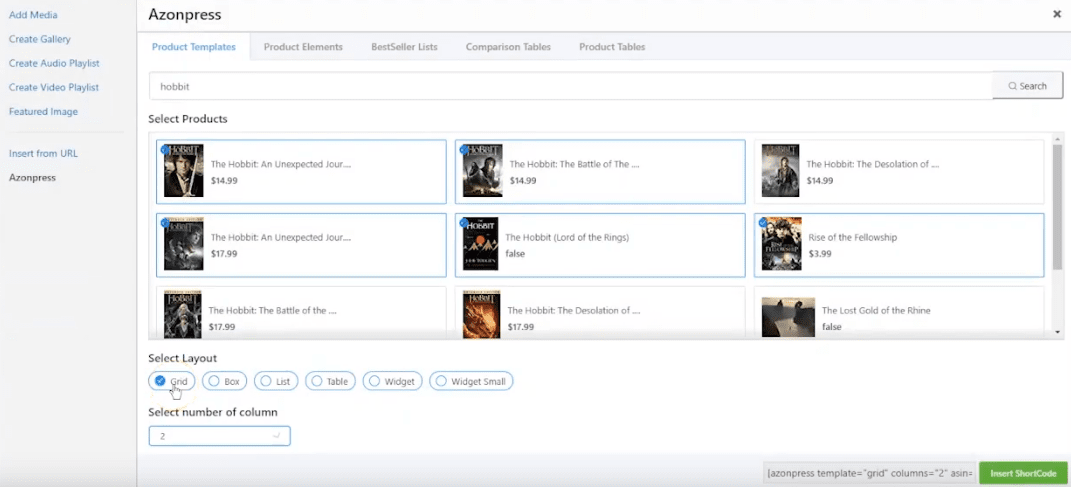 AzonPress works just fine, but it's not as well-supported as AAWP. By that I mean that the documentation is a little spartan and you're less likely to be able to troubleshoot issues on your own. That said, you can raise a support ticket if you have questions.
AzonPress will automatically pull the latest product data from Amazon, so you know it's up-to-date.
Pros:
✅ Pulls price, star ratings, images from API
✅ Amazon OneLink Geotargeting
✅ Customizable button text and colors
✅ Responsive tables
✅ Easy to create a range of tables, buttons, text links
✅ Pre-built templates
Cons:
❌ No WYSIWYG preview option in table editor
❌ Basic documentation
❌ Will not work without Amazon API access
❌ Takes a bit of time to learn how to use admin panel
Is AzonPress worth it?
AzonPress is slightly cheaper than the other premium plugins out there and offers most of the same functionality. I still prefer AmaLinks Pro because of its design, and AAWP because it has better documentation. That said, I am a fan of Ninja Tables (the other plugin from WP Manage Ninja), and like the way AzonPress tables are built. The interface is also slightly nicer to use than AAWP. So the choice is yours!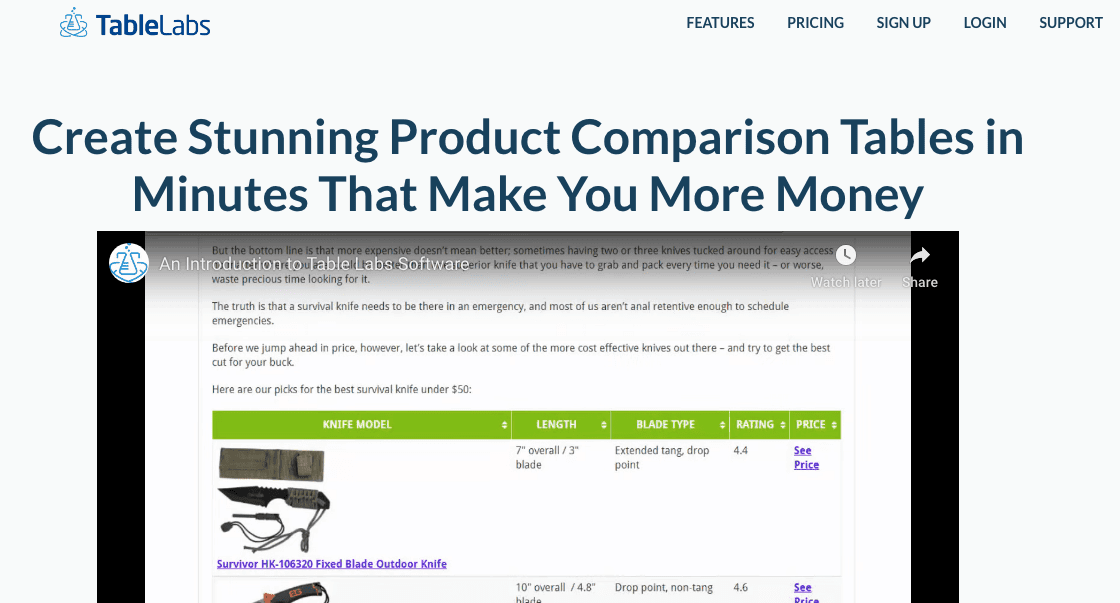 Price: $27/year for 30 tables, $47/year for 100 tables, $67/year for unlimited tables
Amazon API access required? Yes
What is Table Labs?
Table Labs is an Amazon Affiliate comparison table builder plugin, created by Spencer Haws from the Niche Pursuits blog.
The problem with Table Labs as an Amazon Affiliate plugin is that it's very limited. Yes, you can create comparison and product tables, but that's about it. You can't create price buttons, or bestseller lists or product boxes. As such, it's going to be of use to a very small niche of affiliates.
Even the creator uses a number of other affiliate plugins (all on this list) on his website:

+1 for GeneratePress Premium by the way, it's the fastest WordPress theme in 2021. While we're talking themes, take a look at my post on how to choose the best WordPress theme for an Amazon affiliate niche site.
Here's how Table Labs looks on Spencer's affiliate website, OwnTheYard.com:
How to use Table Labs
Table Labs is very simple to use, perhaps because it only focuses on a single thing: providing product tables. It has the second-nicest interface of any of the affiliate plugins I've seen in action (AmaLinks Pro is still the winner, in my opinion).
To get started, you need to generate and add an Amazon API. Then it's straight to the Table Labs dashboard within WordPress to add a new table. Plans are limited by number of tables, which means you can use the same table across multiple websites without extra cost.
Table design is very simple, you can search for Amazon products within the plugin, click to add them to the table and customize the buttons, titles and color scheme. There's very little fiddling about to do, although it is annoying that you need to copy/paste the table code into posts as the plugin does not support or generate shortcodes within the post editor.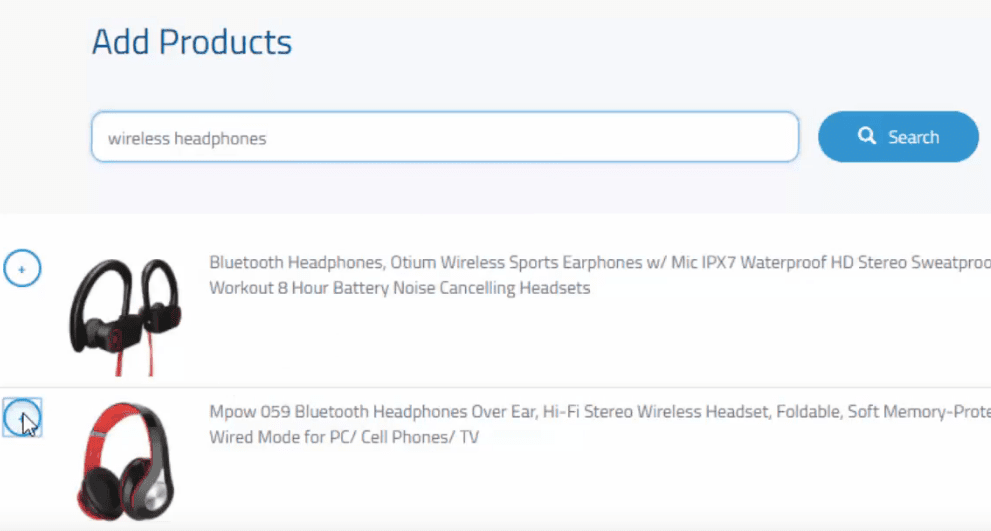 Pros:
✅ Pulls price, star ratings, images from API
✅ Adds Amazon disclaimer
✅ Responsive tables
✅ Amazon OneLink geo-localization
✅ Can automatically remove out-of-stock products from tables
Cons:
❌ Have to copy/paste script into posts to add tables (no shortcodes)
❌ Limited functionality: product tables only
❌ Will not work without Amazon API access
❌ Can't pay with PayPal
Is Table Labs worth it?
If you only want to create Amazon affiliate tables then, yes, Table Labs is worth using. It's very simple and easy to use (far simpler than Amazon's own plugin), but it doesn't offer the value for money or functionality of other premium plugins.
More Amazon link plugins
In the interests of being exhaustive, here's a summary of all the other Amazon link plugins out there, free and premium.
Price: $49 for unlimited sites
Amazon API access required? Yes
EasyAzon 4 is a premium Amazon affiliate plugin that hasn't been updated in years (it still works, though). I bought EasyAzon 4 way back in 2015 and found it clunky and a big time-suck when creating links. I quickly moved on to other plugins.
When it was created, EasyAzon's marketing focused on cloaking Amazon links (now not allowed), and adding "add to cart" links, that give associates a 90-day cookie compared to a 24-hour one. You can insert "add to cart" links manually, or using a plugin like AmaLinks Pro, so EasyAzon just doesn't offer anything useful anymore. You can't even create tables in it.
There are far better free and premium alternatives to EasyAzon 4, so I would not recommend it to anyone.
Price: Free
Amazon API access required? No, but you can't do much without it
Amazon Link is a free affiliate plugin. It has limited functionality if you don't use the Amazon API (you can basically just add your associate tag to links). With the API, you can create product boxes and links, and geolocalize them for free if you also install ip2nation. You can pull product price, image and ratings. There are some built-in templates to copy/paste, or you can build your own.
It will take a little time to get used to using Amazon Link but, once you do, it's fairly functional if a little tricky to figure out. It's an ok option if you want to pull images from Amazon's API for free, but you may as well use the official free plugin to get this done, or a premium option for better tutorials and intuitive interfaces.
Price: Free
Amazon API access required? No
Amazon Link Engine is a free Amazon Affiliate plugin from the team behind Geniuslink. It will work on its own, although it is intended for Geniuslink customers. The main goal of Geniuslink is to geolocalize Amazon links to gain commissions in multiple countries. I recommend using Geniuslink as an easy way to increase your affiliate income.
The Amazon Link Engine plugin uses the Geniuslink API access to localize links. Aside from that, I don't see how the plugin is useful for Amazon affiliates – it does not use the Amazon API, and you cannot create anything other than text links with it.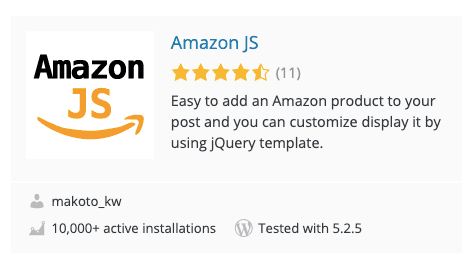 Price: Free
Amazon API access required? Yes
Amazon JS is a free Amazon Associates plugin for WordPress that allows you to create simple product boxes on posts and pages. Using the API, Amazon JS pulls the latest images, prices and review scores dynamically. However, it uses Javascript to do this, which means it may not work if your visitors block JS in their browsers.
You can't create tables and boxes are very simple, however the plugin does the job it's supposed to. Like other unsupported free plugins, Amazon JS does not insert an API disclaimer, as required by Amazon, which could make your site in violation of Amazon's program policy for associates.
Price: Free
Amazon API access required? Yes (not required for category unit type only)
Amazon Auto Links is a free Amazon WordPress plugin that adds product boxes to posts and pages, pulling dynamic price, review and image data using the Amazon API.
For a free plugin, it's very functional, but I recommend using the official Amazon plugin as it's going to guarantee you are compliant with Amazon's terms. For example, I noticed that Amazon Auto Links does not insert an API disclaimer, as required by Amazon. Use at your own risk.
Price: Free
Amazon API access required? No
Flovidy is an Amazon Associate localization plugin. It performs the same function as Amazon OneLink, by dynamically adding different country affiliate tags to your links. This can be useful if you get traffic from outside of your primary Amazon target country (e.g. Canadian traffic on a US website).
It was created by a member of the Reddit JustStart affiliate community as a SaaS startup business, but Amazon's own OneLink service quickly made it unprofitable. Most of the major Amazon plugins now provide a geolocalized option, and there are other premium services like Geniuslink to solve the problem alongside Amazon's offering.
That said, Flovidy is very simple to use and does the job of localizing links just fine.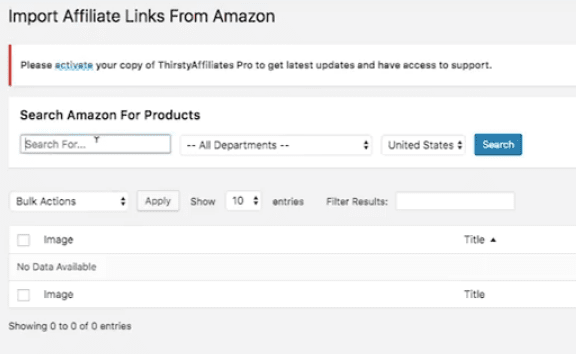 Price: $49 for 1 site, 1 year of updates
Amazon API access required? Yes
Thirsty Affiliates is an affiliate link cloaking plugin. The free version does not include Amazon API importing, so you'll need Thirsty Affiliates Pro for that.
The free and pro versions both come with something they call "smart uncloaking", which allows the plugin to comply with Amazon Associate terms, which dictate that you cannot cloak affiliate links to Amazon.
Once you've added Amazon API keys, you can use the ThirstyAffiliates AZON importer (a pro addon) to import Amazon product images and links. You can also geolocalize links with other Amazon affiliate country tags.
If you're already using Thirsty Affiliate Pro, then the Amazon addon is useful for adding images to posts. As a stand-alone affiliate plugin, it's not optimized for Amazon, and you can't create tables or product boxes or pull pricing info.
Final thoughts
Used correctly, an Amazon affiliate plugin can help you drive clicks and conversions. If you have the budget for a premium plugin, my top pick is AmaLinks Pro, thanks to its interface, range of features and strong documentation. If you're looking to build simple links, you can't go wrong with the free official Amazon plugin instead.
Oh, and here's a final pro tip: if you ever stumble across a nice-looking Amazon affiliate site and want to know what plugin they are using, you can either enter the site into a WordPress plugin detector, or right-click and select "Inspect" in Chrome to peek at the code.