Update: I now recommend using Geniuslink over Amazon OneLink. For $5/month, Geniuslink does a much better job at localizing links than OneLink, plus it can help you promote Amazon affiliate alternatives at the same time.
As most affiliate marketers know, Amazon is the go-to choice for product-based affiliate links – it's a massive store covering almost any product and drove over $135 BILLION in sales in 2016. With a global market, Amazon is great for affiliate marketers across many different countries, but there's always been one major problem with its tracking links: Amazon links are country-specific.
Joe from the UK might click your Amazon US affiliate link, and you'll get zero comissions from any purchases he makes.
Various link shortening services and WordPress plugins have popped up over the years, looking to solve this problem, but finally, in July 2017, Amazon has provided its own (FREE!) solution: Amazon OneLink.
What is Amazon OneLink?
Amazon OneLink is tool in the Amazon Associate dashboard that allows you to link your different Amazon Associate accounts (from the US, UK and Canada), providing geo-localised redirection from your affiliate website to a relevant Amazon product. Essentially helping you to earn more affiliate income by converting website visitors from multiple countries at once.
OneLink is backwards compatible, meaning once it is configured, it will work for all your new AND existing Amazon affiliate links. It also works for Amazon short links, but NOT for third-party link shortening services.
NOTE: Amazon OneLink currently only works for US, Canada and UK Amazon associate accounts and can currently only be setup from your US Associate account.
How To Set Up Amazon OneLink
STEP 1: Log into your US Amazon associates account
US login: https://affiliate-program.amazon.com/
STEP 2: Navigate to Tools > OneLink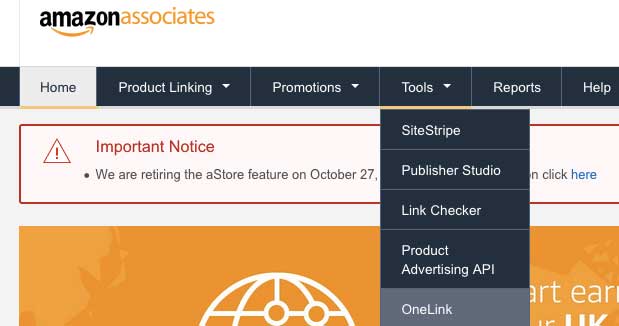 STEP 3: Link your accounts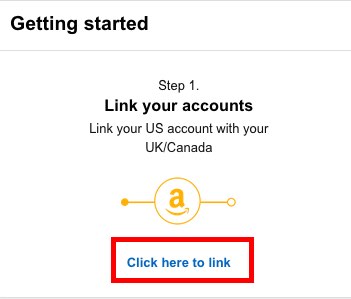 This step basically links together your US, UK and Canada Amazon associate accounts. If you don't have accounts in the UK/Canada/US yet, you can sign up.
Select the country you want to link to and enter your Store ID.

What's the difference between a 'Store ID' and 'Tracking ID'?
Store ID is the main ID of your Amazon Associate account; you'll see it in the top-right of the page when you login. You only have one Store ID per Amazon Associate account.
Tracking IDs are the unique slugs that get added to your affiliate links. You can create as many as you like, as long as they're unique to you. All IDs are followed by a number.
For US amazon associate accounts, it's uniquename-20, for the UK it's uniquename-21, and for Canada it's uniquename-20 too (confusing, I know!).
STEP 4: Validate your Store ID
You'll see that the new Store ID you just added is currently 'pending'. To validate it, click the "Validate here" link and log in to your associate account.
You will now see a success message:
Go back and refresh the settings page and you'll see a few new settings to configure.
STEP 5: Select your Default Account
If, like me, you have multiple affiliate websites, you'll probably have different tracking IDs for each one. You can set your default ID by selecting from the drop-down list.
I recommend trying to keep the IDs as similar as possible to avoid confusion – for example, i can use the tracking ID internetfolks-20 for the US, and link it to internetfolks-21 in the UK and internetfolksca-20 in Canada.
If you need to setup new tracking IDs to use OneLink, you can do so here:
US: https://affiliate-program.amazon.com/home/account/tag/manage
UK: https://affiliate-program.amazon.co.uk/home/account/tag/manage
Canada: https://associates.amazon.ca/home/account/tag/manage
STEP 6: Repeat the process for the other country
I did the same thing again for my Canada account.
STEP 7: Copy the oneTag code onto your website
Click 'Get the code here' from the main OneLink panel and copy the short code snippet onto your website.
If you're using WordPress like I (and many affiliate marketers) do, this should be very easy.
Genesis theme users can paste the code into the Footer Script area in the Theme Settings panel. Other WordPress themes have a similar feature, or you can use a plugin like Insert Headers and Footers.
STEP 8: Configure Redirect Preferences: Exact match or Close match
For each Tracking ID, you can choose 'Close match' or 'Exact match' redirects.
Close match redirects will use the keywords in your Amazon link to take users to a similar product page. Exact match redirects will force the exact same product on users. Exact matching is good in one sense because users are taken to the specific product you've listed on your website. However, not all products are available on the US, UK and Canada Amazon websites, so you run the risk of sending them to a dead page if you force exact match links.
Your choice of link forwarding depends on the niche and product types you are promoting – universal products like books and tech work well with exact match links, but things like homeware and clothing will be better suited to close match links. Monitor your stats and you can always change these settings at a later date.
You need to repeat this process for each country (or 'geography', as Amazon calls it) you've linked.
STEP 9: Check matching products
You can check that Amazon is correctly redirecting your US links to relevant Canada and UK pages by manually inputting a link into the 'Check matching products' tool.
This is good way to test the difference between Exact match and Close match forwarding.
For example, I added this US affiliate link to the tool:
https://www.amazon.com/Seagate-Expansion-Portable-External-STEA1000400/dp/B00TKFEEAS/tag=internetfolks-20
OneLink correctly identified the corresponding UK product listing, and my UK affiliate tracking ID:
https://www.amazon.co.uk/dp/B00TKFEEAS?tag=internetfolks-21
Try this use a few times to see if links are forwarding correctly. You can also up- and down-vote the results, which presumably helps Amazon's algorithm learn how to generate more relevant results.
Sometimes I use amazon links without keywords (i.e. with just the product identification number), for example: https://www.amazon.com/dp/B00004UE75/tag=internetfolks-20
When using the matching products tool, you can see that Amazon can still pull the keywords from the link and generate a relevant UK result:
https://www.amazon.co.uk/s/?ie=UTF8&url=search-alias%3Dkitchen&field-keywords=Norpro%20Egg%20Perfect%20Timer&tag=internetfolks-21
This is a result that I've never been able to achieve with third-party Amazon link redirection plugins.
NOTE: the above result comes from using the 'Close match' link setting. With 'Exact match', it takes me to the correct product page:
https://www.amazon.co.uk/dp/B00004UE75?tag=internetfolks-21
Experiment and see what works for you. In your affiliate earnings dashboard, select 'Redirected traffic' under the 'Link Type Performance filter' to see how much extra affiliate income you've earned using Amazon OneLink.
And that's it! Sit back and watch your Amazon affiliate revenue grow and take advantage of more of your global website traffic.
Don't forget to test out a few of your links to make sure they're getting redirected in the way you want, and keep an eye on your affiliate revenue stats to see if your sites are earning more with your existing traffic.