Do you have all your money-making eggs in Amazon's affiliate basket? Then it's time to start finding some new baskets…
As you probably are already painfully aware, on April 14 (which I'm coining as "Black Tuesday"), Amazon announced a sudden drop in affiliate commission rates across a number of big categories. With 7 days' notice. In the middle of the Covid-19 pandemic. Yikes.
Shock waves hit the affiliate marketing world (myself included), as many realized the new Amazon Associates fee structure would result in an up to 80% drop in payouts in some categories.
Here's exactly how much Amazon slashed its commissions by:
Ouch.
But this is not the first time Amazon has dropped its affiliate rates over the 20-year (not a typo, it's that old) lifetime of the program. And it surely won't be the last.
This guide is here to help you stay focused on the end goal (growing your website income) and put Amazon's role in affiliate marketing in perspective. We'll go through some of the top Amazon affiliate alternatives you can join, look at how much commission you can get, and explain other ways to diversify your revenue stream moving forward.
Spoiler alert: Amazon's competitors don't pay a whole lot of commission. I prefer to think of Amazon affiliate alternatives as supplements – they're not going to replace Amazon overnight, but spreading affiliate offers across platforms will slowly help to de-risk your website income.
Let's get to it.
Is Amazon Associates still worth it?
The short answer is a resounding yes.
While it may be tempting to knee-jerk your way to ditching Amazon for good, once you stop and think rationally, there's not much of a business-case to be made for leaving Amazon Associates on the back of their recent commission change.
Here are a few reasons why you should stick with Amazon (in addition to finding alternatives!).
Not all Amazon categories have low commissions
Yes, Amazon slashed some of its more lucrative categories for affiliates, but some categories still have decent rates. In fact, when you read the list of top Amazon affiliate alternatives below, you'll realize that Amazon still pays higher commissions than the competition.
Here are the new Amazon affiliate commission rates, after the rate drop was implemented on April 21 2020.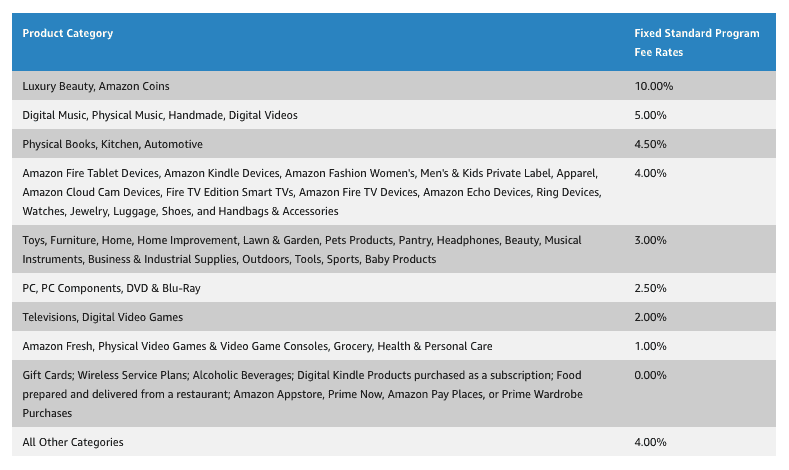 Many large categories, like Kitchen, Automotive, Watches, Luggage and Clothing still offer 4% or higher commissions on Amazon.com.
While it's not as good as it used to be, 4% commissions from the biggest ecommerce seller is still something to capitalize on.
Here's a table showing the best and worst Amazon affiliate categories since the rate change in April 2020:
| Amazon.com category | Affiliate commission rate |
| --- | --- |
| Luxury Beauty | 10 |
| CDs & Vinyl | 5 |
| Digital Music | 5 |
| Handmade Products | 5 |
| Automotive | 4.5 |
| Books | 4.5 |
| Kitchen & Dining | 4.5 |
| Amazon Devices & Accessories | 4 |
| Appliances | 4 |
| Arts, Crafts & Sewing | 4 |
| Camera & Photo | 4 |
| Cell Phones & Accessories | 4 |
| Clothing, Shoes & Jewelry | 4 |
| Electronics (except TVs) | 4 |
| Kindle Books | 4 |
| Pet Supplies | 4 |
| Software | 4 |
| Amazon Pantry | 3 |
| Baby | 3 |
| Beauty & Personal Care | 3 |
| Home | 3 |
| Industrial & Scientific | 3 |
| Musical Instruments | 3 |
| Office Products | 3 |
| Patio, Lawn & Garden | 3 |
| Sports & Outdoors | 3 |
| Tools & Home Improvement | 3 |
| Toys & Games | 3 |
| Headphones | 3 |
| Furniture | 3 |
| Computers & Accessories | 2.5 |
| DVDs & Bluray | 2.5 |
| Televisions | 2 |
| Digital Video Games | 2 |
| Grocery & Gourmet Food | 1 |
| Health & Personal Care | 1 |
| Physical Video Games | 1 |
| Games consoles | 1 |
| Apps | 0 |
| Gift Cards | 0 |
| Alcohol | 0 |
Amazon converts like crazy
Amazon is the most popular ecommerce platform in the US (and many other countries), and the 4th most-visited website in the US. With decent prices, almost every product category you can imagine and super-fast shipping, people are going to keep shopping on Amazon.
As an affiliate, you need to weigh up the importance of both commission rate and conversion rate. I know from experience that Amazon converts very well, between 5 and 10% in some categories.
Obviously conversion rate can be affected by your skill as a marketer (i.e. the quality of traffic you send to Amazon), but the rest is taken care of by the retailer. Be aware that less popular retailers may not convert as well.
Amazon is a volume play
Amazon affiliates know that once you send a customer to Amazon, they are likely to buy more than one item. And if you send enough people, you're still likely to make significant income. And don't forget Black Friday and other popular times, where a lot of affiliate income on Amazon is unrelated to the original products that we referred.
Amazon also has stores across the world. You can geolocalize your affiliate links to earn from multiple countries at once using a service like Geniuslink or Amazon OneLink.
Note: In Europe, Amazon is already stomping out some of these unrelated purchases, with commission slashed down to 1.5% in categories different to the clicked item link. This has hurt income during periods like Christmas. So far, the US Amazon affiliate program has not introduced such a measure and, while it may happen in the future, the current situation is good for affiliates that can benefit from customers' additional shopping basket items.
There are so many tools and services for Amazon affiliates
Thanks to its dominance, there are many third party tools and Amazon affiliate WordPress plugins on the market to help you import data and improve click-through to Amazon. I use AmaLinks Pro myself.
I hope to see some more offerings or compatibility with alternative affiliate programs in the future, but as it stands Amazon is still the biggest affiliate network out there, and its API makes it easy to build tools to work with it. Other major players like Walmart don't have public APIs (yet), but that may change.
Why you shouldn't rely on Amazon Associates
According to recent research carried out by geniuslink, the average Amazon Affiliate commission rate is the lowest it's ever been, at just 3.14%.
Amazon doesn't need affiliates as much as it used to, if at all. According to SimilarWeb data, Amazon.com is the 14th most-visited website in the world, and by far the most popular ecommerce platform in the US and many other countries.
In March 2020, 6.5% of Amazon's inbound traffic came from referrals; that's 142 million monthly pageviews out of 2.19 billion, most of which comes from their own properties like Audible, PrimeVideo and Whole Foods.
There's a real risk of Amazon just closing its Associates program altogether in the future, or reducing all commission to 1% or less.
How huge websites use Amazon affiliate alternatives
The Wirecutter (owned by The New York Times since 2016) is one of the most-discussed Amazon affiliate websites and a major source of Amazon affiliate referrals. According to SimilarWeb, The Wirecutter sends Amazon around 1.5% of all their referral traffic.
In March 2020, that meant The Wirecutter sent Amazon around 32.8 million visitors in a month.
But while The Wirecutter is very dependent on Amazon's affiliate program for income, it's not the only place they direct their readers.
[Sidenote: I think it's reasonable to assume major websites can negotiate better affiliate commissions with Amazon directly, so they will likely be less affected by changes to Amazon's affiliate commission structure; nevertheless they continue to diversify.]
Other major sources of The Wirecutter's affiliate links come from:
Walmart
The Home Depot
Best Buy
As you can see in this product box from The Wirecutter's article on the best coffee grinders, they offer a range of retailers, not just Amazon. In fact, Amazon is not even the top choice.
Other large product review websites are also diversifying…
While clearly heavily reliant on Amazon, Reviewed.com also makes use of affiliate programs from:
The Home Depot
Target
Best Buy
Walmart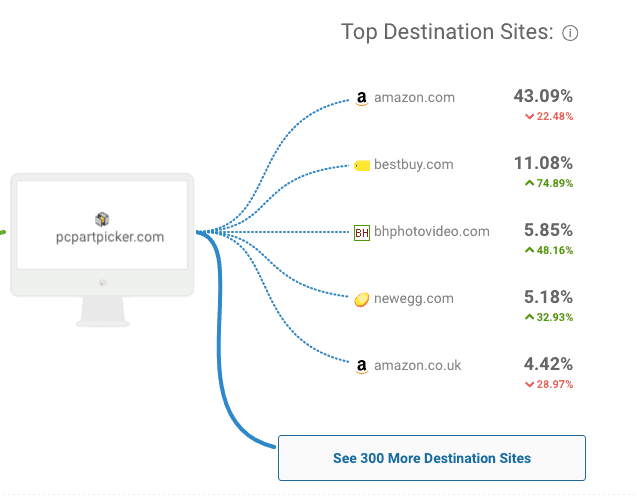 PCPartPicker.com uses electronics affiliates in addition to Amazon, including:
Best Buy
B & H Photo Video
New Egg
Now it's time for smaller niche website owners to diversify their affiliate mix in the same way as the big players have been doing.
Top 9 Amazon Affiliate Alternatives in 2021
Here's our list of the best Amazon affiliate alternatives to use in 2021. We've also listed the niche-relevancy where applicable. Some of these affiliates are networks, meaning you can find a large number of individual retailers inside the platform.
Note: This list is mainly for US affiliate opportunities, intended to work as alternatives to the Amazon.com associates program.
1. Walmart
Walmart is the biggest alternative to Amazon's affiliate program in the US. Referral fees are similar to Amazon, with 4% on the majority of categories.
Using Walmart's affiliate program is almost as easy as Amazon's, and the platform sells a huge rage of products.
One potential downside to Walmart is that, as they have many physical stores, some customers can do research online and then go and buy in store. This doesn't hurt Walmart's business model, but it will mean your affiliate clicks could convert at a lower rate than Amazon.
Walmart doesn't have a public API, so if you're looking to build affiliate links you'll need to use Walmart's tools. You can use Walmart SDK to create Buy it Now buttons in HTML or JS. There is an official Walmart affiliate WordPress plugin, but it's not been updated in years.
2. The Home Depot

The Home Depot is a major brand name in the US, known for selling tools and home improvement supplies. Stock ranges from home decor to appliances, including many big-ticket items like HVAC systems and lawn mowers.
According to their affiliate FAQ page, you can earn up to 8% affiliate commission on some product categories.
The Home Depot offers a generous commission on products. Our current commission is 3% on products, mobile, and buy online pick up in-store orders, 2% on appliances, and 8% on select home décor products. The more you sell the more you earn.
3% commission on home improvement categories puts The Home Depot level with Amazon at the moment, but it's still worth using to diversify revenue potential and give site visitors a choice. The Home Depot gives customers the option to order online and pick up their orders from a store, rather than get home delivery – Amazon can't provide this service.
If you write about home and garden topics, you need to join The Home Depot's affiliate program.
3. Best Buy
Best Buy is a major retailer of electronics. From laptops to headphones, kitchen appliances to video games, Best Buy stocks a massive selection of home electrical products.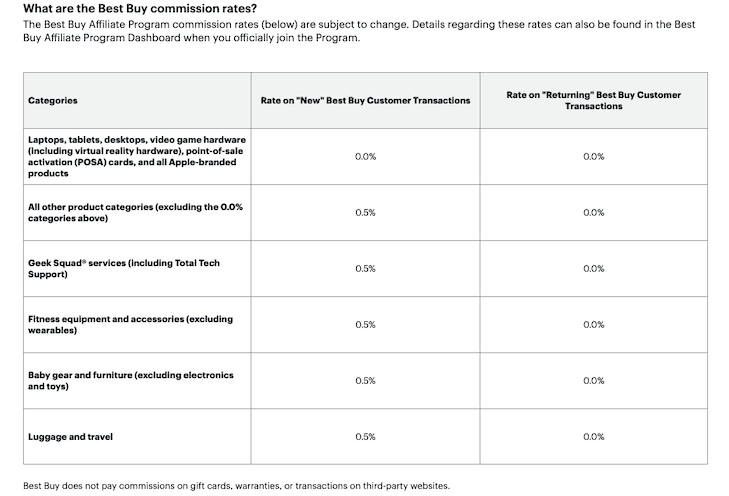 The downside is, Best Buy offer terrible commission rates. I'm talking 0.5% in most categories. And absolutely zero for laptops and computers.
Do I recommend switching to Best Buy from Amazon? No! 0.5% is not a commission rate that most small affiliates can afford to work with. That said, it's still worth including Best Buy if your goal is to diversify.
I've included Best Buy in this list because a) it's used by some major affiliate marketers (i.e. The Wirecutter), b) it puts Amazon's rate cuts into perspective (aka not that bad).
4. Target
Target is another household name big-box store, selling a wide range of products from clothing to furniture, electronics and pet supplies. Target is similar to Walmart and Amazon in its product selection.
Target boasts up to 8% commission on popular categories, but Target works on a volume payout scale: large affiliates get higher commissions if they send more sales.

Even at low volumes, Target gives affiliates much better rates than Amazon in the Home & Outdoor Living category, starting at 5%.
5. eBay
eBay is a huge online marketplace, with private and commercial sellers offering products in every category imaginable. While it may have started as an auction site for you to use to get rid of your old CD collection, eBay is now a popular third party marketplace for sellers, much like Amazon, and 80% of items sold on eBay are new.
eBay's affiliate program is called the eBay partner network, and it's as easy to join as it is to become an Amazon Associate.
eBay is also a great option for those with global website traffic – eBay uses a global affiliate program that operates in many countries, including the US, UK, Canada, Australia and Ireland.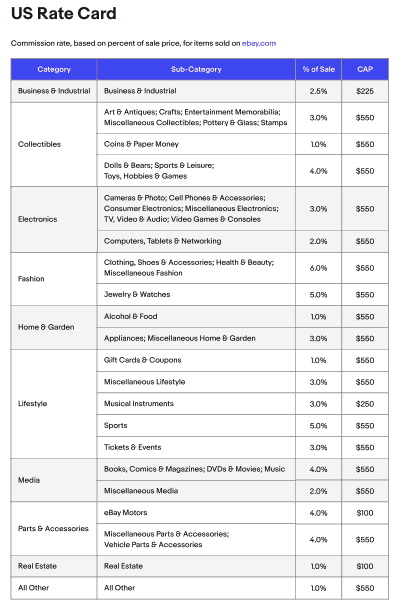 eBay's affiliate commissions vary depending on country and category (view the full list here). In the US, affiliates make between 1 and 6% depending on the category.
In general, eBay's payouts are higher than Amazon's, offering 4% on toys, 4% on sports, 6% on health and beauty, and 5% on pet supplies.
There are also plenty of third party eBay affiliate tools to help you display items, like WP eBay Product Feeds.
6. Wayfair
Wayfair is a major online retailer of furniture and home decor, but they also stock pet products, kitchen appliances and other goods. Wayfair sell a lot of big-ticket items like sofas, mattresses, dishwashers and storage units, so the average order value is likely to be much higher than Amazon's. According to Wayfair, the average order size is $300.
To join Wayfair's affilate program, you need to apply through CJ.com (see number 7 on this list!). Wayfair has an affiliate program in the US, UK and Germany.
7. CJ (Commission Junction)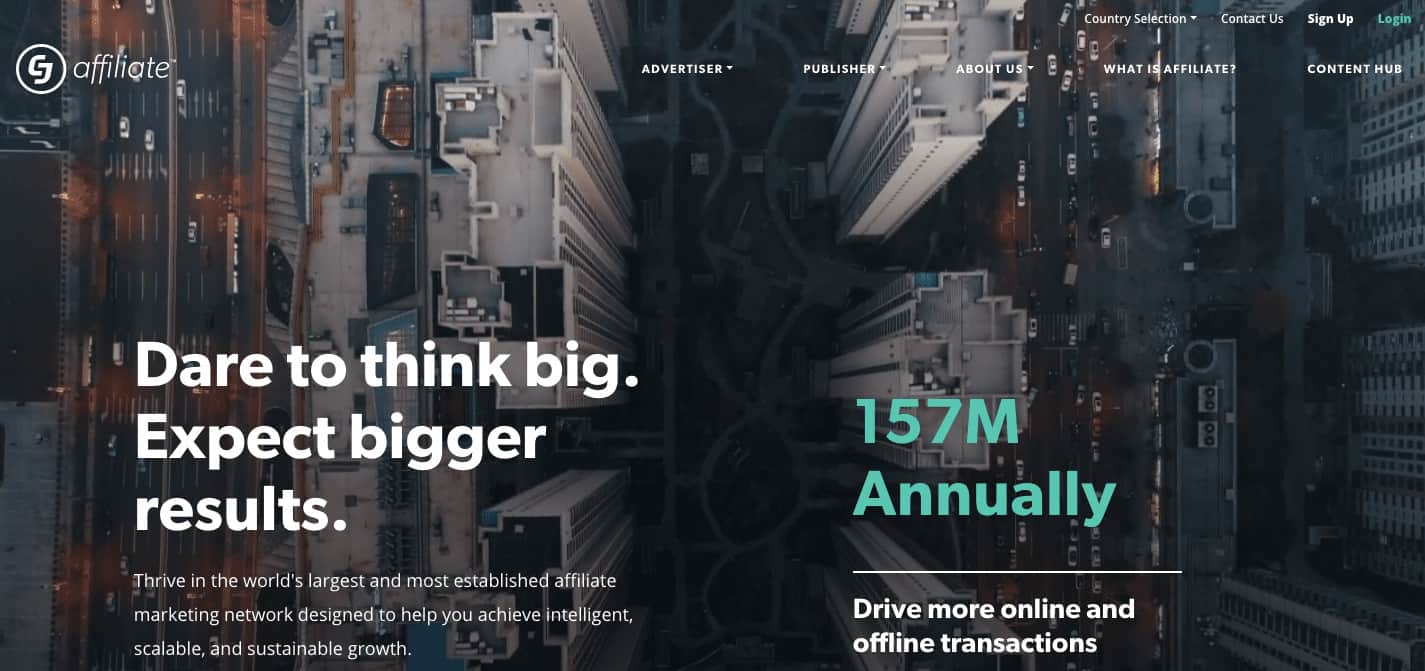 CJ, known as Commission Junction before they bought the brilliant domain name CJ.com, is an affiliate network. By joining CJ, you have access to hundreds of affiliate programs from different retailers (like Wayfair).
The benefit of using affiliate networks like CJ is that you can find retailers big and small, some that you may not have heard of. You will also see some useful affiliate stats in the dashboard, such as the 7-day EPC (earnings per click), which give you an insight into conversion rates and how popular the retailer is for other affiliates.
As you can see from the above screenshot, the Houzz affiliate program pays 3% on sales and the 7-day EPC is around $65. Rugs.com pays 4% but has a lower EPC of around $55.
Another benefit of using affiliate networks is that you can manage all retailers in one place, and you will get paid in one go, even if you've collected commissions from many retailers. This is helpful if you're a small site, because it may take some time to reach the minimum payout threshold for each program individually, but affiliate networks will have a single payout rate regardless of how many retailers you send sales to.
8. ShareASale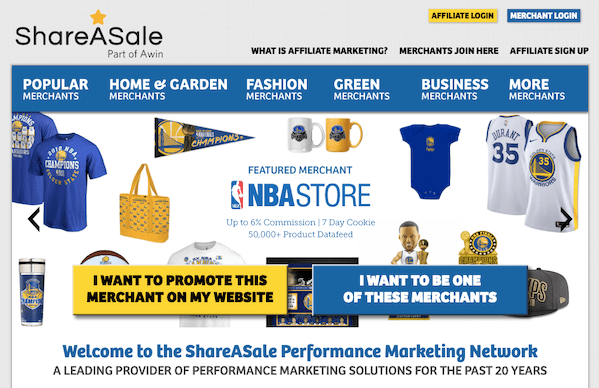 ShareASale is another popular affiliate network. Much like CJ, you can use ShareASale to find individual retailers with affiliate programs.
You will also see stats like EPC and commission rate to help you decide which affiliates to pursue.
You'll find many big names on ShareASale, along with smaller retailers you may not have come across before.
ShareASale is part of Awin, the final affiliate network on this list (see below).
9. Awin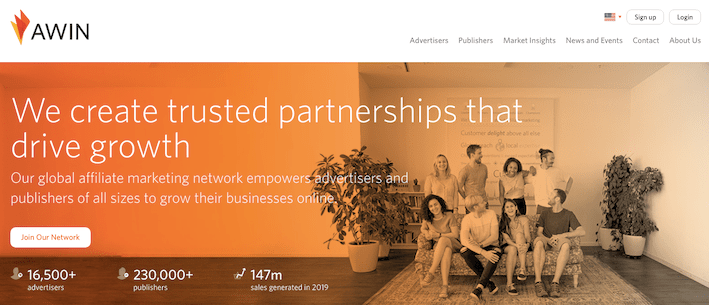 Awin (formerly Affiliate Window) is a global affiliate marketing network, boasting over 16,500 retailers to choose from.
Much like other affiliate networks, when you join Awin, you can browse and select from their list of affiliate retailers (they call them advertisers).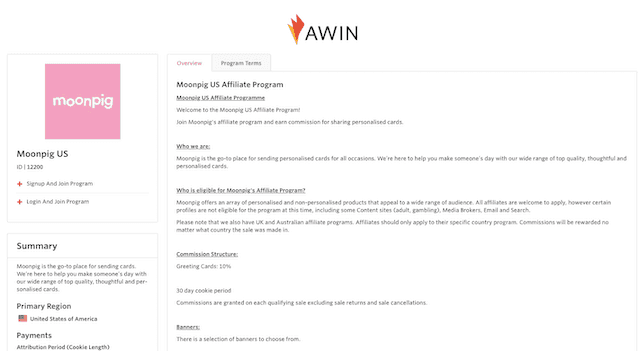 As you would expect, Awin lists the EPC and conversion rate of retailers, to help you see how they perform for other affiliates.
More ways to monetize your website
I know there's a tendency among many of us to use terms like "Amazon affiliate website" and "affiliate website" to refer to our money-making sites. And, indeed, we may primarily (or only) be using Amazon Associates to make money. But we must remember that website income doesn't have to be so one-dimensional.
Your website is an asset. You may only be using Amazon's Associate Program to monetize at the moment, but Amazon doesn't own your content, your organic rankings, your qualified traffic.
There's more than one way to make money with your website, so here's a reminder of some extra, non-affiliate marketing ways to monetize to keep things diversified and reduce the risk of putting all your efforts into affiliate marketing.
Display advertising
If you're getting consistent targeted traffic to your website, you can make money from display advertising networks. Here's a quick summary of the networks and rates you can expect to achieve depending on how much traffic you get.
Remember: you may have informational content on your website that doesn't convert well to affiliate offers – advertising can help you earn money from all website pages.
Anyone with a website can apply for a Google AdSense account, even if you have low traffic. Expect low RPM (revenue per thousands pageviews).
Once you have more than 10,000 monthly pageviews, you can join Ezoic, which incorporates the Google Ad Exchange into its platform and uses its own system to increase ad revenue for you. RPM is generally higher than AdSense.
If you've got over 30,000 monthly pageviews, you're eligible to join MediaVine. RPM can be high, for example $17 RPM for lifestyle blog Nikki's Plate, and $15 RPM for Spencer Haws from Niche Pursuits.
Websites getting over 100,000 monthly pageviews can join AdThrive. RPM can be high, for example up to $17 RPM on EmboraPets.com.
Final Thoughts
When you zoom out and look at the big picture, Amazon still plays a vital role in the revenue generation of many websites, from major newspapers and magazines to sites specifically created as "niche websites".
As a website owner, if you rely 100% on Amazon's affiliate program for income, now's the time to work on diversifying your revenue streams by adding more affiliates and monetization options to your site. That said, when you look at the alternatives, Amazon still runs a very competitive affiliate program and cutting it out entirely doesn't make business sense.
My final bit of advice is to remember that you can influence what users do on your website. Try working on increasing your conversion rate and getting more clicks to affiliate links, where it makes sense.
I use an Amazon affiliate WordPress plugin called AmaLinks Pro to make better use of the traffic I get on my websites and send more potential customers to Amazon. Even with lower margins, you're still in control of how you design your website for maximum returns. You can also use affiliate plugins that work with multiple affiliate programs (like Lasso, co-run by affiliate marketer Matt Giovanisci, who recently wrote about how he relies too much on Amazon's affiliate program). If you're looking for the right WordPress theme for your Amazon affiliate site, my post should help you make a decision.
One final note: if you use Amazon's API (most likely this will be via a plugin) to pull anything onto a page on your website, Amazon's terms do not permit you to link to any other affiliates on that page. Read more about how this works on AmaLinks Pro's Amazon affiliate blog.
Good luck and happy diversification!