Amazon affiliate marketing is difficult enough, without wasting time manually finding product images, adding links and creating comparison tables. That's why many of us use an Amazon Affiliate plugin to do the hard work for us.
After being a longtime user of AAWP, I discovered AmaLinks Pro while writing a round-up of the best Amazon affiliate plugins. I was so impressed with its features and UX, I tested it out on some of my affiliate sites. And now I'm hooked.
If you're on the fence about buying AmaLinks Pro, or can't decide between AmaLinks Pro and other popular affiliate plugins, keep reading. I'll take you through the process of buying, installing and using AmaLinks Pro to add affiliate elements to your WordPress website, and show you real examples of the type of product tables, boxes and links you can build in AmaLinks Pro in 2022.
Let's dive into it.
What is AmaLinks Pro?
AmaLinks Pro is a premium Amazon affiliate plugin built for members of the Amazon Associate program who want to add product boxes, tables and links to their WordPress content.
AmaLinks Pro was created in 2018 by affiliate marketer Matthew Allen, from DumbPassiveIncome.com, and a WordPress developer known only as "AlchemyCoder", known for creating the now discontinued AzonTables plugin.
Despite being a relatively new plugin, AmaLinks Pro has gone through some exciting updates, including adding non-API functionality and a table builder. It's going to get more popular in years to come, and rival the current market leader AAWP.
AmaLinks Pro is used by some popular names in the affiliate marketing community, including Spencer from NichePursuits.com and Tom from InternetFolks.com (haha).
Amalinks Pro is the newest addition to the suite of Amazon tools, but I think it's my favorite in the lineup. I used it on my Niche Site Project 4 to make Amazon links fast and easy for my writers.

Spencer Haws, NichePursuits.com
Do you really need an Amazon Affiliate plugin?
The short answer is, no. Nobody needs a plugin to earn money from the Amazon Associates program. You need a website, traffic and some solid SEO skills, yes, but a plugin is entirely optional. However, plugins can have some benefits for affiliates, notably:
Pull product images from Amazon using the API (compliant with terms, you cannot just download them yourself!)
Display the latest Amazon prices
Increase CTR (click-through rate) with tables, boxes and buttons
Break up boring text with attractive elements
Amazon also allow you to build your own ad units via the Associates Dashboard, however it can take time and these elements will be blocked by adblock browser plugins, and privacy browsers like Brave. Plugins like AmaLinks Pro still show up with adblockers installed.
Used correctly, plugins can save you time when importing product data into your posts, and help visitors click on the right product links to continue their purchase on Amazon.
As Shawna Newman from SkipBlast states, adding product tables can make a huge impact on your income:
A couple of years ago I tested not having a table above the fold vs having one and my site's revenue increased 46% after adding tables above the fold to all the money posts.

Shawna Newman, SkipBlast.com
Of course, there are many great Amazon Associate WordPress plugins, but if you're considering AmaLinks Pro  (my personal favorite), you're going to want to keep reading.
AmaLinks Pro in action: real site example
Digital nomad travel blog SlightNorth.com uses AmaLinks Pro to add clickable product boxes to articles.
For example, this backpack review post uses an AmaLinks Pro product showcase box to display top product features, the latest price and a CTA button.
Di Manardi from SlightNorth.com explains how AmaLinks Pro helped increase Amazon affiliate income:
I had an Osprey Farpoint 55 backpack review on my site for eight months with no affiliate sales. When I updated it with the Amalinks showcase and Amazon buttons I made my first sale the next day. (source)
AmaLinks Pro Feature Overview
Works with or without Amazon API access
Can open all Amazon links in new window
Can add nofollow tags to all Amazon links
Can use "add to cart" links
Works with Amazon OneLink and geniuslink localization
Can use Google Fonts
Works with Google Analytics Event Tracking
Customizable button text
Works with WordPress Gutenberg and Classic Editor
Compatible with most page builder plugins (like Thrive Architect, Elementor)
Responsive elements and tables (customize how tables show on different devices)
Simple WordPress shortcodes
Creates text links, image links, tables and product boxes
Detailed documentation and help videos
What can I do with AmaLinks Pro?
AmaLinks Pro lets you create Amazon product text links, images, feature boxes and tables by pulling data from Amazon and automatically adding your affiliate links (with or without API access).
Here's an example of each element you can create with AmaLinks Pro:
Text Links

Image Links (pulls image directly from Amazon)

CTA Buttons (WYSIWYG customizable design)

Product Showcases
Comparison Tables
What can't I do with AmaLinks Pro?
AmaLinks Pro does not display review stars. That's because Amazon no longer provides review data in their latest Product Advertising API (PA API 5).
AAWP scrapes the frontend of Amazon to get the latest star ratings, which is clearly breaking Amazon's terms:
You will not display or otherwise use any of our customer reviews or star ratings, in part or in whole, on your Site unless you have obtained a link to that customer review or star rating through PA API
Using any method other than API calls to show review data could lead to your account getting banned from the Amazon Associates program. AmaLinks Pro is a safer option than AAWP because it remains compliant with Amazon's terms, which is why I use it on my own affiliate sites.
While Amalinks Pro works great with Geniuslink or Amazon OneLink to geolocalize links, it won't pull prices in different currencies on the same table or showcase box. So if your traffic is split between, say, the US and the UK, and you want to show the latest Amazon prices, you'll have to go with US dollars and hope that it won't put UK visitors off clicking links. I don't believe there is a plugin out there that will achieve this level of localization, but that doesn't stop me wanting it!
AmaLinks Pro Walkthrough
Price and how to buy
AmaLinks Pro costs $67 for 1 website and 1 year of updates. You will need to renew your subscription if you want to continue using the plugin beyond the first year.
To be honest, $67 is on the expensive side for a WordPress plugin. Especially when you bear in mind that Amazon has its own free WordPress plugin, and there are other good premium plugins out there (namely AAWP, which is around $43).
So is AmaLinks Pro worth the premium price tag? Stick with this walkthrough and find out.
You can choose between 4 pricing options: $67 for 1 site, $127 for 3 sites, $197 for 25 sites, or $597 for unlimited sites.
At the checkout, select a payment method, enter your email and name and make the payment.
There's a no-questions-asked 30-day money-back guarantee.

I paid $67 for the 1 site option with PayPal, and got confirmation page straight away.
Update: I later upgraded to the "Basic" plan ($127 for 3 sites), then the "Platinum" plan, but I only had to pay the difference. For example, if you buy the "Blogger"plan for $67, you only pay $60 to upgrade to the "Basic" plan, but it will expire 1 year after you first made a purchase (except for the "Platinum" plan, which is lifetime).
When you pay, you're actually starting a subscription that renews annually, so if you don't want the plugin to auto-renew, you need to cancel the pre-authorized payment from withing PayPal, or from within the AmaLinks Pro dashboard, go to My Account > Payments and click "Cancel" under "Actions". I prefer to cancel recurring payments just to avoid any unwanted surprises. You can always renew manually, and the plugin will still continue to work until the license expires.
Now the boring stuff is out of the way, it's time to download the plugin files and install.
AmaLinks Pro WordPress Installation and Setup
Click the links to download the latest version of AmaLinks Pro (currently version 2.0.5). There's also a table builder add-on to install in the same way.
You need to add the name of any sites you wish to use AmaLinks Pro on in your account. Go to My Account > Licenses > Manage Sites and add your domain name.
From your WordPress admin dashboard, go to Plugins > Add New > Upload Plugin, select the plugin zip file and upload.
You'll be directed to the setup dashboard to enter your license key.
You can now enter the global settings panel.
Scroll down and add your primary country and Amazon Associate tags.
Next, add your Amazon API details. This is optional, but I recommend it so you can access more features (like updated pricing).
What can AmaLinks Pro do without the Amazon API?
Without Amazon API access, AmaLinks Pro allows you to pull images and product showcases from Amazon, and create CTA buttons. You can also create table using the Table Builder Add-on without API access.
However, the process is not simple – you will need to log into your Amazon Associates account and use Site Stripe Links.
For more details, read this tutorial on how to use site stripe links with AmaLinks Pro.
With API access, AmaLinks Pro can do everything!
Using AmaLinks Pro to add links
Now AmaLinks Pro is set up, there is a branded button in the WordPress post dashboard (if you use Classic Editor).
If you use Gutenberg, there's an AmaLinks Pro block.
Clicking the AmaLinks Pro button opens a window where you can search for products or add an ASIN (Amazon Standard Identification Numbers).
If you already know the product you want to add, copy the ASIN, which will look like this:
https://www.amazon.com/Fire-Tablet-7/dp/B07FKR6KXF/
The plugin will pull the product data, and you click "Choose" to move onto the next step. You can add one or multiple products at this point.
If you're not sure what products to add, enter a search term (e.g. "laptop"), and click search. AmaLinks will pull data from Amazon and show you a list of products, along with their sales rank (i.e. how popular they are on Amazon, price, and Prime eligibility.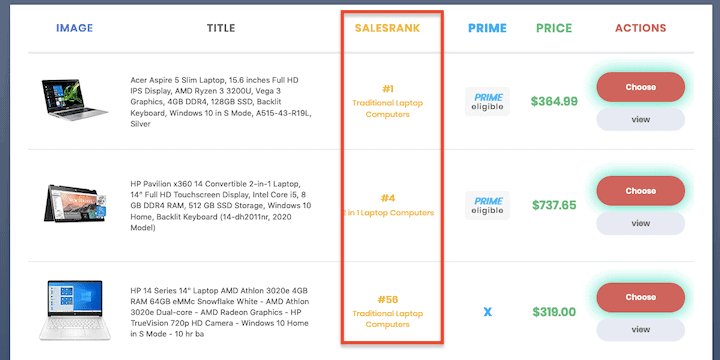 Knowing the sales rank is great, because it helps you choose products that are likely to have high conversion rates.
In Step 2, you can select from 4 types of links to build:
Text Link
Image Link
CTA Link
Showcase
I'll show you the showcase in action, as it's my favorite feature.
There are a bunch of pre-designed showcase layouts to choose from, including an image grid, image slider, simple and large showcase boxes.
The showcase box is pre-poulated with text pulled from Amazon, but you can edit it however you like. The built-in AmaLinks Pro editor is really awesome. It has a WYSIWYG (what you see i what you get) interface, so you can customize the look of the element, and add/remove content while seeing what it will look like.
It's really nice to use, kind of like a page builder like Thrive Architect or Elementor. Which reminds me, AmaLinks Pro is compatible with most page builder plugins (including Elementor, Thrive Architect and Beaver Builder), and can be used inside them.
Once you're happy with the design of your box, go to Step 3 and you'll get some final options, like a choice of box width, alignment settings and link options (open in new window, nofollow and add to cart).
Then click "insert shortcode" and you'll get a ironically long shortcode added to your post.
Adding simple shortcode links
You can also skip this whole step and use simple shortcodes instead!
For example, the following code will create a product showcase box:
Like this:
Building tables in AmaLinks Pro
Building tables in AmaLinks Pro is similar to using the shortcodes and link button.
Make sure you have installed the Table Builder add-on, downloadable from your AmaLink Pro member area. Activate the license in your WordPress Dashboard.
You can access the table builder in the same way as the link builder, just click the AmaLinks Pro button in Classic Editor, or select the AmaLinks Pro block in Gutenberg.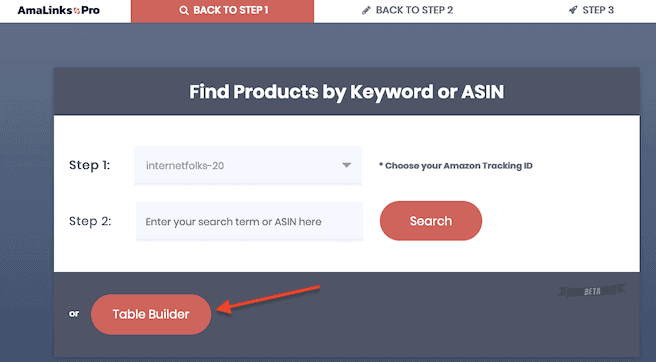 You can create a table both with and without Amazon API access. (I'm going to demonstrate using API access below).
Once you're in the Table Builder, click to add a new table and give it a name.
Click the plus symbol to add products to the table by manually entering the ASIN, or by searching directly in the dashboard.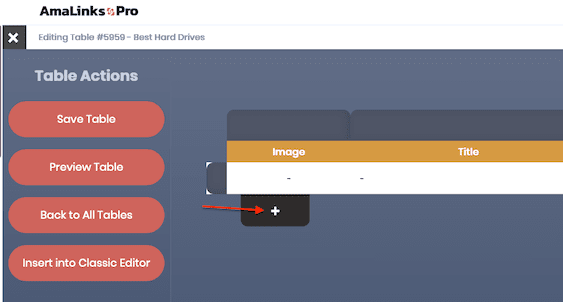 Click the products you want to include (they will go green when you do), and then add them to your table by hitting the "Click Here to Insert Selections" button.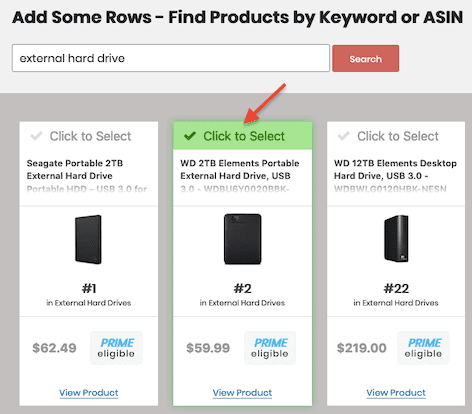 You can then customize your table by adding/removing and editing columns and rows. You can choose from pre-selected columns, like Brand, Model, or Warranty. These will automatically populate with data. You can also manually add text in a custom column.
Each column can also be customized to do a couple of handy things:
Hide/show on mobile, tablet or desktop
Horizontal and Vertical Alignment options
Enable/disable sorting
Link to product
You can manually rewrite titles and change images (using API) as required. You can also override your global link settings as required (open in new tab, nofollow, add to cart), and select a 'top' row to highlight a certain product (click the star).
It's easy to drag-and-drop column and rows around until the table looks right.
Once you're done, hit "Save Table", then "Insert into Classic Editor" or "Insert into Gutenberg" depending on what you're using. You'll see the table shortcode has been added to the post.
Here's a real example of an AmaLinks Pro table:
| Image | Title | Price | Buy |
| --- | --- | --- | --- |
| | Seagate Portable 2TB External Hard Drive | | Buy Now |
| | WD 2TB Elements Portable External Hard Drive | | Buy Now |
| | Toshiba (HDTB420XK3AA) Canvio Basics 2TB Portable External Hard Drive | | Buy Now |
Product prices and availability are accurate as of the date/time indicated and are subject to change. Any price and availability information displayed on [relevant Amazon Site(s), as applicable] at the time of purchase will apply to the purchase of this product.
Prices pulled from the Amazon Product Advertising API on:
Any saved table can easily be added to any post or page on your WordPress site, just use the shortcode or click through the Table Builder to add it.
Making AmaLinks Pro tables responsive
Any tables you build in AmaLinks Pro will not be responsive out-of-the-box (which is a shame). Instead, you need to click to hide certain columns on mobile and tablet to ensure the main ones get seen (I think image, price and buy now button are the top 3).
In the table settings panel (AmaLinks Pro > Tables > Global Table Settings), you can change advanced responsiveness settings like adding a custom breakpoint, expanding rows by default and hiding the toggle button.
Here's a look at how responsive tables can display on different devices: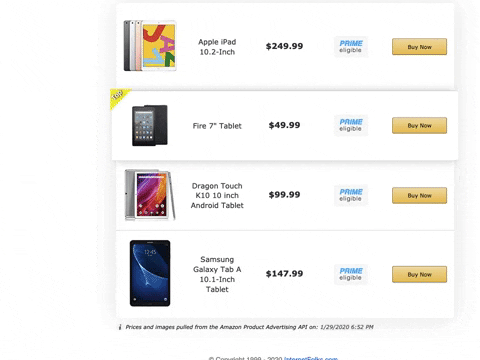 Customizing the color and style of AmaLinks Pro tables
In the WordPress dashboard, go to AmaLinks Pro > Tables > Global Table Styles and change the color and fonts for table elements.
There's no visual editor for these style changes (shame), so you'll have to keep refreshing a table to see how things will look. The good news is that once you've finished, the style will apply to all tables sitewide.
You can also change settings, like add or remove the table header, add table sorting and a table search box, and pagination.
After a tiny bit of fiddling, I'm very happy with how my product table looks:
AmaLinks Pro Support
I tested out the support by sending a ticket about an issue setting up the plugin. I received a response, with clear instructions, in less than 30 minutes.
That's fast in my book.
Now, this experience was during my 30-day money-back guarantee window, so they are incentivized to respond to me quickly. I'll try to remember to test support later on down the line and see how things are then.
The worst things about AmaLinks Pro
There's no such thing as a perfect plugin, and while I choose AmaLinks Pro over other premium affiliate plugins like AAWP, AzonPress and Table Labs, there are still some things I don't like, and some scope for improvement.
1. It's pricey for a single website
If you've only got one website, then AmaLinks Pro is expensive. The least you can pay per year is $67, which is way over the market leader AAWP, which works out at around $43 after currency conversion from Euros (the AAWP team is based in Germany).
On the flip side, AmaLinks Pro works out cheap if you're running multiple websites. They offer an unlimited site lifetime license for $597. If you have a couple of affiliate sites for a year or 2, the lifetime license is going to work out cheaper in the long-run. Look out for their Black Friday deals too – I'll post about those when the time comes for a AmaLinks Pro coupon (last year they offered a lifetime license for $397, but the price has since gone up so I bet it will be $497 this year).
2. The table builder feature is a separate add-on plugin
As a WordPress speed fanatic, I hate to have too many plugins in my dashboard. So I was quite annoyed to discover that AmaLinks Pro's Table Builder feature is actually a separate add-on plugin. I get why they did this (it's not available on the cheaper plan), but I would still prefer less bloat in my dashboard. That said, it's not slowing my site down so I can live with it.
This is now fixed! As of April 2020, the table builder is included in all plans as standard. But you still need to install it as a separate add-on plugin.
3. Tables are not responsive out-of-the-box
I've written about how to make AmaLinks Pro tables responsive above, and I like how much control you have over how they become responsive. Nevertheless, I'd always rather have a tool do the hard work for me and, at the very least, I would like to see AmaLinks Pro tables have a responsive template you can apply in one click.
Final Verdict: Is AmaLinks Pro Worth It?
If you've been reading closely (or at all), you'll know that I not only think AmaLinks Pro is worth using, I actually use it myself, and have upgraded to a lifetime account.
AmaLinks Pro is very easy to use, creates attractive product boxes and tables and helps increase CTR to Amazon. It even works without API access (although I prefer to hook it up to the API).
Compared to market-leader AAWP, AmaLinks Pro is expensive and appears to offer fewer features (no star ratings!), however, it's the only premium Amazon affiliate plugin that is 100% compliant with Amazon's terms, and the only one with a WYSIWYG interface.
I recommend everyone earning through the Amazon Associate program gives AmaLinks Pro a try. They offer a 30-day money-back guarantee, after all.