In this in-depth review, I'm going to take an honest look at Cloudways managed cloud hosting and whether it's a good choice for hosting a WordPress website.
I've been using Cloudways to host this WordPress site for over a year now, so I've had plenty of experience setting up and configuring WordPress hosting on Cloudways.
Instead of just giving you a list of pros and cons, I'm also going to show you exactly what it's like to use Cloudways to host WordPress, and go through the key features you should care about: how much it's going to cost, how the control panel works, what security, speed and backup features you'll benefit from and how to get a coupon and free trial to get started.
This is going to be a long one, so feel free to dive to the section you need using the table of contents below. Let's go!
Quick answer: why use Cloudways WordPress Hosting in 2021
Costs from $10/month
Free trial and 20% off for 3 months with coupon code CLOUD20
Fast WordPress speeds (I score 100/100 on PageSpeed Insights thanks to Cloudways!)
Free 1-click Let's Encrypt SSL
Free 1-click WordPress setup/migration
Host unlimited WordPress sites on any server
Free Dedicated IP
Automated backups
Secure managed servers
What is Cloudways?
Cloudways is a managed cloud hosting platform, providing managed hosting from the world's leading cloud server companies, including DigitalOcean, Linode, Vultr, AWS and Google Cloud.
Instead of leaving you to configure and monitor your own cloud server, Cloudways manages your server for you, and provides a custom control panel and interface that makes it easy to install WordPress, secure your website and make backups.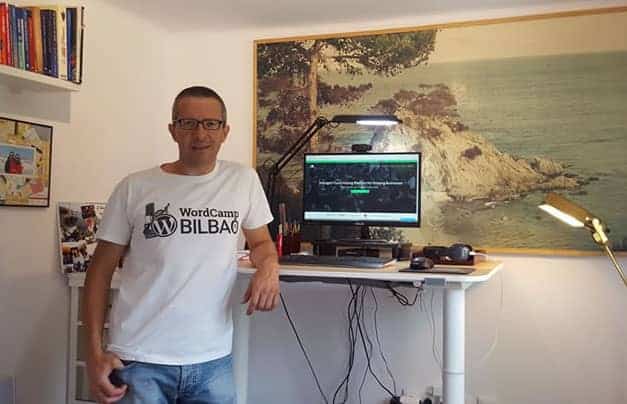 Cloudways was co-founded in 2011 by Spain-based cloud computing and security expert Pere Hospital, and Singapore-based brothers Umair Gadit and Aaqib Gadit, who are best known for starting PureVPN.
According to a recent publication, Cloudways currently has over 30,000 customers in 110 countries, hosts over 300,000 domains and has a team of over 50 customer support professionals.
Where is Cloudways based?
Cloudways is based in Malta, Europe, with an additional office in Pakistan, but their servers are located in data centers all across the world, including the United States, Canada, United Kingdom, and Australia.
How does Cloudways work?
Cloudways is a cloud-only managed hosting provider. They manage your chosen cloud server (from DigitalOcean, Linode, Vultr, AWS or Google Cloud) and make it easy for you to use with WordPress. You pay a single monthly fee directly to Cloudways – no need to also have an account with DigitalOcean or any other cloud server provider.
What is managed hosting?
Managed hosting is a type of website hosting where server software, updates and security is managed for you. Managed hosting can still mean that servers are shared between customers, unless you have dedicated managed hosting.
What is cloud hosting?
Cloud hosting is a type of website hosting that uses a distributed network of virtual servers. Cloud hosting is unique because it benefits from the computing power of a network of multiple servers. Cloud hosting copes better with fluctuating demand (e.g. when a post on your website suddenly goes viral) than fixed server hosting, and can therefore offer better uptime.
Key Features of Cloudways WordPress Hosting: Is it right for you?
Pros:
Optimized for WordPress – 1-Click install
Managed hosting means you don't need technical knowledge to make changes to your server or website
Pay as You Go pricing – only pay for the server resources you need
Automatic backups
High performance dedicated resources (no more shared hosting!)
SSD (solid state drive) storage for faster loading times
Server caching – Memcached, Varnish, Nginx, and Redis to improve speed
PHP 7 servers – the latest version, for improved speed and security
Cheaper than other managed hosting – prices start at $10/month
Easy to upgrade to a bigger package when your website grows
Built-in CDN available
Let's Encrypt SSL
24/7 Live Chat Support
Automated Backups, 1-Click Backup & Restore
Managed Migrations, plus easy-to-use Cloudways WP Migrator Plugin
Staging Area & 1-Click Cloning
Dedicated IP
Cons:
More expensive than managing your own cloud server via DigitalOcean or equivalent
Can't downgrade servers easily
Extra charge for DNS and email hosting (or free manual setup required via Cloudflare)
Need to have a credit card on file, even if you pay with PayPal
Backups cost $0.033 per GB, and they round up pricing to the nearest 50 cents
Prices don't include taxes (anyone in Europe will have to pay tax on top)
Now you know the main pros and cons of Cloudways, let me show you exactly what it's like to use Cloudways to host your existing or new WordPress website.
Plans and server options
Cloudways has a ton of different server options available. First, you need to select your cloud server provider from the following options:
DigitalOcean
Linode
VULTR
AWS
Google Cloud
Each provider has data centers in different locations – choose the data center nearest to where the majority of your users live. For example, I have visitors from North America and Europe, so I chose a data center in New York as it's in the middle of my audience. Using a data center near users will make your website faster.
Each cloud provider has a wide range of cloud server setups to choose from. Cloudways' DigitalOcean servers, for example, start at 1GB RAM, 1 Core Processor, 25GB storage and 1TB bandwidth.
I can confidently say that the $10/month Cloudways DigitalOcean 1GB plan is enough for most WordPress websites, but have a look at the other options available below if you think you need more resources.
Cloudways has a built-in server monitoring feature that lets you see exactly how much RAM, storage and bandwidth you are using, so it's easy to see if you need to downgrade or upgrade.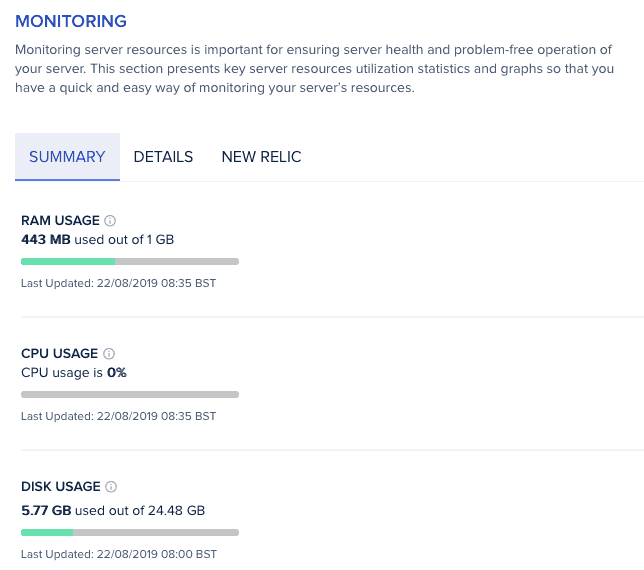 My graph shows that I'm not using anything close to my 1GB RAM allocation.
Tip: it's easier to upgrade your server than downgrade because you cannot clone a larger server onto a smaller one, even if you're not using up all the storage. If you're in doubt, start small.
Price, coupons and free trial
Cloudways managed cloud hosting starts at $10/month (no contract, pay for usage at the end of each month).
There's a real-time billing feature so you can see how an estimate of much you'll be charged at the end of the month.
Cloudways free trial
Cloudways offers a 14-day free trial of any package, with no credit card required, to all new users. Don't forget to use a coupon code when signing up (see below) to get a discount if you decide to stay beyond the trial period.
I first got started with the free trial last year, because I wanted to get hands-on with their control panel and interface – coming from a cpanel hosting environment, I was a bit concerned that I'd find Cloudways too hard to use.
I was wrong: Cloudways is super intuitive and easy to understand, and you don't need to do any coding or complicated setup to get started. The best way to find out if you like it is to go for the free trial and experience Cloudways first-hand.
Test Cloudways on your existing WordPress website before you switch
You can import your WordPress website into Cloudways and test it out before you make the official hosting switch. This works because Cloudways assigns a unique URL to every application you setup (something like wordpress-1234567.cloudways.com), so you can view the whole site, and even log into your WordPress dashboard, before switching hosting permanently.
Cloudways coupon code
Use the coupon code CLOUD20 to get 20% off any Cloudways hosting package for 3 months. Don't forget to use the coupon code alongside the free trial to get an additional 14 days free.
To use the coupon, click the text that states "Got a promo code?" when signing up, and enter CLOUD20. A green tick will appear to indicate the code is valid.
Pay as you go pricing
Cloudways works a bit differently to most managed WordPress hosting providers. Instead of paying a fixed monthly fee, you'll pay at the end of each month, based on what server resources you've used. No contracts, no upfront costs.
Servers are actually charged by the hour – for example, the cheapest 1GB DigitalOcean server costs $0.0139/hr. If you created one to run some tests, then deleted it after an hour, you'd only pay $0.0139!
For most people, though, the monthly pricing is easier to understand, and start at $10 a month. Prices don't include taxes, so if you're in Europe you'll likely have to pay an extra tax each month. For me in the UK, that's 20% VAT, so the $10/month package actually costs me $12.
Here's a quick overview of how Cloudways' pricing compares to other WordPress hosts (based on the 1GB, 25GB storage, 2TB bandwidth DigitalOcean server package):
| | Cloudways | DigitalOcean | ServerPilot | SiteGround | BlueHost | Kinsta | WPEngine |
| --- | --- | --- | --- | --- | --- | --- | --- |
| Monthly Price | $10 | $5 | $10.50 | $11.95 | $2.95 | $30 | $35 |
| Minimum Contract to get this price | None | None | None | 1 Year | 3 Years | 1 month | 1 month |
| Price after promotional period | $10 | $5 | $10.50 | $34.95 | $7.99 | $30 | $35 |
| Hosting type | Managed Cloud | Cloud | Managed | Shared | Shared | Managed Cloud | Managed Cloud |
| Bandwidth | 2TB | 2TB | 2TB | 100,000 visits | "fair usage" | 20,000 visits | 25,000 visits |
| Storage | 25GB | 25GB | 25GB | 30GB | 50GB | 5GB | 10GB |
| RAM | 1GB | 1GB | 1GB | shared | shared | autoscaled | dynamic |
| CPU | 1 Core | 1 Core | 1 Core | shared | shared | autoscaled | dynamic |
| WordPress Installs | unlimited | unlimited | 1 ($0.50 per additional) | unlimited | 1 | 1 | 1 |
| Server management | Custom dashboard | Root access | Custom dashboard | cPanel | cPanel | Custom dashboard | Custom dashboard |
Finally, Cloudways offers add-on services that can carry extra charges. The one's you'll likely want to consider are:
• Off-site backups
• Email hosting
• DNS Made Easy
• Cloudways CDN
Off-site backups
Cloudways' off-site backups cost $0.033 per GB, rounded up to the nearest $0.50 each month. You can set your backup frequency (from 1 hour to 7 days), and how long backups are stored (from 1 to 4 weeks). For a single WordPress site, off-site backups will likely cost you an extra $0.50 a month, unless your site hosts a ton of heavy images or video. I keep many backups and have never been billed more than $0.50 a month for the service.

Email hosting
Email hosting via Rackspace costs from $1 per email address per month if you need it. There's also a free Gmail SMPT add-on to allow you to send [email protected] from Gmail with a mail limit of 99 emails per 24 hours).
DNS Made Easy
Cloudways doesn't have its own nameservers (e.g. ns1.cloudways.com), so in order to host your website with Cloudways, you'll need to manually create something called an "A record" for your domain name. Don't worry, it's very easy to do.
You can use the DNS Made Easy through Cloudways to manage your DNS, but prices start at $2.50 a month. Instead of using DNS Made Easy, I recommend you create a free A record at your domain registrar (the place where you bought the domain name), or, as I do, through Cloudflare. I'll take you through the simple DNS setup procedure in the WordPress setup tutorial below.
Cloudways CDN
Cloudways also offers a premium CDN service, which costs $1 per 25GB. This is around the same price as other CDN providers, like KeyCDN ($0.04 per GB in the US and Europe).
However, you can also get great CDN performance by using Cloudflare (free version), so there's no need to spend extra on another CDN service if you don't need it.
Setting up WordPress in Cloudways
Setting up WordPress hosting with Cloudways takes a couple of clicks. It's extremely easy, even for non-techie users. Trust me, it's a lot easier than trying to setup WordPress in DigitalOcean (not to mention a lot more secure if you're not an expert!).
Creating a new WordPress website
Launching a new WordPress website using Cloudways is incredibly simple. Here's how to install WordPress on Cloudways in 4 easy steps.
How easy it it to migrate an existing WordPress site to Cloudways?

Migrating an existing WordPress website to Cloudways is ridiculously easy. In fact, you don't need to do anything, because you get a free managed migration when you sign up. If, like me, you prefer a DIY approach to WordPress migration, here's how to move your WordPress hosting to Cloudways in 6 easy steps.
How is Cloudways optimized for WordPress?
While it's possible to use Cloudways to host any website CMS or application, Cloudways is optimized for WordPress in 6 main ways:
1-click WordPress installation
1-click Let's Encrypt SSL certificates
Fast and secure server setup with server-side caching and firewall
Easy WordPress migration plugin
Automatic backups
Staging environment
I've already covered how simple it is to install and/or migrate a WordPress website above, but it's made very easy by Cloudways' 1-click WordPress and Let's Encrypt SSL installation in the control panel, and their WordPress migration plugin.
Setting up WordPress is a piece of cake, but what's really important is how fast and secure your WordPress site is going to be on Cloudways.
Cloudways provides what they call an "advanced WordPress web hosting stack", which in simple terms means that servers have the best technology installed to run WordPress efficiently with performance and security in mind.
Your WordPress website will benefit from:
Latest PHP and MySQL versions
Server-level caching – Apache and Nginx
Dedicated firewall
There's no need to spend time configuring or monitoring your server – Cloudways is a managed service, they look after the server for you.
Compared to other managed WordPress solutions, Cloudways' entry-level package is far cheaper than anything else on the market, and I've found it to be very secure and fast.
Cloudways' custom control panel
To manage your hosting account, you need to use Cloudways' custom control panel and dashboard. I'll use some screenshots from my hosting account below so you can see the look and feel of it before diving in. It's very intuitive to use, and I haven't missed cPanel at all since switching from shared hosting.
When you log into your Cloudways account, you get a list of your current servers (I've covered the IP address in red).
You can also switch to the application view, which will give you a list of current applications (1 WordPress website is 1 application).
There are very clear buttons to click if you want to add a new server or application (i.e. a new WordPress website). If you click on your WordPress website, you'll get a more detailed view of its setup. From there, you can perform simple actions, like adding an SSL certificate from Let's Encrypt, managing cron jobs, and launching the custom database manager (if you need to modify your MySQL database – it's the equivalent of phpMyAdmin).
You can also set a username and password to use to connect to your WordPress website via an FTP client like FileZilla. Secure SFTP is supported, so your connection will be securely encrypted.
From the server admin panel, you can do things like setup backups, monitor resource usage (CPU, RAM, storage etc) and upgrade packages like PHP and MySQL.
You can also connect to your server via SSH to run shell commands. Most WordPress users won't need to use this feature, but Cloudways is flexible enough to accommodate both beginner and advanced requirements. If you're competent using shell command to setup servers, you probably don't need a managed hosting service and can save money by getting a cloud server directly from a supplier like DigitalOcean.
Cloudways vs cPanel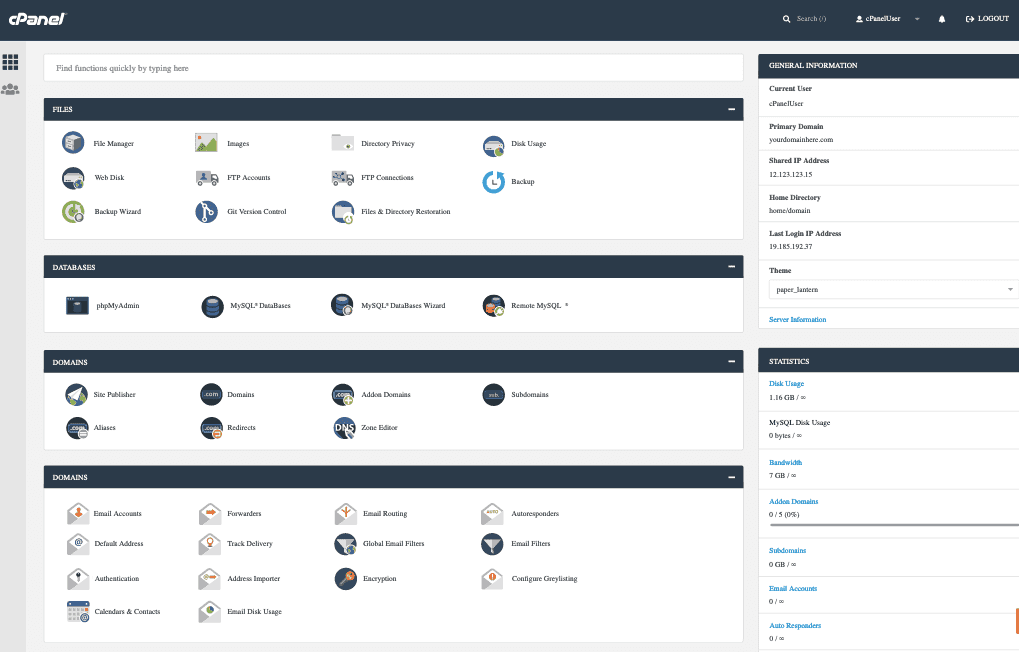 cPanel is a piece of software that makes it easy for end users to manage hosting settings. Most shared hosting comes with cPanel, so if you're moving from cheap shared WordPress hosting, you'll probably be familiar with cPanel.
I used cPanel for many years, and was initially concerned about moving to a custom dashboard solution like Cloudways. I needn't have worried. Everything I can think of that I used cPanel for can be done in Cloudways using the custom interface or minimal setup.
Here's an overview of the main tasks most WordPress users will want to achieve from their host and how you can achieve them in Cloudways versus cPanel:
| | Cloudways | cPanel |
| --- | --- | --- |
| View MySQL database | Yes | Yes |
| Add SSL via LetsEncrypt | Yes | Yes |
| Add email address | Yes | Yes |
| Add nameservers | No | Yes |
There are a couple of tasks that are tricker in Cloudways compared to cPanel, namely configuring DNS settings, however there's a very easy to do this in Cloudflare (see above for a quick tutorial).
In Cloudways, server logs are easily accessible via FTP (useful if you're an advanced technical SEO), and you can monitor just about every server setting you can think of. In almost a year of using Cloudways, I haven't missed cPanel once, but I will admit that there was a short learning curve when I first got started.
The problem with cPanel is that it requires quite a lot of server resources on its own. It might be easy to use, but you're paying for that with a reduction of server resources. Not having cPanel installed on your server means more resources for your WordPress installation.
Without cPanel, the 1GB RAM basic $10/month Cloudways plan is more than powerful enough for a small to medium WordPress website. I'm not sure you could argue that the same is true if using cPanel.
Cloudways MySQL
Cloudways servers can easily be upgraded to the latest version of MySQL. If you're not already familiar, MySQL is a database management system that WordPress needs to run.
You can also choose to run WordPress using MariaDB instead of MySQL, and Cloudways comes with the option of both.
There's no need to manually setup MySQL if you use the 1-click WordPress installation feature in Cloudways, as it's already done for you.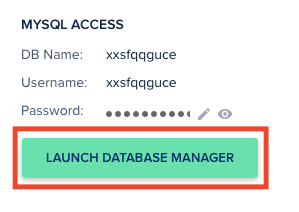 MySQL table management in Cloudways is easy – simply click "Launch Database Manager" from the application panel and you'll be taken to the Cloudways MySQL Manager. For databases over 200MB (unlikely for most WordPress users), they recommend using MySQL Workbench via SSH instead. Remote MySQL connections are also possible if you need them.
Cloudways' MySQL database manager works just like pHpMyAdmin – you can edit database rows as required.

WordPress speed
WordPress speed is one of the main things I look for when picking a hosting provider. Having spent years trying to optimize WordPress for speed, and testing all the available speed plugins and tips available (like WPRocket and perfmatters), I can confirm that there's no substitute for good hosting.
Cloudways WordPress hosting is very fast. I'll show you just how fast with a couple of speed tests.
Cloudways WordPress speed test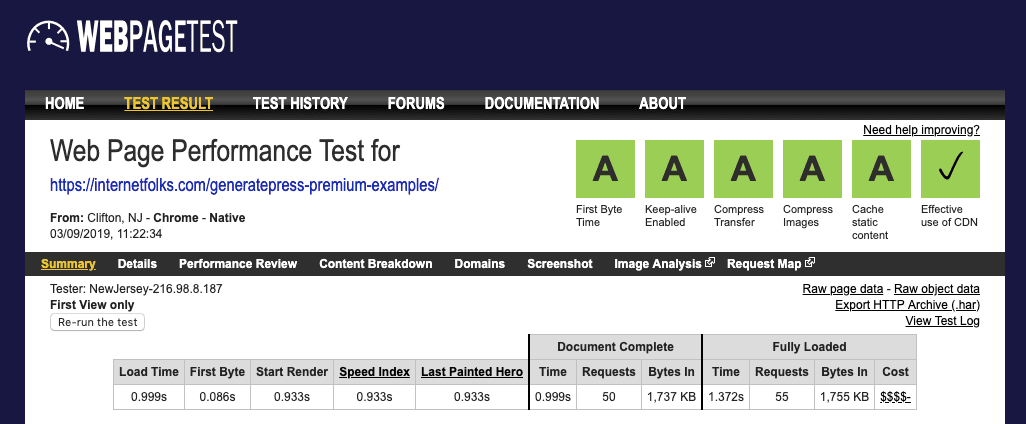 Since this website (InternetFolks.com) is hosted on the cheapest $10/month (1GB) Cloudways plan, I can show you just how fast it is.
Bear in mind that I've taken additional steps to improve WordPress speed (fast theme, speed plugins, code optimization, image compression), but Cloudways is still a major factor in how fast my site loads, especially the TTFB (time to first byte) result, which in this case is a lightning fast 0.0866 seconds.
Note: I'm running speed tests on an inner page (this one on GeneratePress premium examples) not the homepage, because they are likely to be the pages that matter to users. Not many people come to your website just to read the homepage!
As you can see from the speed test results, my blog post (complete with 36 images) loads in under 1 second. It also gets a score of 97/100 on mobile and 100/100 on desktop on Google's PageSpeed Insights tool. Not bad for $10/month!
SSL and security features
First thing's first, Cloudways has 2-factor authentication when you log into your account. You can set this up using the Google Authenticator app on your phone.
Cloudways Let's Encrypt
SSL certificates are essential for any website these days, and Cloudways makes it easy to install one using 1-click free Let's Encrypt SSL installation. You can also use Cloudflare's SSL certificates for free instead.
Cloudways GDPR and privacy
Being based in the EU (in Malta), Cloudways operates in compliance of GDPR.
According to the Acceptible Use Policy, you can't use Cloudways hosting to host illegal, adult or firearm content or anything that breaches copyright laws.
You can read the full terms and privacy policy here.
Automated backups
Cloudways offers a server backup feature – you'll find it under Server Management > Backups. You can set the frequency of backups and how long they are stored for.
Backups cost $0.033 per GB on Cloudways (rounded up to the nearest $0.50),  You can also keep on-site backups (called Local Backups), and these will be stored on your server at the same time as off-site backups. You can click to take a downloadable on-demand local backup at any time.
Note: You have to backup your entire server, you can't choose to only backup a single application on its own, but you can restore individual applications separately.
To restore your server or any single application (e.g. WordPress website) to an earlier backup, simply go to Application Management > Restore and choose the backup you want to restore.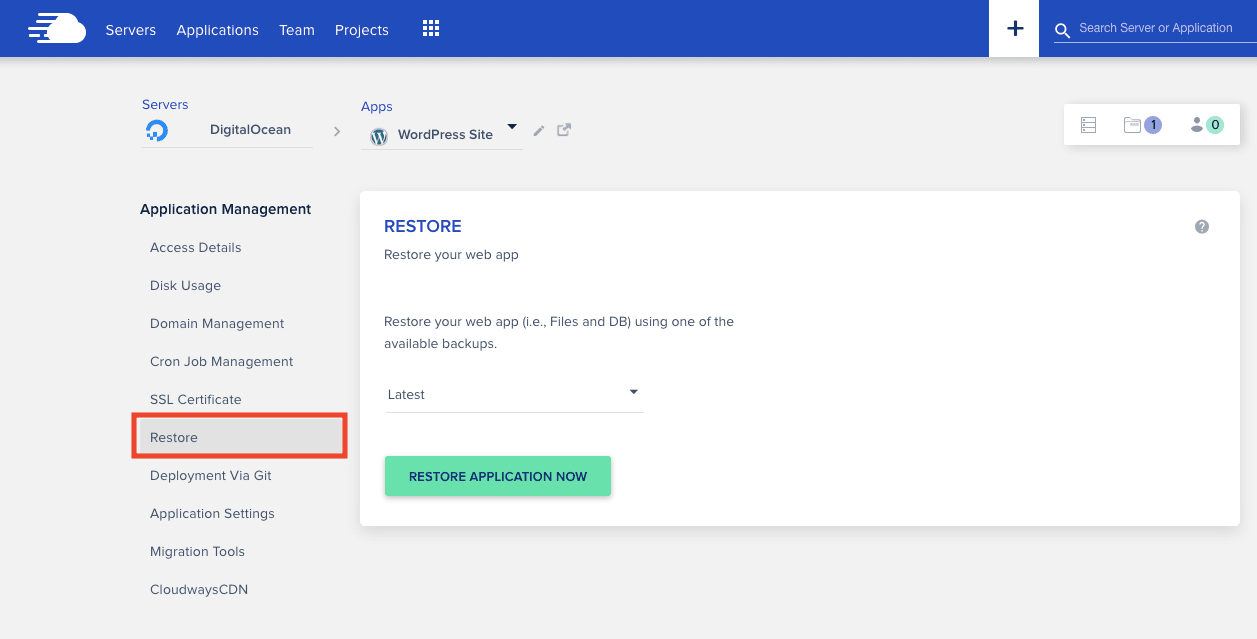 Staging and cloning

Cloudways provides built-in staging and cloning capabilities.
You can clone any WordPress website hosted on Cloudways in a single click. This is ideal if you run multiple WordPress websites and need to start new ones without going through the manual process of setting them up from scratch. I use the Cloudways clone feature whenever I am creating a new WordPress site for a client or one of my side projects.
You can create a staging version of any WordPress site hosted on Cloudways. Staging is an incredible feature – a staging is a complete clone of your existing website, but you can log in and make changes without it affecting the live site. When you're ready, you can push all your changes to the live site with no downtime.
Using staging on your WordPress site will allow you to do things like change WordPress theme, add or update plugins or create and test new site content without any problems on your live site. Once you're ready to go live, just clickand the changes go live. If you've never used WordPress staging for, this one's a game-changer – I could never go back!
Dedicated IP
Every server launched on Cloudways comes with its own dedicated IP. You'll see your dedicated IP on under "Public IP" in the application credentials sections.
If you only host a single WordPress site on your Cloudways server, you'll enjoy the benefits of a dedicated IP address. You can also choose to host multiple WordPress websites in a single server and share your dedicated IP between them. Either way, you're in control of your own IP address, which is great for SEO and security because it means that you're not sharing an address with other (potentially spammy) websites.
Customer support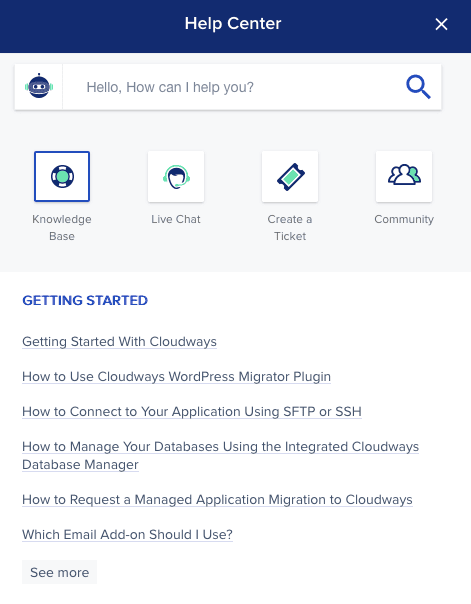 Cloudways gives its customers 24/7 live support via chat. You can also create a ticket, join the community chat or browse the knowledge base to get help.
Knowledgebase
Cloudways have a very detailed set of knowledgebase articles. You can see it for yourself here. Whenever I've wanted to know how to perform a task on the platform, I've found there's already an article on Cloudways about it.
Feedback and suggestions
Cloudways customers can suggest and upvote service improvements and alterations via the dedicated feedback page. You can look at it for yourself here.
While it's nice to be able to communicate your needs directly to your host, and see if other customers have the same ideas, Cloudways does not always communicate back, or quickly action suggestions they have marked as "Started" or "Planned".
I'd like to see a clear product roadmap that shows what features and planned, and when we can expect them. Otherwise, it feels a bit like the user feedback is being ignored. That said, I understand that companies cannot be so reactive to customer suggestions, but this relationship needs managing better.
Cloudways alternatives
Cloudways is a much more advanced WordPress host than shared hosting providers like BlueHost and Hostgator. However, it's also much cheaper and requires a bit more effort than managed WordPress services like WPEngine and Kinsta. The alternative services to Cloudways in terms of price and product offering are ServerPilot (a service that provides a control panel for cloud hosting) and DigitalOcean (where you can buy cloud servers directly but have to manage them yourself).
Let's look at how Cloudways compares to ServerPilot and DigitalOcean in more detail.
Cloudways vs ServerPilot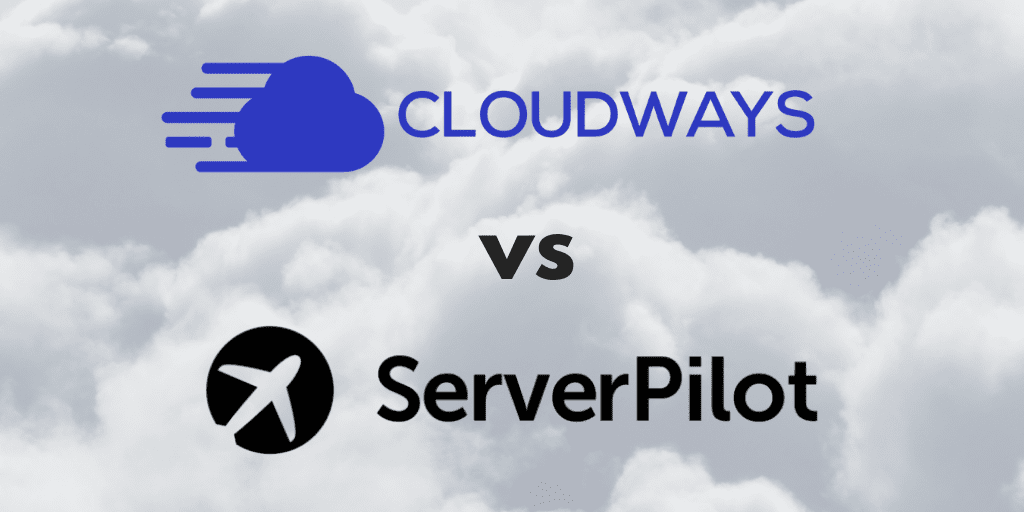 ServerPilot is probably Cloudways' closest competitor, because they also offer managed cloud hosting from the same providers (DigitalOcean, Vultr etc).
However, there is a big difference between Cloudways and ServerPilot:
Cloudways is a completely managed hosting provider – you deploy and manage servers from directly inside the Cloudways dashboard. Whereas, ServerPilot is a control panel service that allows you to manage third party cloud hosting.
With Cloudways, you only have a account with and pay Cloudways, but with ServerPilot, you will need to have a ServerPilot account and a separate account with a cloud hosting provider like DigitalOcean.
For a detailed comparison, see my full guide to ServerPilot vs Cloudways.
Cloudways is cheaper than ServerPilot for the basic server only
If you were planning on using the cheapest Cloudways plan ($10 for 1GB DigitalOcean server), then there's very little cost difference between ServerPilot and Cloudways:
With Cloudways, you pay $10/month for the 1GB DigitalOcean server. With ServerPilot, you pay $5/month to DigitalOcean for the 1GB server, plug $5 to ServerPilot to manage the server, plus $0.50 to ServerPilot for each app installed on the server (1 WordPress website counts as 1 app).
Therefore, on the basic plan, Cloudways is slightly cheaper than ServerPilot ($10 versus $10.50).
ServerPilot becomes much cheaper than Cloudways if you are looking for higher server specs.
For example, if you want the 2GB DigitalOcean server, it will cost $22 on Cloudways. On ServerPilot, it will be $10 for the DigitalOcean server, plus $5 for ServerPilot and $0.50 per 1 app – a total of $15.50. As you keep going up in server costs, ServerPilot becomes cheaper and cheaper compared to Cloudways.
This handy graph shows you just how steep the price changes are as you go up in server specs.
| DigitalOcean Server | Cloudways | ServerPilot |
| --- | --- | --- |
| 1GB RAM, 1 vCPU | $10 | $10.50 |
| 2GB RAM, 1vCPU | $22 | $15.50 |
| 4GB RAM, 2 vCPU | $42 | $25.50 |
There are other differences, too.
ServerPilot can be used with a wider range of hosting plans
ServerPilot allows you to manage any cloud hosting plan, wheras Cloudways is limited to select plans. For example, Cloudways does not include DigitalOcean's 2GB Ram, 2vCPU plan, but ServerPilot is flexible enough to accomodate it.
ServerPilot is more complicated to setup
ServerPilot requires a more complicated setup process. Where Cloudways excels is in its simplicity. With a couple of clicks, you can set everything up on Cloudways, wheras ServerPilot is trickier to manage. Cloudways is a managed hosting option, but ServerPilot requires you to do the managing. That's why it works out cheaper for larger plans.
In summary, Cloudways is better than ServerPilot if you're looking for a small server because it's cheaper and a fully managed hosting service. If you require a larger server for a high traffic or demaning WordPress site, ServerPilot becomes the cheaper choice. But the downside is you'll have to manage things yourself. If you want hands-off managed cloud hosting, Cloudways is always a better choice than ServerPilot.
Cloudways vs DigitalOcean
Cloudways and DigitalOcean both give you the same cloud hosting packages, but with completely different management. With DigitalOcean, you are buying a server directly from the source. With Cloudways, you are buying a server plus management of that server, which naturally carries a higher cost but means you need less time and server setup knowledge to get started.

DigitalOcean is cheaper than Cloudways
DigitalOcean is always going to be cheaper than Cloudways. For example, the cheapest DigitalOcean plan (1GB Ram, 1 vCPU) costs just $5 a month. The same plan on Cloudways will set you back $10. But you're getting something for that extra $5: server management.
DigitalOcean is not managed hosting
With DigitalOcean, you are responsible for installing WordPress, keeping PHP updates, setting up your server for speed and monitoring security. While DigitalOcean has expanded its services to include a marketplace for 1-click apps (and there is a 1-click WordPress app), you will still need to log into your Droplet (the name given to DigitalOcean servers) via SSH to finish the WordPress setup. There are tutorials you can follow along with, but ultimately you're on your own with the setup and management of your server.
You can use DigitalOcean with a cloud host control panel, like ServerPilot or RunCloud to make it easier to manage, but you will need to pay an extra monthly subscription. RunCloud does have a free plan that can be used with DigitalOcean – read my detailed guide on how to move your WordPress website to RunCloud and DigitalOcean with no downtime.
With Cloudways, launching a server and installing WordPress requires just a few clicks, and subsequent server management is done for you. With the options in the custom dashboard, you can take care everything, like backups and installing Let's Encrypt, in seconds. The only downside is the cost.
Take a look at this comparison table of Cloudways versus DigitalOcean pricing. You will always pay more for Cloudways, but you're getting a managed service for this cost.
| Server | Cloudways | DigitalOcean |
| --- | --- | --- |
| 1GB RAM, 1 vCPU | $10 | $5 |
| 2GB RAM, 1vCPU | $22 | $10 |
| 4GB RAM, 2 vCPU | $42 | $20 |
Ultimately, I recommend DigitalOcean as a cost-effective WordPress host to anyone confident and experienced with using shell commands (like if you've used Linux before or have coding knowledge). With the extra effort, you can save a lot of money on hosting fees. However, if you want to save time or lack coding experience, a managed cloud hosting service like Cloudways is ideal.
Cloudways vs RunCloud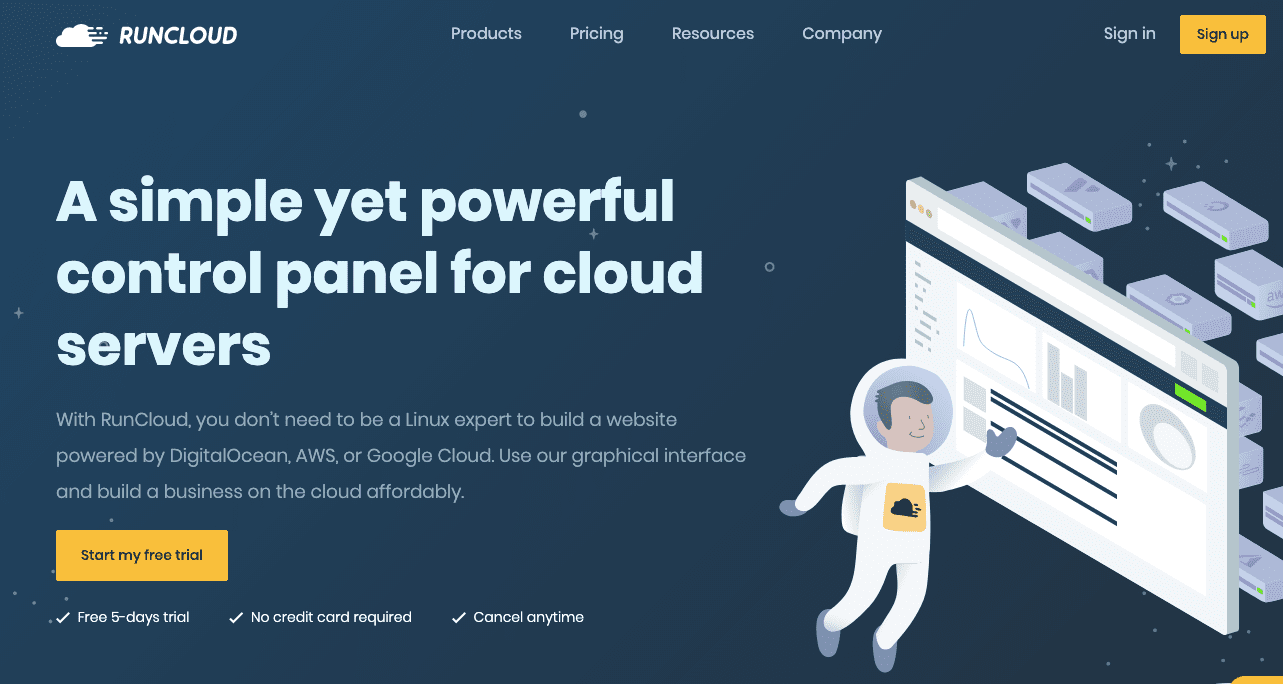 RunCloud is a lightweight cloud server control panel that works with DigitalOcean, Vultr, AWS and most other cloud hosting providers, allowing you to manage servers without using Linux server commands.
You can read the full rundown of how Cloudways compares to RunCloud, but here's a quick comparison:
| | RunCloud | Cloudways |
| --- | --- | --- |
| Free trial | 5-day Free Trial | 3-day Free Trial |
| Coupon | 2 months free with an annual plan | CLOUD 20 for 20% off for 3 months |
| Supported cloud providers | Any that meet minimum requirements | DigitalOcean, Linode, Vultr, Linode, AWS, Google Cloud |
| Service | Cloud server control panel | Managed cloud hosting |
| Price | From free + server costs | From $10/month including server costs |
| Price for 1GB DO server + 1 website | $5/month (on free plan, limited features) | $10/month |
| 1-click WordPress | Yes | Yes |
| WordPress staging | Limited | Unlimited |
| 1-click SSL | Let's Encrypt | Let's Encrypt |
| Support | Ticketing only | 24/7/365 Live Chat + Ticketing |
| Speed optimization options | Yes | Yes |
| Automatic backups | Yes (extra cost) | Yes (extra cost) |
I use RunCloud to manage cloud hosting from DigitalOcean and UpCloud. Here's how I moved my WordPress website to RunCloud in 9 easy steps.
Final verdict: is Cloudways worth it?
Yes, Cloudways is absolutely worth using. As a managed WordPress cloud host, it scores top marks for performance and security, while being very affordable compared to other managed hosting providers.
Cloudways hosting is for you if:
you want fast, secure WordPress hosting
you don't want to manage your own DigitalOcean server
you want to upgrade from shared WordPress hosting
you want a cheaper managed host than Kinsta, WPEngine etc
you don't want a long-term contract
you want automatic backups and a staging environment
you want a dedicated IP
you want a free SSL certificate with Let's Encrypt
Cloudways hosting is NOT for you if:
you need cPanel
you don't want to modify DNS records yourself
you can manage shell commands yourself (go for DigitalOcean directly instead)
you want the cheapest possible shared WordPress hosting (try BlueHost instead)
your website gets millions of pageviews and you need a large server (go with ServerPilot instead)
Ultimately, the choice is yours. I hope you've learned a lot from my personal experiences with Cloudways, and you can use the guides and details in this review to help you try Cloudways for yourself.
Don't forget to use the free trial and 20% off WordPress hosting for 3 months with the coupon code CLOUD20.