I've written about WordPress speed quite a lot over the years, and for good reason. It can be a huge problem! WordPress is a database-driven content management system (CSM) and, as a result, it's a pretty versatile and powerful beast. The downside of all that capability is that sometimes WordPress websites can be slow. Sometimes, painfully slow!
There are a number of things you can do to speed up WordPress – upgrade to better hosting, manually clean up your site, make images smaller – but sometimes a quick-fix plugin will do the job just as well. I've already tested a popular WordPress speed plugin, WPRocket (see my review here) and was impressed with how fast it made a client's site.
Now, it's time to try another plugin on this very site: perfmatters. It's not big and it's not fancy, but at less than $25, I'm interested in seeing just how fast it can make this website.
In addition to the speed benefits, perfmatters also has a couple of security features built-in, so I'll be improving WordPress security, too.
Spoiler alert: the short answer is, yes, perfmatters can help you WordPress site load faster in 1-click.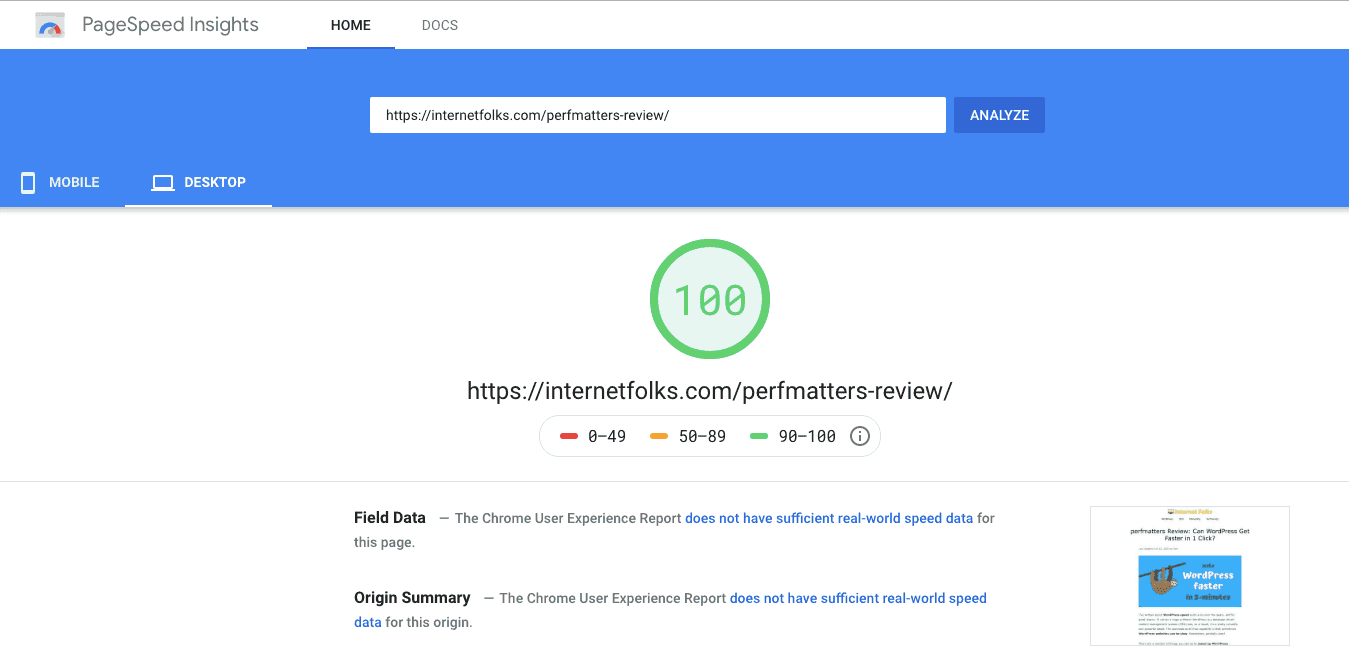 What is perfmatters?
perfmatters is a lightweight WordPress performance plugin, with the main purpose of speeding up any WordPress site by optimizing WordPress settings and disabling unnecessary features.
In simple terms, perfmatters is a simple plugin that lets you toggle WordPress features on and off without any coding knowledge.
Testing your WordPress speed before using perfmatters
Do this before you start using perfmatters, otherwise you'll have no idea what effect it's having on your site.
As I've said before, if you're trying to speed up your WordPress website, you should start by testing your most important page type. Most people make the mistake of just running a test on their homepage, but it's probably not your most-visited page type. For this site, blog posts are the most popular so I will be running the test on the WP Rocket review I wrote earlier (ironic, eh!).
I use WebPageTest to measure the speed of a WordPress website because it provides detailed information on how long each element took to load. Other options include Pingdom, GTmetrix, and Google's PageSpeed Insights.
Set the location to where most of your visitors are based and run the speed test.
Here are the speed results for my blog post:

Nice and fast! The all-A results might look nice, but the Load Time is way more important.
My page loaded in 2.195 seconds. This is quite good, probably because I have already optimized my site for speed and use fast WordPress hosting from Cloudways, but there's still room for improvement. I'd love to get that load time down to under 1 second.
How to install perfmatters
Purchasing and installing perfmatters is really simple. Once you've purchased a licence, download the plugin .zip file (only 145kb) and upload it to your WordPress site via the dashboard.
Add your license key from your perfmatters dashboard to your WordPress site to activate the plugin and you're good to go.
Setting up perfmatters
Now you've got perfmatters up and running, you need to tweak the settings to start seeing some improvements.
It's very simple to use, and most of the options can simply be toggled "on".
Here's a list of all the main settings:
Disable Emojis
Disable Embeds
Remove Query Strings
Disable XML-RPC
Remove jQuery Migrate
Hide WP Version
Remove wlwmanifest Link
Remove RSD Link
Remove Shortlink
Disable RSS Feeds
Remove RSS Feed Links
Disable Self Pingbacks
Remove REST API Links
Disable Dashicons
Disable Google Maps
Disable Password Strength Meter
Disable Heartbeat
Heartbeat Frequency
Limit Post Revisions
Autosave Interval
Change Login URL
Disable CSS and JS Script Manager
DNS Prefetch
Preconnect
There are also some additional settings for WooCommerce users:
Disable Scripts
Disable Cart Fragmentation
Disable Status Meta Box
Disable Widgets
You can also use perfmatters to set up your CDN (like KeyCDN, read my review here), and add Google Analytics code and settings. I don't need these features on this site, but they would be useful if I was setting up a new site.
Best perfmatters speed optimization settings
First, I'm going to turn on all of the perfmatters settings that should help speed up WordPress. You can do this yourself from the settings panel.
Toggle on the following options:
Disable Emojis
Disable Embeds
Remove Query Strings
Disable XML-RPC
Remove jQuery Migrate
Remove wlwmanifest Link
Remove RSD Link
Remove Shortlink
Disable Self Pingbacks
Remove REST API Links
Disable Dashicons
Disable Google Maps
Disable Password Strength Meter
Disable Heartbeat (Only Allow When Editing Posts/Pages)
Heartbeat Frequency (1 minute)
Limit Post Revisions (30)
Autosave Interval
I left the RSS feeds untouched because I use them. I left heartbeat on when editing posts, at a 60-second frequency. This means that my posts will still auto-save, but less frequently than the default, resulting in fewer requests.
Additional security settings
These settings won't do anything for WordPress speed, but they help keep your site secure, which is especially useful if you don't have another WordPress security plugin installed.
Hide WP Version
Change Login URL
Advanced performance settings
I haven't fiddled with these yet, but I'll consider doing a more advanced tutorial on these settings in the future if they prove useful.
Disable CSS and JS Script Manager
DNS Prefetch
Preconnect
The results: how much did perfmatters speed up my website?
I ran another speed test after installing and configuring perfmatters: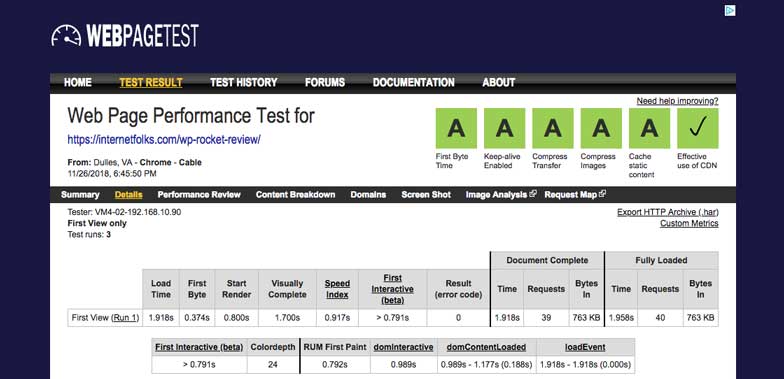 Not bad! My page now loads in under 2 seconds (1.918 seconds to be exact). The plugin removed a request and shaved 20kb off my page size. It's not the under 1 second speed dream I had, but it's an improvement nonetheless.
I'm quite happy with this result, since I had already applied multiple manual tweaks and caching plugins to get my site fast before using perfmatters. I imagine that using the plugin on an unoptimized site will give more dramatic speed gains.
Is perfmatters worth it?
For the cost (less than $25 for a single-site license), and the time it takes to set up (less than 5 minutes), perfmatters is great way to cheaply and quickly speed up any WordPress website.
perfmatters is priced based on a 1-year license. When you sign-up, an annual subscription will automatically be created for you (either via Paypal or credit card). You can cancel at anytime. If you cancel your subscription, you can still use the plugin but will not receive support or updates when your license expires.
If you need WordPress speed plugins, I also recommend looking at WPRocket (my review here). To be clear, you can use both WPRocket and perfmatters together, they don't overlap much in their functionality – WPRocket is a caching plugin and perfmatters is a request optimization plugin.
Ultimately, it is possible to go through WordPress manually code all of the changes perfmatters lets you make. If you don't getting stuck into the coding, there are also many free plugins available that will do each of the things perfmatters does. For example,there's a free plugin to disable XML-RPC, and a free plugin to disable or limit the heartbeat API.
However, your dashboard is going to get pretty cluttered with plugins if you install a new one for each perfmatters feature. I don't recommend filling WordPress with too many plugins, simply because they pose security risks and potential speed issues depending on how they are coded and how frequently they are updated. I think perfmatters is a much safer and easier way to make WordPress a bit leaner and faster with hardly any effort.
If you're buying the plugin, see if you can get 10% off with the coupon "PERFMATTERS" while you're at it!