Cloud hosting, using a network of servers to guarantee resources, is a great way to reliably host your WordPress website and avoid downtime and slow loading times.
There are a ton of cloud hosting options out there – think DigitalOcean, Vultr, Amazon Web Services (AWS) and Google Cloud – but most are built for developers. Without Linux coding knowledge or experience using server command line functions, it can be difficult for non-developers to set up and manage a cloud server on their own, especially if you're used to using cPanel to manage your website.
Enter cloud server management companies like ServerPilot and Cloudways. Designed for non-developers, ServerPilot and Cloudways help you use control panels and one-click installation to manage your own cloud server without coding skills.
But there are differences between each cloud hosting management platform, and if you're trying to decide between signing up to Cloudways or ServerPilot, this guide will help you understand which one is best for hosting your WordPress website(s).
Let's dive in.
Short Answer: ServerPilot vs Cloudways WordPress Hosting Comparison
Here's a quick overview of the differences between ServerPilot and Cloudways.
Cloudways if best for you if…
You want an all-in-one cloud hosting solution
You want an easy-to-use interface with no command line coding required
You want cheap WordPress cloud hosting (from $10/month)
You want managed hosting, where security updates are taken care of for you
You want a free trial and 20% off for 3 months with coupon code CLOUD20
ServerPilot is best for you if…
You want to manage any cloud hosting package, from any provider (e.g. DigitalOcean, Vultr, Google Cloud)
You only need a basic control panel for WordPress installation and server management
You're comfortable with some server command line functions

You want flexibility to install any server software you like
You want a 14-day free trial
What is ServerPilot?
Founded in 2012 by PHP developer and security researcher Justin Samuel, ServerPilot is a cloud server management service based in the US.
ServerPilot provides a visual interface to help you install and configure third party cloud hosting servers from any provider (like DigitalOcean, AWS or Vultr). ServerPilot does not provide any hosting services directly.
What is Cloudways?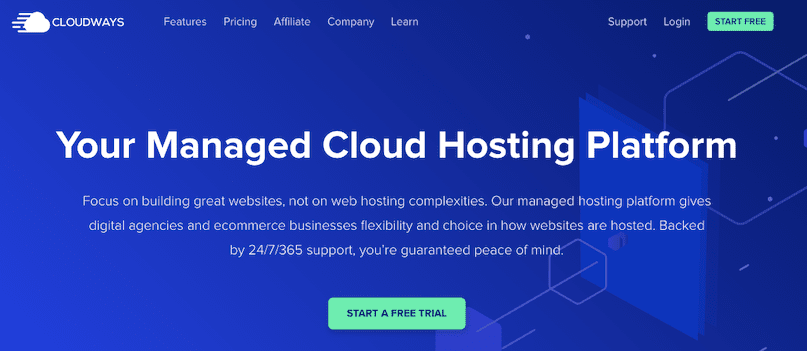 Founded in 2012, Cloudways is a managed cloud hosting platform based in Malta and created by cloud computing and security expert Pere Hospital, and brothers Umair Gadit and Aaqib Gadit, who are best known for starting PureVPN.
Cloudways provides all-in-one managed cloud hosting packages, that bundle cloud servers from third party suppliers (like DigitalOcean, Google Cloud and linode) with an interface for common server tasks like creating staging environments, editing MySQL databases and restoring backups.
You can read more in detail about how Cloudways works for hosting WordPress websites in my in-depth Cloudways review.
Cloudways vs ServerPilot: Everything you need to know
The main difference between Cloudways and ServerPilot is that Cloudways is a completely managed hosting provider – you deploy and manage servers from directly inside the Cloudways dashboard. Whereas, ServerPilot is a control panel service that allows you to manage third party cloud hosting, which you'll need to buy separately.
Let's look a bit more in detail about the benefits and pitfalls of this difference.
Pros of ServerPilot
Fixed management panel pricing – pay per server and per application, regardless of size
One-click WordPress installation
Automatic security updates
Freedom to manage any cloud server you like
Cons of ServerPilot
Panel is limited – you will need to use command line functions to perform some activities
Per website fee gets expensive if you run multiple sites
More expensive than other cloud hosting control panels
More expensive than managing your own cloud server via DigitalOcean or equivalent
Need to pay for higher tiers to get server stats and other features
No email
Pros of Cloudways
All-in-one managed cloud hosting
Easy-to-use interface – no command line required
One-click WordPress installation
Automatic security updates
Run unlimited websites for no extra cost
Staging, server stats and error logs included in all plans
Cons of Cloudways
Limited selection of servers
Gets expensive as your server package increases
Some tech stack limitations – you don't have 100% freedom to configure servers
More expensive than managing your own cloud server via DigitalOcean or equivalent
Extra fees for email hosting and backups
Pricing
Pricing between ServerPilot and Cloudways is quite different.
Cloudways charges a fixed monthly fee for each server, regardless of how many websites you host. Prices rise as the server specs increase.
ServerPilot has 3 tiers to its pricing structure: Economy, Business and First Class. Cloudways offers standard prices and all features are included with each package.

ServerPilot charges a fixed monthly fee per server, regardless of server type, plus an additional fee per application (i.e. per website). If you use ServerPilot, you will also need to pay for your own server directly, for example via DigitalOcean. This gives you the freedom to choose any provider and package, but you'll need to keep on top of billing for both services.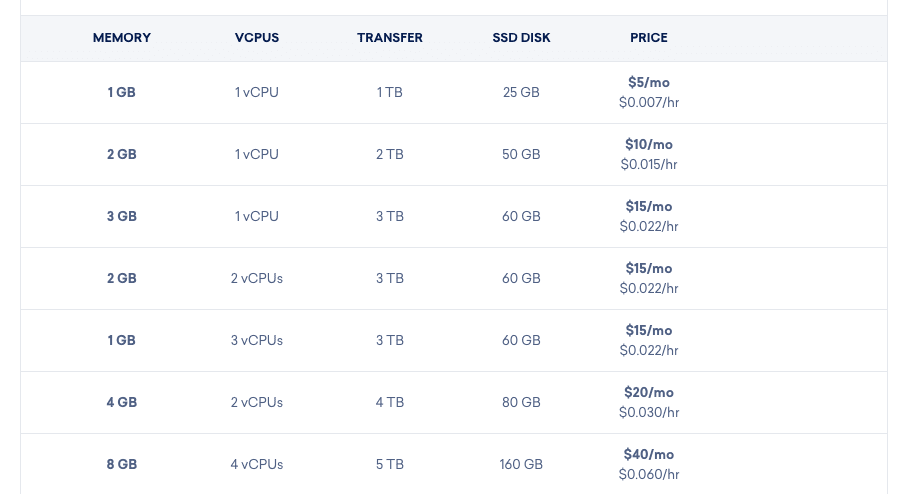 Cloudways offers set prices for each server. As an all-in-one managed hosting provider, you only need to pay Cloudways, not any third party server providers (e.g. DigitalOcean, Vultr etc).
If you use ServerPilot's Economy option, it can be significantly cheaper than Cloudways for medium to large servers.
Here's a look at how prices compare:
| DigitalOcean Server | Cloudways | ServerPilot |
| --- | --- | --- |
| 1GB RAM, 1 vCPU | $10 | $5 + $5 + $0.50 = $10.50 |
| 2GB RAM, 1vCPU | $22 | $10 + $5 + $0.50 = $15.50 |
| 4GB RAM, 2 vCPU | $42 | $20 + $5 + $0.50 = $25.50 |
Don't forget, these prices assume you are only hosting a single website, and want the basic ServerPilot tier.
The cheapest option is Cloudways if you use a small server
If you want basic cloud hosting, on a 1GB RAM DigitalOcean server, Cloudways is your cheapest option. I use Cloudways' $10/month plan to host this website, and am very happy with the load speed and performance. There are other reasons to choose Cloudways over ServerPilot, but if you're purely interested in price, Cloudways' $10/month offering is going to be the best for you.
If you're interested in having a super-fast WordPress website, take a look at my guide to the fastest WordPress themes.
The cheapest option is ServerPilot if you need bigger servers
Since ServerPilot only charges you for their management platform, and you pay directly for cloud hosting, it will almost always work out cheaper for you, except for the basic 1GB DigitalOcean server option.
Of course, ServerPilot becomes more expensive than Cloudways if you use their Business or First Class tiers, so let's take a look at how the hosting features compare below.
ServerPilot vs Cloudways Feature Comparison
Comparing ServerPilot and Cloudways hosting features is tricky, as ServerPilot offers 3 different tiers with different features, whereas all Cloudways packages have the same features.
What you pick comes down to what you need to host your WordPress website – think about things like backups and server logs.
| | Cloudways | ServerPilot Economy | ServerPilot Business | ServerPilot First Class |
| --- | --- | --- | --- | --- |
| Free SSL | Let's Encrypt | Let's Encrypt | Let's Encrypt | Let's Encrypt |
| One-click WordPress | Yes | Yes | Yes | Yes |
| Server Stats (CPU, RAM etc) | Yes | No | Yes | Yes |
| Server-Level Caching | Yes | Yes | Yes | Yes |
| Off-Site Server Backups | $0.033 per GB (rounded to nearest $0.50) | $1/month via DigitalOcean | $1/month via DigitalOcean | $1/month via DigitalOcean |
| WordPress Backups | $0.033 per GB (rounded to nearest $0.50) | No | No | No |
| Staging Area | Yes | No | No | No |
| WordPress Site Cloning | Yes | No | No | No |
| Database Management | Custom dashboard | need to install phpMyAdmin | need to install phpMyAdmin | need to install phpMyAdmin |
| Support | 24/7 Live Chat | Support Tickets | Priority Support | High Priority Support |
I'm not going to get into the features that both Cloudways and ServerPilot share, because there's not much difference between them. Instead, I'll explain what features are missing from ServerPilot's Basic tier, so you can decide if you need them.
Do you need server stats?
Server statistics tell you important things, like if how much RAM, storage space and bandwidth your website is using. You need to know how much of your cloud server resources you're using to avoid maxing out and slowing your site down, or over-spending on necessarily large servers.
Monitoring server usage is easy in Cloudways, as they have a built-in panel available to check RAM, storage and bandwidth stats whenever you want, on all plans, even the cheap $10/month one.
ServerPilot make server statistics available on their Business and First Class packages only, which means it will cost you more than the Economy package.

In addition to server stats, you'll probably also need access to server logs and error logs, especially if you're interested in on-page SEO.
Via the dashboard, Cloudways provides access to the most recent 1000 server logs, and if you want more than that you can get them by logging into your server via SSH or SFTP (using FileZilla, CyberDuck or similar FTP client).
In ServerPilot, Economy tier customers have to use SSH or SFTP to view any server log files. Business or First Class tier customer can use the integrated log viewer right in the control panel.
WordPress Installation
WordPress installation is easy on both Cloudways and ServerPilot.
I go through Cloudways setup in more detail in my guide to setting up WordPress in Cloudways, but in short, you simply choose a new server directly in the control panel, then click to install WordPress. It's all done for you in a couple of minutes.
If you use ServerPilot, WordPress installation involves an extra process, because you first have to choose and buy your own cloud server. Let's assume you want to go with DigitalOcean's $5/month 1GB server: you'll need to buy it directly from DigitalOcean, then connect your DigitalOcean server to your ServerPilot account using its IP address and root password.
Once your server is connected, you can then use ServerPilot to create a new WordPress app (aka website).
Moving an existing WordPress website is very easy with Cloudways (read my guide to migrating your WordPress site to Cloudways), using the official Cloudways WordPress Migrator plugin.
Migrating your WordPress site to ServerPilot is just as easy, and ServerPilot recommend you setup a new WordPress installation first, then move your old site over using the All-in-One WP Migration plugin.
Don't forget that you can keep your old hosting running while you check the new hosting works as it should, then it's just a case of changing your nameservers to complete the move.
Alternative WordPress Cloud Hosting Providers
ServerPilot and Cloudways are just two of many options to help you host WordPress on a cloud server. There are many other management platforms and control panels to choose from, plus cloud server providers you can buy from directly. Browse these lists for more information.
Cloud hosting management platforms and control panels
Cloud hosting services
Final Verdict
If, like me, you want fast WordPress hosting without the hassle of command line server management and worrying about security, I recommend Cloudways (the $10/month package is more than enough for me). I also use a couple of $22/month servers to run multiple WordPress websites, which works out a lot cheaper (and way faster) than shared hosting.
If you're moving over from cPanel hosting, Cloudways' panel is easy to get your head around, and you can perform all essential website maintenance tasks within a few clicks.
The downside to Cloudways is that it's not cheap if you need bigger servers. ServerPilot offers a lot more flexibility, but you'll need to get comfortable with command line functions to make stuff happen. If you're very experienced managing a Linux server, then you can probably handle managing cloud hosting directly from the supplier (from DigitalOcean, for example), so I believe ServerPilot is only of use to a small number of people.
Don't forget, there are plenty of other cloud hosting management platforms out there, some of which are open-source or very cheap. I suggest you take a look all your options before diving into a decision (tip: use the free trials to get a feel for things before committing).