If you're looking to easily host an app or website on a cloud server, but don't want to fiddle about with Linux server commands, then RunCloud and Cloudways will both help you manage cloud hosting from an easy-to-use control panel.
Despite RunCloud's and Cloudways' logos looking like weird mirror images of each other (what's that about?!), there are actually a few key differences between the two services.
In this article, I'll run through the pros and cons of both RunCloud and Cloudways, so you can decide which one is right for you.
I'll focus on WordPress hosting because it's one of the most popular web applications (and I use it myself), but it's worth remembering that RunCloud and Cloudways also both work well for other cloud hosted applications such as Joomla or Drupal.
Let's get into it.
Short answer: Is RunCloud or Cloudways Better?
As always, the answer to this question is "it depends". If you have a couple of small WordPress websites, Cloudways is by far the cheapest and easiest cloud hosting solution (that's why I use it on this site!). Similarly, Cloudways is best if you want a hands-off hosting solution with minimal setup and maintenance.
If you're looking to manage multiple servers, RunCloud will be a far cheaper option than Cloudways, because the Pro plan lets you add unlimited servers, whereas Cloudways prices each server at a fixed cost. And if your website demands a big server with more than 2GB RAM or multiple CPUs, Cloudways' pricing adds a heavy markup so you'll save a lot if you manage things yourself using RunCloud.
RunCloud vs Cloudways Comparison
Here's a quick comparison chart that shows you the main differences between RunCloud and Cloudways.
| | RunCloud | Cloudways |
| --- | --- | --- |
| Free trial | 5-day Free Trial | 3-day Free Trial |
| Coupon | 2 months free with an annual plan | CLOUD 20 for 20% off for 3 months |
| Supported cloud providers | Any that meet minimum requirements | DigitalOcean, Linode, Vultr, Linode, AWS, Google Cloud |
| Service | Cloud server control panel | Managed cloud hosting |
| Price | From free + server costs | From $10/month including server costs |
| Price for 1GB DO server + 1 website | $5/month (on free plan, limited features) | $10/month |
| 1-click WordPress | Yes | Yes |
| WordPress staging | Limited | Unlimited |
| 1-click SSL | Let's Encrypt | Let's Encrypt |
| Support | Ticketing only | 24/7/365 Live Chat + Ticketing |
| Speed optimization options | Yes | Yes |
| Automatic backups | Yes (extra cost) | Yes (extra cost) |
What is RunCloud?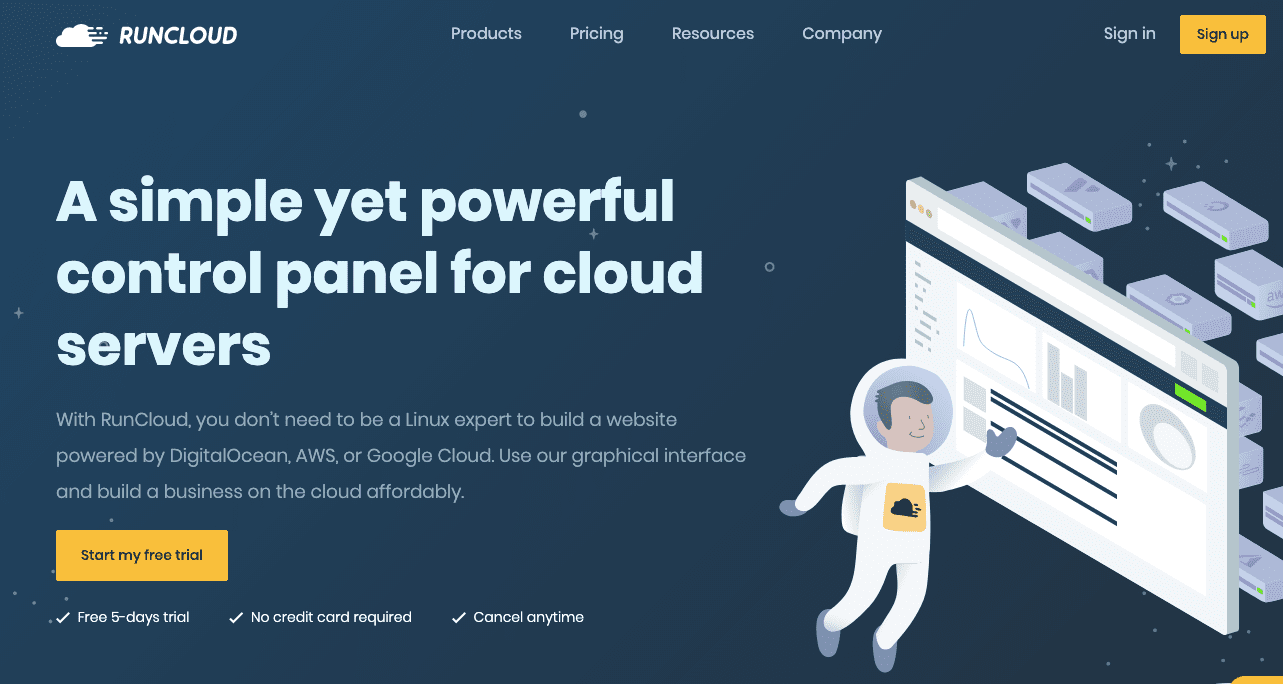 RunCloud is a cloud server control panel service.
In simple terms, you use RunCloud's graphical interface to manage cloud servers from providers like DigitalOcean and AWS instead of using Linux server commands.
RunCloud is purely a control panel, so you'll need to buy cloud hosting separately (e.g. from DigitalOcean directly) before you can use it, as you would with similar services like ServerPilot.
What is Cloudways?
Cloudways is a managed cloud hosting platform.
In simple terms, you can use Cloudways to setup and manage cloud servers from providers like DigitalOcean and Google Cloud.
Unlike RunCloud and ServerPilot, Cloudways is an all-in-one cloud hosting service – your monthly plan comes with hosting included (pick from a list of providers), and you won't need to buy anything else from any third parties.
You can read my Cloudways review if you want to know more about how to setup Cloudways to host a WordPress website.
RunCloud Pricing
RunCloud pricing starts at $8/month for the basic plan, but you'll need to buy your own cloud hosting, which costs from $5 from DigitalOcean. Adding that together, you can get started with RunCloud from $13/month. If you commit to an annual RunCloud plan, you can get 2 months free, bringing the monthly price to effectively $6.67.
You can get cloud hosting as cheap as $2.50/month from Vultr, so it's possible to manage your own cloud server through RunCloud from $10.50/month or $9.17/month if paid annually. However, you'll only get 512MB RAM for that price, and all Cloudways packages start at 1GB RAM.
RunCloud backups cost extra: $0.03 per instance/day, plus storage costs (30GB free to start with).
Update: I found that RunCloud has a hidden free plan if you sign up and don't choose a paid plan. It's limited to a single server, but allows unlimited applications and other features.
Cloudways Pricing
Cloudways managed cloud hosting starts at $10/month, which gives you the 1GB, 1 Core DigitalOcean droplet. That's a $5 mark-up on the price you'd get if you bought directly from DigitalOcean.
Cloudways pricing depends on which cloud package you choose. Here are the starting prices for each provider:
DigitalOcean from $10/month
Vultr from $11/month
Linode from $12/month
Google Cloud from $33.30/month
AWS from $36.51/month
Most of Cloudways' features are included in the package price, but you'll need to pay extra for the following optional services:
Server backups – $0.033 per GB, rounded up to the nearest $0.50
Email hosting via Rackspace – $1/month per address (free Gmail integration also available)
DNS made easy – $2.50/month (can also be done for free with Cloudflare)
Benefits of RunCloud
Choice of any cloud server
Cheap for multiple or larger servers
Automatic server setup
Speed optimization options
1-click SSL from Let's Encrypt
1-click WordPress installation (Drupal, Joomla and more also supported)
WordPress staging
RunCloud is better than Cloudways if you want freedom to manage any cloud server plan. Cloudways only offers a limited choice. For example, look at the difference between the DigitalOcean servers on offer (which you can add to RunCloud), versus the Cloudways options.
Cloudways offers a range of DigitalOcean plans:

But there are more plans available if you buy directly from DigitalOcean:
If you use RunCloud, you can choose any plan you like, providing it meets their minimum requirements:
1GB of disk space
1 core processor
512MB minimum RAM
Third party cloud servers start at $2.50/month. For example. Vultr offers a 512GB RAM cloud server option for $2.50/month, which is compatible with RunCloud.
Another great feature of RunCloud is that their Pro plan ($12.50/month) lets you manage unlimited web applications. You can host many WordPress websites from a single server, but it only works out affordable if you're going to host 3 or more to cover the extra cost of the Pro plan.
It's easy to move any WordPress website to RunCloud – see our complete guide to migrating to RunCloud for a more detailed rundown of how it works.
Benefits of Cloudways
Cheap to get started (from $10/month)
No contract
All-in-one hosting
Speed optimization options
1-click SSL from Let's Encrypt
1-click WordPress installation (Drupal, Joomla and more also supported)
WordPress staging
As a long-time Cloudways customer, I can tell you about some of the benefits I appreciate the most.
Firstly, the entry price-point is hard to pass up: $10/month for fast secure WordPress hosting is miles ahead of the competition like Kinsta and WPEngine. Yes, you will have to a tiny bit more work yourself (getting WordPress set up), but nothing compared to managing your own cloud server.
I love not needing to bother with any other billing or server management from DigitalOcean.
Another great thing about Cloudways is the ability to host unlimited apps on any server. That means, theoretically, you could host 100 WordPress websites on a single $10 Cloudways server. Of course, I don't recommend overloading your servers to that extreme (it would slow all your sites down), but it's very possible to host multiple WordPress websites on a single server to save money.
Depending on your traffic, you could reasonably host up to 5 WordPress websites on a single 1GB RAM $10 Cloudways DigitalOcean server, and up to 20 on the $22 2GB RAM options. How well this performs depends on your site setup and traffic, but Cloudways has a server monitoring feature that lets you see how your server is coping. As long as your free memory and CPU don't get too low, you can keep on hosting multiple applications on a single server.
Using Cloudways is a bit different if you're coming over from a cPanel hosting environment. Therefore, it's great that Cloudways have put together plenty of help documentation to take you through common server activities you may need to carry out. During setup, I Googled a ton of things and always found what I needed on Cloudways' support pages.
It's incredibly easy to move an existing WordPress website to Cloudways – they've developed a special plugin to guide you through the process, and they also offer a free migration if you prefer to let them take care of it.
Worst things about using RunCloud
The worst thing about RunCloud is that you'll need to sync it with a cloud server provider by yourself. Unlike Cloudways, there's no 1-click server setup option so you'll need to keep on top of 2 hosting accounts and make sure they are set up properly on your own.
I personally find some of RunCloud's help documents poorly worded and confusing. For example, I was trying to learn more about RunCloud's WordPress plugin RunCloud Hub and what it does, and many sentences just didn't make sense:
RunCache is Nginx caching mechanism that will be installed to your web application in RunCloud automatically by installing RunCloud Hub feature.
Huh? I can try and figure out what they mean, but it's not super clear. Some Cloudways posts are similarly poorly worded, but on the whole they produce help content.
I find RunCloud's Basic pricing level expensive compared to ServerPilot, and it limits you to only hosting 1 server and 1 WordPress staging environment.
Worst things about using Cloudways
Cloudways pricing does not include tax, so if you're in Europe that's 20% extra. Also, Cloudways pricing gets really expensive if you're using a larger server.
When you compare Cloudways' prices to the cost of, for example, DigitalOcean's droplets, you will see how much you're paying for the service:
| Server | Cloudways | DigitalOcean |
| --- | --- | --- |
| 1GB RAM, 1 vCPU | $10 | $5 |
| 2GB RAM, 1vCPU | $22 | $10 |
| 4GB RAM, 2 vCPU | $42 | $20 |
Another thing that I don't like about Cloudways is that they recently added increased customer support options, but you've got to pay extra for them. For standard customers, you'll get 24/7/365 live chat and ticketing options, but if you want more than basic application troubleshooting help, you'll need to shell out from $100/month, and even from $500/month for telephone support.
I get that support is where the costs of running a hosting company can add up, but I'm not super impressed by the quality of support offered to standard customers. I recently had a simple question that took many days of back and forth on a ticket to get resolved. For the price, I still think Cloudways is worth using, but bear in mind that if you need a lot of support, you'd be better off with a host like Kinsta or WPEngine.
Runcloud vs Cloudways: Which is best for WordPress?
To be honest, it's impossible for you to get a good idea of just how RunCloud or Cloudways will work out for you without giving them a spin. It won't cost you anything, so I suggest you take a free trial with both services to get a feel for the interfaces and how things work. It's a good idea to also test out their support while you're on a trial, and ask any questions you may have.
RunCloud offers a 5-day free trial with no credit card required, however you will need to pay directly for your own cloud server (e.g. from DigitalOcean) while testing out the service. Since DigitalOcean charges by the hour, this won't cost you much.
Cloudways offers a 3-day free trial with no credit card required. With the Cloudways trial, you get cloud hosting from DigitalOcean, AWS, Google Cloud etc included for free.
Still can't decide? Try comparing Cloudways with ServerPilot, too.