Creating a successful affiliate website is a goal for anyone with a laptop and the slightest bit of SEO knowledge. While the barrier to entry is super low when it comes to starting an amazon affiliate site, success doesn't come quite as easy.
There are plenty of examples out there of huge sites bringing in thousands of dollars a month in affiliate revenue (WireCutter and Nerd Wallet, for example), but I believe you'll learn more about what it takes to make solid, affiliate income (or dare I say "passive income") by looking at smaller sites that you've never heard of.
With that in mind, I'm going to show you 16 successful small affiliate marketing sites with less than 100 articles each and explain a bit about how I believe they manage to grow traffic without thousands of pages.
Don't forget, by small I mean a small number of articles: these affiliate sites still bring in a ton of targeted organic traffic with buying intent.
Let me make this clear: this list is not going to give you a head-start by copying the niches or keywords you see on these sites: there are no "easy keywords" that don't require hard work on the content and SEO side of things. But by looking at small/scale successful websites, you'll get a good idea of how to grow a small site to earn an affiliate income from.
Note: the sites I'm featuring can (and I expect will) keep growing, but the stats I am quoting are correct as of April 2019. I've added updates as of 2021 so you can see how they've progressed.
1. The Geeky Cyclist
Domain: https://www.thegeekycyclist.com/
WordPress Theme: GeneratePress Premium
Notable WordPress plugins: Elementor Pro
Niche: Cycling
Site Age: 9 months
Number of articles: 85
Total Word Count: 162,434
Monthly estimated pageviews: 100,000
Estimated monthly organic search traffic: 91,000
2021 update: The Geeky Cyclist now has a logo (!), 300 articles, and estimated monthly organic traffic of 400,000.
The Geeky Cyclist is a remarkable example of just how successful a small affiliate website. In just 9 months, traffic has grown to over 90,000 organic monthly pageviews. That's an SEO dream! With over 150,000 words published on the site, it's by no means tiny, but The Geeky Cyclist gets huge value out of its content with 1 pageview for each word and a half they write.
160,000 words split between 85 articles equals roughly 2,000 words per article, and the site has a good internal linking game that I'd imagine is helping their SEO efforts. I like how clean and minimally designed the site is, so I'm now surprised to discover The Geeky Cyclist uses the premium version of GeneratePress as its WordPress theme (as do I!). Additional page design is done using the Elementor Pro plugin to create attractive tables.
I'd expect The Geeky Cyclist to keep building on its momentum and grow into a 500,000 pageview per month site in the next year. Watch this space.
2. Coffee or Bust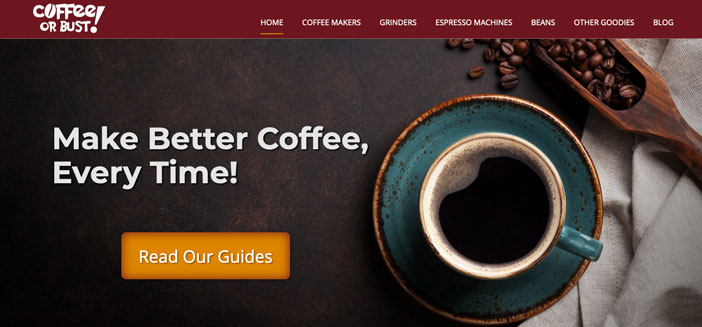 Domain: https://coffeeorbust.com
WordPress Theme: Rise by Thrive Themes
Notable WordPress plugins: Thrive Architect
Niche: Coffee making
Site Age: 9 months
Number of articles: 80
Total Word Count: 180,668
Monthly estimated pageviews: 54,000
Estimated monthly organic search traffic: 48,000
2021 update: Coffee or Bust now has around 120 articles, and estimated monthly organic traffic of 300,000.
Coffee or Bust is pulling in over 50,000 monthly pageviews with 80 articles totalling over 180,000 words. What I like most is the complete focus on buyer intent keywords, namely "best X". It's also nice to see my favorite WordPress visual editor, Thrive Architect, being used to make the site look good.
The site is only 9 months old, so I'd expect it to carry on growing as they add more content in the next 6 months.
3. Outdoor Crunch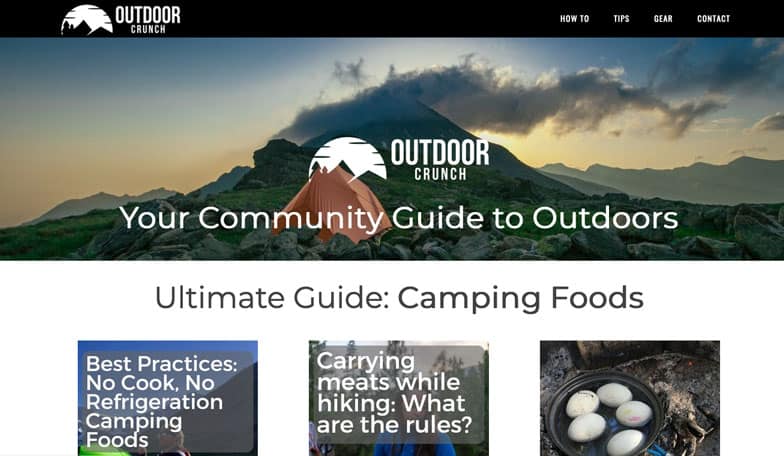 Domain: https://outdoorcrunch.com/
WordPress Theme: Custom Genesis Child Theme
Notable WordPress plugins: Yoast SEO
Niche: Outdoors
Site Age: 9 months
Number of articles: 64
Total Word Count: 137,494
Monthly estimated pageviews: 35,000
Estimated monthly organic search traffic: 29,000
2021 update: Outdoor Crunch now has around 250 articles, and estimated monthly organic traffic of 100,000.
Outdoor Crunch drives a healthy 29,000 organic monthly pageviews to its 64 articles by focusing on content depth – posts are an average of 2100 words each. Nothing new there, then.
I like that the domain and branding is quite broad (the outdoors space can cover many sub-niches) and therefore has room to grow, but the site owners are wisely covering smaller niches to start with – notably backpack reviews and backpacking food storage. I'm sure I'll be seeing this stie grow significantly in the coming months.
4. Lappy List
Domain: http://www.lappylist.com/
WordPress Theme: Custom
Notable WordPress plugins: All in One SEO Pack
Niche: Laptops
Site Age: 4 years
Number of articles: 20
Total Word Count: 12,765
Monthly estimated pageviews: 19,800
Estimated monthly organic search traffic: 7,500
Lappy List is a bit of the odd-one-out in this list. Firstly, there's hardly any content, and the site doesn't even have an SSL certificate! This makes more sense when you realize the site has not been updated for 3 years now. Nevertheless, around a third of the 19,800 monthly pageviews come from organic search, and the site ranks well for some low volume longtail queries like "best laptop for developer".
Funnily enough, Lappy List highlights one of the issues with focusing on a tech product niche as an affiliate: staying on top of product updates is tough. I found many affiliate links on the site that go to outdated models, so it looks like a bit of a dead project. I used to own a travel laptop niche site myself so I know all-to-well how hard it is to keep content updated. It looks like the site is choosing to monetize with AdSense too, so it will still be bringing in some $$$ despite being untouched for 3 years.
One thing that's particularly noteworthy is the number of comments the site has – often more in terms of word count than the post itself. I'd hazard a guess that this has helped it keep ranking after all these years.
5. PC Launches

Domain: https://www.pclaunches.com/
WordPress Theme: Custom
Notable WordPress plugins: Autoptimize
Niche: Tech products
Site Age: 1 year
Number of articles: 69
Total Word Count: 196,091
Monthly estimated pageviews: 66,300
Estimated monthly organic search traffic: 56,000
2021 update: PC Launches now has around 150 articles, and estimated monthly organic traffic of 90,000.
PC Launches is another example of an affiliate site in the tech niche, but this time far more broadly. The site covers a broad range of "best X for X" tech review topics. The site has grown quickly since it launched in April 2018,
With an average post length of 2,800 words and some articles over 5,000 words, it's clear that high word counts are paying off for PC Launches. It's also interesting to note that the site was build on an aged domain that had plenty of backlinks already, like this link from an Engadget article from 2007.
6. Best Kitchen Buy
Domain: https://bestkitchenbuy.com/
WordPress Theme: JNews from Themeforest
Notable WordPress plugins: Table of Contents Plus, TablePress, WPRocket
Niche: Tech products
Site Age: 1 year
Number of articles: 56
Total Word Count: 124,878
Monthly estimated pageviews: 19,500
Estimated monthly organic search traffic: 16,500
Aside from its terrible tagline "product reviews of the best products" (duh), Best Kitchen Buy is a surprisingly well-designed website. Using a partial match domain and, as you would expect, targeting "best kitchen" product review keywords, Best Kitchen Buy uses a classic silo structure to gain topical authrity in different kitchen niches.
To be honest, the posts on Best Kithchen Buy are poorly written with many errors but it looks like Google deosn't mind because the site gets 41% of its traffic from the US. Nevertheless, the site seems to be doing well in India (where I assume it was created) by targeting keywords like "best microwave in India". Let's not forget that Amazon has an Indian site, too.
7. Homemade Hints
Domain: https://www.homemadehints.com/
WordPress Theme: Lifestyle Pro Genesis Child Theme from StudioPress
Notable WordPress plugins: Yoast SEO
Niche: DIY/Home Tips
Site Age: 7 years
Number of articles: 66
Total Word Count:
Monthly estimated pageviews: 49,800
Estimated monthly organic search traffic: 42,000
Homemade Hints is a curious example: by far the oldest site on the list, it covers a wide range of related topics, from cooking to gardening. The site seems to make income from selling PDF greenhouse plans, in addition to the expected Amazon affiliate product links. The broad range of topics suggests that the site could have grown much larger than 66 articles in its 7 years online, but over 40,000 organic pageviews for such a small site is nothing to be ashamed of.
The site owner has chosen to leave content with no publication date, so new visitors to the site will not be detered by some of the old content. Similarly, the site has many comments on its articles, and these have no dates associated with them either. I believe these comments are helping keep the content on Homemade Hints ranking well today.
The site owner also runs a number of other blogs, backcountrychronicles.com and parkcity-guide.com so I assume they know exactly what they're doing.
More successful affiliate site examples
I wish I had time to dive into more sites like those above, but alas I need to get back to working on my own affiliate sites. And maybe you should, too! Here are a few notable mentions that didn't quite make the list:
headphonepalace.com
thebeautilab.com
techrakyat.com
top10bestbudget.com
hometechlab.com
cdl101.com
littleonemag.com
blackmoldcontrol.com
derekbruff.com
What do these successful affiliate sites all have in common?
If there's anything to learn from the small but very successful affiliate sites I've shown you, it's that there's no escaping the hard work and time you'll have to put in to reach a good level of recurring monthly income.
If you put the work in, and given that you know what you're doing when it comes to keyword research and determining keyword difficulty, you can expect to gain some success when you:
Publish at least 100,000 words
Write long-form articles over 2000 words each
Focus on keywords with buyer intent
Wait at least 6 months after starting your website
Bonus: build your site on an aged domain with existing backlinks for competitive niches
As you can see from the 2021 updates, all of these sites have steadily grown over 2 to 3 years. If you can handle the hard work, you've got a good shot at the same success. Good luck!