There's never been a better time to start a podcast. There are almost 2 million podcasts in the world (source), and while that sounds like a big number, the industry is just getting started, with 104 million Americans now listening to podcasts (source).
Launching a podcast doesn't require much kit: anyone with a microphone, headphones and a podcast hosting account can create a new show from home.
In this beginner-friendly guide, we'll give you a clear overview of the best podcast hosting platforms and networks out there (free and paid), and help you pick the right one.
You'll learn:
What podcast hosting is and how it works
The differences between top podcast hosting platforms
Free vs premium podcast hosting
The main podcast hosting features you may need
How podcast monetization works on different hosting platforms
Examples of hosting used by real podcasts
Let's get right to it.
Quick Answer: Best Podcast Hosting 2021
Best Podcast Hosting Deals, Coupons and Trials 2021
Top Podcast Hosting Platforms Compared
Here's a handy comparison table of the best podcast hosting platforms so you can see how they stack up at a glance.
| | Price | Storage | Bandwidth | RSS Feed | Analytics | WordPress plugin | Monetization |
| --- | --- | --- | --- | --- | --- | --- | --- |
| Anchor | Free | Unlimited | Unlimited | Yes | Yes | No | Yes |
| SoundCloud Free | Free | 3 hours | Unlimited | Yes | Limited | No | No |
| SoundCloud Pro | $16/month ($144/year) | Unlimited | Unlimited | Yes | Full | No | No |
| Libsyn | From $5/month | From 50MB/month | Unlimited | Yes | Yes (+$2 on basic plan) | Yes | Yes |
| PodBean | From free | From 5 hours total | From 100GB/month | Yes | Yes (paid plans) | No | Yes |
| Spreaker | From free | From 5 hours total | Unlimited | Yes | Yes (limited below $18/month plan) | No | Yes |
| BuzzSprout | From free | From 2 hours/month | 250GB/month | Yes | Yes | No | Limited |
| Castos | From $19/month ($190/year) | Unlimited | Unlimited | Yes | Yes | Yes | No |
| Podomatic | From free | From 500MB | From 15GB/month | Yes | Yes (paid plans) | No | Limited |
| Simplecast | From $15/month ($162/year) | Unlimited | From 20K downloads/month | Yes | Yes | Yes | No |
| Transistor.fm | From $19/month ($190/year) | Unlimited | From 10K downloads/month | Yes | Yes | No | No |
| Blubrry | From $12/month | From 100MB/month | Unlimited | Yes | Yes | Yes | No |
What is podcast hosting?
Podcast hosting is a service that stores and distributes your podcast audio files.
You upload episodes to your podcast host and they generate an RSS feed which tells podcast directories like Apple Podcasts, Stitcher and Spotify about your podcast episodes so listeners can find them.
Some podcast hosts offer additional features, such as analytics, player apps for your website and monetization options.
The amount you pay for podcast hosting usually depends on the amount of storage space, how many minutes of audio you upload each month and how much bandwidth you need. You can also get free podcast hosting.
Do I really need podcast hosting?
Technically, you can self-host your own podcast, but you will still need to have website hosting to store and serve audio files.
The benefits of using a dedicated podcast hosting service are:
Guaranteed uptime (your podcast will be online 24/7, even if it goes viral)
Analytics reports (find out how many listeners you have and where they're from)
Easy podcast management (manage your RSS feed, episodes and artwork all in one place)
Top Podcast Hosting Features Explained
This section will help you understand more about what podcast hosting actually provides you with, and the limitations and options available.
Audio file storage
Whether you record your podcast on your phone, a portable audio device like the Zoom H1N or on a professional podcast microphone like the Shure SM7B through your computer, your files need to be stored somewhere secure and accessible, so they're ready for listeners.
Podcast hosting stores your audio files online (MP3 etc) and serves them to listeners when requested. Some podcast hosts offer unlimited storage, so you can upload and store as many files as you like, while others have tiered pricing based on a fixed storage limit. Podcast storage is usually calculated by file size (MB) or length (minutes).
As a general rule, if you record your podcast at 128Kbps (kilobits per second) as an MP3, 1 minute of audio = 1MB in file size.
Bandwidth
Every time someone listens to or downloads your podcast, your audio file is played from a storage location, which takes up bandwidth.
Bandwidth is a measurement of data transfer. The more podcast listeners you have and the larger your audio file sizes are, the more bandwidth you will need.
Some podcast hosts offer unlimited bandwidth (for example Castos), although most place a limit on bandwidth. For example, BuzzSprout provide 250GB of bandwidth with all their plans, which they state is enough for between 20,000 and 40,000 monthly downloads/listens.
You can calculate how much podcast hosting bandwidth you will need by multiplying the size of your episodes by the number of monthly episodes, and then by the number of subscribers or listeners you have.
Bandwidth = Audio file size x No. of episodes a month x Subscribers/Listeners
For example, a 60-minute weekly podcast with 1,000 listeners per episode needs around 234GB monthly bandwidth.
Don't forget that as your podcast archive grows (aka the number of episodes you've published over time), you will need more bandwidth if people are still listening to old episodes.
Some podcast hosts make it easier for you to understand bandwidth by ditching the term altogether and providing download limits. For example, Simplecast provides 20k downloads per month in their basic package, which means you don't need to worry about the size or length of your podcast episodes.
If you are on a podcast hosting plan with a bandwidth limit, make sure you check how the host will proceed if you exceed the limit. BuzzSprout, for example, will place you onto a higher tiered plan with 1TB of bandwidth if you go over the 250GB limit.
RSS feed
An RSS feed (which stands for Really Simple Syndication or Rich Site Summary depending on who you ask) is a simple text file.
For podcasts, RSS feeds contain the links, titles, cover images and summaries of all your podcast episodes and are automatically updated when you release new content.
You need to create and submit your podcast RSS feed to podcast listening platforms like Apple Podcasts, Spotify and Stitcher so that listeners can get the latest episodes.
Distributing your podcast via RSS feed will help you find new listeners. Without RSS, people would have to go to your website or landing page to listen to your podcast directly.
All podcast hosts provide an RSS creation option, and some will automatically submit your RSS feed to podcast listening platforms.
For example Anchor will create and distribute your podcast RSS for you, while Castos will generate an RSS feed but you will need to distribute it to Apple Podcasts and other directories yourself.
Note: while it may be easier in the short term to let a podcast host distribute your RSS feed for you, it's better to do it yourself as you retain control over your accounts with each platform, and can continue using them if you choose to switch host later on.
Analytics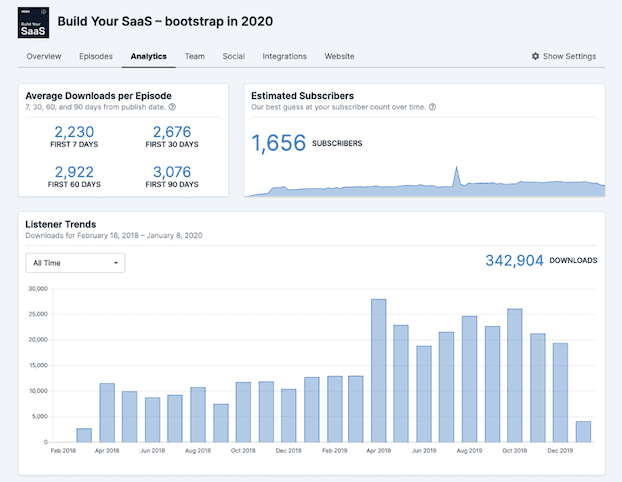 Podcast analytics help you learn how many listeners and downloads your podcast has. Most podcast hosts will provide you with some analytics data to give you an idea of how your podcast is performing. Knowing listeners numbers will help you negotiate sponsorship deals as your podcast gains traction.
Podcast analytics are not easy to collect, because podcasts are listened to across many platforms – some people listen on your website, some via iTunes, others Stitcher etc. Therefore, your podcast data will always be fairly basic. Even the most advanced podcast stats are limited in scope.
You will never know your total number of podcast subscribers!
Your podcast host will use server data to tell you who is accessing your audio files from where (by IP address), but they can't control subscriber numbers or understand how people behave after they've downloaded an episode (for example, if they stop listening after 5 minutes).
Some hosts, for example Transistor, estimate subscriber numbers for you, but you'll never get the real figure.
You can also get podcast analytics from each individual podcast listening platform you sync your RSS feed with. For example, Apple Podcasts provides free stats to podcasters through their iTunes Connect service.
Google also recently launched Google Podcasts Manager, which provides analytics and some useful insights into how people listen to your podcast on Google's properties like Google Podcasts.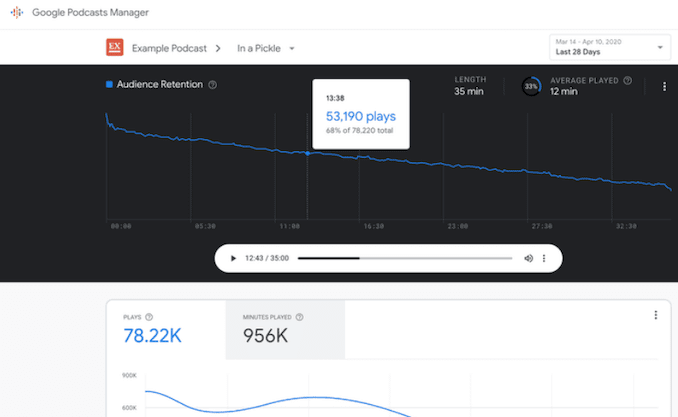 You can access these analytics regardless of your hosting provider.
Podcast player
If you, like most podcasters, have your own podcast website, you'll probably want to embed a podcast player, also known as a web player, directly onto pages so website visitors can listen.
For example, the podcast Everyone Hates Marketers (hosted on Castos) uses the Castos WordPress plugin Seriously Simple Podcasting to embed episodes. (Sidenote: the website also uses the awesome GeneratePress WordPress theme).
All podcast hosts will provide you with some sort of embeddable player option or, better still, a WordPress plugin.
Monetization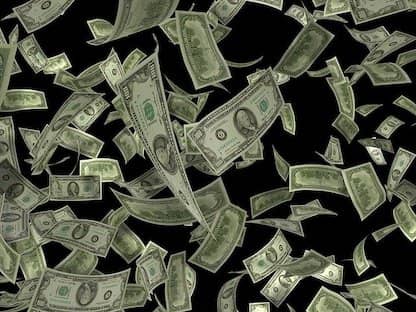 Unless you're purely a hobbyist, you're probably thinking about how to make money from your podcast.
There are a number of ways to make money from podcasting, namely:
Sponsorships
Donations
Affiliate marketing
Promoting your own business, products or services
Some podcast hosts leave the monetization up to you (but provide podcast analytics to help you sell the benefits to advertisers).
Others provide monetization options to help you earn from your podcast. For instance, Anchor will find sponsors and pay you monthly (after they take their 30% fee, of course). Other podcast hosts with monetization options include Libsyn, Podbean and Spreaker.
If making money from your podcast is your top priority, I recommend you read our guide to the best podcast hosting for monetization.
Website
If you're running a podcast, you're probably going to want a companion website, to keep an archive of episodes, transcripts and other news for listeners.
Most podcast hosts will provide you with a free hosted minisite on the subdomain of their website. For example, Armchair Expert with Dax Shepherd is hosted on Simplecast, and uses the minisite armchairexpert.simplecast.com.
I recommend also having a separate website from your podcast minisite, so you can retain ownership should you move hosting platform in the future. For example, Armchair Expert with Dax Shepherd also uses the domain ArmchairExpertPod.com.
Plus, you can use your podcast website to grow your audience and monetize through other channels (such as affiliate marketing or display advertising). If you're spending time and effort building an audience, it's good practice to own your assets where possible.
You can buy a domain name directly (I recommend Namesilo, use code SAVE10). WordPress is a great CMS (content management system) to get started with, as it's easy and free with plenty of googleable help. I host with Cloudways, but beginners may prefer to get started with a cheaper and simpler option like BlueHost.
Best Podcast Hosting Platforms in 2021
This is not an exhaustive list of podcast hosts, but we've covered the top 30 and gone through some of the best in more detail so you can make an informed decision.
1. Anchor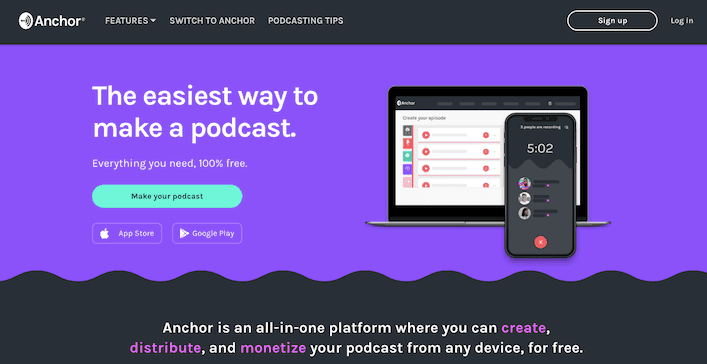 Website: Anchor
Price: Free
As used by: Beach Too Sandy podcast
Anchor is a free podcast hosting platform that allows you to create, distribute and monetize your podcast.
Anchor was founded in 2014 by Michael Mignano and Nir Zicherman.
In 2014, we were inspired to build an Anchor prototype after realizing how difficult it was to create and distribute audio. Our experiment quickly took on a life of its own, and we launched the first public version of Anchor in 2016.
– Mike & Nir, Anchor co-founders (source)
In February 2019, Spotify acquired Anchor, alongside podcast company Gimlet media.
According to ListenNotes, Anchor is the most popular podcast hosting platform, hosting over 337,000 podcasts. Anchor's popularity is likely down to its business model: free unlimited podcast hosting.
The best things about using Anchor
For the low, low price of zero dollars, here's what you get from Anchor:
Unlimited hosting
One-click RSS distribution
Managed sponsorship option
Anchor app to record and edit episodes
Podcast analytics
If you're interested in making money from your podcast, Anchor has an opt-in sponsorship feature where they will match you with advertisers (you can choose which sponsors you accept). How much money can you make with Anchor? It will depend on your podcast, but as an example, The Jerry Banfield Show reportedly made around $2.50 per thousand listeners (CPM) using Anchor.
Assuming you have a smartphone, Anchor makes it incredibly easy to record, edit, and distribute a podcast without any expertise or equipment, making it ideal if you're on a budget. You can also create your podcast using your own equipment and software and then upload to Anchor if preferred.
Anchor also has a neat feature they call Transcribed Videos. In essence, you create a clip (less than 1 minute) and Anchor will automatically transcribe it and create a video you can share on social media to promote your podcast. They look pretty cool.
The worst things about using Anchor
The problem with free services is that you could end up paying in other ways.
There's a major problem with Anchor that many people won't notice until it's too late: if you want to move from Anchor to another podcast host in the future, you will lose all your current subscribers.
This is because Anchor retains ownership over the distribution of your podcast RSS feed. If you leave the platform, you lose the accounts on Apple Podcasts etc. The only way to protect yourself from this is to manually distribute your Anchor RSS feed to platforms.
Anchor's automatic RSS distribution is too limited anyway – they only syndicate to a handful of platforms (which of course includes their owner, Spotify), and you have limited options as they control the accounts.
If you want to retain control over how your podcast is sent to Apple Podcasts and other platforms (and I recommend you do), you'll need to opt out of Anchor's automated RSS distribution and take care of it yourself, which takes a bit of time but is better than risking losing your subscribers down the line if you switch.
Here's another problem: Anchor requires all users to grant them a non-exclusive license to their content:
By submitting User Content… you hereby grant to us a non-exclusive license to use, edit, modify, create derivative works from (such as transcriptions of User Content), aggregate, reproduce, distribute, make available, transmit, display, and perform, the User Content in connection with the operation of the Services, the promotion, advertising or marketing of the Services, and the operation of Spotify's (and its successors' and affiliates') business. This license is worldwide, royalty-free, sublicensable (through multiple tiers) and transferable. – Anchor Terms of Service
Anchor's license clause doesn't mean that they own your podcast, but it does give them the right to use it however they like. Co-founder Michael Mignano wrote a post addressing some of the backlash against Anchor's terms of service.
Anchor's terms also mention that monetization services are limited outside of the US:
If you are located outside the United States of America, some or all of the Monetization Services may be unavailable.
That means you, not just your audience.
How does Anchor make money?
If, like me, you're the skeptical type, you may be wondering just how Anchor can afford to provide unlimited free podcast hosting.
Firstly, Anchor is owned by Spotify, so can afford to run at a loss if they're growing Spotify's market share in the podcast space.
Secondly, Anchor takes 30% of all sponsorship deals provided by its platform, plus a $0.25 fee whenever you cash out.
Considering that the premium podcast platforms only charge $10 or so per month for hosting, you could end up paying a lot more to Anchor indirectly.
Furthermore, Anchor limits you from finding your own sponsors.
No data provided by Spotify or acquired by you in relation to usage of the User Content on the Services may be used for the purposes of targeting for advertisers.
Will Anchor put advertising on my podcast?
Anchor will not place advertising on your podcast without your permission. You have to opt-in to Anchor's sponsorship option to start using their monetization service.
That said, by default, Anchor makes you opt-in to Anchor post-roll advertisements, which means they will play their own advertisements at the end of your podcast episodes unless you uncheck that box.
That's a bit of a dark pattern in my view.
Is Anchor worth it?
Pros:
✅ Free unlimited hosting
✅ One-click RSS distribution
✅ App to record and edit episodes
✅ Easy sponsorship options
✅ Analytics
✅ Automatic shareable video creation
Cons:
❌ RSS feed distribution is limited and you will lose control if you don't do it manually
❌ Limited editing options
❌ Ads added by Anchor if you don't opt out
❌ Anchor has license to use your content
❌ 30% commission taken from sponsorship earnings
❌ Cannot find your own sponsors
❌ Monetization options outside US are limited
Overall, Anchor is a solid podcast host. They work with a huge number of podcasters and offer a truly free way to get started with podcasting.
Anchor is best for hobby podcasters on a very tight budget. You can experiment with your podcast without risking any money, and you always have to option to move to a premium podcast host if you find your podcast turning into more of a business venture (just please don't use Anchor's automatic podcast distribution service!).
If you already plan to launch a podcast as a business, Anchor is too limited and you'd be better off with a premium host like Podbean or Libsyn (see reviews below).
2. SoundCloud
Website: SoundCloud
Price: Free or $16/month for Pro (or $144 annually)
As used by: The Brilliant Idiots podcast

SoundCloud is an audio distribution platform that also offers a free and premium podcast hosting service.
SoundCloud, founded by Swedish electronic musician Alexander Ljung, launched in 2008 as a music platform and social network. You may recognize SoundCloud from their unique feature that lets you comment on music at specific timestamps.
According to ListenNotes, SoundCloud is the second most popular host, with over 100,000 podcasts using SoundCloud to stream episodes.
The best things about using SoundCloud
SoundCloud is a reliable place to host your podcast – they've been around for longer than a lot of other hosts out there. What's more, there's a free plan to get started with, so you don't need to invest any cash before launching your podcast on SoundCloud.
For more serious podcasters, SoundCloud Pro allows unlimited uploads and provides more comprehensive analytics, including top listeners, countries & cities, plays by website, RSS & third-party apps.
$16/month ($12 if paying annually) is around what you'd expect to pay for premium podcast hosting.
If you host your podcast with SoundCloud, users can leave timestamped comments on your episodes. However, this only works if they are SoundCloud members and listen to your content via your SoundCloud page.
Another plus for SoundCloud is that a lot of podcast listeners already use the platform to find content. Listeners can use the SoundCloud app to find episodes, which means you're not reliant on RSS feeds for podcast discovery.
You can also add your podcast to SoundCloud even if you host it elsewhere.
Even though SoundCloud does not have a WordPress plugin, it's very easy to embed episodes onto web pages manually. The upside is that anyone can embed an episode of your podcast to their website, which could help you find new listeners.
The worst things about using SoundCloud
The free SoundCloud account will cap you at 3 hours of total audio upload, which won't get you very far. SoundCloud will also throttle your podcast analytics on the free plan, and only show you plays, likes, reposts, comments & downloads.
Compared to Anchor, SoundCloud's free podcast hosting option isn't great.
Another issue with using SoundCloud to host your podcast is that the platform just wasn't built for you. SoundCloud is primarily a music hosting platform and podcasting will always be secondary to that. You don't get any extra features like a WordPress plugin or monetization options.
Much like Anchor, SoundCloud makes you agree to a non-exclusive royalty-free content license when signing up.
By uploading Your Content to the Platform, you also grant a limited, worldwide, non-exclusive, royalty-free, fully paid up, license to other users of the Platform, and to operators and users of any other websites, apps and/or platforms to which Your Content has been shared or embedded using the Services ("Linked Services"), to use, copy, listen to offline, repost, transmit or otherwise distribute, publicly display, publicly perform, adapt, prepare derivative works of, compile, make available and otherwise communicate to the public, Your Content utilizing the features of the Platform from time to time, and within the parameters set by you using the Services. (source: SoundCloud terms of use)
If you want to add your podcast to SoundCloud but host it elsewhere, you'll need to upload episodes manually, as the platform does not support RSS importing.
Is SoundCloud worth it?
Pros:
✅ Free plan available
✅ Podcast analytics
✅ RSS feed
✅ Good for audience interaction (user comments)
✅ Easy to embed onto websites
Cons:
❌ Free plan is very limited
❌ No WordPress plugin
❌ Not a dedicated podcast hosting company
❌ Need to manually embed episodes
❌ No RSS importing option
Overall, SoundCloud is a fairly basic podcast hosting option. If you want free podcast hosting, Anchor is better. If you just want unlimited hosting with an RSS feed, analytics but no extra features, SoundCloud Pro is adequate, but offers a lot less than other paid hosts for a higher price.
3. Libsyn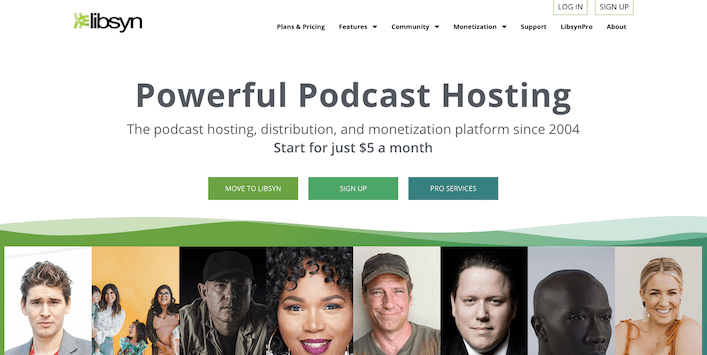 Website: Libsyn
Price: From $5/month
As used by: The Joe Rogan Experience

Libsyn is a premium podcast hosting, distribution and monetization platform.
Libsyn (short for Liberated Syndication) was started in 2004 by Dave Mansueto and Dave Chekan, making it one of the oldest podcast hosts online today.
According to ListenNotes, Libsyn is one of the most popular podcast platforms, hosting almost 70,000 podcasts.
Note: Libsyn offer a standard paid podcast hosting service (between $5 and $40/month), and a much more advanced professional podcasting service called Libsyn Pro. As you would expect, Joe Rogan uses Libsyn Pro.
The best things about using Libsyn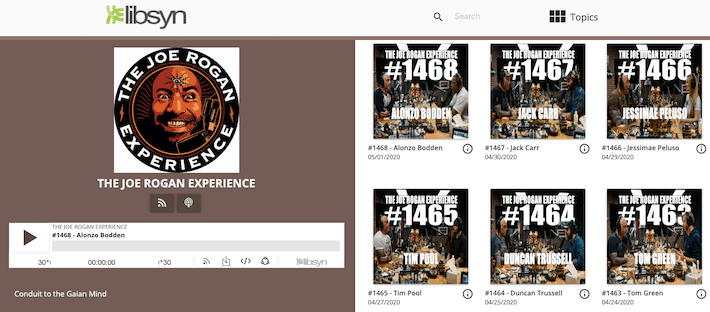 Libsyn has been in the podcast game for over 15 years, and it shows. Used by some of the biggest names in podcasting, Libsyn is a solid offering with a range of features, including:
Unlimited bandwidth on all plans
RSS feed
HTML5 media player
WordPress plugin
Monetization options
Analytics options
One of the best things about Libsyn is that they charge for monthly storage, not total storage.
Monthly Storage is the amount of new content you can upload each calendar month. If you have the Libsyn Basic 250 plan you can upload 250MB of new content each month. The storage quota for each account is reset on the 1st of the month. Once your quota resets your files from the last month no longer count against quota.

With libsyn there is never a need to pull down old files because of storage issues. (source: Libsyn)
Libsyn has a dedicated WordPress plugin called Libsyn Publisher Hub, which makes it easy to import episodes, plus an attractive HTML5 podcast player that can be embedded into any website.
Like Anchor, Libsyn offers built-in monetization options (opt-in, of course).

Unlike Anchor, you will need to hit a minimum of 5,000 US downloads a month to qualify, and split ad revenue 50/50 (yikes).
If you're looking to bring in your own advertisers, you can use Libsyn Pro, which comes with a whole host of advertising tools, and is used by some major podcasts, including The Gary Vee Audio Experience, The Dave Ramsey Show and The Kim Komando Show.
The worst things about using Libsyn
Libsyn is great, but it's not as cheap as it appears. The basic $5/month plan is very limited. You won't even get podcast analytics (these can be added for $2/month extra). Plus, the free plan only allows 50MB monthly storage, meaning you can only upload around 1 hour of audio each month. If you run a weekly podcast, you can't manage with only 50MB upload.
Here's a look at how the different Libsyn plans compare:
If your podcast has 1-hour weekly episodes, you'll have plenty of storage with the Classic 250 plan, which costs $15/month.
If you thought Anchor's 30% sponsorship commission was too much, then you're not going to like Libsyn's deal: they split sponsorship revenue 50/50 with podcast creators. That's a hefty chunk of your potential revenue.
Libsyn revenue share for monetization through the Service (including but not limited to advertising and apps) is 50% of net revenue. (source: Libsyn terms)
And it gets worse, if you choose to monetize your podcast on your own, you have to get permission from Libsyn!
Any attempt to directly monetize Your Content via third-party ad networks or other outside business agreements at the expense of Libsyn without written approval from Libsyn is prohibited.  If you choose to monetize, Your Content, you agree to utilize Libsyn Service to enable monetization including but not limited to in-content advertising, iPhone applications or sale of Your Content which may include additional requirements for revenue sharing or fees for use depending on the Service. (source: Libsyn terms)
Wow, that's quite restrictive. Since you're paying for the privilege of using Libsyn, it doesn't make sense that they limit your monetization options to their own platform as standard.
Much like Anchor, Libsyn makes you agree to give them a non-exclusive, royalty-free, worldwide license to your podcast, plus they also retain the right to use your podcast for promotional purposes without additional permission:
You further agree to provide and grant Libsyn the right of use of Your Content and Brand for distribution, marketing and promotional purposes as it relates to the Service. Brand includes the name, logo, images, video, trade mark, service mark or other branding devices of Your Content. (source: Libsyn terms)
Is Libsyn worth it?
Pros:
✅ From $5/month
✅ RSS feed
✅ No storage limit for old files
✅ WordPress plugin
✅ Monetization options
✅ Analytics options
✅ Libsyn Pro available for large professional podcasters
Cons:
❌ Basic plan does not include analytics
❌ Basic plan has very limited storage
❌ 50% commission taken on sponsorships
❌ You have to get permission to monetize outside of Libsyn
Overall, Libsyn appears to be a good podcast host on paper, but when you investigate a bit further, they don't offer much to small or new podcasters. The $5/month plan is a bit of a fallacy, as you would need to pay $2 extra for analytics. Plus, having to use a 50/50 revenue share monetization option and being stopped from finding your own sponsors is just too restrictive.
I think Libsyn Pro is great for large podcast networks or huge shows, but Libsyn's smaller offerings are not the best for independent podcasters.
4. Podbean
Website: Podbean
Price: From free
As used by: The Evening Standard podcast
Podbean is a podcast hosting company, founded in 2006 by David Xu.
According to ListenNotes, over 54,000 podcast are currently hosted on Podbean.
The best things about using Podbean
PodBean is clearly built with beginners in mind. It's very easy to use and understand. There is a free plan if you want to test things out, but the $9/month tier is very competitively priced and offers unlimited storage and bandwidth alongside a ton of other features, including:
Comprehensive analytics
RSS feed
Ads marketplace and monetization options
Free website (use your own domain)
Embeddable player
Mailchimp email marketing integration
Live streaming option
App to record and edit episodes
Beginner-friendly doesn't mean basic: Podbean offers more features than any other podcast host.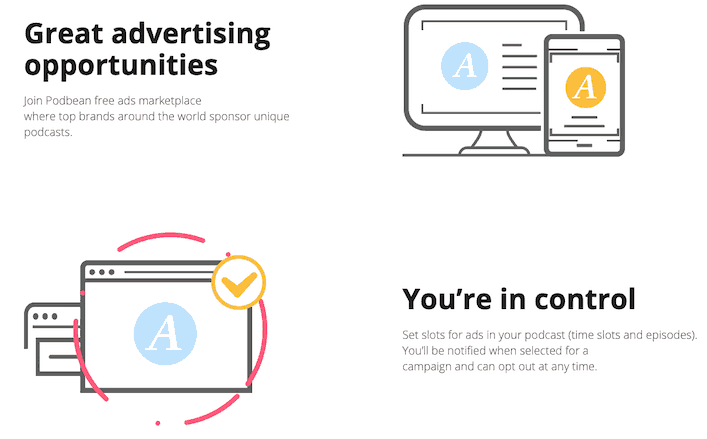 Monetization options are available on the $9/month and higher plans. You can monetize in 3 ways on Podbean:
List your podcast in the Podbean advertising marketplace for free to get matched with potential advertisers
Get paid for podcast content with subscriptions or single-episode sales
Set up a patron page with different levels of donations/reward and publish patrons-only content
Podbean also has a dynamic ad insertion option called PodAds, available on the $29 and higher plans. With PodAds, you keep all of your ad revenue, but pay a $1/CPM fee for the service ($1 per thousand listeners). PodAds lets you target advertisements depending on the location of listeners and the date they're listening. You'll also get stats on how ads perform.
You'll get your ad revenue paid out via PayPal every month. What's more, Podbean does not take any commission on sponsorships.
The worst things about using Podbean
If I'm being picky, Podbean's free plan is quite limited – 5 hours of total podcast storage isn't going to get most podcasters beyond their first couple of months. It might be useful if you're not sure if podcasting is for you and you want to dip your toe into it before committing to a paid plan.
It's worth remembering that you'll only pay $9/month if you commit to a year upfront ($108). If you want a monthly rolling plan, prices start at $14.
PodBean also requires you to grant them a license to use your content when signing up:
… you grant the Company the following non-exclusive license: a worldwide, transferable and sub-licensable right to use, copy, modify, distribute, publish, and process, information and your User Content that you provide through the Site, without any further consent, notice and/or compensation to you or others. (source: Podbean terms)
Is Podbean worth it?
Pros:
✅ All-in-one podcast hosting solution
✅ RSS feed
✅ App to record and edit audio
✅ Many monetization options
✅ No commission taken on advertising
✅ Analytics
✅ Email marketing options
Cons:
❌ Free plan is limited to 5 hours
Overall, Podbean is one of the best podcast hosts out there. For $9/month ($108 for the year), you get a ton of value. Podbean's zero commission advertising options make it the obvious choice over Anchor and Libsyn, even if you don't plan to get sponsorship straight away.
Podbean is very beginner-friendly, although I think the number of options and the way the interface is laid out is slightly more confusing than BuzzSprout (see review below).
5. Spreaker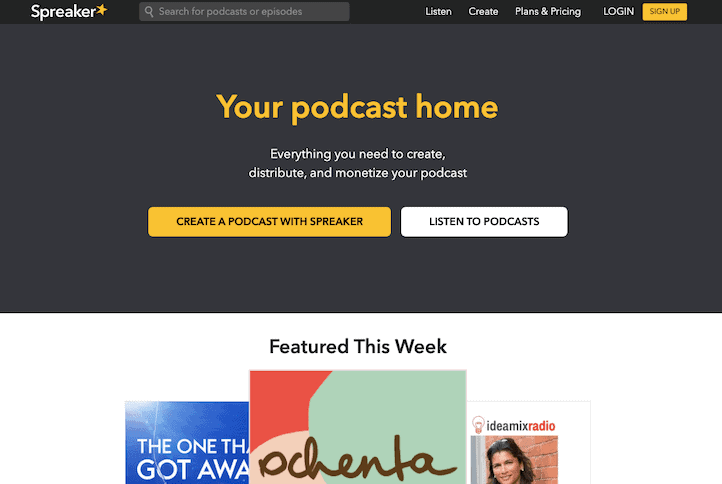 Website: Spreaker
Price: From free
As used by: Good Night Stories for Rebel Girls podcast
Spreaker is a podcast hosting platform and network that helps members create and host single or multiple podcasts.
Spreaker was co-founded in 2009 by Daniele Cremonini, Francesco Baschieri, Rocco Zanni and Marco Pracucci, and is one arm of a larger audio network called Voxnest, headquartered in New York.
According to ListenNotes, Spreaker hosts over 45,000 podcasts.
The best things about using Spreaker
There are a lot of things to like about Spreaker's podcast hosting, including:
Free and $7/month (or $72/year) plans
Customizable RSS feeds
Monetization options
Podcast stats
Embeddable player
Live podcast broadcast option
Unlimited listeners on all plans
Episode scheduling on all plans
Multiple podcast hosting
Desktop and mobile apps
Spreaker gives all members a nice subdomain on Spreaker.com (e.g. yourpodcast.spreaker.com), where you can showcase episodes and link to your website.
Like many podcast hosts, Spreaker has a free plan, limited to 5 hours of total audio storage. However, the next plan up ("On-Air Talent") is only $7/month (or $72/year) and offers a much more generous 100 hours of audio storage. That's excellent value compared to premium plans from other hosts.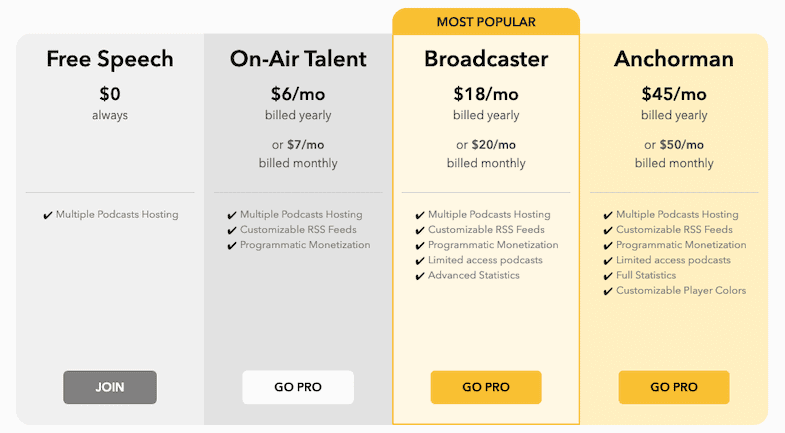 I like that Spreaker does not have any bandwidth limits – they allow unlimited listeners on all plans, even the free one. That means you never need to worry about your podcast going offline.
Spreaker comes with some pretty advanced programmatic monetization options baked in.
It's very easy to opt-in to advertising, and you can customize where you want to place ads (pre-roll, mid-roll or post-roll), choose ad length and at what point the ads play during your episodes (you'll need to do this manually for each episode). If you're really interested in using Spreaker to monetize your podcast, I recommend checking out their advertising webinar, which will answer a lot of your questions.
Spreaker has an app on iOS and Android called Spreaker Studio. What's great is that there's also a desktop version. Not many podcasters want to record all their audio on a mobile device, so it's nice to see that Spreaker's software works on Windows and Mac too.
Hook up your podcast microphone and record directly into the app, or import audio clips as required. There's a nice sound effects panel that you can use when recording, or add them in later. Spreaker Studio is particularly useful if you want to broadcast live episodes, something that all Spreaker plans support.

Spreaker's podcast statistics are what you'd expect from any platform. You'll see a range of data, from the number of plays and downloads to the locations of listeners and which platforms people are listening on.
Spreaker also has a fantastic set of knowledge base articles and help guides to get you started.
The worst things about using Spreaker
As I hinted to above, Spreaker's free plan is limited to only 5 hours of audio, which won't be enough for most podcasters (unelss you're happy to delete old episodes). You also won't get access to any monetization options on the free plan.
There's no WordPress plugin to help you integrate Spreaker into your website, but the embeddable player is compatible with WordPress and any website.
If you want decent podcast analytics, you'll need to upgrade to the $20/month plan, as the basic plans only give you the number of downloads and daily listens.
If you use Spreaker's monetization option, they'll take 40% commission. This is worse than Anchor's 30%, but better than Libsyn's 50%. I still think 40% is way too high, though, especially considering that Podbean take 0%.
Spreaker also makes users agree to grant them a license when signing up:
By creating, delivering, submitting, posting or displaying UGC on or through Spreaker, the User grants a non-exclusive, royalty-free, worldwide, irrevocable, perpetual and with the right to sublicense license to the Owner without territorial limits, to use, copy, reproduce, process, adapt, modify, publish, transmit, display, and distribute such content in any media or via distribution methods currently available or developed later. (source: Spreaker terms)
Is Spreaker worth it?
Pros:
✅ Generous storage on $7/month plan
✅ RSS distribution
✅ Desktop and mobile app
✅ Easy monetization options
✅ Analytics
✅ Great help docs
Cons:
❌ 40% commission taken from sponsorship earnings
❌ Limited analytics on cheaper plans
Overall, Spreaker's $7/month plan is extremely good value for money, considering that you get 100 hours of audio storage, although the basic analytics may prove disappointing. Spreaker's app is a real bonus, but if you're planning to monetize your podcast don't forget about Spreaker's 40% commission, which will really eat into your profits.
6. BuzzSprout
Website: BuzzSprout
Price: From free
As used by: Ask Pat
BuzzSprout is an all-in-one podcast hosting platform that makes it easy for you to host, promote and track your podcast.
BuzzSprout is part of a larger software company called Higher Pixels, based in Jacksonville, Florida, and co-founded by Kevin Finn, and Tom Rossi in 2009.
According to ListenNotes, BuzzSprout hosts over 44,000 podcasts.
The best things about using BuzzSprout
BuzzSprout is by far the easiest podcast hosting platform to get started with. It has been designed with independent podcasters in mind, as co-founder Kevin Finn explains in an interview:
We are huge fans of independent podcasters. That's our core focus.
BuzzSprout is a no-frills podcast host, offering:
Audio file storage
RSS feed creation
Podcast statistics
Embeddable podcast player
Automatic episode optimization
Episode scheduling
Transcripts
Monetization options
Episode chapter markers
Soundbite feature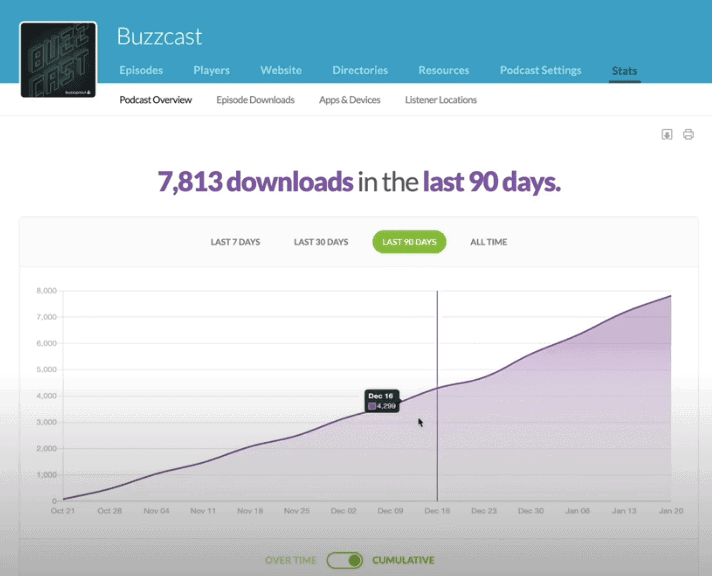 You'll get standard podcast statistics within your BuzzSprout dashboard, including number of listeners, downloads, locations and devices.
There's no WordPress plugin for BuzzSprout, but they do have an embeddable podcast player called Wave Podcast Player, which can easily be added to any website.
For example, The SaaS CX Show is hosted on BuzzSprout, and uses the Wave Podcast player on their website.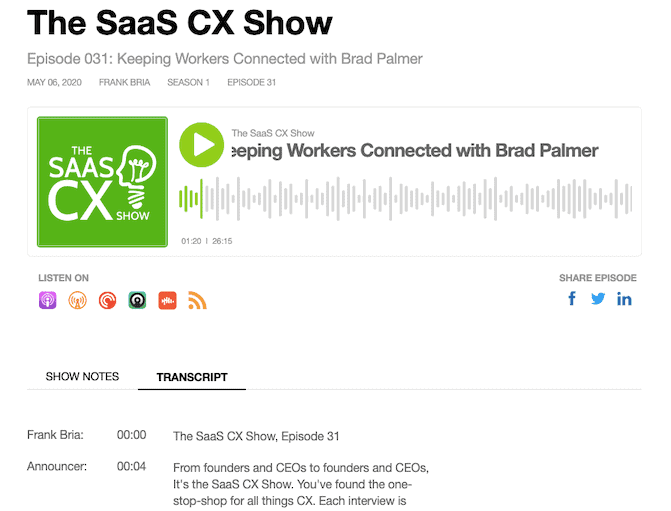 If you don't have a website, BuzzSprout offers you a nice page on their own domain, with all your podcast episodes plus a space for show notes and transcripts.
You can use the transcription service from Temi ($0.25/minute) from within your BuzzSprout dashboard.
BuzzSprout offer a service they call Magic Mastering™, which automatically improves the audio quality of your episodes. This is a great feature, but it does cost extra.
For monetization, BuzzSprout does things a little differently; you can monetize your podcast by:
Adding a donation button to your podcast player (can go to PayPal, Patreon or wherever you like)
Using the BuzzSprout affiliate marketplace
There's nothing stopping you doing traditional ad reads on your podcast, but BuzzSprout doesn't have a management system in place for them.
I love that BuzzSprout has some of the most simple and clear terms of service of all of the big podcast hosting companies. They claim no ownership or license over your content:
Higher Pixels claims no intellectual property rights over the Content you upload or provide to the Service. However, by using the Service to send Content, you agree that others may view and share your Content. (source: BuzzSprout terms)
Other large podcast hosts like Anchor, SoundCloud, Libsyn, Podbean and Spreaker make you give up a license to use your content (it's not ownership, just usage rights) when you join, so it's good to see BuzzSprout going against the grain and being a much less restrictive network.
BuzzSprout has great customer support and help documentation, including a bunch of really informative videos on their official YouTube channel.
All new BuzzSprout customers get a 90-day free trial, which is huge and long enough for you to know if your podcast is going to make it!
The worst things about using BuzzSprout
There are a few issues with BuzzSprout podcast hosting. The worst is the limited bandwidth. Most other podcast hosts allow unlimited listeners or unlimited bandwidth, but BuzzSprout limits all plans to 250GB bandwidth.
BuzzSprout's free plan is very basic: while 2 hours of audio upload each month is better than some hosts, episodes are deleted after 90 days. Why would anyone want their episodes deleted after 90 days?! And be warned: they will place advertisements on your podcast minisite if you're on the free plan.
BuzzSprout's paid plans are not the best value for money in terms of upload and bandwidth limits. The $12/month plan allows 3 hours of audio upload each month, which won't be enough for a weekly hour-long podcast. The Magic Mastering feature also costs extra, regardless of which plan you're on. Oh, and even transcriptions cost $0.25/minute. If you're not careful, your BuzzSprout bill could become a sizable monthly expense.
BuzzSprout's monetization options are very limited. The BuzzSprout affiliate marketplace is nothing more than a list of potential affiliate programs you can apply to (although they have negotiated better commissions for some programs). The donation button is helpful, but again it's something you could figure out on your own. BuzzSprout doesn't help you find sponsors like Podbean, Anchor, Spreaker and Libsyn do.
A small pet peeve I have with BuzzSprout is that, by default, they use ugly URLs for their podcast minisites. For example, the Ask Pat podcast is hosted on the URL https://www.buzzsprout.com/56535. However, you can add a custom name (e.g. MyPodcastName.buzzsprout.com) for free within the settings if you like. Phew!
Is BuzzSprout worth it?
Pros:
✅ Simple, easy-to-use dashboard
✅ Great customer support and documentation
✅ Nice embeddable player
✅ They don't need a license to use your content
Cons:
❌ Free and $12/month plans are too limited
❌ 250GB bandwidth limit
❌ Audio optimization and transcripts cost extra
❌ Limited monetization options
Overall, BuzzSprout is an excellent choice of podcast host for beginners. Priced competitively, BuzzSprout offers everything you need to get started with podcasting, within a simple, easy-to-use interface. They don't make you sign away the rights to your content, nor do you need to navigate complicated monetization deals.
The 250GB bandwidth limit won't be a problem for new and growing podcasts, as it will take you a while before you get close, at which point it will be a nice problem to have!
7. Castos
Website: Castos
Price: From $19/month (or $190/year)
As used by: Wellness Mama podcast
Castos is a relatively new premium podcast hosting platform that's been designed for independent podcasters.
Castos was founded in 2017 by Craig Hewitt after he acquired the Seriously Simple Podasting plugin for WordPress.
It's nice to see that Craig also co-hosts his own podcast, Rogue Startups, which is hosted on Castos (of course!). Craig is also involved in another podcast company – a podcast editing service called Podcast Motor.
The best things about using Castos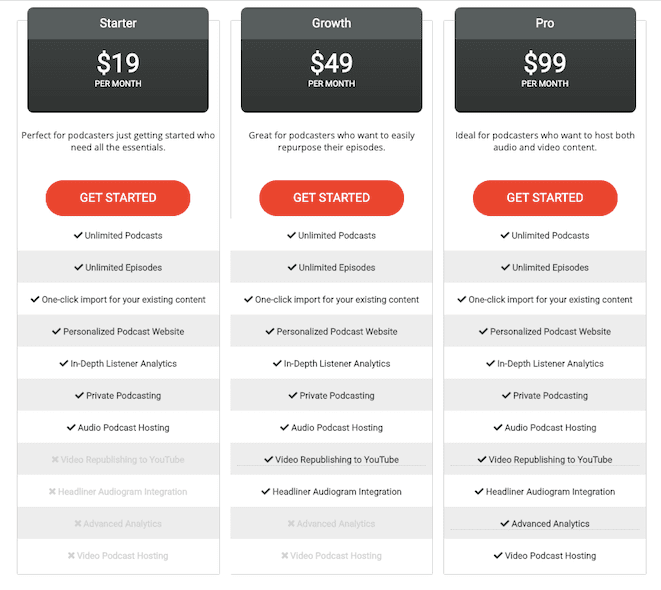 Castos offers incredible value for money: the $19/month plan (or $190/year) might seem more expensive than other options (like Spreaker's $7/month plan), but it's almost entirely unlimited. For $19, you get unlimited podcasts, unlimited bandwidth and unlimited episode storage.
Since they own it, Castos integrates seamlessly with the Seriously Simple Podcasting WordPress plugin. Originally, SSP was designed to help you host your own podcast using your website host (which you can still do), but now it allows you to manage Castos from within your WordPress dashboard.
To date, Seriously Simple Podcasting is used on over 20,000 WordPress websites and it has a 5-star review score.
Embedding your podcast episodes into your WordPress website is really easy with Castos, and it can look great, too.
You can also use Castos without having a website at all.
Castos has a really simple design and is straighforward to use.
You'll get access to the basic podcast statistics you'd expect: listener numbers, geographic location, device/app details.
If you're on the $99/month plan, you'll get advanced analytics, which also provides data on the number of unique listeners per episode and subscriber count.
Castos has created a proprietary algorithm that calculates the number of Subscribers to your podcast based on listening patterns across all platforms (Apple Podcasts, Stitcher, Google Podcasts, and 3rd party mobile apps) for your shows.
As I mentioned earlier, no single app or host can tell you how many subscribers you have because listening is fragmenting across many platforms (Apple Podcasts, Stitcher etc), but Castos is having a guess at it.
You can get pay-as-you-go podcast transcripts in Castos ($0.10/minute, which is quite a lot cheaper than BuzzSprout's $0.25/minute).
Castos also has a nice set of support documentation to help you get started.
For members on the $49 and above plans, you can also repurpose your podcasts on YouTube (podcast episodes are automatically uploaded to YouTube), and Audiogram creation via Headliner (short audio clips with video to promote your podcast).
What I think stands out about Castos is that it's a small company, and 100% dedicated to podcasting. Other podcast hosts are either owned by big companies (like how Spotify owns Anchor), part of a larger business (like how BuzzSprout is part of Higher Pixels), or a huge publicly owned company with a board to please (like Libsyn).
The worst things about using Castos
Castos is not the cheapest podcast host to get started with, with plans from $19/month. That said, they do offer a 14-day free trial so you can get a feel for the platform before committing. And you get a lot of value out of your $19 each month.
Castos is a bare-bones podcast host: you're not going to any fancy extras. There are no monetization options and you can't schedule episodes. I don't really see the value in the YouTube repurposing feature, as it's not difficult to simply upload videos directly to YouTube on your own.
Castos' terms are fairly short and straightforward, although they do have a clause that gives them the right to edit your content:
Castos, LLC has the right but not the obligation to monitor and edit all Content provided by users. (source: Castos terms)
Is Castos worth it?
Pros:
✅ Unlimited hosting
✅ WordPress plugin
✅ Analytics
✅ Cheap transcriptions ($0.10/minute)
✅ Easy to use
✅ Easy to switch from other podcast hosts
Cons:
❌ No free plan
❌ No monetization options
❌ No episode scheduling
Overall, Castos is by far the best podcast host for WordPress. The seamless integration with the Seriously Simple Podcasting app is well-worth the $19/month pricepoint. Even without WordPress, Castos is a worthy contender, thanks to its simple unlimited bandwidth and storage offering.
Castos doesn't attempt to offer anything other than good, solid podcast hosting: if you want to make money from your podcast, you'll need to use a different host or manage sponsorships on your own.
More podcast hosts
I've covered some of the top podcast hosts in detail above, but they're just the tip of the podcast hosting iceberg.
Here are some more podcast popular hosts to choose from.
Podcast Hosting FAQs
Which podcast hosts are used by the top podcasters?
The most popular podcast hosts with the big-name, super-popular podcasts are:
Megaphone
Art19
Libsyn Pro
For example, Gimet Media and iHeartRadio host their podcasts on Megaphone, Wondery and Kast Media Network use Art19 and The Joe Rogan Experience and WTF with Marc Maron use Libsyn Pro.
New podcasters can't always access professional podcast hosting until they grow their followings, as most have a minimum listener requirement. For example, Megaphone requires 20,000 downloads per episode before you can join.
How do I choose a podcast host?
You can choose the right podcast host for you by comparing the different options available (see this handy podcast host comparison table).
Before choosing, think about what your budget is, what features you might need (e.g. analytics or monetization options) and what your podcasting goals are.
How much does podcast hosting cost?
Podcast hosting costs from free to hundreds of dollars a month. As a beginner, you'll probably be fine on a free or basic plan (like Spreaker's $7/month plan).
Can I use a free podcast host?
Yes, you can use a free podcast host to manage your podcast. Some of the top free podcast hosts include Anchor and SoundCloud. Many premium podcast hosts also offer limited free plans, including Podbean, Spreaker and BuzzSprout.
Why can't I just upload my podcast to my website host?
You can upload your podcast to your website host, but it's not recommended because audio files can be big and you'll need a large website hosting plan to manage all the extra bandwidth you'll use every time someone listens to your podcast.
If you host your own podcast, you'll also need to create your own RSS feed and collect your own analytics. It's much easier to use a dedicated podcast host instead.
Where should I publish my podcast?
You should publish your podcast to as many directories as possible. Start with the biggest podcast directories, including:
Apple Podcasts (iTunes)
Spotify
Google Podcasts
Stitcher
TuneIn
SoundCloud
Is starting a podcast worth it?
Yes, starting podcast is worth it in 2021. Podcast audiences are growing rapidly and podcasting can be a great way to gain a new audience and make money. Be prepared to put in the hard work, though, as you'll need to put in a lot of time and effort to compete for listeners.
How do you make money from podcasts?
You can make money podcasting in a number of ways:
Sponsorship and advertising on your episodes
Donations via Patreon or similar
Affiliate marketing to listeners
What is the best podcast hosting site?
The best hosting site for your podcast depends on what you need. If you want free unlimited podcast hosting, the best site is Anchor. If you want easy WordPress website integration, then Castos is best.
Check a number of top podcast hosts before making a commitment, and don't forget that you can always switch host later on.
What is the most popular podcast platform?
The most popular podcast listening platform is Apple Podcasts (aka iTunes). The most popular podcast hosting platform is Anchor, which hosts over 330,000 podcasts.
What are the biggest podcast platforms?
In order of podcasts hosted, the biggest podcast platforms are:
Anchor
SoundCloud
Libsyn
Podbean
Spreaker
BuzzSprout
Podomatic
SimpleCast
Blog Talk Radio
Audioboom
Is Anchor a good podcast host?
Anchor is a good podcast host if you want free unlimited podcast hosting. However, Anchor has attracted a lot of negative publicity due to a clause in their terms that requires you to grant the company (and Spotify, who own Anchor) a non-exclusive license to use your content.
We do need to obtain certain non-exclusive rights from you. By submitting User Content… you hereby grant to us a non-exclusive license to use, edit, modify, create derivative works from… aggregate, reproduce, distribute, make available, transmit, display, and perform, the User Content in connection with the operation of the Services, the promotion, advertising or marketing of the Services, and the operation of Spotify's (and its successors' and affiliates') business. This license is worldwide, royalty-free, sublicensable (through multiple tiers) and transferable. (source: Anchor's terms)
How much money can you make on Anchor?
How much money you make on Anchor depends on how popular your podcast is, and which demographics it appeals to.
As an example, The Jerry Banfield Show reportedly made around $2.50 per thousand listeners using Anchor.
How long should podcasts be?
Podcasts can be as long or short as you like, from a few minutes to over an hour. Think about who might listen to your podcast and how long they'd pay attention for.
Weekly interview or journalistic podcasts tend to be between 45 minutes and 1 hour long. Daily tip podcasts can be much shorter, usually less than 15 minutes.
How do I get my podcast on iTunes?
You can get your podcast listed on iTunes by signing up for free iTunes account (via Apple ID), then adding your podcast details and RSS feed through iTunes Connect. You can get an RSS feed from any podcast host.
Final verdict: choosing the best podcast hosting in 2021
If you've made it this far, you're probably a bit overwhelmed with how many different podcast hosts are out there. And they're all organized a little differently, which can make it hard to compare hosts and pick the best one.
I'm not going to declare an ultimate winner of the "best podcast host" crown. The best for me might not be the best for you. Now you know some of the main features to check and pitfalls to watch out for when picking a host, you're equipped to make the best decision for you.
Maybe you've been thinking about starting a podcast for a while, maybe it's a new idea. Ultimately, it's better to just get started today and be prepared to make plenty of mistakes and learn along the way.
If you already have a podcast, then you'll be much more savvy when it comes to switching to a better host.
Whichever host you pick, remember to maintain ownership over your podcast and keep copies of all your audio files, artwork and accompanying content. Own your own RSS feed. Have your own website. That way, you'll have a backup and some protection in place should you need to switch hosts in the future.
Good luck and happy podcasting!