According to Statista, 32% of the US population regularly listen to podcasts (source), and that number's growing rapidly.
And it's never been easier for you or I to create our own podcast on any topic we like. All we need is a decent microphone, pair of headphones, podcast hosting and a great idea.
If you're looking to start a podcast and want to know the biggest podcast platforms out there, take a look at our rundown of the most popular podcast platforms in 2021.
What is a podcast platform?
A podcast platform is a service that manages the hosting and distribution of your podcast episodes to directories.
Podcast platforms offer a number of features to help manage your podcast. Look out for these features:
Podcast audio file storage
Podcast streaming bandwidth
Getting your podcast listed in the top podcast directories (see below)
Podcast analytics/statistics
Podcast player to embed into your website
Top podcast directories
These are the top podcast directories you'll want to syndicate your podcast to:
Apple Podcasts
Spotify
Google Podcasts
Stitcher
iHeart Radio
TuneIn
Alexa
Overcast
PocketCasts
Castro
Castbox
Podchaser
Deezer
PlayerFM
A podcast platform can automate syndication to different podcast directories for you.
Biggest podcast platforms in 2021
According to ListenNotes, the biggest podcast platforms in 2021 are:
Anchor.fm
SoundCloud
Libsyn
PodBean
Spreaker
Note: I removed feedburner.com from the list because it's an RSS feed service not a podcast platform.
Keep reading for more information about some of the top podcast platforms, and some rising stars we think are worth mentioning.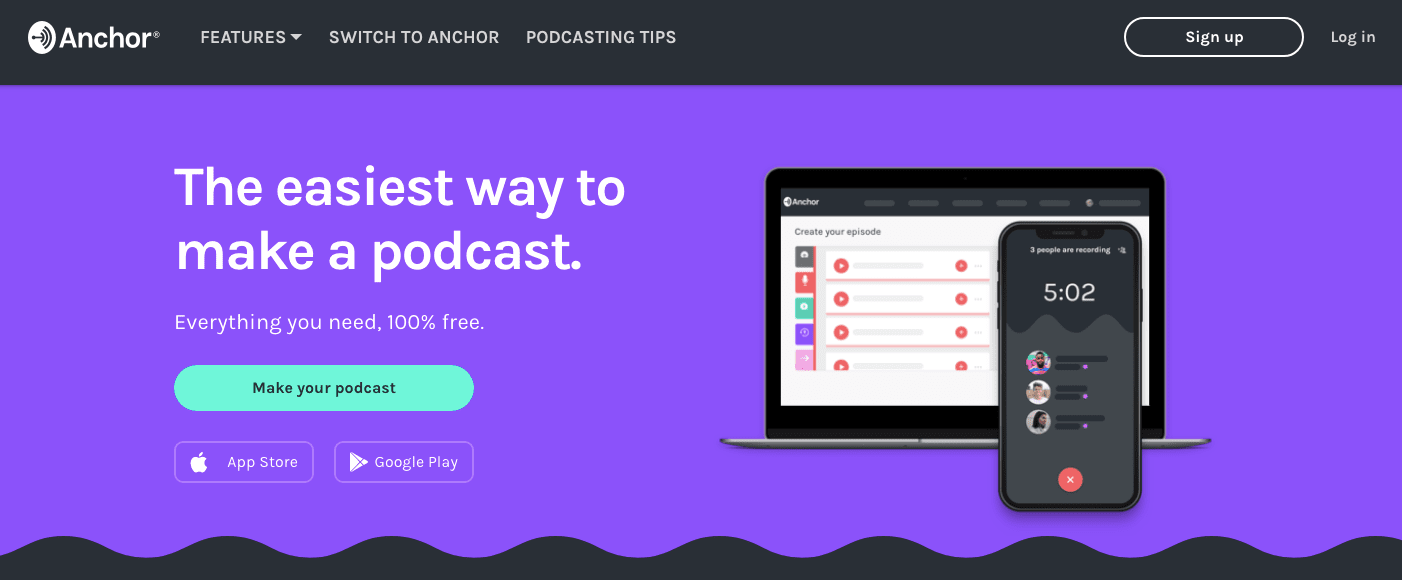 anchor.fm was co-founded by Nir Zicherman and Michael Mignano in 2015. Straight out of the gate, the company operated differently to other podcast platforms: all accounts were entirely free and unlimited.
In a medium post, co-founder Nir Zicherman explains that anchor.fm's mission is to provide free podcast hosting in exchange for a controlling stake in monetization:
People may ask "So if you're not making money off of me to host… what's your business model?" We are not in the business of charging you, the podcaster. We want to work with you to help you make money off your podcast, in which case we all win.
While anchor.fm has a lot of users (estimated by ListenNotes to be over 220,000), many are also dubious of a clause in the terms of service that grants a license to all uploaded works to the company:
By submitting User Content… through the Services, you hereby grant to us a non-exclusive license to use, edit, modify, create derivative works from (such as transcriptions of User Content), aggregate, reproduce, distribute, make available, transmit, display, and perform, the User Content in connection with the operation of the Services, the promotion, advertising or marketing of the Services, and the operation of Spotify's (and its successors' and affiliates') business. This license is worldwide, royalty-free, sublicensable (through multiple tiers) and transferable.
As you may have noticed, anchor.fm was acquired by Spotify in 2019. With the power of Spotify, already one of the largest podcast directories, anchor.fm is not likely to slow down its growth anytime soon. Free, unlimited podcast hosting will always be popular, especially with new podcasters looking to keep costs down.
PodBean started as a podcast hosting company in 2006 and today is one of the biggest podcast networks online.
According to their website, PodBean serves over 340,000 podcasters. This figure may also include former customers, as ListenNotes recorded only 46,000 current podcasts hosted using PodBean.
PodBean's popularity is most-likely down to their free plan, and low-priced unlimited plan from $9:
The nice thing about PodBean is that they also run their own podcast directory, the PodBean app. Available for iOS and Android, the PodBean app is great for listener discovery, helping people search for and stream new podcasts.
Buzzsprout started back in 2009, and today is one of the largest podcast platforms on the internet.
According to their website, Buzzsprout has helped over 100,000 people start their own podcast. That's pretty big, but not as big as PodBean. Their figure may take into account former customers: ListenNotes puts Buzzsprout at over 30,000 current podcasts.
Part of Buzzsprout's popularity is down to its free plan, which makes it easy for podcast beginners to start a podcast without spending money on hosting.
Transistor launched in 2018 and was co-founded by Justin Jackson and Jon Buda, who worked on Card Against Humanity.
Transistor doesn't release their customer numbers, but according to their website, they are used by thousands of podcasters.
Unlike its bigger-name competition, Transistor does not offer a free plan. Price start at $19/month, with two months free if you sign up to an annual plan, and a 14-day free trial for new customers.
Being a premium podcast hosting platform, Transistor is unlikely to get close to the customer numbers that freemium providers like PodBean and Buzzsprout get, however that's not stopping them grow into one of the most recognizable names in podcasting.
Even as a startup, Transistor is growing fast: co-founder Justin posted in his 2019 year in review that Transistor exceeded $40,000 in MRR (monthly recurring revenue) in December 2019.
By my calculations, that figure means that Transistor has around 2000 customers. ListenNotes data states Transistor currently hosts over 3000 podcasts.
SimpleCast is an established podcast platform, founded in 2013 by Brad Smith, who gets my respect by owning the Twitter handle @brad.
In 2016, SimpleCast moved domains from SimpleCast.fm to SimpleCast.com.
SimpleCast has been around long enough to become one of the biggest podcast platforms out there, but their market dominance is capped by being a paid-only platform. Plans begin at $13.50/month (with annual pricing), and all new customers get a 14-day free trial.
SimpleCast don't release their customer numbers, or brag about them in marketing materials, so it's difficult to make a reliable estimate of their numbers. ListenNotes states that SimpleCast currently hosts almost 7,500 podcasts.
I can also report that SimpleCast is the used by some very big names in podcasting, including: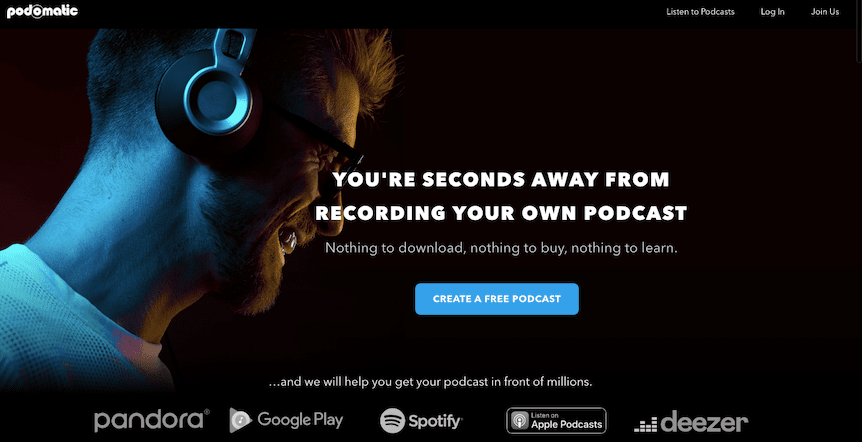 Podomatic is an established podcast platform, founded in 2005 by Johnny Mansour, Brian Woods and Justin Dossey.
Podomatic is a big name in podcasting, and currently hosts around 34,000 podcasts according to ListenNotes. Their entry-level plan is 100% free, and provides 500MB of storage and 15GB of monthly bandwidth.
As any podcaster knows, 500MB won't get you very far (you're going to need 1MB for every minute of audio recorded in 128kbps), and unless you want to delete old episodes, you'll need to upgrade to a paid Podomatic plan.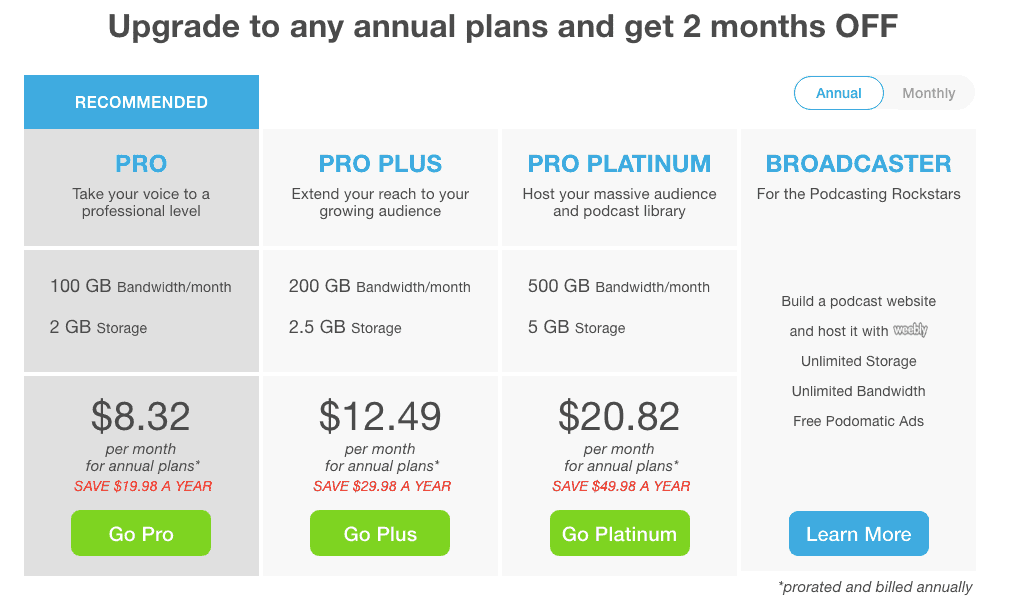 Podomatic's success is probably down to how long they've been around, being one of the oldest podcast hosting companies still in business today.
Fun fact: Podomatic's name is a reference to the iPod, which, back in 2005, was the most popular way to listen to podcasts.
Libsyn (short for Liberated Syndication) is a podcast platform founded in 2004 by Dave Mansueto and Dave Chekan, making it one of the oldest podcast hosts online today.
According to ListenNotes, Libsyn is currently the 3rd biggest podcast platform, hosting over 60,000 podcasts.
Libsyn doesn't offer a free plan, so it's popularity is somewhat surprising. However, their entry-level plan is only $5, making Libsyn one of the cheapest paid podcast plans on the market.
Libsyn hosts some big-name podcasts, including:
What platform should I use for my podcast?
If you're new to podcasting, choose one of the biggest podcast platforms to get started with. Anchor.fm is the most popular 100% free podcast platform, and currently hosts over 220,000 podcasts. Other popular choices include SoundCloud, Spreaker, Libsyn, PodBean and podomatic.
If you're also researching other parts of your podcast setup, you might like to read our guide to the best podcast microphones (as used by famous podcasters), and our in-depth Shure SM7B microphone review.