So you're starting a podcast? Nice! The first, and most important, bit of kit you'll need is a good quality podcasting microphone. It will make all the difference between sounding like you're recording your podcast underwater or speaking directly into your listeners' ears.
What better way to figure out which podcast microphone to choose than looking at the microphones real podcasters choose. Amazingly, plenty of podcasters use affordable microphones that you or I could pick up in a store or on Amazon.
As Anna Faris (host of popular podcast Anna Faris is Unqualified) said about getting into podcasting (source):
You just order a couple of microphones on Amazon… Essentially anyone can do it about any interest they have.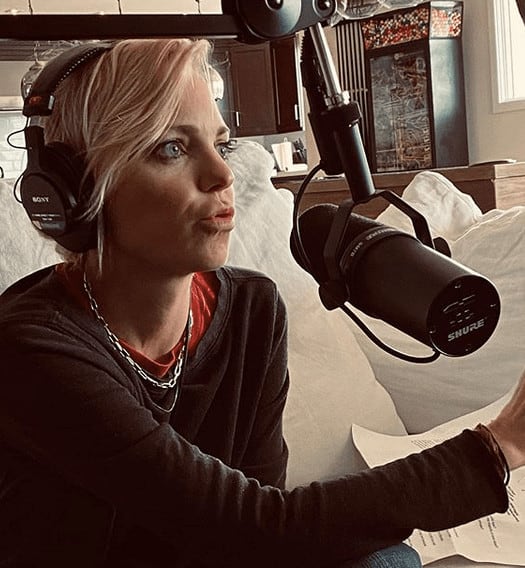 Enough chit chat! Here are 9 proven podcast mics and the real podcasters who use them. I've broken them down from beginner-friendly (aka cheap!) to advanced so you know what you're getting into, and listed notable additional equipment and accessories like preamps, windscreens and headphones where applicable.
And, of course, I will link to an episode recorded with every podcast microphone mentioned so that you can hear the audio quality of the mics yourself and let your ears be the judge.
Quick Answer: Best podcast microphones used by real podcasters
Best Podcasting Microphones for Beginners
Samson CO1U USB Condensor Microphone (as used on My Dad Wrote a Porno)
Jamie's been nominated for a Bafta, but we still use GarageBand and really cheap microphones. It's kind of embarrassing how ramshackle the operation is.
The "really cheap microphones" (source) used by hit comedy podcast My Dad Wrote a Porno hosts Jaime Morton, Alice Levine and James Cooper are all Samson CO1U USB condensor mics.
With its own desk stand and USB cable ready to plug straight into your laptop (which will be a Mac, if you're following the path of My Dad Wrote a Porno), the Samson CO1U is cheap, easy to use and sounds pretty decent. It's interesting to hear that the team behind My Dad Wrote a Porno have not bothered upgrading their podcasting kit even though they now get hundreds of millions of podcast downloads. They don't even bother with a pop filter!
For improved sound quality, you can combine the CO1U with a compatible shock mount (the Samson SP01) and pop filter ( the Samson PS01).
Listen to an episode of the My Dad Wrote a Porno podcast, recorded on the Samson CO1U microphone.
You can definitely detect audio issues on My Dad Wrote a Porno, but it doesn't seem to have affected the podcast's success. For beginners on a very tight budget, the Samson CO1U microphone is a solid choice.
Blue Yeti USB Microphone (as used on The Darkest Timeline)
Ken Jeong and Joel McHale, who you may remember from the TV series Community, use Blue Yeti USB microphones to record their podcast The Darkest Timeline.
The Blue Yeti is a very popular USB microphone, available in a bunch of different colors (Ken and Joel use the black version). It's a very versatile microphone with 4 different pickup patterns (cardioid, omni, bidirectional, and stereo) with built-in gain control, mute button and headphone monitoring port. It's pretty much an all-in-one solution for podcasters.
You can listen to how the Blue Yeti mics perform in this episode of The Darkest Timeline, with guest appearances from the entire cast of Community. Despite the Blue Yeti being a desktop microphone, Ken and Joel record their podcast holding the mics! You will definitely hear the need for an additional pop filter or foam windscreen when they speak close to the microphone.
Rode Podcaster USB Microphone (as used on Mixergy)
Andrew Warner uses the Rode Podcaster microphone to record episodes of Mixergy, his hugely successful internet business interview podcast (source).
The Rode Podcaster is an affordable USB microphone, so it's perfect for a new podcaster looking for a minimalist setup – simply plug it into your computer and off you go. I mean, it's called "the podcaster" so that should give you a clue about who it's meant for!
Listen to the sound quality of the Rose Podcaster microphone on an episode of Mixergy (note – only the host Andrew's audio is recorded using the Rode Podcaster).
Chase Reeves, one of the creators of The Fizzle Show, a business podcast for entrepreneurs, swears by the Audio-Technica AT875R shotgun condenser microphone (source). He uses it with a pop filter (also known as a pop shield, they protect the microphone from 'explosive' sounds like the 'p' sound in words) to record episodes of his podcast in an open room (not a fancy studio):
I love this mic. I got it originally as a shotgun mic to use in video… but I was so surprised to hear how well this performed.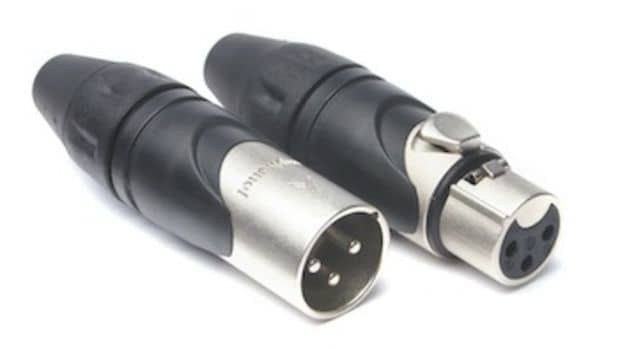 The AT875R will require a XLR to USB adapter or XLR audio interface in order to hook it up to your computer. A basic one audio interface will do, like the Pyle-Pro PAD10MXU. All it needs to do is convert the analogue signal from the AT875R's XLR connector to digital USB, and you can also plug headphones in to monitor audio while recording.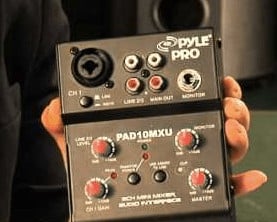 Some audiophiles believe XLR offers superior audio quality to USB microphones, and there is a far wider choice of XLR microphones on the market. You'll find that most of the recommendations from professional podcasters in this article are XLR mics.
Listen to an episode of The Fizzle Show, recorded using the Audio-Technica AT875R microphone.
Also known as "the elvis microphone", Shure's 55SH (Series II) is the mic of choice for Kevin Smith when he records The Secret Stash podcast with Walt Flanagan, Bryan Johnson, Ming Chen and Mike Zapcic who work at Kevin Smith's comic book shop, Jay and Silent Bob's Secret Stash.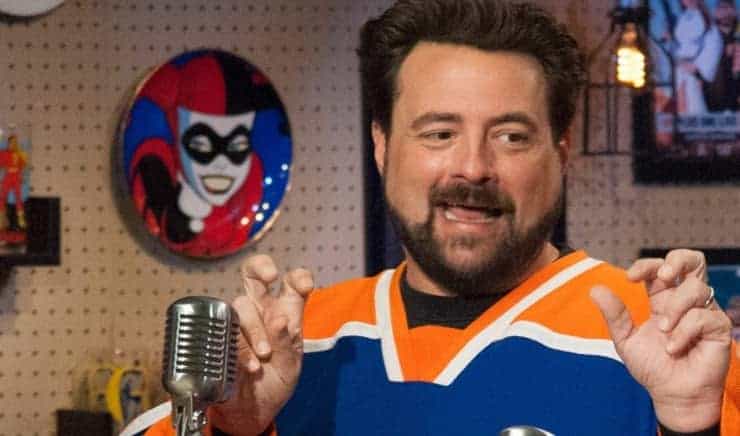 As well as sounding clear, the Shure 55H Series II microphones also looks incredibly cool – and Kevin Smith and co show them off on AMC reality show Comic Book Men, which shows them recording parts of the podcast behind the scenes.
Head of Technology of Kevin Smith's podcast company, SModcast Internet Radio, Ming Chen talks about making the switch to Shure mics in 2011 (source):
We used another brand's microphones when the podcast network first started four years ago; and since switching to Shure's SM27 and 55SH microphones, our listeners can tell a huge difference in audio quality. With more than 80 episodes under our belt, Shure's microphones have boosted the production value of our content, setting a new bar for podcasting today.
The Shure 55H Series II microphone is a dynamic mic with an XLR connection, so you'll need an adapter to connect it to a computer via USB. Shure also make their own XLR to USB adapter – the Shure X2U to help you do this .
Listen to an episode of The Secret Stash podcast to hear the Shure 55H Series II mic in action.
Microphones for Advanced Podcasters
Shure SM7B Microphone (as used by Joe Rogan, Marc Maron and more)
Joe Rogan hosts one of the most successful podcasts of all time, the Joe Rogan Experience. Launched on Christmas Eve 2009, Joe's podcast is still going strong in 2021. Joe's microphone of choice is the Shure SM7B is definitely on the professional end of the spectrum (aka not cheap), but it's by no means the most expensive mic out there and it seems to be working out well for him (source).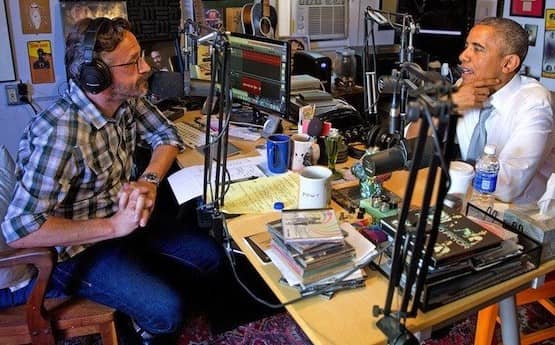 Joe's not alone with his preference for the Shure SM7B – it's also the microphone of choice on WTF with Marc Maron (source) and true crime podcast Casefile (source).
Marc Maron loves how his Shure mics sound:
pick up enough room tone and the voice sounds great on it; gives it a sense of place and intimacy.
If you're serious about investing in this mic for your podcast, I recommend reading my in-depth Shure SM7B review, where I get into  how it works and pairs with preamps and other setups.
Many of the podcasters I saw using Shure's SM7B mic choose to couple it with the Shure A7WS close-talk foam windscreen– basically it's a foam cover that fits snugly over the mic and removes unwanted breath noises.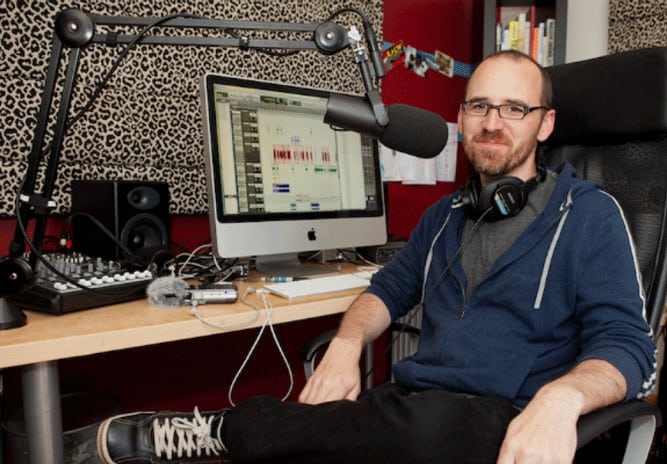 Roman Mars, creator and host of design podcast 99% Invisible also uses the Shure SM7B to record his voiceover work (source).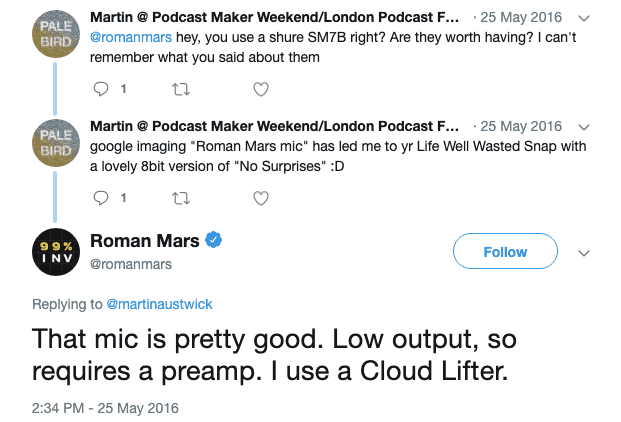 Roman explains that he uses the Shure SM7B microphone alongside a preamp because the mic has low output.

His preamp of choice is the Cloudlifter CL-1 (source), which works by simply adding +25dB of Phantom power to passive dynamic mics (like the Shure SM7B) without passing power to the mic itself.
The Shure SM7B podcast microphone is also used by YouTuber Grace Helbig to record her interview podcast, Not Too Deep.
Brittany Luse and Eric Eddings, hosts of Gimlet podcast on Black life The Nod record using Shure SM7B microphones at Gimlet Media, Brookyn, New York.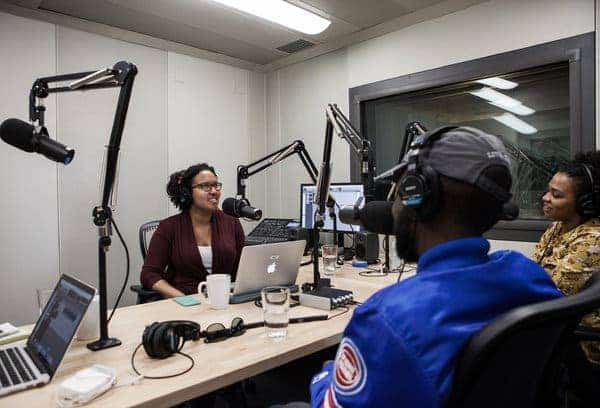 Michael Rosenbaum uses a couple of Shure SM7B mics to record his celebrity interview podcast Inside of You.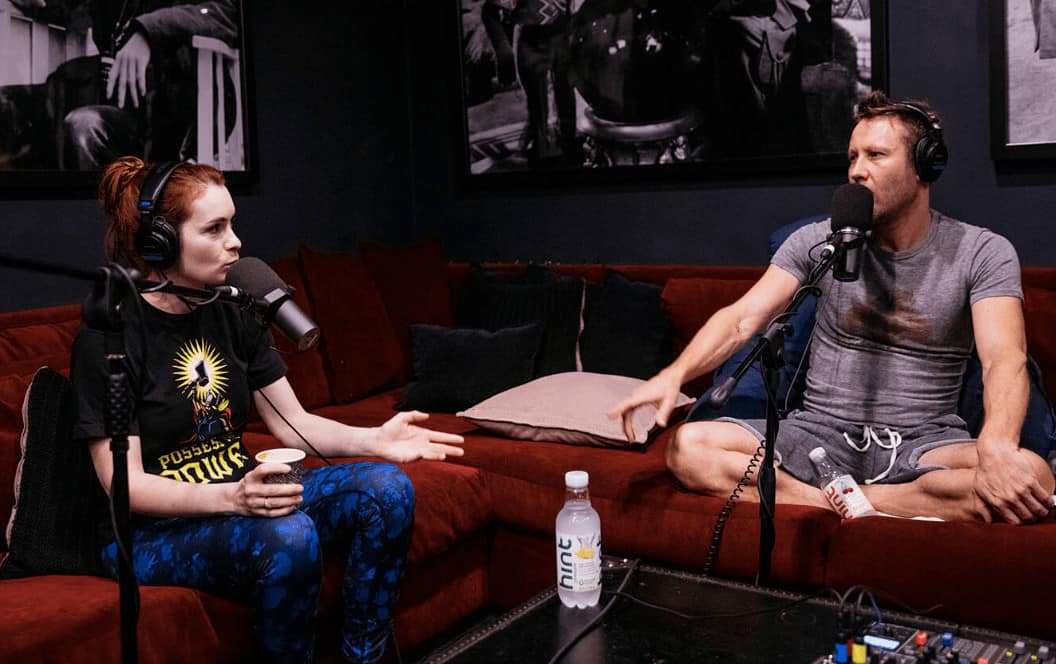 The Smosh team also use Shure SM7B mics to record their interview podcast, SmoshCast.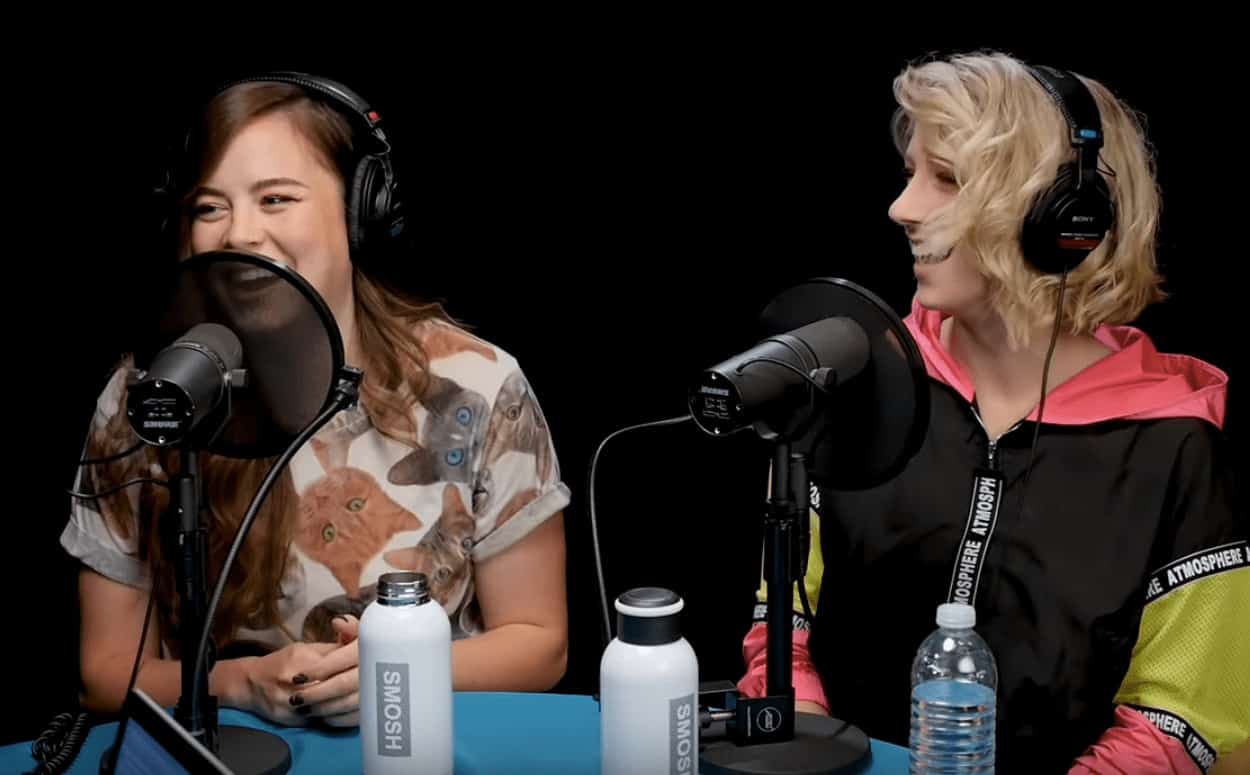 Dax Shepherd, host of interview podcast Armchair Expert, also uses Shure SM7B microphones, mounted on a boom stand.
To be honest, the Shure SM7B is used on so many popular podcasts that I can't even mention them all in this post without boring you to sleep!
That reminds me: you should try listening to the Sleep With Me podcast if you need help falling asleep. And, big surprise, Sleep With Me host Drew Ackerman records the podcast using a Shure SM7B mic (source)!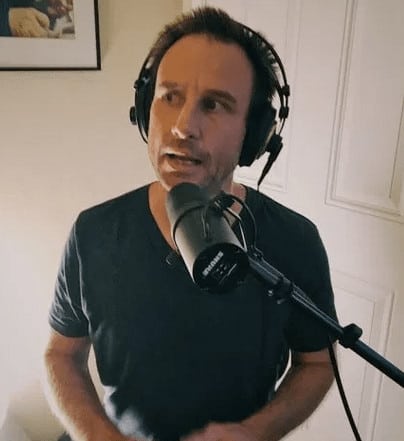 In  a nutshell, the Shure SM7B is one of the most popular microphones used by professional podcasters. You could do much worse.
Listen to an episode of WTF with Marc Maron to hear the Shure SM7B (complete with the Shure A7WS close-talk windscreen accessory!) in action.
Bonus #1: Listen to Dave Grohl belting out Best of You on a Shure SM7B microphone while recording a Foo Fighters Live Lounge special for BBC Radio 1 at Studio 606.
Shure KSM32 Microphone (as used by Serial and This American Life)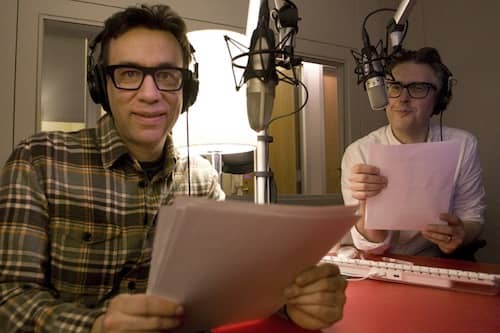 One of the most successful podcasts in American, This American Life, uses Shure KSM32 microphones to capture audio (source). As host Ira Glass explains:
In the studio we have Shure KSM-32 mics, which are the great $500 knockoffs of the gorgeous $3400 Neumann U87's you hear on the big NPR news shows.
The same Shure KSM32 mics are also used to record the Serial podcast, famous for making podcasts mainstream when it launched in 2014 as a spin-off from This American Life.
Listen to the Shure KSM32 microphone in action on an episode of This American Life.
Neumann U87 Microphone (as used by NPR)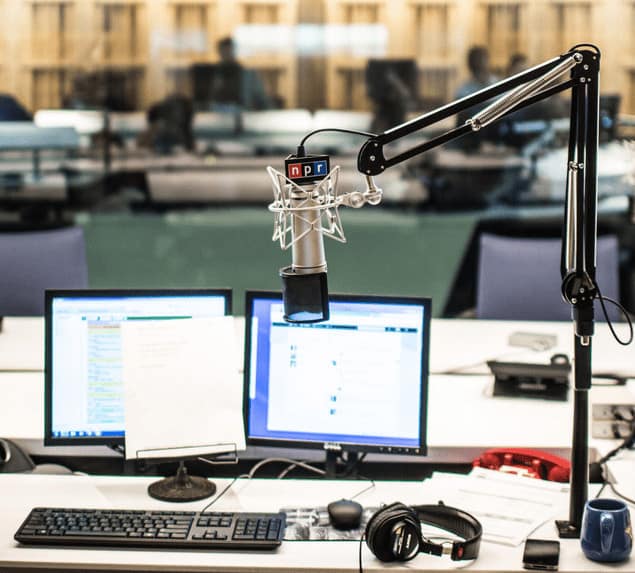 As Ira Glass explained above, NPR's studios are kitted out with top-of-the-range Neumann U87 microphones. These beasts do not come cheap and are only used by broadcast-quality podcasts.
NPR produce many daily news podcast, including Morning Edition, All Things Considered and Fresh Air, and even pumps out the hourly NPR News Now.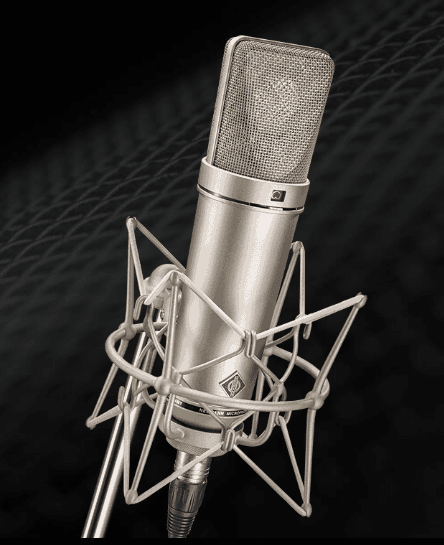 You can even get a look at NPR's microphone in situ by taking a tour of the NPR headquarters in Washington, D.C..
Listen to an episode of NPR News Now, recorded on a Neumann U87 microphone to hear the audio quality for yourself.
Portable Podcast Microphones
Rode NTG2 Microphone (as used by Gimlet)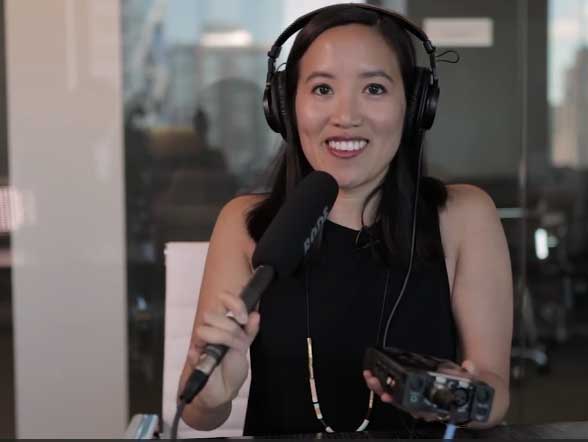 Nicole Wong, Creative Producer at podcast company Gimlet Creative (the creation of which became the storyline of short-lived ABC comedy series Alex, Inc) explains how the team use the Rode NTG2 shotgun microphone to capture podcast audio outside of the studio (source):
You'll always wanna be making sure to mic closer than you think you should be so you need to kinda get in someone's face a little bit more than feels comfortable.
If you've listened to any of Gimlet's popular podcasts, like Reply All and Startup, you'll probably have heard the Rode NTG2 in action.
Listen to episode 36 of Reply All, which features plenty of audio recorded outside the studio on the Rode NTG2.
Zoom H4N Microphone (as used by The Nerdist Podcast and Marc Maron)

Chris Hardwick, creator of The Nerdist Podcast, sometimes records parts of his podcast remotely using the Zoom H4N digital recorder (an all-in-one SSD recorder wih microphones), which is later uploaded via USB (source).
Marc Maron (WTF with Marc Maron) also uses the Zoom H4N to record audio when he leaves his garage to interview celebrities in their homes (source).
You can use the Zoom H4N with its built-in microphones, but Marc Maron uses it with portable Shure BETA 58A microphones.
Listen to WTF with Marc Maron episode 653 with Lorne Michaels to hear Marc's portable podcast setup in action:
Best podcast headphones
You can read our full guide to the best podcast headphones, or see a summary below.
Most Popular Podcast Headphones: Sony MDR7506
Here's something we discovered by accident: almost every single podcast host we researched while writing this microphone guide was seen wearing a pair of Sony MDR7506 professional headphones, so we're thinking they must be the best podcast headphones around.
Take a look at just a handful of the famous and professional podcast hosts who wear Sony MDR7506 headphones:
NPR uses Sony MDR7506 headphones in their studios:
Roman Mars uses Sony MDR7506 headphones when recording episodes of 99% Invisible: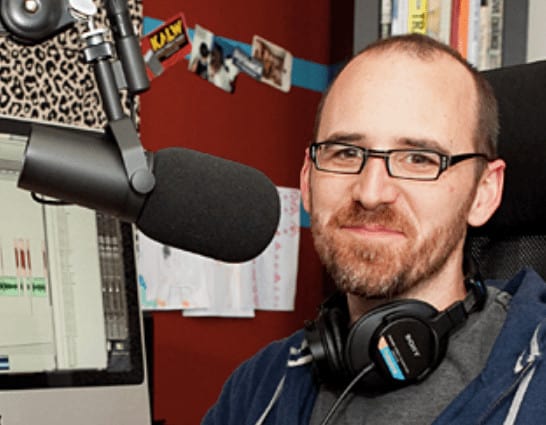 Anna Faris uses Sony MDR7506 headphones when recording episodes of her podcast, Unqualified: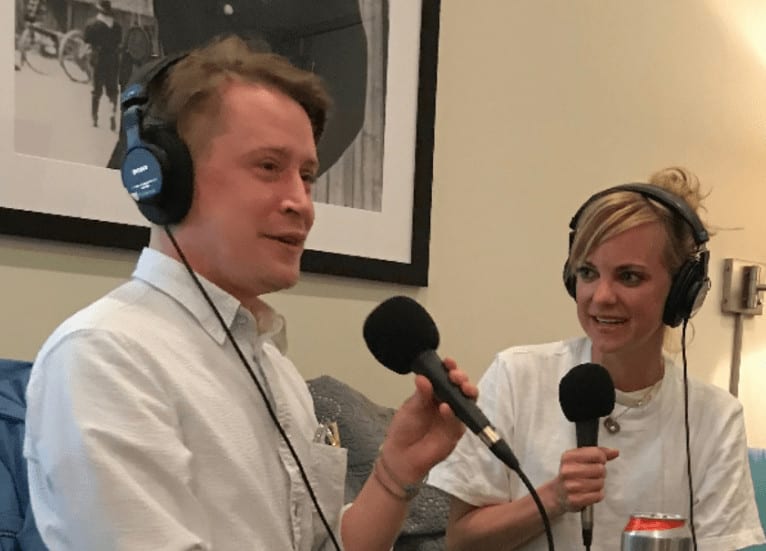 Sarah Koenig wears Sony MDR7506 headphones while recording episodes of the Serial podcast: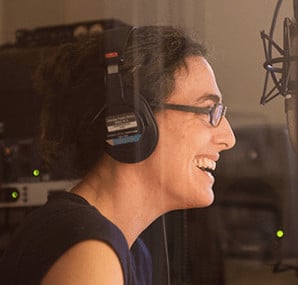 Jad Abumrad wears Sony MDR7506 headphones while recording the Radiolab podcast: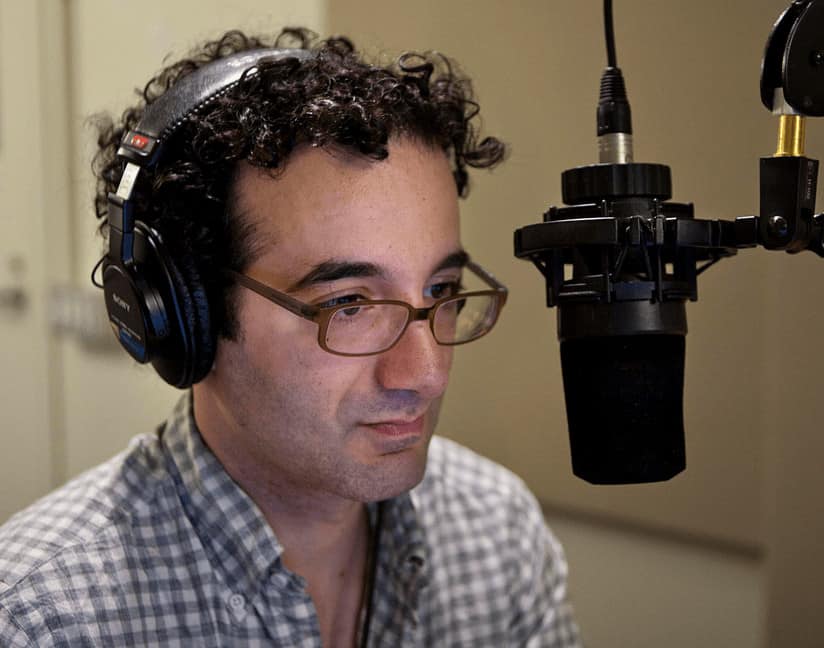 Michael Rosenbaum uses Sony MDR7506 headphones when recording episodes of Inside of You:
I could go on, but I think you get the idea.
Not only are Sony MDR7506 headphones used by a ton of popular podcasters, they're not even that expensive! Kind of a no-brainer.
Not everyone uses Sony podcast headphones. We found Dax Shepherd using Beyerdynamic DT 770 Pro headphones (the 80 ohm version) on his podcast, Armchair Expert. Those grey furry ear cups look so soft.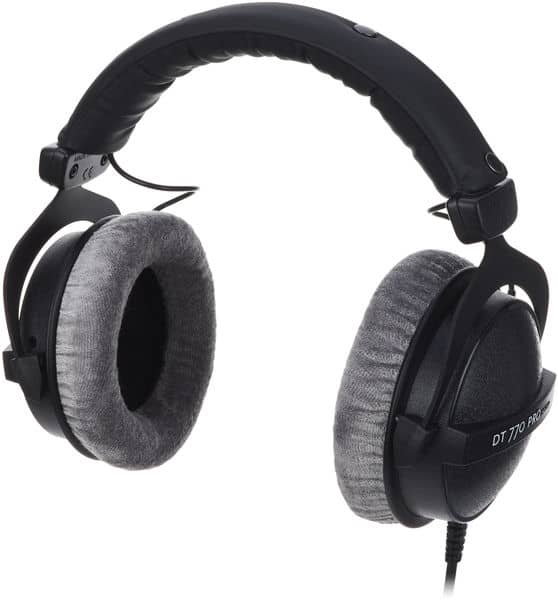 Ellen DeGeneres sure seems comfortable wearing them.
Sennheiser HD280PRO headphones (as used by Joe Rogan and Marc Maron)
Joe Rogan is another famous podcaster who bucks the trend of using Sony headphones – he prefers Sennheiser HD280PRO headphones.
If you look at earlier episodes, you'll notice Rogan wore the older version of the Sennheiser headphones that had a single piece of headband padding. When Sennheiser upgraded the model to a new two-piece headband padding design, Joe Rogan switched to the new model. That's some brand loyalty.
Marc Maron is also a loyal user of Sennheiser HD280PRO headphones.
'As Used By' Podcast Equipment Resource List
Here's an easy-to-read quick resource list of all the podcast microphones and headphones as used by notable podcasters.
What microphone does Joe Rogan use?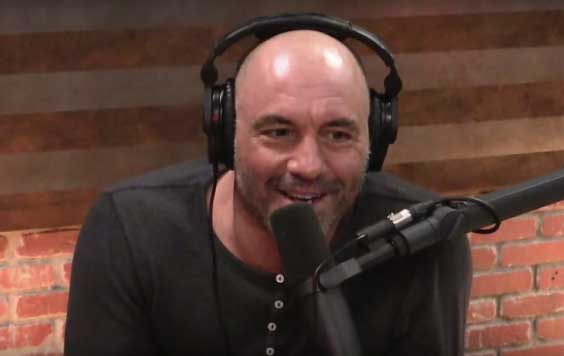 Joe Rogan records The Joe Rogan Experience podcast on a Shure SM7B microphone.
What headphones does Joe Rogan use?
Joe Rogan uses Sennheiser HD280PRO headphones.
What microphone does Dax Shepherd use?
Dax Shepherd records the Armchair Expert podcast on a Shure SM7B microphone.
What headphones does Dax Shepherd use?
Dax Shepherd uses Beyerdynamic DT 770 Pro headphones.
What microphone does Marc Maron use?
Marc Maron records the WTF with Marc Maron podcast on a Shure SM7B microphone.
What headphones does Marc Maron use?
Marc Maron uses Sennheiser HD280PRO headphones.
What microphone does Ira Glass use?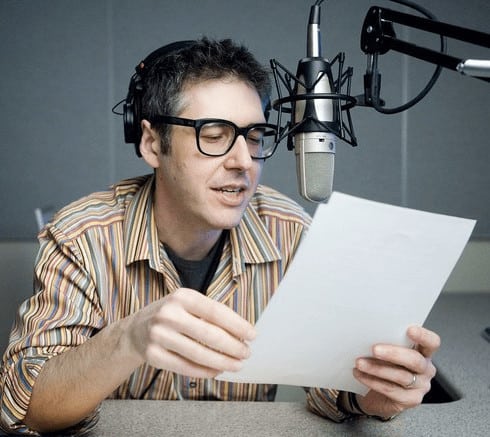 Ira Glass records the This American Life podcast using a Shure KSM32 microphone.
What headphones does Ira Glass use?
Ira Glass uses Sony MDR7506 headphones.
Final thoughts
Ultimately, it's more important to just get started with your podcast than it is to obsess over microphone choices: you can always upgrade your kit in the future. These days, you'll even get by with the built-in microphone on your laptop if it's decent enough. Start small and learn as you go along.
If you're looking for podcast hosting, I recommend our guide to the biggest podcast platforms for a bit of further reading. Happy podcasting!