I'm SHURE (haha) you're here because you're considering buying a Shure SM7B microphone. And I'm not surprised. From podcasters to radio stations, musicians to voice over artists, Shure's SM7B cardioid dynamic microphone is one popular performer.
In this review, we break down exactly what you'll be getting if you buy a Shure SM7B microphone: how it works, who it's right for, how it performs in different environments, whether you need preamps and, most importantly, how it sounds.
We've packed this review with sound clips and technical information so you can see (and hear) exactly what you need to before buying.
Let's get straight to it.
Quick Answer: 3 Reasons to Buy a Shure SM7B Microphone
1. It sounds great
Typically, dynamic mics like the SM7B are used for recording loud instruments and singing, but Shure's top-seller has also become popular with podcasters and voice over artists thanks to its unique sound… if you add some gain (keep reading to find out how).
2. It's used by some very famous people
From Joe Rogan to Dave Grohl, Shure SM7B is the microphone of choice for so many famous names that we'd be here all day if we tried to list them (keep reading the article for a few more names if you're curious). These people have the budget to buy any microphone they want, but they choose the Shure SM7B. If it's good enough for them…
3. It's cheap for a broadcast-quality microphone
Seriously, Shure SM7B microphones are really cheap compared to other professional, broadcast-quality microphones. Take the Neumann U87 microphone, for example. It's used by NPR and retails at over $3000. Suddenly, Shure's SM7B is starting to look like a real bargain…
What is the Shure SM7B?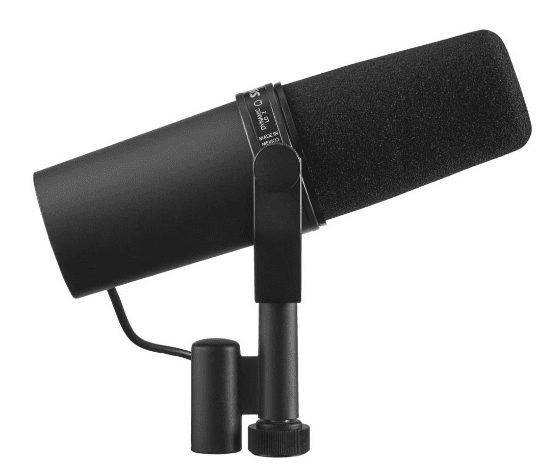 The Shure SM7B is a dynamic cardioid XLR microphone.
The SM7B is an update on Shure's famous SM7 microphone, which was first introduced in 1976 and became famous as the microphone used to record Michael Jackson's Thriller album.
The SM7B was introduced in 2001, and features a larger windscreen than the SM7. Acoustically, both mics perform almost identically. The SM7B has become very popular with podcasters, voice-over artists and musicians.
But enough with the history lesson, let's get down to the numbers.
Price
How much does a Shure SM7B microphone cost?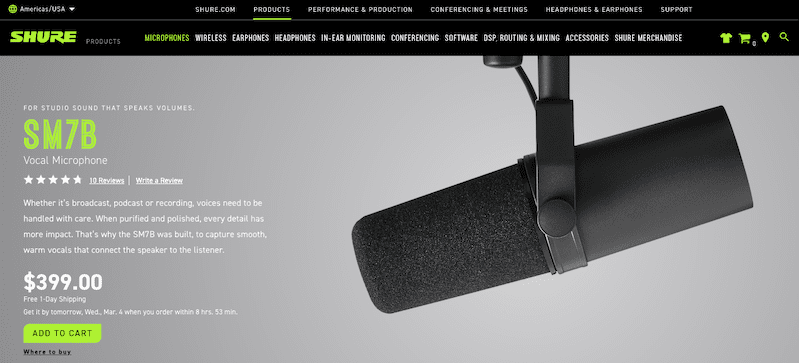 Shure retails its SM7B microphone directly for $399, which includes free 1-day shipping.
You can check the latest SM7B price on Amazon here.
Can I buy a used Shure SM7B?
If you look for a deal on a used Shure SM7B microphone, you could be lucky enough to shave around 20% off the price of a new one. Our favorite places to look are eBay auctions, and Amazon warehouse deals.
Who is the Shure SM7B for?
According to Shure, the SM7B is best-suited for:
Recording Studio—Instrumental and Vocal
Location Recording
Motion Picture and Television Scoring
Television, Talk Shows, and News Desks
Radio Announcing and Production
Narration
That's a pretty large collection of use cases. To make it easier to get your head around, here's a rundown of the main groups of people already using SM7B mics.
The Shure SM7B is used by podcasters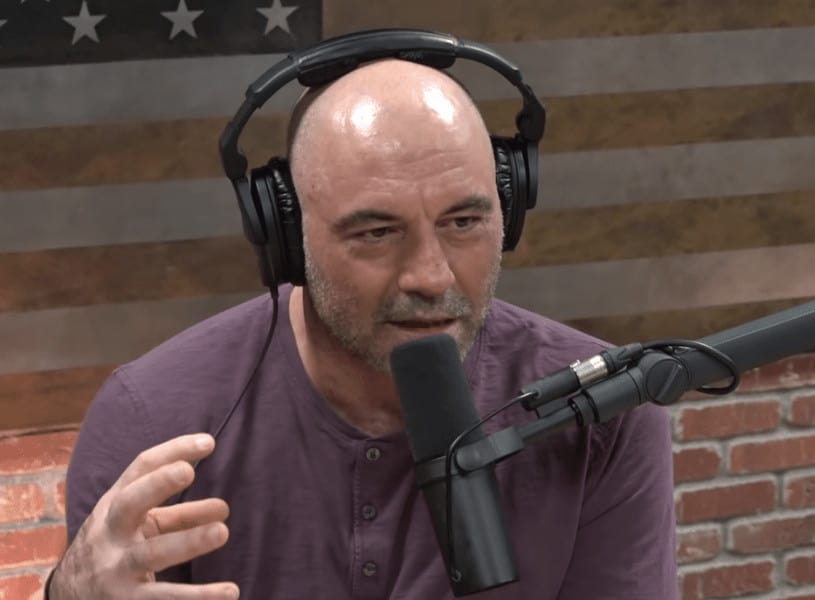 The Shure SM7B has become one of the most popular popdcast microphones out there. Joe Rogan uses the SM7B to record his mega-hit podcast, The Joe Rogan Experience.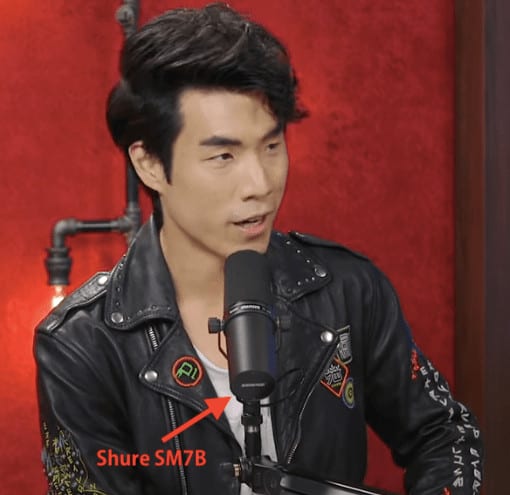 You can read more about the famous podcasters who use SM7Bs in this section of my review of the best podcast microphones. But if you're curious now, here are just a handful of top podcasters that record their shows on the SM7B: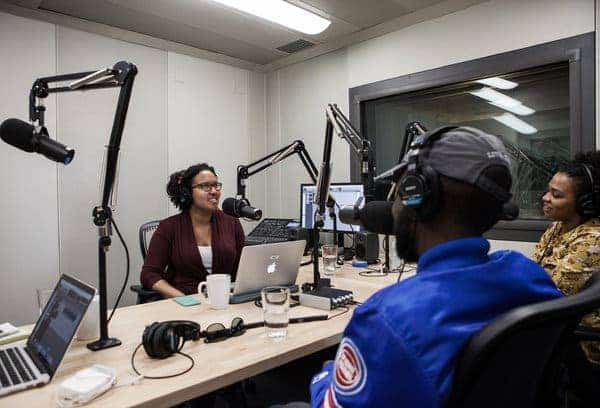 Try and have a listen to some podcast episodes recorded on the Shure SM7B. Studio setups and post-production will vary, but, as you will hear, the audio quality is superb in all cases.
Why is the SM7B so good for podcasting?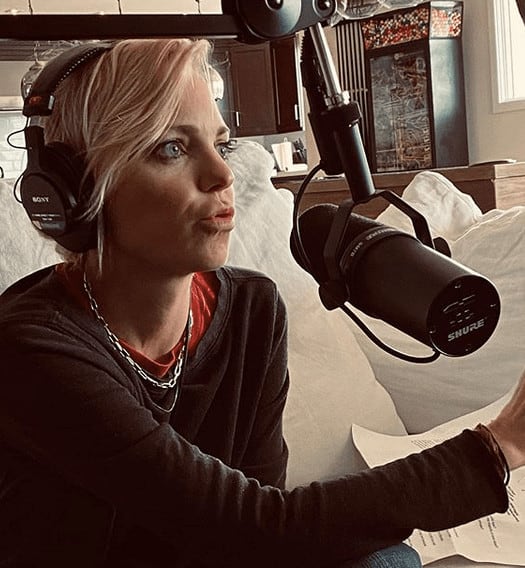 In short, the Shure SM7B is perfect for podcasting thanks to its:
cardioid pickup pattern that only records sound from the front
low noise
built-in pop filter and 2 windscreen options
variable frequency response settings to get a unique "DJ voice" sound
low pickup of background noise
We'll go through all these features and more in serious detail below.
The Shure SM7B is used by radio stations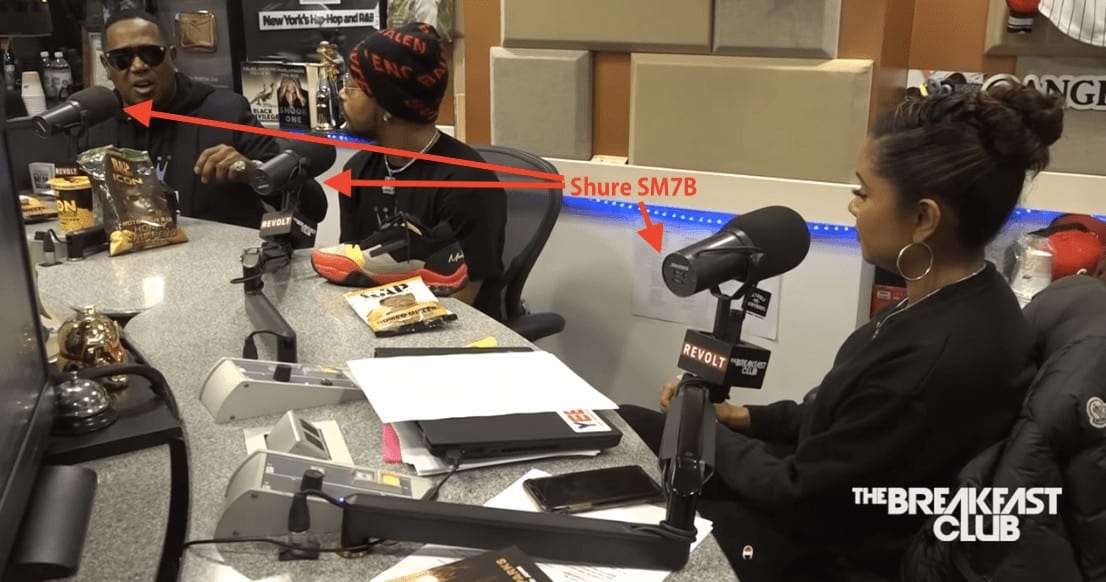 The Shure SM7B is also popular with radio stations. What's the difference between radio and podcasts these days, anyway?
A Shure SM7B mic was even used by UK radio station Virgin Radio to create an impromptu radio station on a boat during the Coronavirus outbreak.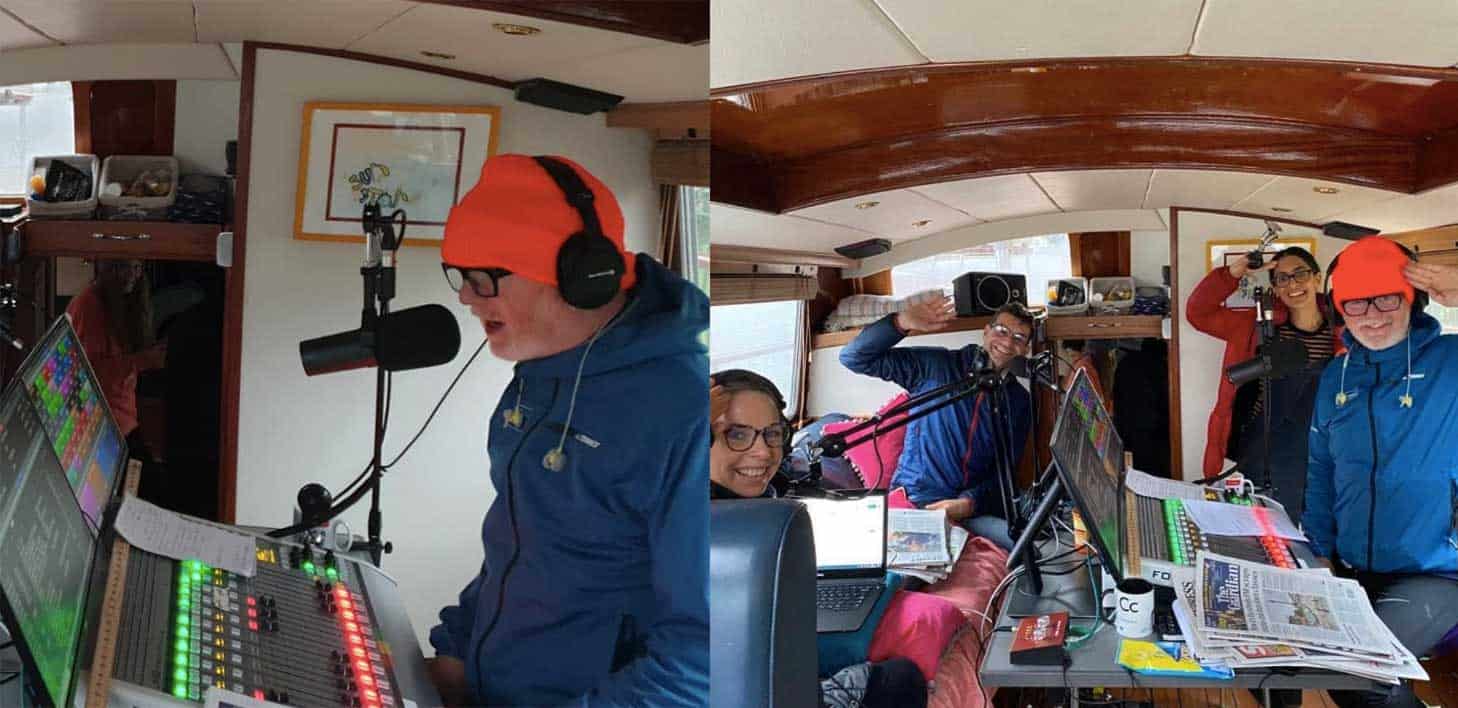 The Shure SM7B is used by musicians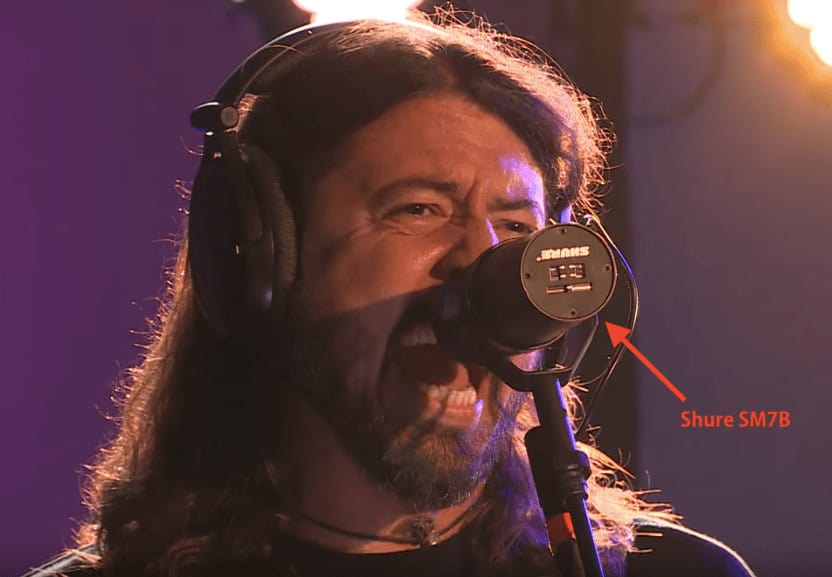 The Foo Fighters use Shure SM7B microphones in their Los Angeles studio (you can listen to a performance of Best of You with vocals recorded on the Shure SM7B here). If you want a longer list of artists to watch/listen to that record on the SM7B, skip to our list here.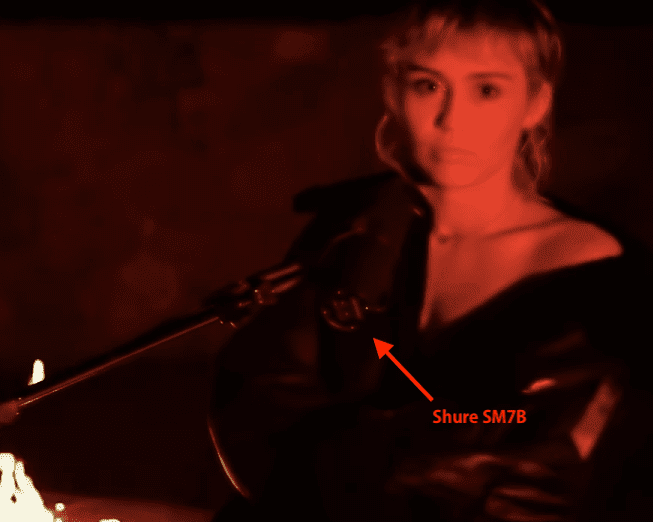 Miley Cyrus used a Shure SM7B microphone to record a cover of Pink Floyd's Wish You Were Here for Saturday Night Live from home (the image is a bit grainy, but you can listen to the full performance here).
You can also listen to music producer, YouTuber and singer Joel Berghult (aka RoomieOfficial) recording vocals on a Shure SM7B. Try his video called One Guy, 7 Cover Songs for a range of singing styles.
While most people use the SM7B as a vocal mic, it's also great at picking up instruments: watch this odd recording session to hear how it performs on a series of brass and wind instruments.
The SM7B is used by voice over artists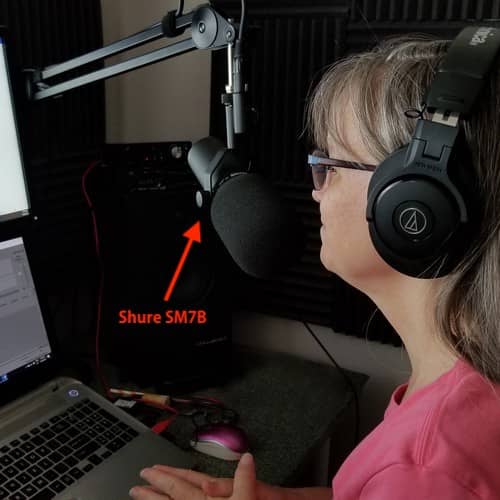 The Shure SM7B works well for close-up vocal recordings, including voice overs and spoken word. Have a listen to the demo reel of Pamela Gregory, a voice over artist, to get an idea of sound quality.
The Shure SM7B is used by streamers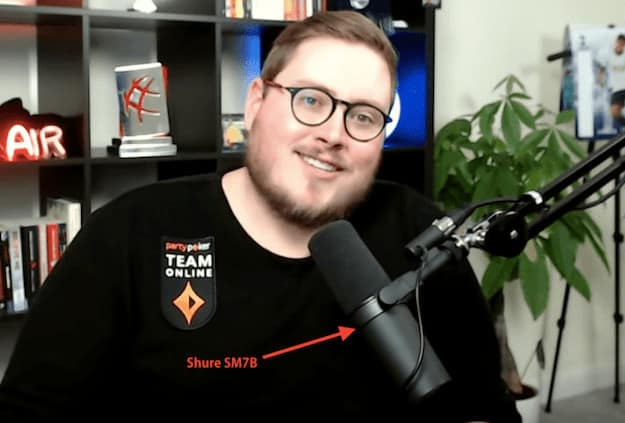 From YouTubers to Twitch streamers, the Shure SM7B is a popular choice for professional commentators, as it only picks up close speech and leaves out any background or computer noise.
You can listen to Twitch streamer and poker player Jaime Staples use a SM7B when interviewing other poker players for his partypoker show Weekly Poker Showdown.
Streaming platform Twitch also recommends the SM7B for streamers on their guide to getting started:
High End Cardioid: Shure SM7B Cardioid Dynamic Microphone ~ $399USD

Industry standard as far as versatile mics go, XLR
Who the Shure SM7B is NOT for
It might be an all-star mic, but it's not ideal for everyone. Here are some people that it wouldn't suit:
Anyone that needs a handheld microphone
Anyone that needs omnidirectional sound pickup
Anyone looking for an LDC (large diaphagm condenser) microphone
Shure SM7B setup
Connecting a Shure SM7B to a computer or digital recorder
Shure's SM7B is an XLR microphone, which means you'll need a female to male XLR cable to connect the mic to a preamp or audio interface (more on those setup options later).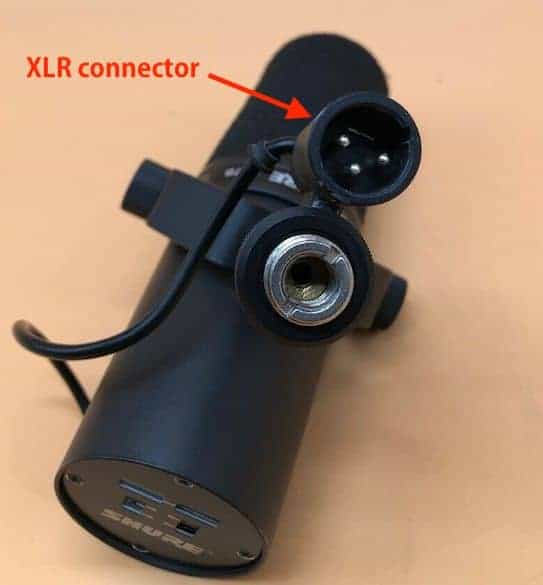 There are 3 main ways you can connect a Shure SM7B to make recordings:
You can also use an XLR to USB signal adapter like the Shure X2U to connect the Shure SM7B microphone directly to your computer
You can plug the XLR mic cable directly into a portable digital audio recorder like the Zoom H4n
You can use a USB audio interface, like the BEHRINGER UMC22 or Focusrite Scarlett Solo
If you need a very minimalist microphone setup, you'll be better off with a USB microphone, like the Rode NT-USB, Audio-Technica AT2020USB, or Blue Yeti.
Shure SM7B specifications (and what they actually mean)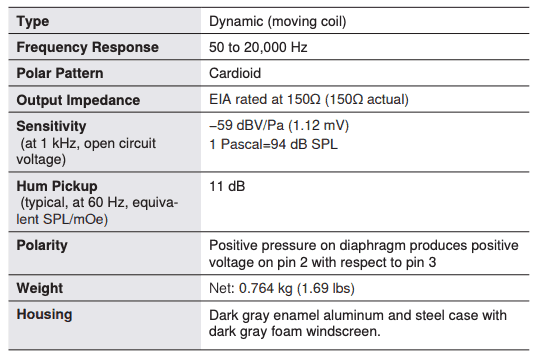 Here are the full specifications for the SM7B:
Dynamic (moving coil) microphone
Cardioid polar pattern
50 to 20,000 Hz frequency response (with 3 settings)
150 ohms output impedance
-59 dBV/Pa sensitivity
11 dB hum pickup
764 grams (1.69 lbs) weight
Don't worry, we're going to unpack all of these technical terms for you, and explain in simple english just what the Shure SM7B is capable of.
The Shure SM7B is a cardioid dynamic microphone. Let's see what that means for your recordings.
What is a dynamic microphone?
A dynamic microphone uses electromagnetism to convert sound waves into an electrical signal. There are two types of dynamic microphone: moving coil and ribbon.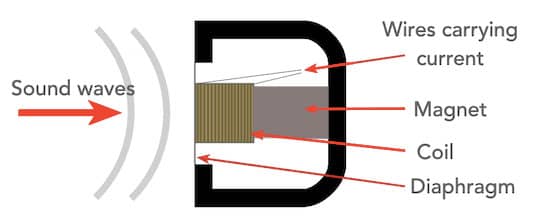 Shure's SM7B is a moving coil dynamic microphone, which means it is more durable and easier to use than a ribbon dynamic mic.
Advantages of a dynamic microphone
very durable, can be knocked around without damage
able to handle high sound levels without distortion
Disadvantages of a dynamic microphone
higher noise levels than condenser mics
needs a lot of gain for speech recording
If you're looking for a condenser microphone alternative to the Shure SM7B, you'll probably like the Rode NT1, AKG Pro Audio C214 or Audio-Technica AT2035.
What is a cardioid microphone?
Cardioid refers to the pickup pattern of a microphone. A cardioid microphone, also know as unidirectional, will pick up sound from a single direction.
The Shure SM7B has a cardioid polar pattern, which means it picks up most sound from the front of the microphone (see diagram below).
Advantages of a cardioid microphone
ideal for stage and studio as background sounds are minimized
great for recording vocals and close-up sounds
suited to loud instruments like drums and guitar amps
lower background noise than omnidirectional mics
Disadvantages of a cardioid microphone
won't pick up multiple instruments at once compared to omnidirectional mics
can't record vocals or speech from more than one person at a time
If you need an omnidirectional microphone alternative to the Shure SM7B, you'll probably like the Blue Yeti USB microphone as it has multiple pickup patterns (cardioid, omnidirectional, bidirectional and stereo), or a dedicated omnidirectional microphone like the RODE Reporter.
Shure SM7B frequency response
What is frequency response?
Frequency response measures (in hertz) the range of frequencies, from low to high, that a microphone can pick up.
Low frequency is usually referred to as bass, and high frequency as treble. Mid is in the middle.
Shure SM7B frequency response explained
The Shure SM7B microphone has an adjustable frequency response, with a range of 50 to 20,000 Hertz.
The adjustable frequency response lets you customize your sound. There are 3 frequency settings you can choose from when recording:
Flat Response – ideal for natural audio capture, for speech and music
Bass Rolloff – slightly reduces low frequencies, counteracts the proximity effect (increase in bass when subjects close to mic)
Presence Boost Setting – similar to bass rolloff response, but with more mid and treble amplification. Ideal for recording high-pitched instruments like guitars or violins
You switch between frequency response settings by using a pen or something similar to push the switches on the back of the mic. They've made it tricky to use the switches so you don't accidentally knock them during recording.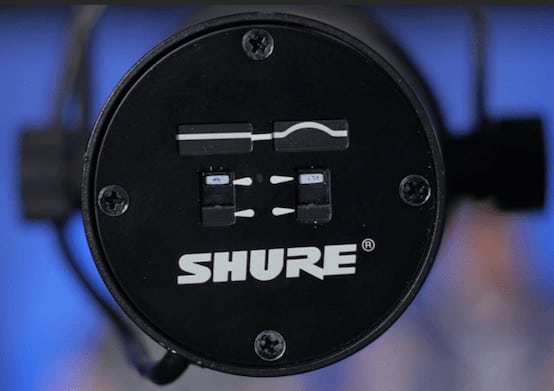 Have a listen to a recording of the SM7B without any post-processing (compression, limiting, EQ) out-of-the box with the flat response setting.
Shure SM7B output impedance
What is output impedance?
In microphones, output impedance is a measurement of AC resistance. low impedance is less than 600 Ω (ohms); medium impedance is 600 Ω to 10,000 Ω; high impedance is greater than 10,000 Ω.
Shure's SM7B output impedance is 150 ohms.
Low impedance allows for very long cable runs without sound degradation.
Shure SM7B sensitivity
Shure SM7B sensitivity is -59 dBV/Pa[1] (1.12 mV).
The Shure SM7B will output 1.12 millivolts (mV) when detecting acoustic air pressure of 1 Pascal. This is considered to be low sensitivity.
In simple terms, if you speak normally into an SM7B mic with your lips on the foam (which is around 1 Pascal), you'll get output of 1.12 mV, which equates to a signal level of about -59dBV (decibels).
Output will be much higher if you're shouting, singing or micing drums or amplified instruments.
For speech recording, you're best off pairing the Shure SM7B with a preamp (see the section on gain and preamps below).
Shure SM7B hum pickup and noise reduction features
Hum is the word used to describe the annoying 60 Hz magnetic and electrostatic tone that's picked up by recording equipment. All dynamic microphones will pick up hum to some extent.
Shure's SM7B hum pickup is only 11 dB thanks to its internal hum bucking coil that reduces hum.
You won't find a self-noise score for the Shure SM7B because it is a dynamic (moving-coil) microphone and therefore self-noise is negligible.
The body of the Shure SM7B microphone is shielded against broadband interference from computer monitors and other electrical devices, providing excellent rejection of electromagnetic hum. This is great if you're using the mic near your computer or other electronic devices.
There's also internal "air suspension" shock isolation that virtually eliminates mechanical noise transmission. In other words, you don't need to buy a shock mount for the SM7B as it's pretty immune to physical vibrations as it is.
If you're using a preamp with the Shure SM7B, watch out for the preamp's own electronic noise adding hum to your recordings.
Microphone noise can be removed or reduced with post-production, depending on the editing software you use. However, it can be time-consuming, and may not be possible if you're live-streaming audio.
Gain and preamps for the Shure SM7B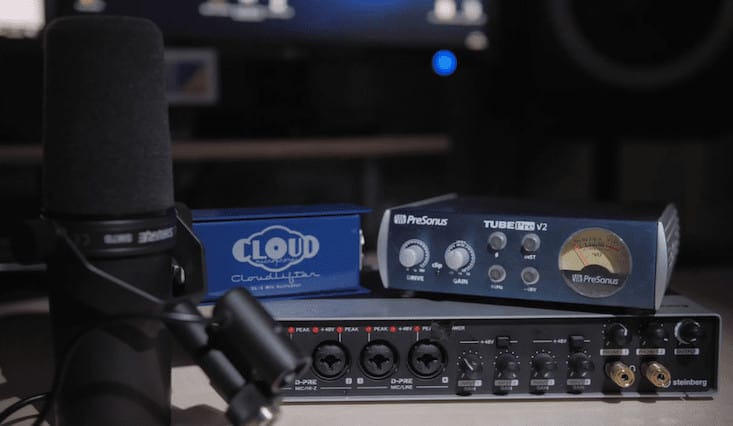 Shure's SM7B is a passive microphone with low sensitivity, which means the signal it picks up can be weak unless gain is added.
Gain refers to the amplification in voltage of the electrical signals a microphone picks up. Gain can be added through use of a preamp.
You can use the Shure SM7B without a preamp, but adding gain can be helpful if you're going to be recording speech (i.e. podcasts and voice-overs), because the signals you'll record will need amplifying. For singing or recording loud instruments, you could manage without.
What is a preamp?
A preamp, short for pre-amplifier, is designed to amplify weak signals and give them gain.
As we discussed in the earlier section on hum and noise, you need to select a preamp to pair with the Shure SM7B that does not introduce noise to your recordings.
Note: you can buy dedicated preamps, like the ART Tube MP Studio V3, but most USB audio interfaces, like the Focusrite Scarlett Solo, have built-in preamp features.
How much gain does the Shure SM7B need?
For typical speech applications, three inches from the grille, the SM7B requires at least +60 dB of gain at the microphone preamp. Many modern microphone preamps, which are designed for the "hot" output level of condenser microphones, provide only 40 to 50 dB of gain.
According to Shure, the SM7B requires around a preamp with at least 60 dB of gain for speech recording.
However, that assumes you are speaking 3 inches away. Most podcasters and voice over artists typically get much closer than 3 inches, particularly if they are using the close-talk windscreen, so you will do fine with less than 60dB gain.
Do you need a Cloudlifter for Shure SM7B?
The Cloudlifter CL-1 mic activator is an in-line preamp that will give the SM7B +25dB gain. According to Shure, the Cloudlifter does not provide enough gain on its own to enhance speech recording on the SM7B. You'd be better with off with a standard preamp, like the ART Tube MP Studio V3 which provides up to +70dB gain.
However, if you use the Cloudlifter with a USB audio interface which also has a preamp, you can crank up the gain even further.
Lots of people seem to recommend using a Shure SM7B alongside a Cloudlifter. But does it really make a difference?
Watch this video to hear difference between the Shure SM7B with and without a Cloudlifter and see which you prefer (listen with headphones for best results). They are using a Cloudlifter CL-2, which is a 2-channel version, but if you're only using one microphone, the single channel Cloudlifter CL-1 would give the same results.
To be clear, the Shure SM7B is being tested on a Zoom H6 portable recorder. The Zoom H6 has its own built-in preamp and is set to a gain of 4 with Cloudlifter attached, and 7.5 without a Cloudlifter. This is because the Cloudlifter adds its own gain.
If you're going to use a USB audio interface, like the single-channel Focusrite Scarlett Solo or Rode AI-1, to connect the Shure SM7B XLR microphone to your computer, don't forget that these devices usually also have a gain feature that you can use, and this may be effective enough without an additional Cloudlifter.
Best Cloudlifter alternative for Shure SM7B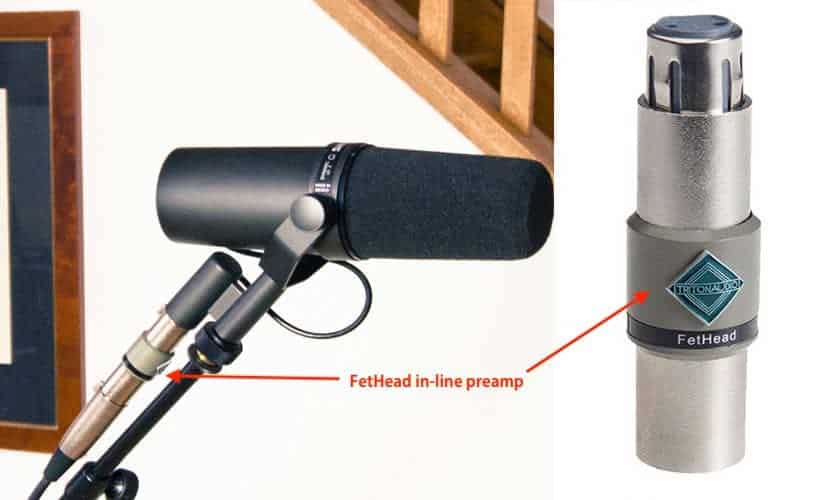 We recommend the FetHead in-line preamp from Triton Audio. It's cheaper than the Cloudlifter, and is designed to improve signal to noise ratio and provide +29dB gain. It's also really small and allows for a minimal and stream-lined cable setup. Yes, that's right, it offers more gain for less cash. That works for us!
Best USB audio interfaces for SM7B

If you want to record onto your computer via a Shure SM7B, you're probably going to need a USB audio interface. The terminology here is confusing, because audio interfaces will usually also be preamps, so you only need to get one.
The main function of a USB audio interface is to:
Convert XLR microphone signal to USB
Add gain through a preamp
Provide a headphone output channel (so you can monitor recordings as you make them)
Check the amount of gain you'll be able to get from your preamp or audio interface. Shure recommends +60 dB for the SM7B to get optimum audio quality on speech recordings. A popular single-channel audio interface like the Focusrite Scarlett Solo will provide +56 dB of gain, which should be enough for most. If you intend to speak further than a few inches from the mic, you can use the audio interface and an additional preamp like the Cloudlifter for maximum gain.
What's in the box?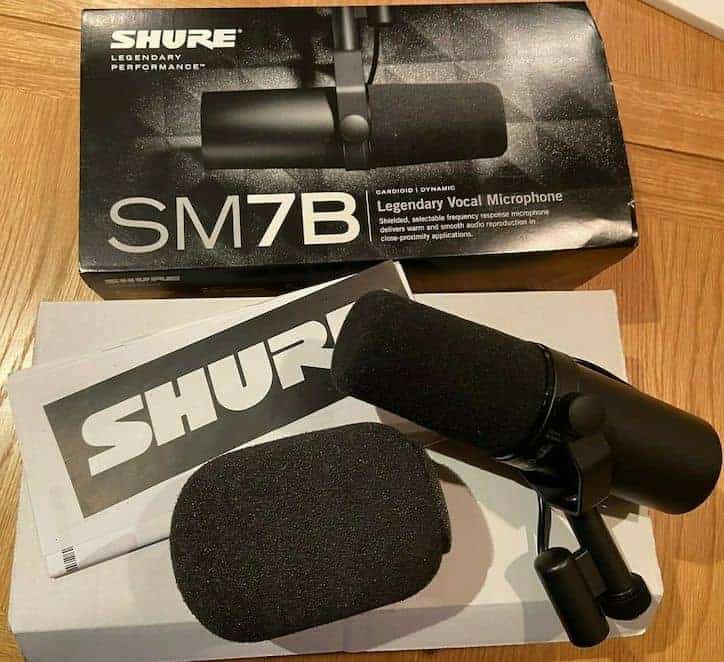 If you buy the standard Shure SM7B, you'll get:
1 x Shure SM7B cardioid dynamic microphone
1 x standard RK345 detachable windscreen
1 x close-talk A7WS detachable windscreen
1 x RPM602 switch cover plate
1 x 5/8″ to 3/8″ thread adapter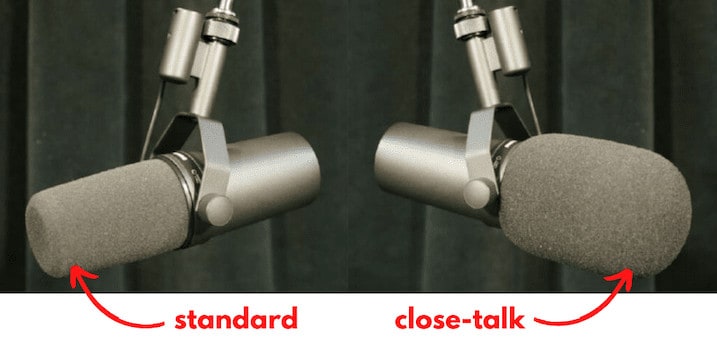 You get not one but two detachable windscreens bundled with the SM7B – one is flat and the other thicker and domed (this is better suited to talking closer to the mic). You can buy replacement Shure windscreens if something happens to your originals: this is the standard RK345 windscreen, and this is the thicker A7WS close-talk windscreen.
Here's Shure's advice on when to use each windscreen:
Use the standard windscreen for general voice and instrumental applications. Use the supplied A7WS windscreen for close-talk applications, such as voice overs or radio announcements, as it offers maximum protection from plosive breath noise and creates a warmer, more intimate sound.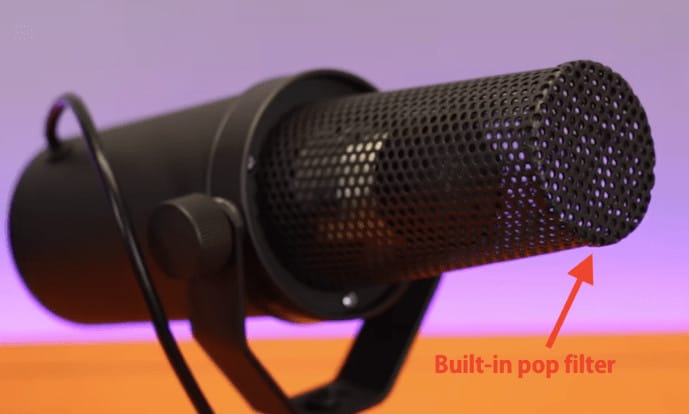 You can use Shure's SM7B with or without the optional windscreens attached. Most people choose to use them, but musician Ben Howard can be seen recording vocals on Shure SM7B mics with the built-in pop shield exposed.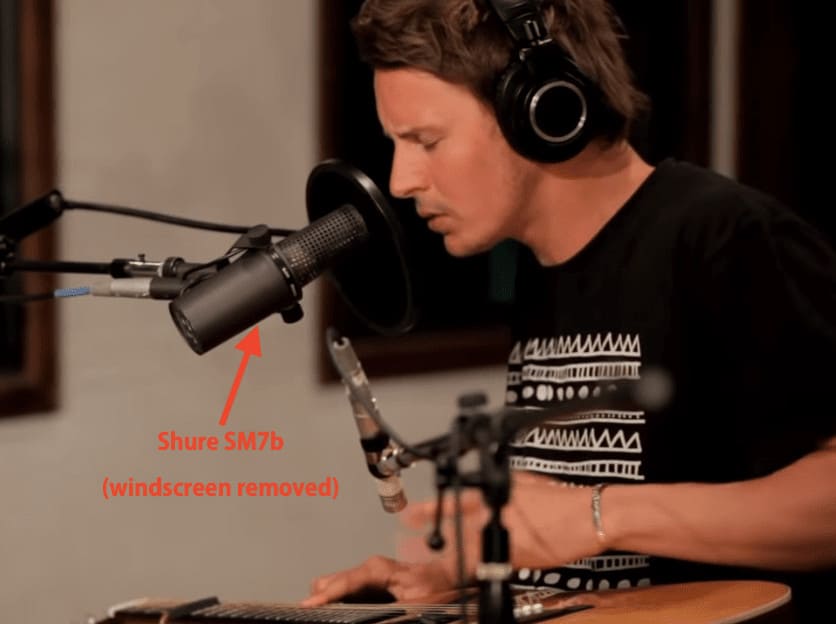 The included switch cover plate is simply a little disc that prevents accidental switching while you're recording. There's not much point to it, since it's hard to adjust the frequency response switches without a screwdriver or pick anyway.
The SM7B comes with a boom mount attachment and is shipped in this configuration. There are instructions in the manual to help you change the setup for a vertical microphone stand. This is not a handheld mic so there's no need to remove the mounting attachment.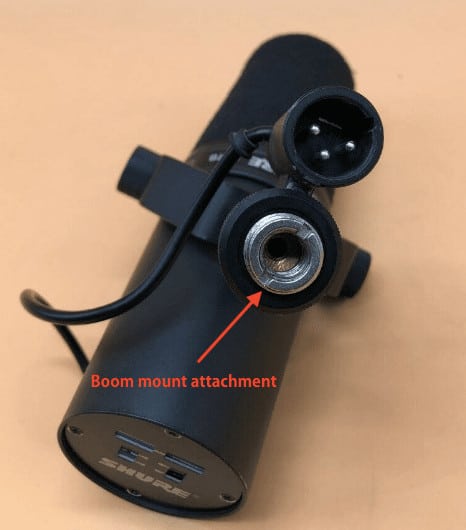 Shure SM7B Demo and Sound Tests
We've linked to plenty of Shure SM7B demos and sound tests throughout this article, but here's a cheatsheet if you're just looking to hear the mic in action.
Shure SM7B Podcast Demo
Listen to any episode from these popular podcasts recorded using SM7Bs:
Shure SM7B Voice Over Demo
Listen to these voice recording examples, all recorded on the SM7B:
Shure SM7B Music Demo
Listen to (and watch) these musical performances, with vocals recorded on an SM7B:
Shure SM7B Streaming Demo
Listen (and watch) Twitch and YouTube streamers using SM7Bs to broadcast:
What compatible accessories can I use with the Shure SM7B?
There are a few accessories and companion products that pair particularly nicely with the Shure SM7B. Let's go through the main ones so you can see what's out there.
Boom arms, microphone stands and desk mounts
Shure's SM7B is not a handheld microphone, so you're going to need to mount it to something before you start recording.
Many users opt for a boom arm, also known as a swivel mount. A boom arm will clamp onto your desk, and can be positioned according to your setup and preferred recording distance. Marc Maron uses a boom arm like this Samson mounting arm to mount his Shure SM7B mics.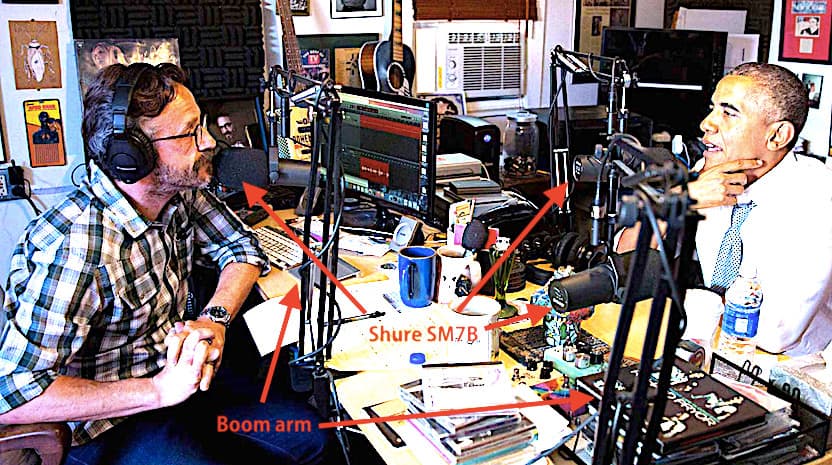 Joel Berghult (aka RoomieOfficial) uses a Rode PSA1 swivel mount boom arm to hold his Shure SM7B when talking and singing. You can see the setup in action in his videos, for example his popular singing impression video One Guy 14 Voices.
Podcaster and comedian Bert Kreischer uses a couple of Rode PSA1 swivel mounts to keep his Shure SM7B mics suspended while recording episodes of his celebrity interview podcast, Bertcast.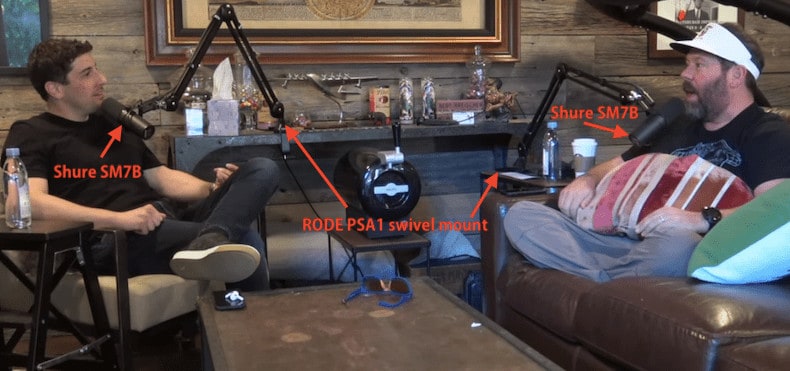 You can also use the Shure SM7B mounted on a desk stand, like the popular On Stage desktop mic stand. Desk stands are generally cheaper than boom arms and floor stands and work well if you've got desk space in front of you when recording.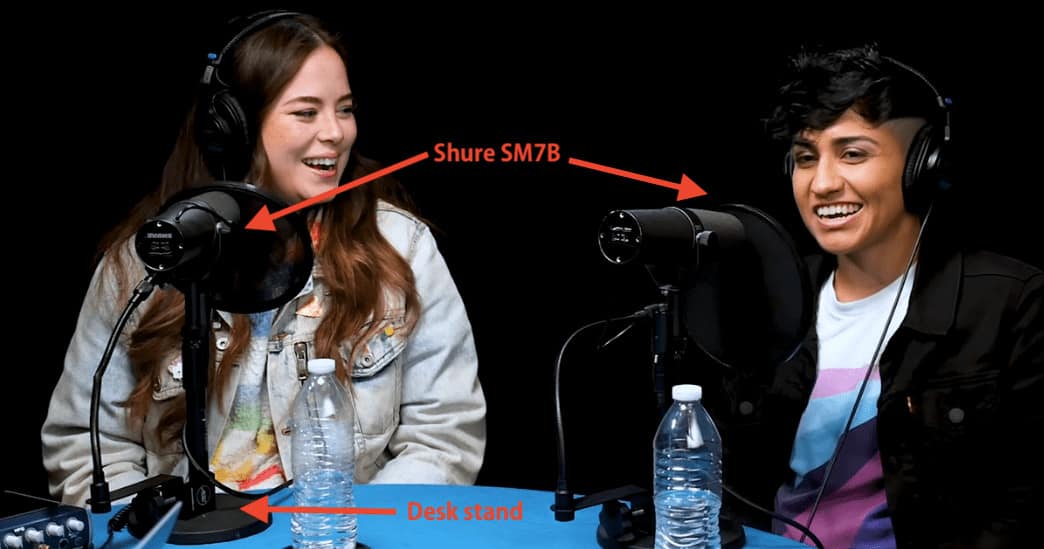 If you're using Shure's SM7B to record vocals or music when you're away from a desk or standing up, you're going to want a microphone stand. The most popular type of floor microphone stand is a boom stand, or tripod stand, like the Samson MK-10 floor boom stand, which allows you to position the mic overhanging the base.
You might notice that a lot of podcasters in the screenshots above are wearing Sony MDR 7506 headphones – you can read more about them in our guide to the best podcast headphones.
Pop filter
You don't really need an additional pop filter with the Shure SM7B, as it has a built-in mesh filter and additional sponges (including close-talk sponge) that come as standard. That said, some people prefer having a bit of an extra filter between them and the mic, and since pop filters are the cheapest part of your microphone setup, there's really no downside to using one like the Dragon studio pop filter.
Shock Mount
You don't need an additional shock mount for the Shure SM7B as it already has one buit right in. You can bang the desk and move the mic around and you won't pickup any unwanted sounds.
XLR cable
The Shure SM7B is an XLR microphone (no USB connection), and it doesn't ship with an XLR cable. You'll need a female to male XLR cable: the female end is connected to the microphone, and the male end will attach to your preamp, audio interface, digital recorder or USB adapter.
Before you spend more cash on an XLR cable, check that you don't get one bundled with your preamp or other accessories.
Headphones
You'll probably want to monitor sound levels by wearing headphones when recording on a Shure SM7B. You can plug headphones into your computer, audio recorder or audio interface to monitor sounds. Any headphones will work, but if you want to actually hear any noise or recording issues you may run into, it's worth using high quality professional studio headphones.
Here a couple of popular choices:
Preamps and audio interfaces
As we discussed in the above section, you'll need something to attach your Shure SM7B to a computer in order to make recordings.
There are two reasons why the Shure SM7B needs additional hardware to function:
To attach it to a computer
To add gain to speech recordings to improve strength of recordings and overall quality
There are a variety of setups you can choose, but here's a couple of popular setups that work out-of-the-box:
By combining the Shure SM7B with a Cloudlifter and Focusrite Scarlett Solo USB audio interface, you can plug your setup straight into your computer, monitor audio while recording, and benefit from up to 59dB gain from the Focusrite, and an additional 25dB gain from the Cloudlifter. That's up to 84dB gain in total.
You'll also need 2 female to male XLR cables for this setup, and a boom arm or mic stand of your choice.
Combining the Shure SM7B with a FetHead and Focusrite Scarlett Solo USB audio interface, gives you USB connectivity, audio monitoring while recording, and up to 59dB gain from the Focusrite, and an additional 29dB gain from the FetHead. That's up to 88dB gain in total.
You'll also need 2 female to male XLR cables for this setup, and a boom arm or mic stand of your choice.
I like this clean, minimal setup. By pairing the Shure SM7B with just the Focusrite Scarlett Solo USB audio interface, you'll get up to 59dB gain, USB connectivity and headphone output.
You'll also need 1 female to male XLR cable for this setup, and a boom arm or mic stand of your choice.
If you to record directly to an audio recorder with XLR input, pair the Shure SM7B with a  Zoom H5. The benefit of the Zoom H5 is that you can use the built-in preamp to add up to 52dB gain, record directly to SD card and monitor recordings via headphones live. You won't need additional kit like preamps or USB interfaces, and you can also use the Zoom H5's built-in microphone for additional recording, and plug in up to 2 XLR mics. Ideal if you're on the move or want to keep your setup minimal.
You'll also need 1 female to male XLR cable for this setup.
Shure SM7B Microphone FAQs
What kind of mic is the SM7B?
The SM7B is a cardioid dynamic microphone, which means it picks up sound only from the front and is durable and easy to use but requires a lot of gain.
Is the Shure SM7B good for vocals?
Yes, the Shure SM7B is designed for vocal recording, both spoken word and singing.
How can I connect the Shure SM7B via usb to my computer?
You can connect the Shure SM7B to your computer via USB by using a USB audio interface, like the Focusrite Scarlett Solo. An audio interface also has additional features, namely the option to add gain to recordings.
Does the Shure SM7B need preamp?
Technically, no, you can use the SM7B without a preamp. However, you may find vocal recordings to be too quiet and a preamp can help amplify the signal of your recordings. Shure themselves recommend adding +60 dB of gain through a preamp for optimum SM7B recordings.
Is the Cloudlifter a preamp?
Technically, yes the Cloudlifter is a mini preamp, although it is generally used with an additional preamp or audio interface. On its own, the Cloudlifter only provides up to 25 dB gain.
What is a mic activator?
A mic activator is a term used to describe the Cloudlifter, which adds gain to dynamic microphones like the Shure SM7B.
What mic does Joe Rogan use?
Joe Rogan uses Shure SM7B microphones to record his podcast, The Joe Rogan Experience.
What's the difference between the Shure SM7B vs Rode NT1?
The short answer is that the Shure SM7B is a far superior microphone to the Rode NT1. Here are all the differences you need to know about.
The Shure SM7B is a dynamic microphone, whereas the Rode NT1 is a condenser microphone. This means that, as a dynamic mic, the Shure SM7B is more durable and can handle high sound levels without distortion, whereas, as a condenser mic, the Rode NT1 gives lower noise levels, needs less gain, but requires phantom power.
The Shure SM7B can be used without additional shock mounts or pop filters, whereas the Rode NT1 requires a separate shock mount and pop filter to improve sound quality. However, the Shure SM7B will require more gain (via preamp) than the Rode NT1 to achieve the same signal levels.
The Shure SM7B has 3 built-in frequency response settings that allow you to customize how it sounds. The Rode NT1 has no settings to configure. The Shure SM7B picks up far less background noise than the Rode NT1.
The Rode NT1 is cheaper than the Shure SM7B. Both microphones are XLR mics and have a cardioid pickup pattern, which means they only record sound from the front of the mic.
Listen to a really good sound comparison between the Shure SM7B and Rode NT1 here.
Is the Shure SM7B Microphone Worth It?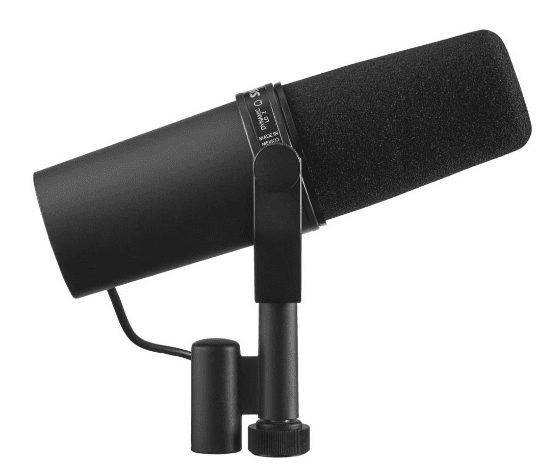 As always, the answer to this question is "it depends". For podcasters, voice-over artists, radio stations and recording studios, the Shure SM7B microphone is definitely worth buying. It has a unique sound for voice recordings.
If you need a handheld microphone, a USB connection or cheap mic (sub $100), then you'd be better with a different microphone.
Pros:
✅ Cheap for a broadcast-quality mic
✅ Ideal for vocal recording (podcasting, voice-overs, musician)
✅ Used by many famous names
✅ Highly rated by reviewers
✅ Built-in pop filter and windshields
Cons:
❌ No USB connection
❌ Cannot be used as a handheld microphone
❌ Not cheap for beginners
❌ Requires additional preamp/USB adapter for computer use
Shure SM7B Alternatives
The Shure SM7B is a pretty unique microphone – nothing else out there is going to give you the same sound, but a few come close.
Heil PR40 – it's a dynamic cardioid XLR mic with an MSRP of $329
The Heil PR40 is very similar to the SM7B, but the Heil requires less gain but doesn't have frequency response options – listen to a detailed comparison of both mics here.
Rode NT1 – it's a condenser cardioid XLR mic
The Rode NT1 requires less gain than the Shure SM7B and costs less too. However, it will not do as good a job at keeping background noise away or giving your voice that unique SM7B tone.
Blue Yeti – it's a condenser USB microphone with multiple pickup patterns
The Blue Yeti is a good all-rounder. Plug it straight into your computer without additional preamps or interfaces. Choose from 3 pickup patterns (cardioid, omnidirectional and figure 8) to record in different scenarios. It's the Swiss army knife of USB microphones, and a lot more affordable than the Shure SM7B.
Helpful links
Focusrite Scarlett Solo USB audio interface manual
Biggest Podcast Platforms in 2020