Not satisfied with making the world's most popular professional podcast microphone, the SM7B, Shure have just launched a new lower-priced, USB version: the Shure MV7.
In this post, I review how the MV7 performs, how it compares to the SM7B, and if it really is the best USB microphone for podcasting, streaming, and other voice recording applications.
Let's get straight into it.
Who is the Shure MV7 best for?
If you want that classic 'SM7B broadcast sound' but with USB connectivity and a lower price-point, then the MV7 is the perfect microphone.
The Shure MV7 microphone is ideal for any at-desk vocal recording application, including:
Podcasting (as the big name on the box suggests)
Streaming
Voice-over
Zoom calls!
With USB and XLR connections, the MV7 is beginner-friendly and comes with a free app for recording audio and adjusting settings. More advanced users can connect via XLR (simultaneously with USB if required).
Need more info? Keep reading and we'll run down the Shure MV7's specs, setup and audio quality.
Who is the Shure MV7 not for?
The MV7 is not best suited to:
Musical instrument recording (acoustic or via amp)
2-way or omnidirectional audio capture (as a cardioid mic, it only picks up at the front)
Distance recording (you need the MV7 within 6 inches of your mouth for best results)
Condenser microphone applications (the MV7 is a dynamic mic)
It's also worth mentioning that the Shure MV7 is not the cheapest USB/XLR microphone out there, and you'll get similar functionality (although not always the same audio tone) from lower-priced alternatives like the Samson Q2U, Audio-Technica ATR2100x-USB, or RODE Podcaster.
If you're not planning on connecting the MV7 via USB, then there's not much point in using it and you can straight to the superior SM7B or a cheaper XLR dynamic mic like the Rode PodMic.
Keep an eye out for the upcoming Samson Q9U (launching early 2021), which looks to offer similar audio quality and functionality but at $199.
What is the Shure MV7?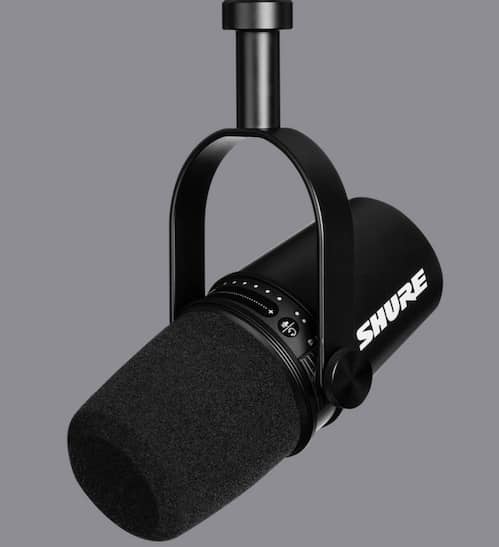 Inspired by the SM7B, the Shure MV7 is a dynamic USB/XLR microphone, available in black or silver.
It's marketed by Shure as a "podcast microphone", but really it's suited to any vocal recording application.
Shure MV7 Price
The Shure MV7 has an MSRP of $249.
The MV7 is in a category of its own: it's significantly cheaper than its closest rival, the Shure SM7B (MSRP $399), but more than double other best-selling dynamic USB/XLR hybrid mics, like the Samson Q2U, Audio-Technica ATR2100x-USB, RODE Podcaster or upcoming Samson Q9U (launching early 2021).
Here's how the MV7 compares in price to similar mics:
| Image | Title | Type | Connection | Price |
| --- | --- | --- | --- | --- |
| Top | Shure MV7 | Dynamic Cardioid | USB + XLR | |
| Top | Shure SM7B | Dynamic Cardioid | XLR | |
| Top | Samson Q2U | Dynamic Cardioid | USB + XLR | |
| Top | Audio-Technica AT2005USB | Dynamic Cardioid | USB + XLR | |
| Top | Audio-Technica ATR2100x-USB | Dynamic Cardioid | USB + XLR | |
| Top | Blue Yeti | Variable pickup, Condenser | USB | |
| Top | Rode NT-USB | Condenser Cardioid | USB | |
| Top | Rode PodMic | Dynamic Cardioid | XLR | |
| Top | Rode NT1-A Microphone Package | Condenser Cardioid | XLR | |
Prices pulled from the Amazon Product Advertising API on:
Shure MV7 Sound Test
Before you get caught up the specs, let's just listen to the Shure MV7 in action (all clips recorded using the MV7):
As you can hear, the MV7 does not sound too far removed from the SM7B. It's a little brighter, but has a much richer sound than most USB microphones. Being a close-talk, cardioid dynamic mic, there's little background noise pickup, and you'll get plenty of that authentic 'radio voice' effect that people seem to love about the SM7B.
Shure MV7 Specifications
Shure MV7 dimensions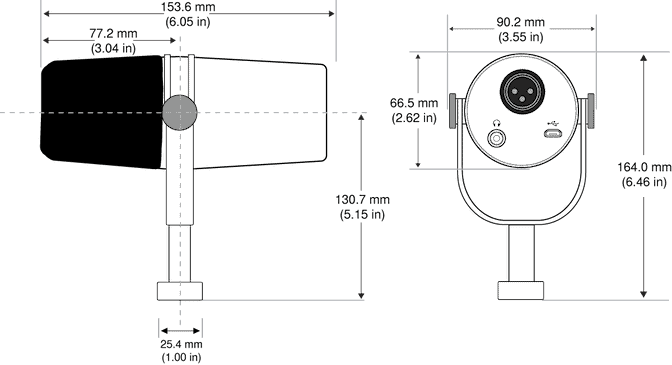 The Shure MV7 microphone is 153.6mm (6.05 in) long and 90.2mm (3.55) wide. It weighs a total of 1.21lb (550g)
XLR and USB outputs
You can choose whether to record sound from the MV7 via USB straight to your computer (or phone), or via XLR. You can even record to both simultaneously (e.g. to have create backup recording on a Zoom H4n).
There's a bit of an audible difference in sound when you record from the Shure MV7 via USB versus XLR. When connected by XLR, the sound is a bit fuller and richer. However, the trade-off in sound quality for simplicity is worth it.
There's a micro-B USB port on the back of the MV7, and the microphone ships with 2 cables: micro-B to USB-C, and micro-B to USB-A, which should cover most Macs and PCs.
3.5mm headphone port
Right on the back, you'll also get a 3.5mm earphone port so you can monitor recordings in real-time (essential for optimum sound quality). Read more about the best podcast headphones for your setup. TL;DR, you'll probably end up picking some Sony MDR 7506 headphones.
Plug and play
You can use the MV7 in USB mode and simply plug into any Windows or Mac computer. The Shure MV7 is also compatible with iOS and Android, so you can connect it straight to an iPad or phone if you buy the right cables.
Shure make their own Lightning MOTIV accessory cable, which will connect the MV7 to an iPad or iPhone, but any Micro-USB to lightning cable will work fine. For Android, you might need to buy a USB-A to micro-B adapter or use the supplied micro-B to USB-C cable depending on your phone.
Free recording app (desktop + mobile)
The MV7 is compatible with Shure MOTIV™, a recording app available on desktop and mobile. Shure states that the software works with Windows 10, MacOS 10.13 to 10.15, iOS 12 and higher, and Android 8 and higher.
You can use the app to record audio, configure your MV7 (e.g. gain, equalizer settings) . You can even edit audio recordings. There are some easy presets if you prefer a one-click approach ("Speech", "Singing", "Flat", "Acoustic" and "Loud").
The compressor setting lets you reduce the dynamic range (the loudest and quietest sounds), which works great for improving spoken word recordings.
Shure MOTIV™ is easy to use and has some benefits for podcasters. For example, you can record your side of the conversation directly on your mobile device, while using your computer to capture a guest's audio.
There's no need to use Shure MOTIV™ if you get the MV7, and you use other software like Audacity or Logic Pro via USB or XLR if you prefer.
Dynamic microphone
Just like the SM7B, the MV7 is a dynamic microphone, which means that it is more durable, easy to use, and able to handle high sound levels without distortion.
Most USB microphones are condenser mics, which means that they are more sensitive to plosives and background noise. Being a dynamic mic, the MV7 lets you talk right up close without picking up unwanted sounds.
In fact, there are very few quality dynamic USB microphones out there, aside from perhaps the Samson Q2U, Audio-Technica ATR2100x-USB, RODE Podcaster or upcoming Samson Q9U (launching early 2021).
Cardioid polar pattern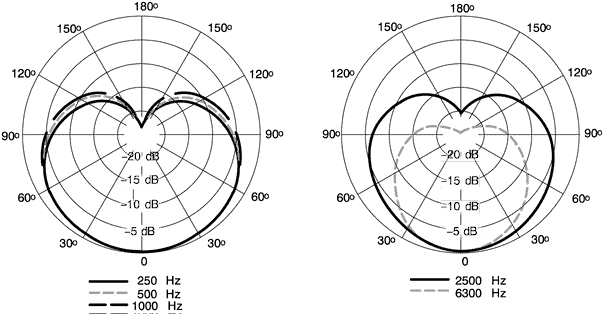 The MV7 has a cardioid polar pattern, which means that it only records sound from the front. This works well to avoid unwanted background noise when recording (like keyboard typing and traffic outside an open window), as you can simply angle it at your mouth when speaking.
Touch panel controls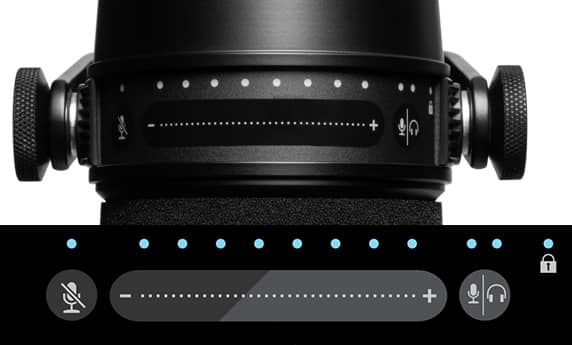 If you connect via USB, the built-in touch panel lets you adjust microphone and headphone volume and mute the mic without software.
Gain up to +36 dB
The MV7 has built-in gain controls for up to +36 dB. You can also add gain to the MV7 using the built-in touch panel, or through Shure MOTIV™ app.
You'll see how much gain you've added by looking at the app or the row of LED lights on the MV7's touch panel.
The MV7 is still compatible with any XLR preamp and audio interface so you have maximum flexibility to add more gain as required.
Built-in pop filter
The MV7 comes with a thick foam windscreen that fits over the microphone grill. It's enough to take out the bulk of plosive sounds (those pesky 'p' and 'b' sounds), but you'll still get an improvement by adding an additional pop filter.
What's in the box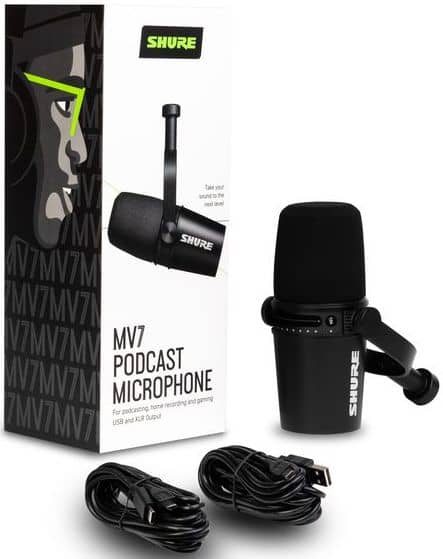 Shure MV7 microphone
5/8″-27 threaded mount (pre-installed)
3m (10 ft) microUSB to USB-A cable
3m (10 ft) microUSB to USB-C cable
Shure MV7 Accessories
To finish your setup, you'll need to attach the MV7's 5/8″-27 threaded mount to any microphone stand or boom arm. This is a standard size so most generic equipment will fit. Shure also have their own range of MV7-compatible accessories, including:
Desktop stand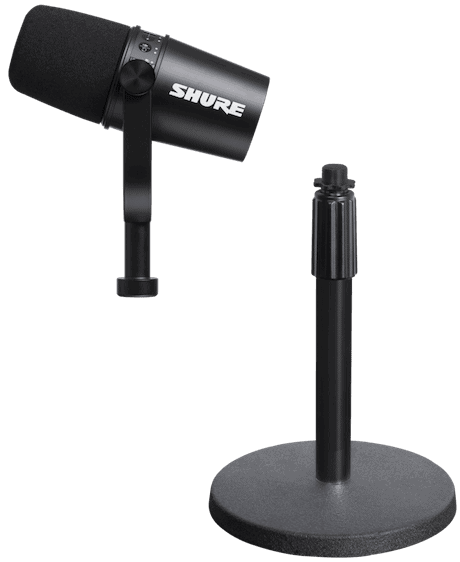 Desktop tripod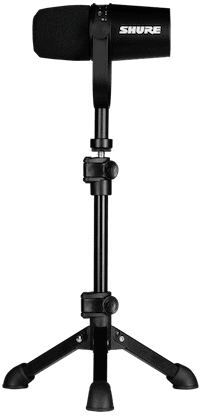 Boom arm
Shure offer some good bundle prices if you buy directly from their website.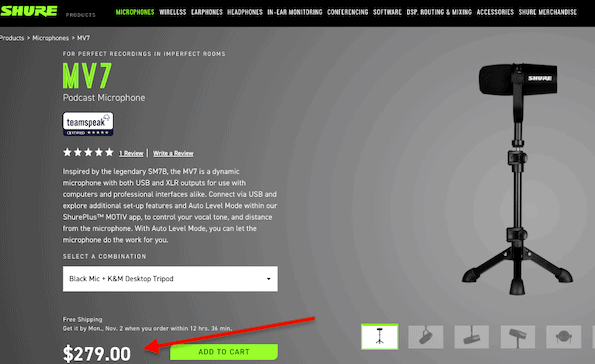 How does the Shure MV7 compare to other microphones?
Before you jump into making a decision, let's see how the MV7 compares to other mics in its category (dynamic cardioid), including other USB/XLR hybrids.
Shure MV7 vs Shure SM7B
In short, the MV7 gets as close to the intimate vocal tone of the SM7B as any other mic at this price-point, with the addition of USB connectivity.
For a full run-down of the similarities and differences, here's a full Shure SM7B vs MV7 comparison.
Shure MV7 vs Samson Q2u
The Shure MV7 has noticeably less background hiss and a much richer tone than the Samson Q2u. If you listen to this quick comparison between how the Shure MV7 and Samson Q2u work in the same recording environment, you'll hear how the Q2u is brighter and picks up a lot more hissing, especially with 's' sounds.
Of course, you'd expect an improvement since the MV7 costs at least 3x the price of the Q2u. If you're on a budget, you'll get a lot out of the Q2u, especially if you pair it with an additional foam windscreen or pop shield. You'll miss out on using the Shure MOTIV™ app, but you can still add gain and tweak settings in Audacity or other recording software.
Shure MV7 vs Audio-Technica AT2100-USB
In terms of sound quality, there's not a huge amount of difference between the Shure MV7 and Audio-Technica AT2100-USB. The AT2100 performs very well (and with far less hiss than the Samson Q2u). The AT2100 still can't quite capture the rich SM7B sound that the MV7 emulates.
Again, the Shure MV7 comes in at way more than double the cost of the Audio-Technical AT2100-USB microphone. For the price, you'll get that classic Shure podcast sound, touch panel controls, use of the Shure MOTIV™ app, and a smarter-looking design.
Shure MV7 vs Samson Q9u
Releasing soon, the Samson Q9u is going to be the closest rival to the Shure MV7. The specs are very similar: the Q9u is a dynamic broadcast microphone with USB and XLR connections, headphone line-out, a dual windscreen and built-in pneumatic shock mount.
It also looks great and mirrors some of the SM7B's features.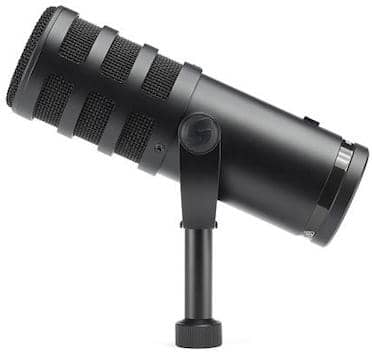 The MSRP is expected be around $199, so the Q9u is going to be a much more affordable alternative to the Shure MV7. The release has been delayed (presumably due to Covid-19), but it should be available by early 2021.
Final verdict
The Shure MV7 is a studio-quality microphone, specifically designed for optimum at-desk voice recording. It's the closest you'll get to capturing the classic 'SM7B sound' but with USB and at a significantly lower price-point. With a range of connection options, from plug-and-play minimalist USB recording, to advanced XLR use, the MV7 will adapt to your needs wherever you are on the journey from beginner to expert.
The MV7's dynamic, cardioid design ensures it elevates your voice and avoids background noise. You'll need to keep it close to your mouth for best results, so it helps that it looks good on camera. A boom arm will help keep it positioned when in use.
The downsides are price (way higher than any other other USB/XLR hybrid on the market), and an inadequate foam windscreen that doesn't sufficiently filter out enough plosive sounds. You'll need to add a pop filter to get the best out of it.
Overall, if you have the budget and don't mind pairing it with an additional pop filter and boom arm, the Shure MV7 is a fantastic choice for podcasting, livestreams, webinars and Zoom meetings!
| Image | Title | Price | Buy |
| --- | --- | --- | --- |
| | Shure MV7 USB Microphone (Black) | | Buy Now |
| | Shure MV7 USB Microphone (Silver) | | Buy Now |
| | TONOR Microphone Boom Arm | | Buy Now |
| | InnoGear Microphone Stand | | Buy Now |
Prices pulled from the Amazon Product Advertising API on:
Helpful links