While podcasting can a fun hobby for some, for others it's a big money-making business.
The Interactive Advertising Bureau (IAB) reports that US podcast advertising revenues exceeded $1b in 2020, and continue to grow in 2022 and beyond as the industry proves to be more resistant to the impact of COVID-19 than other media.
There are now estimated to be over 2.7 million podcasts, which means there's plenty of advertising money to go around.
It's surprisingly easy to monetize your podcast; many hosts match your podcast with sponsors and provide monetization features baked right into the platform. That's probably why you'll have noticed the same sponsors pop up on different podcasts (Squarespace, anyone?).
In this piece, you'll find reviews of all the top podcast hosts that offer monetization services, and learn:
Which podcast hosts help you monetize your podcast
Which monetization methods are available from each host
What commission rates do hosts take from your earnings
How much money can you earn from each platform
Let's get right to it!
TL;DR Podbean is the best podcast host for monetization: complete ad management and you keep 100% of your revenue. Podbean plans with monetization options start at $14/month (or $108/year). Sign up for a free 14-day trial.
Best podcast hosting for monetization compared
If you're eager to learn how monetization options differ between podcast hosts, take a look at this comparison table.
Note: "Price" refers to the minimum pricing tier that includes monetization options. "Commission" refers to the percentage of net advertising revenue taken by the host.
Scroll to the right for more columns.
| | Price | Sponsorship brokerage | Min. listeners | Dynamic ad insertion | Commission | Donation/Patron/Paywall | Affiliate marketing |
| --- | --- | --- | --- | --- | --- | --- | --- |
| Podbean | From $14/month (or $108/year) | Yes | 0 | Yes ($29+/month plans) | 0% | Yes ($29+/month plans) | No |
| Anchor | Free | Yes | 0 | Yes | 30% | Yes | No |
| Libsyn | From $5/month | Yes | 5,000 | Yes | 50% | Yes ($20+/month plans) | No |
| Spreaker | From $7/month (or $72/year) | Yes | 0 | Yes | 40% | Yes | No |
| BuzzSprout | From free | via Podcorn | 0 | No | 10% (via Podcorn) | Yes | Yes |
| Art19 | Contact for pricing | Yes | Undisclosed | Yes | Unknown | No | No |
| Audioboom | Contact for pricing | Yes | 10,000 plays/episode | Yes | Negotiable | No | No |
| OmnyStudio | From $29/month | Yes | 0 | Yes | 30% | No | No |
| Acast | Contact for pricing | Yes | 10,000 | Yes (Acast Pro only) | Unknown | No | No |
| Podigee | Contact for pricing | No | 0 | Yes | 0% | No | No |
| Whooshkaa | From free | Yes | 0 | Yes | Unknown | Yes | No |
| Pinecast | From free | No | 0 | No | 0% | Yes | No |
| Megaphone | Contact for pricing | Yes | 20,000 downloads/episode | Yes | Unknown | No | No |
| Ausha | From $11/month (or $110/year) | Yes | 5,000 | No | Unknown | No | No |
| Fireside | $19/month | No | 0 | No | 0% | No | Yes |
| AdvertiseCast | Free | Yes | 2,500 downloads/episode | Yes | 30% | No | No |
How can you make money from your podcast?
Some podcast hosts provide monetization features as part of your monthly subscription. The terminology differs between hosts, but here's a quick summary of which features to look out for.
Podcast advertising/sponsorships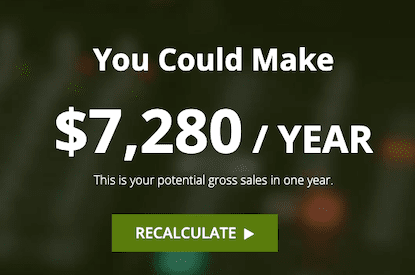 Some podcast hosts match your content with potential advertisers and play audio advertisements during episodes. Ads are charged by CPM (cost per thousand impressions).
Many sponsors will require the podcast host to perform the ad read (known as a host-read ad). Host-read ads are "significantly more likely to be described by respondents as authentic and believable, and less likely to be felt as forced." (source).
Podcast advertisements can be pre-roll (at the beginning of an episode), mid-roll (within your episode) and post-roll (at the end of an episode). Pre-roll ads tend to bring the highest CPM (source).
You can insert podcast advertising in two ways:
Hard-coded – you record the ad and release it as part of the podcast
Dynamic ad insertion – different ads can be inserted by your podcast host and targeted by geography, date and advertiser impressions
Donations, patrons and membership
Some podcasting hosts provide buttons and links so that you can get one-off or recurring donations and memberships from your podcast. You can also provide subscriber-only episodes to paying members.
Third-party services like Patreon also help you to get donations from podcast listeners.
Affiliate marketing
Podcasters can make good money by promoting products and services with affiliate links. If listeners click on or type in affiliate tracking links, you can make a commission from their purchase at no extra cost to them.
You can find affiliate programs to join on your own. BuzzSprout also has an affiliate marketplace that gives you a list of affiliate programs with better commissions than you can find on your own.
3 important things you need to know about podcast monetization
1. Most hosts take commission
While it sounds cool to think about just clicking a button and getting inundated with eager podcast sponsors, networks and hosts don't often put in all that work finding sponsors for free. Most podcast monetization features come with a cost.
For example, Libsyn take a whopping 50% of your ad revenue. Spreaker takes 40%, Anchor, OmnyStudio and AdvertiseCast take 30% but Podbean takes no commission at all.
2. You don't need a host with monetization features to add advertising
You can still monetize your podcast even if your hosting plan doesn't offer monetization options.
There are podcast monetization platforms that work in addition to your hosting. All they do is pair your podcast with interested advertisers.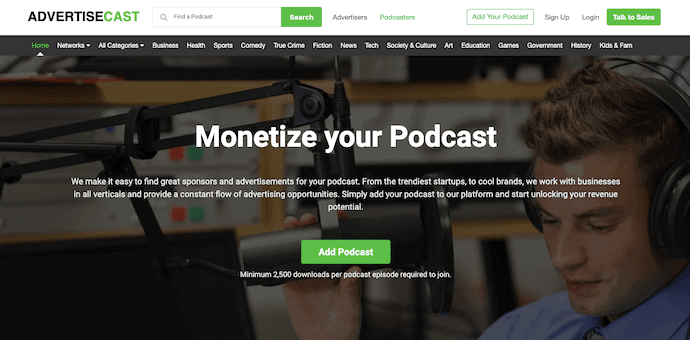 For instance, AdvertiseCast provides a podcast advertising service. Simply join for free (you need at least 2,500 downloads per episode first) and get access to their network of podcast sponsors. You get to keep 70% of your advertising revenue, and give 30% to AdvertiseCast.
According to AdvertiseCast, their CPM payouts are respectable:
Most podcasts are seeing $18-20 CPM for 30 second spots and $25 CPM for 60 second spots.
You can also monetize your podcast by joining a network. Most require you to reach a minimum number of episode downloads first. For example, Midroll, the network used by WTF with Marc Maron and How Did This Get Made, requires at least 30,000 downloads per episode.
You're likely to get higher CPMs from larger networks.
Prices can range from a $18 to $50 CPM, and the highest performing shows can cost more. (source:

Midroll FAQs

)
3. You need to read the small print
When you sign up to a podcast network or host that offers an advertising brokerage service, read and re-read all the terms and conditions. You might be surprised what's in there.
For example, Libsyn prevents all subscribers from finding their own podcast sponsors without explicit permission:
Any attempt to directly monetize Your Content via third-party ad networks or other outside business agreements at the expense of Libsyn without written approval from Libsyn is prohibited. (source:

Libsyn terms

)
Keep an eye out for clauses that restrict your monetization options or grant hosts licenses to use your content.
Top 15 podcast hosts for monetization
Podbean
Podbean's monetization features
Podbean has 4 main monetization features:
Patron – accept recurring monthly donations and put out patron-only episodes
Premium – sell premium podcast episodes or series
Ads Marketplace – get matched with potential advertisers for free
PodAds – optimize sponsorship revenue with dynamic ad placement
Not all of Podbean's monetization options are available on all pricing plans. You'll need to start with the $14/month plan (or $108/year) to get access to the ads marketplace and premium podcast option. PodAds and the patron program start on the $39/month (or $348/year) plan.
PodAds is worth using if you want to use dynamic ad placement to optimize sponsorship revenue. You can choose to place ads for listeners from specific countries, for fixed periods of time.
Unlike all other podcast hosts that offer an advertiser matching service, Podbean takes 0% commission from your sponsorship earnings.
Instead, they charge a $1 CPM rate if you use PodAds:
You will be charged a $1 CPM rate, on actual ads served up. We will charge your payment method when charges reach $10 or when a campaign is removed/cancelled. (source)
Here's a short video from Podbean explaining how dynamic ad placement works on the PodAds platform.
If you're on the cheaper plan and don't have access to PodAds, you can still make use of the ads marketplace with no charges.
Podbean's ads marketplace is a free, simple way to earn money through sponsorship on your podcast. (source)
How much can you expect to earn with Podbean?
If you're using the advertising marketplace in Podbean, how much you earn will depend on how many downloads your podcast gets, how many episodes you put out each year and how many ads you put in each episode. Podbean have created a handy ad revenue calculator to help you get an idea of how much money you could make.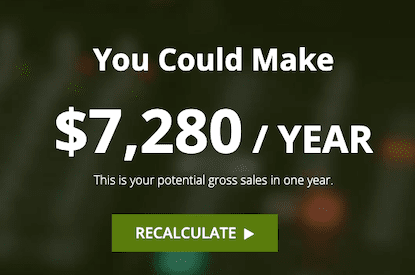 As an example, you could expect to make over $7,000 a year if you produce 52 episodes a year, each with 1000 downloads and 2 ads in each.
Anchor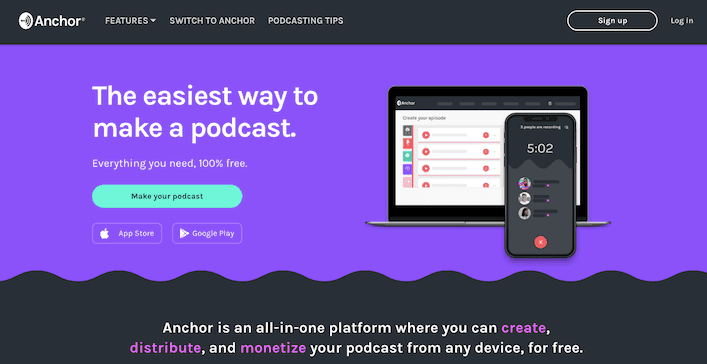 Anchor's monetization features
Anchor has 2 main monetization features:
Anchor Sponsorships – Anchor match your podcast with sponsors
Listener Support – monthly donation button to add to your podcast
Anchor is a popular podcast host, likely due to it only offering free, unlimited hosting. Anchor makes monetizing your podcast very simple: opt into the sponsorship feature, then wait while Anchor matches you with an advertiser (or multiple).

You'll get to approve the sponsor and the CPM rate before proceeding. If you go ahead, you'll need to record the ad read yourself. Anchor's sponsorship platform also comes with a dynamic ad placement feature.
As I wrote about in my review, Anchor take a 30% cut of your sponsorship revenue.
Cashing out your ad revenue is done via Stripe (no PayPal) and there's no minimum (aside from enough for the $0.25 payment processing fee).
While Anchor takes a cut of your sponsorship income, their podcast hosting plans are free and unlimited so you're not risking any money upfront.
Read more about how Anchor sponsorships work here.
How much can you expect to earn with Anchor?
How much you earn with Anchor podcast sponsorship depends on your podcast, but as an example, The Jerry Banfield Show reportedly made around $2.50 per thousand listeners (CPM) using Anchor. Compared to the expected CPM of around 18 to 25, Jerry's Anchor payout seems very low, even factoring Anchor's 30% cut.
Libsyn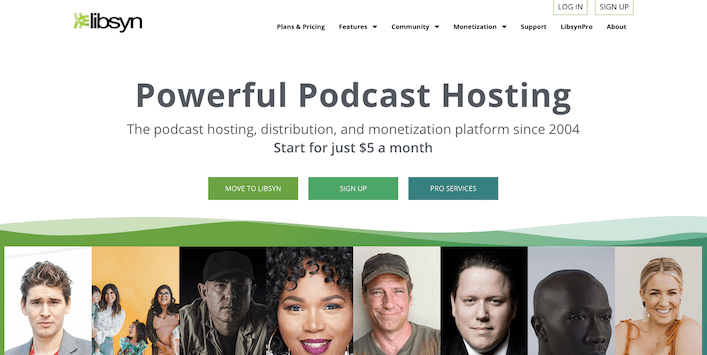 Libsyn's monetization features
Libsyn has 2 monetization options:
MyLibsyn Premium Paywall – require payment for podcast episodes (available on $20/month and higher plans)
Double Opt-in Advertising – find sponsors and dynamically place ads
Libsyn's advertising tools let you dynamically insert advertising spots, including with geographic targeting.
Libsyn's advertising feature is available on all plans, even the $5/month one. However, Libsyn takes 50% of your ad revenue, and your podcast must have at least 5,000 US monthly downloads to be eligible.
As I covered in my more detailed review, Libsyn blocks you from finding your own advertisers without their permission. LibsynPro, designed for professional podcasters, is more suited to those with their own large sponsorship deals.
How much can you expect to earn with Libsyn?
Some of Libsyn's (and LibsynPro's) clients are big advertising earners, like WTF with Marc Maron, so there's not much published data on what kind of CPM you can expect from Libsyn's platform.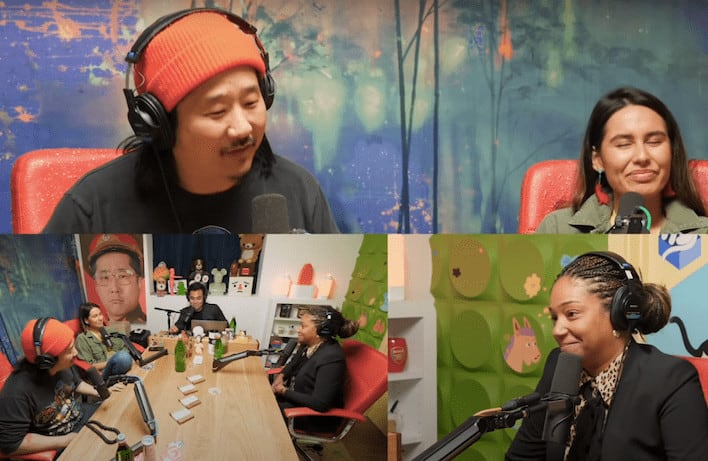 What is clear, however, is that Libsyn works with some big-name advertisers.
For example the TigerBelly podcast, hosted on Libsyn, is sponsored by advertisers like Calm, BetterHelp, ShipStation and Postmates.
Spreaker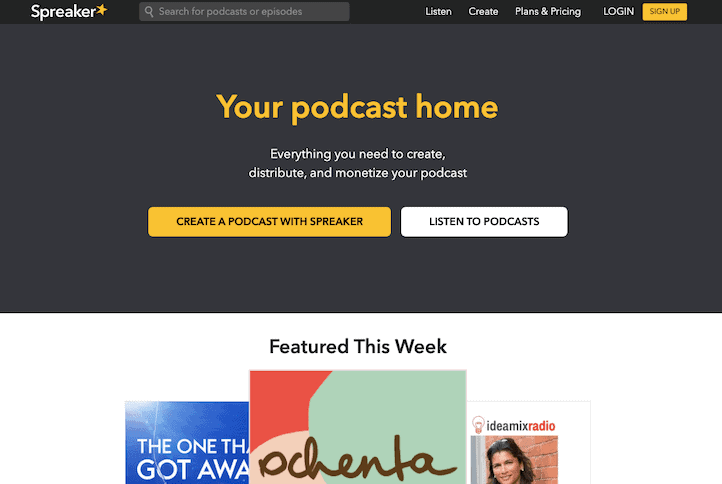 Spreaker's monetization features
Spreaker has 2 main monetization options:
Programmatic Monetization – opt in access to Spreaker's Ad Revenue Sharing program
Limited Access Podcasts – create private content, premium podcasts and episodes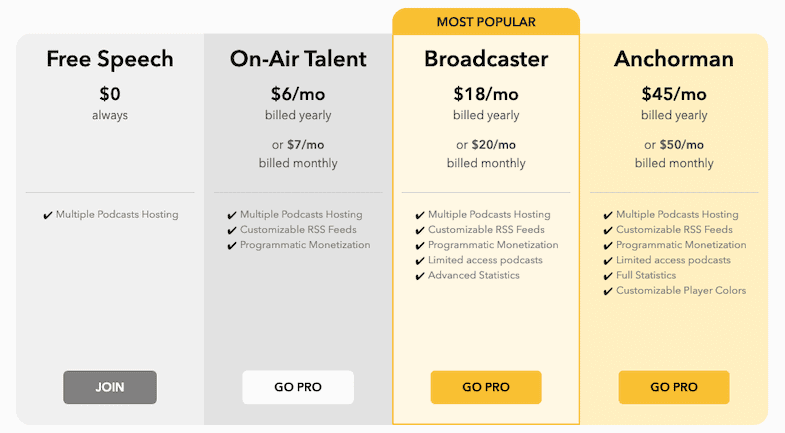 While Spreaker does have a free plan, monetization options are only available on the $7/month and higher plans.
Once you opt in to Spreaker's Ad Revenue Sharing program, you need to place at least one pre-, mid- or post-roll ad spot on your podcast.
Currently, ads are active in: Austria, Belgium, Brazil, Canada, Germany, Great Britain, India, Ireland, Israel, Italy, Netherlands, Spain, United States, Mexico, Argentina, Colombia, Brazil, Chile, Peru, Paraguay, Ecuador, Uruguay, Bolivia, Panama, Guatemala, Honduras, Costa Rica, Puerto Rico, Dominican Republic, El Salvador. (source: Spreaker)
Spreaker's sponsors cover a wide range of countries, including the UK and US. Ad spots are dynamically placed based on geography, platform, gender etc where possible. This listener targeting should, in theory, increase your CPM.
It's easy to opt in to sponsorship from within Spreaker's podcast dashboard, and the you can toggle the settings (like ad frequency) and view earnings and impressions reports.
The biggest downside is that Spreaker takes a 40% cut of your sponsorship revenue, leaving you with only 60%. That's not as bad as Libsyn (who take 50%), but it's less than ideal and you'll keep more by using Podbean or Anchor.
You can learn more about Spreaker sponsorship by watching this very helpful webinar.
How much can you expect to earn with Spreaker?
Spreaker doesn't publish average CPM figures, but they do make it clear that you'll make more money from mid-roll ad reads than any other (source).
You'll also maximize your income by keeping your podcast clean, by which I mean not having adult content or excessive swearing, as it could limit the CPM and number of advertisers attracted to your show. Beeping out swearing can help.
You must submit both payment details and your tax information in order to receive payments from Spreaker.
If you've got some healthy podcast download numbers, you can also apply to join Spreaker Prime to get free podcast hosting and monetization options. As an example, true crime podcast Weird Darkness reportedly earned $20,000 over three months using Spreaker Prime's automated advertising system (source).
You can estimate Weird Darkness' CPM if you factor in the fact that they claim to get almost 700,000 downloads each month across all episodes. I noted dynamic pre-roll and mid-roll ad spots in episodes. That's a $1 CPM, which I assume is after Spreaker have taken their 40% cut. I'd need to see the real numbers to verify, but it's likely that not all podcast episodes are heavily monetized through Spreaker, and Weird Darkness makes use of Spreaker's premium podcast feature and offer ad-free listening for $5/month.
BuzzSprout
BuzzSprout's monetization features
While it's a great podcast host for beginners, BuzzSprout has limited monetization options, although it has rolled out more monetization features recently:
BuzzSprout Affiliate Marketplace – a list of potential affiliate programs you can promote with negotiated commissions
Support the Show Link – donation button displayed on the podcast player app, linked to Patreon, PayPal etc
NEW: Sponsorship via Podcorn – get matched with podcast sponsors though Podcorn's network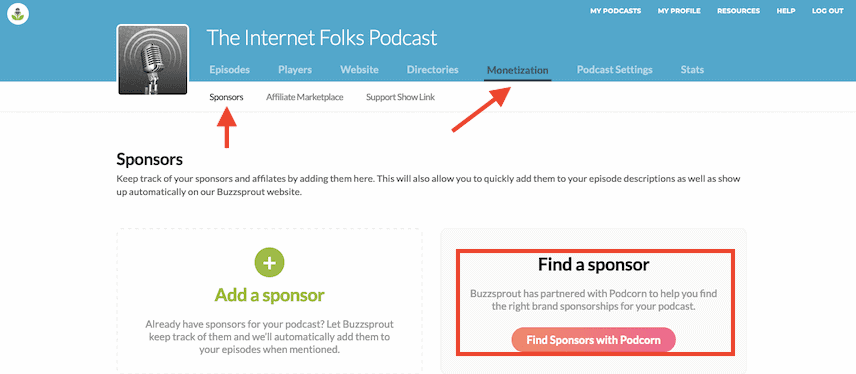 The best monetization feature BuzzSprout has is a deal with sponsorship marketplace Podcorn. From the Buzzsprout dashboard, you have easy access to the monetization features and can click-through to sign up for Podcorn.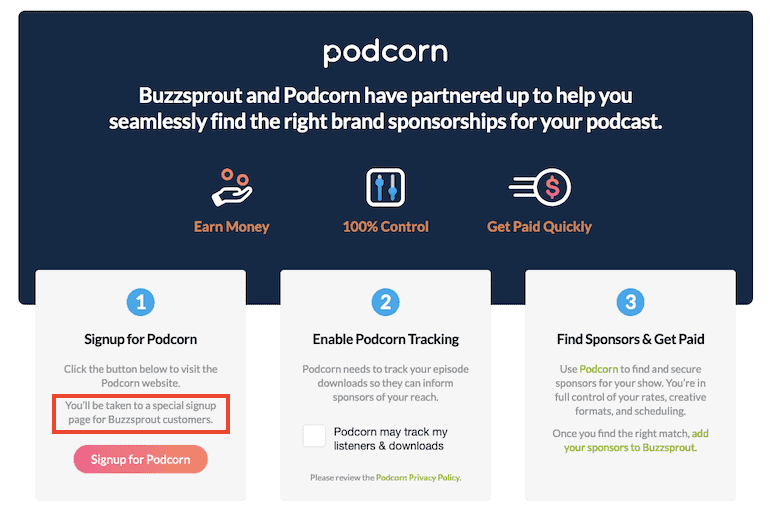 It's worth mentioning that Podcorn is not unique to BuzzSprout – you can sign up regardless of which host you're using – but it's free to use and helps make monetizing your podcast that little bit simpler. You will need to negotiate your own rates with Podcorn independently (BuzzSprout doesn't help with this), but there's no minimum listener requirement so smaller, niche podcasters can still earn extra revenue from sponsorships.
Here's a little more about how Podcorn actually works:
The Podcorn platform uses what it calls a "sponsorship graph" to match campaigns with podcasters… Podcorn analyzes the RSS feed metadata for each podcast, including the show description notes, titles, niche, past guests… then deploys a weighting system to match each podcast with the most suitable brand. Podcorn learns from subsequent interactions on its platform, such as how podcasters are pricing themselves, what kinds of native ad formats work best (e.g. interviews, prerolls, etc.), and specific feedback from the advertiser. (source)
Podcorn takes a 10% commission from your sponsorship revenue, which is very reasonable compared to many networks (for example, AdvertiseCast takes 30%).
Moving on to BuzzSprout's affiliate marketplace… I'm not very impressed with it. BuzzSprout doesn't make it any easier for you to get in touch with affiliate providers and sign up. There's no link tracking tool for you to use, or anything to help make affiliate marketing easier – you may as well do it from scratch like you could with any other podcast host.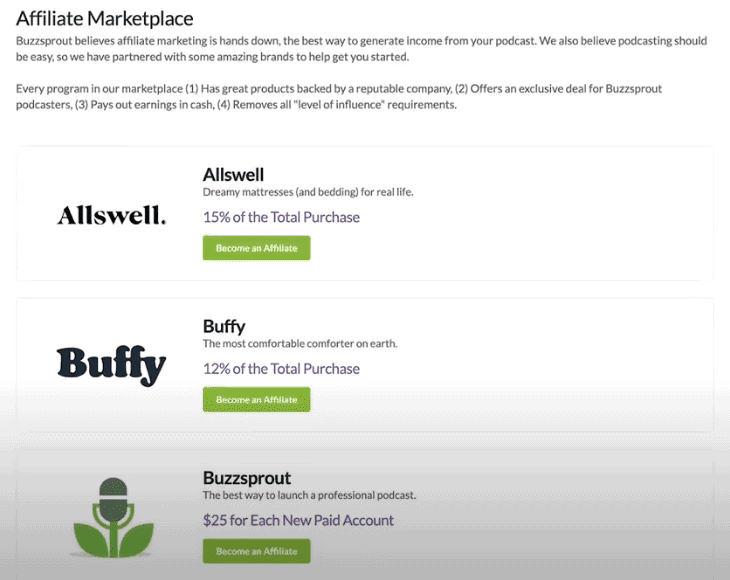 The one benefit of the affiliate marketplace is that BuzzSprout claim that they have agreed higher commissions with the providers:
Each of these companies has given BuzzSprout an exclusive commission that is higher than what you could get on your own. (source)
When I checked, I found that Buffy comforters offer a standard 10% commission if you join via ShareaSale, but you'll get 12% if you go through BuzzSprout. Ok, not bad!
BuzzSprout states that the CPM sponsorship model is only for huge podcasters, but this is simply untrue and other platforms like Anchor and Podbean clearly demonstrate that even new podcasters can start earning revenue straight away. And you can (and should) use multiple podcast monetization options at once!
I like BuzzSprout's podcast hosting offering, and they make a great choice for beginners, but they don't offer any decent monetization features. Don't get me wrong, podcasters can make good money from affiliate marketing, but BuzzSprout doesn't help you achieve much more than you could on you own. The donation button is a nice nod, but most listeners will be using apps that don't support it.
You can learn more about the BuzzSprout affiliate marketplace by watching this short video.
How much can you expect to earn with BuzzSprout?
If you use Buzzsprout's affiliate marketplace, you can get slightly higher commissions on some affiliate programs. You are free to find your own podcast sponsors, either independently or through a network like AdvertiseCast to earn sponsorship revenue. You can also use Podcorn to find sponsors by signing up through your BuzzSprout dashboard.
Podcorn is a relatively new company (launched in December 2019) so it's unclear how much podcasters can earn through them just yet. You will need to negotiate
Art19
Art19's monetization features
Art19 is built for professional podcasters and offers a range of monetization tools:
Targeted Marketplace – find sponsorship opportunities for your podcast
Campaign Management – self-service campaign management tools
WarpFeed Dynamic Ad Insertion – add targeted ad reads across your content
It's very clear that Art19 is designed for podcasters with a lot of listeners and a complex list of requirements for ad management tools and sponsorship opportunities.
Beginners can't join Art19, but if you're switching from another host and already have some decent download numbers (I'd guess at least 30,000 monthly listeners), you'll get a ton of value from Art19.
Art19 is used by some of the biggest podcast networks around, including Wondery and Crooked Media, and popular independent podcasts like ID10T with Chris Hardwick.
How much can you expect to earn with Art19?
Art19 aren't transparent about their numbers, so you'll have to contact them to find out more.
Audioboom
Audioboom's monetization features
Audioboom has monetization options for podcasts with at least 10,000 plays per episode:
Sponsorship – access Audioboom's targeted ad-network and get branded content partnership opportunities
Dynamic Ads – optimize revenue with Audioboom's ad-insertion tool
Designed for established podcasts or networks, Audioboom have a Pro plan with a range of advanced sponsorship options.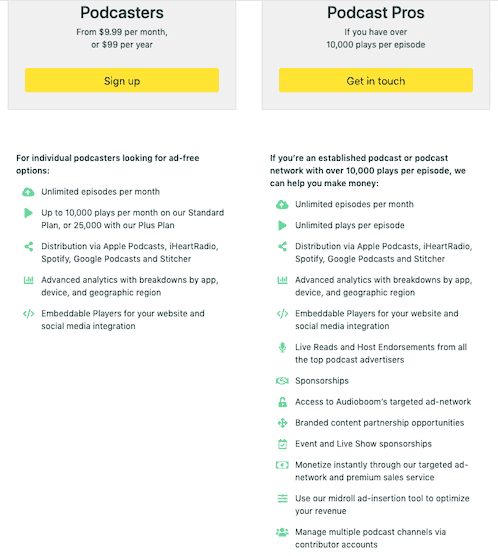 Audioboom will take a percentage of your sponsorship revenue as commission, but the exact number is left up to your negotiation skills.
Audioboom is used by popular podcasts including Casefile, No Such Thing as a Fish and Astonishing Legends.
How much can you expect to earn with Audioboom?
Audioboom doesn't publish earning estimates so you'll need to get in touch with them directly to find out more.
OmnyStudio
OmnyStudio's monetization features
OmnyStudio offers an impressive range of monetization features for podcasters:
Dynamic & targeted ad insertion – unique audio ads for each listener
Network partner integration – connect with premium advertisers
Sponsored content – develop and publish custom shows commissioned by advertisers
Video ads – play video advertising for listeners on your website using the embeddable player
I really like how many sponsorship opportunities OmnyStudio give podcasters. They will help you find sponsors, manage campaigns, place ads dynamcially into your episodes and even sync with video advertising platforms for extra revenue on your website.
Prices are claimed to start at $29/month, but you will have to contact them for a demo and quote before you can sign up. I highly doubt that OmnyStudio's full range of monetization options will be available for $29/month.
In terms of commission, OmnyStudio will take 30% of your advertising revenue. You will get paid via PayPal.
Monetization. If you opt-in to our programmatic ad product ("Omny Ads") for your content, you acknowledge that we cannot control the advertising content inserted into your show nor ad inventory will always be available in your geography. You remain in full control of ad placement in episodes and we will never run advertising content over your show without your express written permission. You will receive 70% of net advertising revenues, remitted to you using PayPal within 45 days of the end of each quarter if your earned balance is over USD$10. (source: OmnyStudio terms)
OmnyStudio is used by popular podcasts, including Freakonomics Radio, The Dream and How Did This Get Made?.
How much can you expect to earn with OmnyStudio?
OmnyStudio doesn't make their average CPM numbers known, so you'll need to contact them to find out more.
Acast
Acast's monetization features
Acast is set up to provide podcasters with comprehensive monetization options:
Ad Sales – pair your content with brand advertisers
Campaign Manager – dynamically insert ads into your content
International Advertising – use Acast's global network to monetize internationally
Acast will help your podcast find advertisers, and place those ads to maximize revenue.
Acast will only work with you if you have (or can reasonably expect to launch to) at least 10,000 listeners per episode:
If you're an established podcast, or expect to launch with over 10,000 weekly listens, then talk to our dedicated team about the premium hosting, monetization and marketing support we offer.
So if you're a celebrity podcaster, you can probably get started with Acast. For everyone else, you'll need some solid numbers before switching.
Acast is used by popular podcasts like The Magnus Archives, The Adam Buxton Podcast and Stephen Fry's 7 Deadly Sins.
How much can you expect to earn with Acast?
There's not a lot of transparency from Acast about how much they make for their podcasters, or how much commission they take. You'll need to contact Acast for more information.
Podigee
Podigee's monetization features
Podigee offers a range of monetization features for customers on their Professional pricing tier (contact Podigee for pricing):
Dynamic ad-insertion – serve different ads to different listeners on the fly
Ad-Tech solution – find and join established ad networks easily
Based in Germany, Podigee is ideal for EU-based podcasters. With servers based in Ireland and Germany, they are set up to comply with GDPR EU privacy legislation.
Podigee also has partnerships with European and global advertising partners, including Audion, Adswizz and RMS. Podigee also has a deal to provide Spotify Passthrough, which will add dynamic ads when your podcasts are streamed on Spotify.
Podigee's professional plan is not the most popular, but they claim to have over 250 podcasters using the service at the moment. That doesn't include those using Podigee's basic and advanced plans, which exceed around 5,000 according to RSS feed data from ListenNotes.
How much can you expect to earn with Podigee?
Podigee doesn't publish any sponsorship numbers so you'll need to contact them directly for more details.
Whooshkaa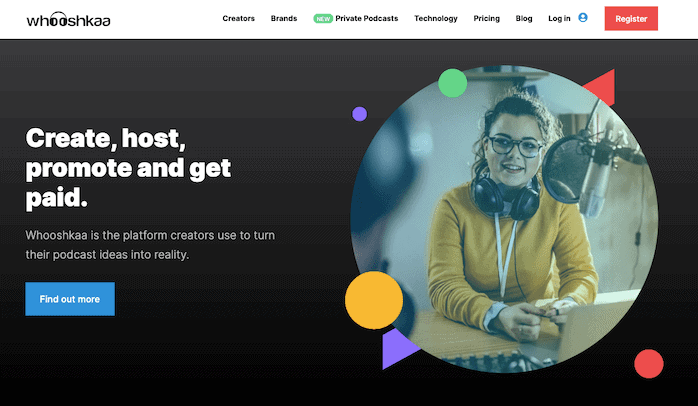 Whooshkaa's monetization features
Whooshkaa offers two simple but powerful monetization options:
Dynamic Ad Impressions – automatically serve targeted sponsorship spots to listeners
Private Podcasts – release private and/or premium podcasts
Whooshkaa is an Australian podcast hosting company, but their service is used worldwide. Whooshkaa provides you with dynamic ad impression technology that places relevant sponsorship messaging on your podcast epsiodes.
Whooshkaa was the first global podcast hosting platform to offer free dynamic ad insertion to all users (source)
Even podcasters on the lowest pricing tier ($29/month) will get access dynamic ad impressions (10,000 on the basic plan) and 10 private podcast feed. There's even a free plan that offers 1,000 dynamic ad impressions, which is really great for beginners. Whooshkaa's free plan is a bit hard to find so here's a link straight to it.
While dynamic ad impressions are available to all Whooshkaa customers, Whooshkaa state that they focus on finding sponsorship for their most popular customers:
Whooshkaa uses dynamic ad insertion technology which allows us to inject content rich advertisements into your podcast without you needing to lift a finger.

We pair your podcast with relevant ads based on genre and listener location. We also produce or guide the ads on our platform to ensure they don't jar with listeners. Plus you'll always remain in control of where the ads are placed, receiving the lion's share of revenue.

We typically monetise the top 10% of podcasters on our platform (i.e. the ones receiving the highest downloads). (source)
Whooshkaa do take a commission from your sponsorship earnings, but they don't publicize the number. If it's anything like what other hosts charge, it will be between 30 and 50%.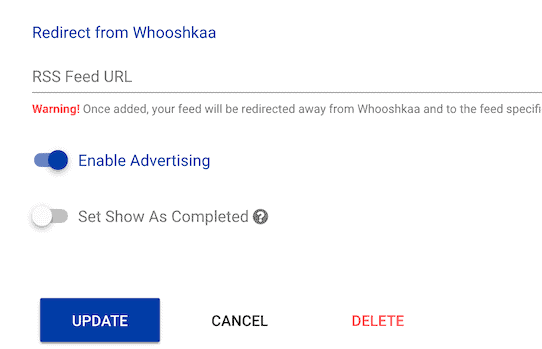 Whooshkaa's analytics are certified by the IAB (Interactive Advertising Bureau), which means they meet industry standards for podcast advertising measurement (read more here).
How much can you expect to earn with Whooshkaa?
As an example, Patrick Price's podcast Chewsday Special is hosted on Whooshkaa and sponsored by companies like Cabarrus Brewing, Threadforge Apparel, and 1820 Apparel. Another Whooshkaa-hosted podcast is Mate Helping Mate, which has sponsors like Gotcha4Life and the Murrumbidgee Primary Health Network.
From what I've seen, most Whooshkaa users are smaller podcasters that find their own niche sponsors.
Pinecast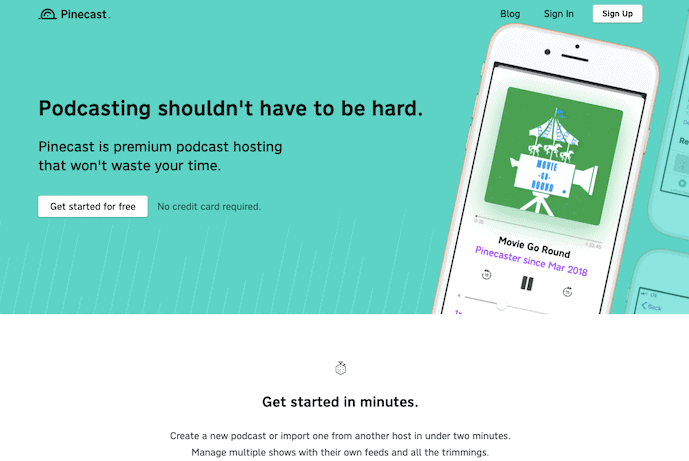 Pinecast's monetization features
Pinecast has two simple monetization features:
Tip Jar – accept one-off and recurring payments from listeners
Private Episodes – release content only for recurring payment listeners
And that's it!
I like Pinecast as a podcast host, they offer two plans, free and $10/month, and have some pro add-ons for features like advanced analytics and larger episode sizes. All Pinecast plans come with the Tip Jar feature, which helps podcasters collect payments from listeners.
A 30% fee is added to tips solicited from members on the free plan. Tips on other plans are commission-free.
The Tip Jar pays out every Friday. Each tip will be held for at least seven days before it is paid out to protect against chargebacks and for fraud protection. (source)
Pinecast's Tip Jar feature allows listeners to make one-time payments or recurring payments (not available on the free plan). You can use Pinecast's private episode feature to release content to listeners making recurring payments.
How much can you expect to earn with Pinecast?
How much you earn on Pinecast will depend on how much your listeners are happy to donate to you.
You're likely to increase your income if you mention your Tip Jar to listeners during episodes, or use Pinecast's private podcast feature to provide exclusive episodes to listeners making recurring payments.
Megaphone
Megaphone's monetization features
Megaphone offer many professional monetization options to clients, including:
Targeted Marketplace – let Megaphone find sponsors for your podcast
Dynamic Ad Insertion – serve targeted ads to listeners
Megaphone is a huge podcast host, owned by the Panoply network. You can only apply to join Megaphone if you're getting at least 20,000 downloads per episode.

Megaphone is designed for ad-driven podcasters – it's free to use their hosting services. All of Megaphone's revenue comes from ad sales commission.
One potential downside of using Megaphone to monetize your podcast is that you won't get total control over which advertisers run spots on your show. You can choose accepted categories, but not the specific advertisers.

If you want to learn more about how Megaphone works, I recommend this video.
Megaphone works with some of the largest podcasters around, including all Gimlet Media shows, Cautionary Tales and iHeartRadio's network.
How much can you expect to earn with Megaphone?
Megaphone don't publish their ad rates or commissions, so you'll need to contact them to find out more.
I've heard plenty of ad reads for Squarespace, BetterHelp and Best Fiends on podcasts that use Megaphone to find sponsors. If you listen to an episode of the ScamWow podcast you'll probably hear a post-roll ad that's been added by Megaphone. You can tell it's from Megaphone because it's not read by the hosts.
Ausha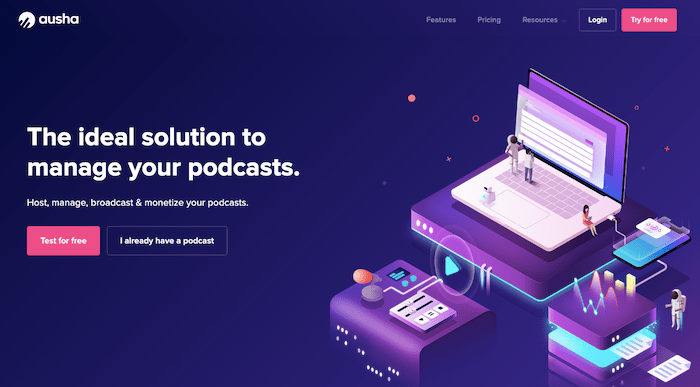 Ausha's monetization features
Ausha has two monetization options available:
Automatic monetization – automatically add commercials at the beginning of your podcast
Manual monetization – tool to help you schedule your own podcast advertising
Ausha is a podcast host based in France, which means they're popular with French podcasters and some of their English documentation can be a little difficult to understand.
Ausha's automatic monetization feature is available on all pricing plans (from $11/month of $110/year), but you're only eligible if your podcast gets over 5,000 listeners each month. There's no dynamic ad placement, so automatic ads will always be pre-rolls.
It's not clear how much (if any) commission Ausha takes from the automatic sponsorship feature.
Ausha users on their Studio or Pro plans will also get access to the manual monetization feature, which lets you add your own campaigns.
How much can you expect to earn with Ausha?
Ausha don't publish their CPM rates or earnings estimates, so you'll need to contact them directly for more info.
Fireside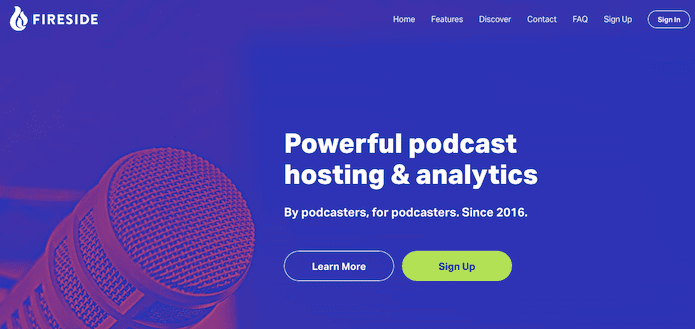 Fireside's monetization features
Fireside has limited/no monetization options:
Fireside offer a feature called "Affiliate Support" but there's not further information on how this works on their website (including in the support documentation!). I can't recommend Fireside for monetization as it's not clear what they can really offer.
Fireside also stated that a patron/donation feature would be launching soon, but it's now been erased from the website so it looks like they decided to scrap it.
How much can you expect to earn with Fireside?
Zero dollars! Fireside is not set up for podcast monetization at all.
Podcast monetization FAQs
What is dynamic ad insertion?
In podcasting, dynamic ad insertion places audio advertisements within podcast episodes depending on who's listening to them and when.
Advertisers pay to have their advert available for a certain amount of impressions and targeted to a certain country or listener profile.
What is the average CPM for podcasts?
The podcast industry advertising rate is between $18 and $25 CPM (cost-per-thousand listeners) (source).
How much money can I make from podcasting?
You can calculate your potential podcast sponsorship earnings by multiplying your average listener volume by the average CPM ($18-25).
You can also earn money from your podcast by promoting affiliate deals, accepting donations and membership payments, and placing display advertising on your website.
Do I need to record the ads myself?
Host-read ad spots are usually the most lucrative because they resonate better with listeners. Many hosts and networks will require you to record advertisement scripts yourself, but some will provide pre-recorded spots to dynamically be added to your episodes.
Final verdict
If you've read this far, you probably know a lot more than most people about the wondrous world of podcast monetization!
If you're struggling to pick a host, here's a quick overview:
Remember that monetization is only one part of your podcasting journey. You're still going to need other features from your host, like analytics and storage and bandwidth. If you need to compare podcast hosts on all aspects, I recommend reading our guide to the best podcast hosting.
Good luck and happy podcasting!