Mention Bluehost on any website forum and you'll be met with some very strong opinions.
A lot of these will take the form of "I hate Bluehost", "Bluehost sucks", "Don't use Bluehost". On the flip side, you'll also hear glowing reviews of Bluehost, and recommendations from some big names, including WordPress themselves.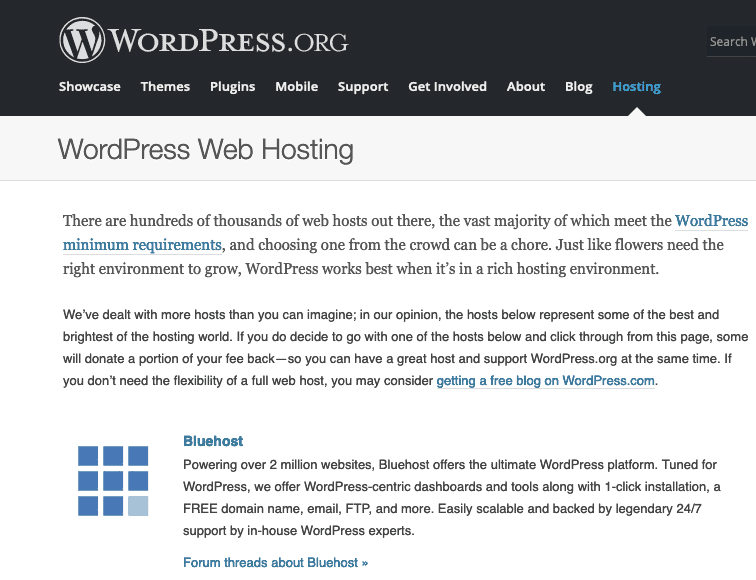 So what's really going on here? Are Bluehost a terrible hosting choice for everyone, or are people simply expecting too much from cheap shared hosting?
I decided to spend my hard-earned dollars and finally answer the question: is Bluehost worth using in 2021?
In this in-depth Bluehost review, I'll take you through my experience signing up with Bluehost, setting up a new WordPress website and seeing how it performs in speed tests. This review will be beginner-friendly and I'll explain any technical terms or website basics as I go through.
While Bluehost offer a few different pricing tiers, I'm going to focus on the cheapest plan (the one that's advertised as $2.95/month), because it's the one that most people use.
I never thought I'd say this, but (*deep breath*), let's go and sign up for Bluehost and see what trouble I can get into…
Quick answer: is Bluehost worth using in 2021?
TL;DR – Bluehost hosting is slow, overpriced and full of upselling.
If you're a beginner starting your first WordPress website and want cheap shared hosting, go with Hostinger instead.
If you are looking for low-cost, fast cloud hosting, use Cloudways (I do).
If you need reliable, managed WordPress hosting for an established site, go with BigScoots.
If you want to read 6,000 thousand words on all the ways that Bluehost is bad, keep reading!
Why you should listen to me, and a quick note about affiliate links
This part is worth reading before you dive into the review.
After over 10 years of website building and blogging, I've used and tested a lot of website hosts. And yet I've never used Bluehost before. That makes me able to try it out with fresh eyes, and not clouded by my past bad experiences (ugh, HostGator). Plus, I know how to setup and test websites (see my test of the fastest WordPress themes).
I'm a member of the Bluehost affiliate program, and when I link to BlueHost on this page, I will use affiliate links and earn a commission if you use my link to sign up for Bluehost.
So I'm just going to lie and pretend Bluehost is great to get you to sign up, right? To be honest, there's no need for me to do that. The truth is that almost every single website hosting company out there has an affiliate program. And most of them offer a lot of money for leads. If I love Bluehost, then I'm happy to recommend it and earn commission for referring customers. But if I hate it, or think there are better alternatives for some people, I'm not going to lose anything by recommending a competitor. I've not held back from criticizing Bluehost before, including in my post on cheap WordPress hosting. I'm also not running this blog purely to make money (I work as an SEO consultant and run other sites), and I'm committed to only recommending products or services that a) I'd use myself or b) I'd confidentially recommend to my close friends or family.
Ok, now you know where I stand, I can stop delaying the inevitable and start trying Bluehost out!
What is Bluehost?
Bluehost is a website hosting company, founded in 2003 by Matt Heaton and Danny Ashworth in Utah.
In 2010, Bluehost was acquired by the Endurance International Group (see more on them below).
Bluehost is used to host around 2 million websites. Bluehost has declined in popularity since 2016, when it hosted closer to 4 million websites.
Who are EIG?
The Endurance International Group (EIG) is a website hosting company, founded in 1997 in Massachusetts. It grew by acquiring smaller hosting companies, like Bluehost, and currently owns over 80 different hosting companies.
EIG own the following well-known website hosting brands:
A Small Orange
Bluehost
FatCow
HostGator
HostNine
FastDomain
iPage
EIG gets a lot of bad feedback
Because EIG operates their sub-companies in similar ways, often all EIG-owned brands get tarred with the same brush when it comes to feedback, with people who dislike one site, like Bluehost, warning people to stay away from all EIG companies.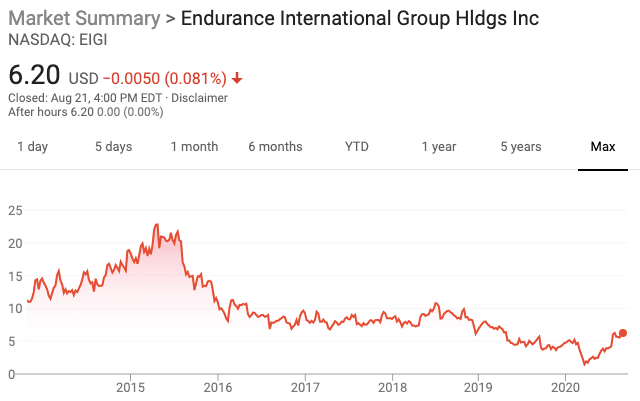 This seems to be because EIG is a publicly traded company, with shareholders to please, and are perceived to have employed cost-cutting measures as a result. In November 2020, Endurance bought out its shareholders and became a private company again.
The main complaints against EIG and their brands, including Bluehost, seem to be:
Poor customer support
Poor service (website uptime)
Let's see if these concerns are warranted.
How to sign up for Bluehost
Bluehost is easy to sign up for.
Step 1: Go to Bluehost.com and click the big green "Get Started" button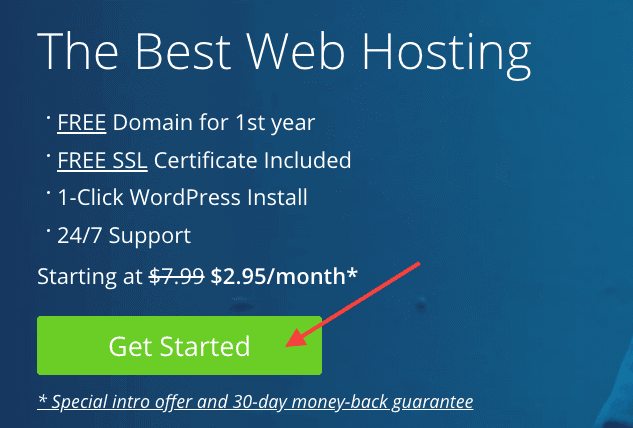 Step 2: Select which billing cycle and plan you want
The only way to get the advertised $2.95/month pricing is to select the 36 months option and the Basic plan, which is for 1 website and 50GB storage (that's more than enough for 1 website).
Step 3: Create a domain or add your own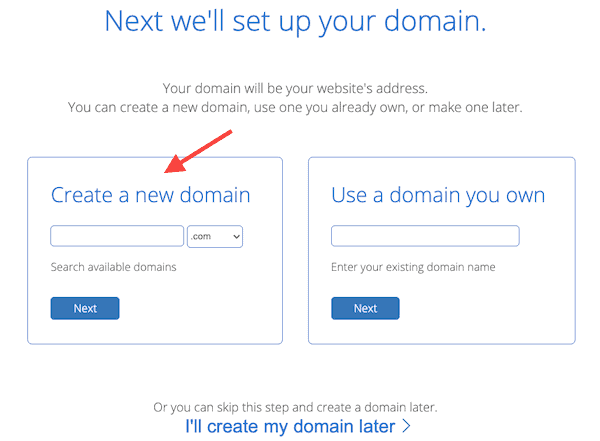 Bluehost will let you register a new domain for free when you sign up. This is good value because normally a .COM domain will cost you around $8.99 from a registrar like Namecheap or Namesilo (use coupon "SAVE10" for $1 off).
Should you register your domain name with Bluehost?
I normally advise that you do not register your domain at the same company that you host with, for a couple of reasons:
It's more secure to keep your domain and hosting separate
You can choose which domain registrar offers the best registration and renewal prices
And here's why registering your domain at Bluehost is a bad idea:
If you cancel your hosting package within 30 days, you'll still need to pay Bluehost for the domain ($12.99 for a .COM)
You can't transfer a domain for 60 days after registration, so if you need WHOIS privacy you have to pay Bluehost rates
While Bluehost will give you a "free" domain registration when you sign up, they will charge a whopping $14.88 for domain privacy. Domain privacy will keep your name, address, email and telephone number out of public databases and WHOIS lookups (if you don't have WHOIS privacy, you will get a lot of spam emails from people trying to sell you website services, trust me). Plus, if you decide to move away from Bluehost, or invoke their 30 day money-back guarantee, you won't be able to transfer your domain for 60 days.
Bluehost charges $17.99 for .COM renewals, which is very, very high compared to the rest of the market, which is usually under $9.
There are a lot of great domain registrars that offer clear and fair pricing, and give you WHOIS domain privacy as standard. These are my favorites:
They all offer free WHOIS privacy (not just for 1 year, it's forever), and low-priced registrations and renewals. Check which one has the best offer, and you'll probably get a .COM domain for less than $7.
If you want to go ahead and use Bluehost's free domain offer, enter the domain name you want and proceed to the next step.
Step 4: Fill in your name and address details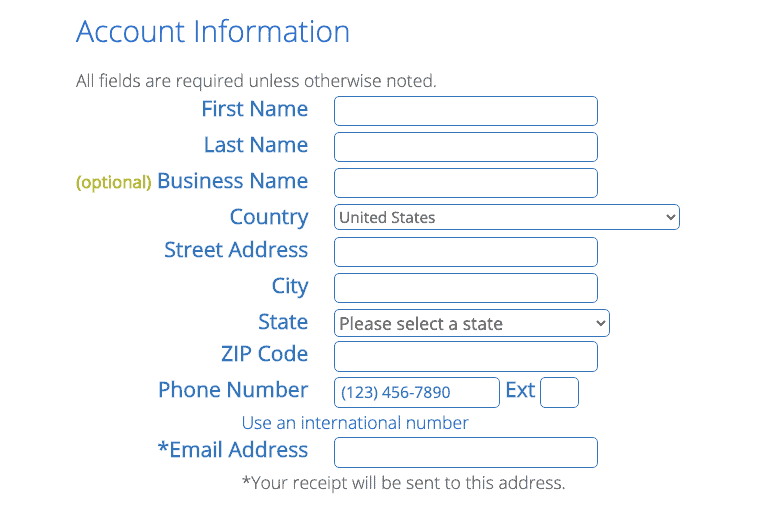 Fill in your name, address, phone number and email address. Bear in mind that all of these details will be made public on WHOIS records if you do not purchase domain privacy or use your own domain with privacy.
Step 5: Select your contract length

Next, make sure you've selected the correct plan. You cannot pay for Bluehost monthly. The longer you sign up for, the cheaper the monthly price becomes:
12 months = $4.95/month = $59.40
24 months = $3.95/month = $94.80
36 months = $2.95/month = $106.20
My personal recommendation is that you sign up for 12 months. Why? Because you don't know what your website needs will be in more than 12 months' time. Maybe you'll have become bored with blogging and given it up. Maybe your site will be so popular that you need a bigger hosting package.
It's not difficult to switch hosting accounts in the future, so there's no need to pay for 3 years of something you're not sure you need.
Also, there's no point signing up for the 24 month plan, because it's almost the same price as the 36 month plan. So pick 12 or 36 months and move on to the next step.
Finally, if you choose to stick with Bluehost in the future, your plan will renew at the same interval that you picked when signing up (i.e. 1, 2 or 3 years), and the prices will NOT be as low:  you will pay the equivalent of $7.99/month (plus tax).
Step 6: Uncheck the services you do not need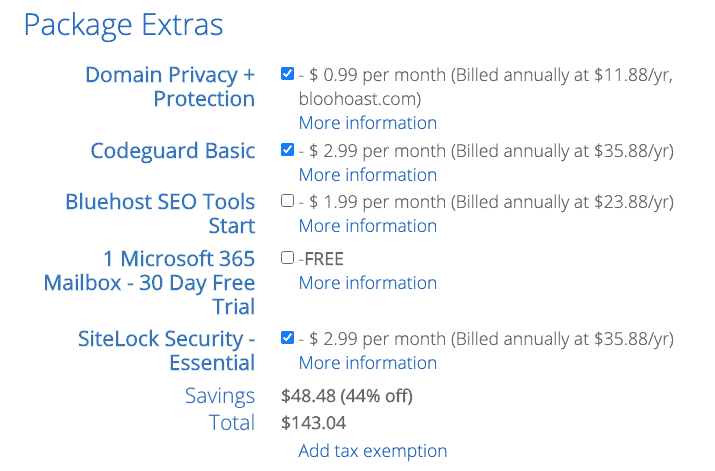 Next, you need to carefully uncheck all the services you don't need. This is a bit of a dark pattern from Bluehost – they've automatically opted you into a bunch of premium services that you may not want.
I suggest you uncheck all the boxes. You will need Domain Privacy ($11.88/year) if you're registering a domain with Bluehost, otherwise your personal information will be publicly available.
However, it's much cheaper to simply register your domain with another registrar that offers free WHOIS privacy.
For example, if you go over to Namesilo right now and register any .COM domain name, and apply the coupon SAVE 10, you'll get free WHOIS privacy and only pay $7.99 for the year (renewals are only $8.99 each year). That's already almost $4 cheaper than what Bluehost will charge you for domain privacy alone. However, be aware that if you buy your own domain, you will need to change the nameservers and connect it to your Bluehost account on your own.

If you're smart, you'll register your own domain name and enter it into the "Use a domain you own" box. You'll still need to uncheck all the extras (ugh).
For the purposes of this experiment, I registered the domain bloohoast.xyz because it only cost $0.99.
If you buy your own domain separately, make sure you set the nameservers of your domain to Bluehost's so that it can connect with your hosting account:
ns1.bluehost.com
ns2.bluehost.com
Bluehost adds tax to the price of hosting. The amount will vary depending on your address. For example, in the UK, 20% tax will be added, so the 12 month plan will actually cost $71.28 after tax ($5.94/month), and the 36 month plan will really cost $118.08 after tax ($3.28/month). Suddenly it's not so cheap, eh.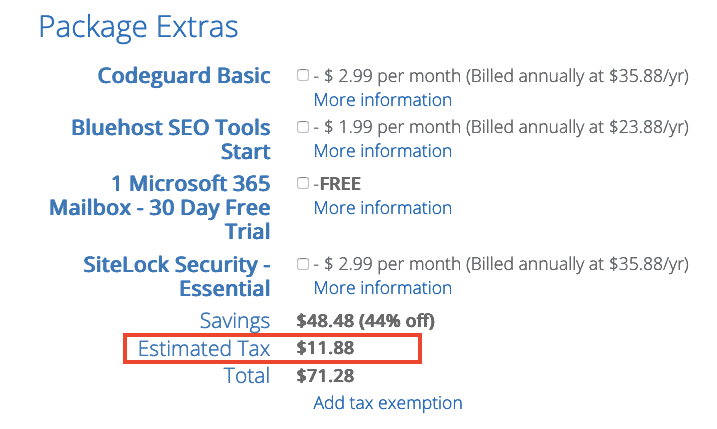 Step 7: Add your payment information
If you want to pay via PayPal, click "more payment options", or enter your credit/debit card details to proceed.
Step 8: Read ALL the terms and conditions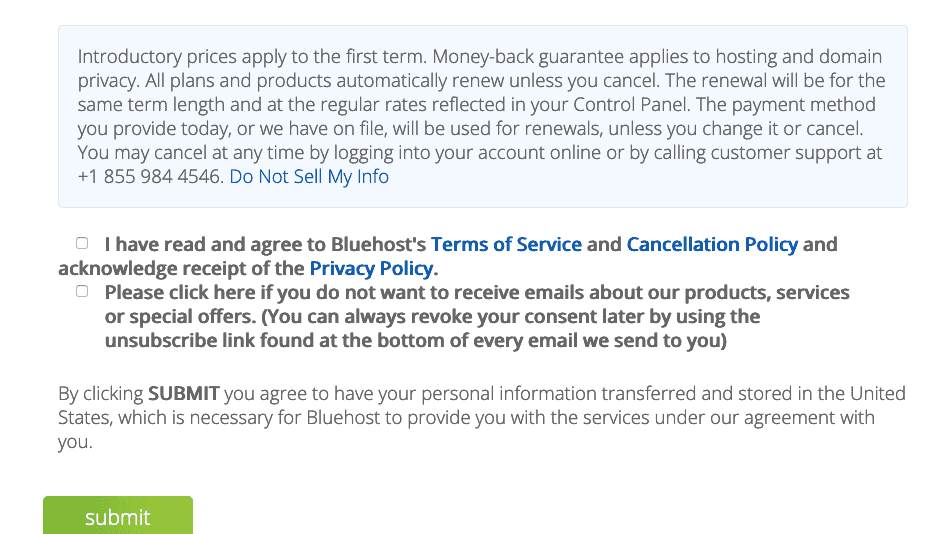 It's not fun, but you really need to read all of Bluehost's terms and conditions before signing up.
I'll go through some of the clauses that stood out to me.
These sections are taken from the user agreement:
You hereby grant to Bluehost, to the extent necessary to provide the Services, a non-exclusive, royalty-free, worldwide right and license to: (i) use, reproduce, publicly perform, publicly display, modify, translate, excerpt (in whole or in part), publish and distribute Subscriber Content and the Subscriber Website; and (ii) make archival or back-up copies of the Subscriber Content and the Subscriber Website. Except for the rights expressly granted above, Bluehost is not acquiring any right, title or interest in or to the Subscriber Content, all of which shall remain solely with you.
In other words, Bluehost has the right to use the content of your website without permission.
You will be solely responsible for backing-up all Subscriber Content, including any Subscriber Websites off of Bluehost's servers. This is an affirmative duty. Bluehost is not responsible for the loss of any Subscriber Content. Note: It is essential that Subscribers backup files offline, even if user purchases or has products, such as Site Backup and Restore.
In other words, if any of your website data is lost, even if it's Bluehost's fault, they are not responsible because you agreed to back it up.
If you do not want the Services to automatically renew, you must opt out of the automatic renewal option at least sixteen (16) calendar days before the end of your then current Term or else your payment method on file will be charged
You should cancel auto renewal as soon as you sign up, to avoid accidentally being charged later (here's how to cancel Bluehost renewals).
Hosting space is intended for use in accordance with Bluehost's Acceptable Use Policy, and is limited to Web files, active e-mail and content of the hosted Subscriber Websites, not for storage (whether of media, e-mails, or other data). Hosting space further may not be used as offsite storage of electronic files, e-mail or FTP hosts. Bluehost expressly reserves the right to review every user account for excessive usage of CPU, bandwidth, disk space and other resources that may be a result of your violation of this Agreement or the Acceptable Use Policy.
In other words, you can't use your 50GB storage space for anything other than your website files and current emails.
Further clarification is found in Bluehost's Acceptable Use Policy:
You may not use your hosting account as a backup solution. Our Services are designed to host your website only and may not be used as a data repository. Bluehost reserves the right to remove backups from your hosting account with or without notice. 

I chatted to a Bluehost representative who clarified that you can use a backup plugin to make local backups, and you can keep an archive of no more than 5 copies of your site on the server. Although I recommend you keep backups in a separate location, in case your server is hacked or fails.
You may not consume excessive amounts of server or network resources or use the Services in any way which results in server performance issues or which interrupts service for other customers.
In other words, if your website gets a lot of traffic, or you're hosting CPU-hungry content or a lot of video/audio files that need loading, then you risk consuming "excessive" resources and Bluehost can turn your website off.
This happened to me when I used another EIG host, HostGator. I ran a baseball blog at the time, and at one point during the season a few posts went viral-ish and got a lot of traffic. By a lot, I mean about 1000 visitors a day, not crazy by any means. Without warning, HostGator shut down access to my site unless I paid to upgrade my plan. Needless to say, I moved to a different host instead, as it was much cheaper and I got more server resources.
Bluehost also have the right to suspend your account without warning:
Your Services may be suspended or terminated with or without notice upon any violation of this AUP. Any violations may result in the immediate suspension or termination of your account.
According to the Usage Policy, Bluehost will try to give you 48 hours' notice if you exceed usage limits, but it's not guaranteed.
We strive to provide at least 48 hours notice to allow customers to make adjustments before we take any corrective action.
How does Bluehost's 30-Day Money-Back Guarantee work?
When signing up for Bluehost, you might notice that there's a 30-Day Money-Back Guarantee offered:
If you cancel within 30 days you'll receive a full refund on your hosting service only. The money-back guarantee does not apply to most add-on products, such as domains, given the unique nature of their costs.
If you cancel within 30 days and your plan includes a free domain, there will be a fee to retain that domain . Bluehost will deduct a non-refundable domain fee from your refund, at the regular cost of your domain.
In summary, if you cancel your Bluehost hosting plan within 30 days, you will only get back the money you spent on the hosting plan, not any add-ons such as "Codeguard Basic". If you chose the free domain option, you will be billed for the price of that domain, even if you cancel the hosting.
According to Bluehost, the "regular cost of your domain" will total $12.99 for .COM domains, which is a lot higher than the market standard of $8.99 you'll get at Namesilo or Namecheap.
Here's how to get a refund from Bluehost within 30 days. It's fairly easy to do.
I strongly advise you to read through all the terms yourself. If you're happy with what's included, you can click the green "submit" button and your account will be created.
In the end, I signed up for the 12 month plan. After tax, I paid $71.28, plus the cost of my domain at Namesilo ($0.99).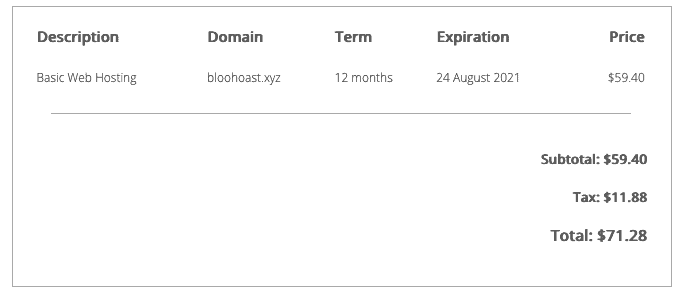 Step 9: Create a Bluehost account
Next up, you need to click the blue "Create Account" button, and add a strong password.
Log in with your email address or domain name and new password, and you'll enter into the onboarding flow.
Setting up a WordPress website with Bluehost
Bluehost will now guide you through a 4-step process to help you setup your website. You can skip these steps if you prefer.
In step 1, select the type of website you're creating.
In step 2, you can choose if you want to create a blog or store.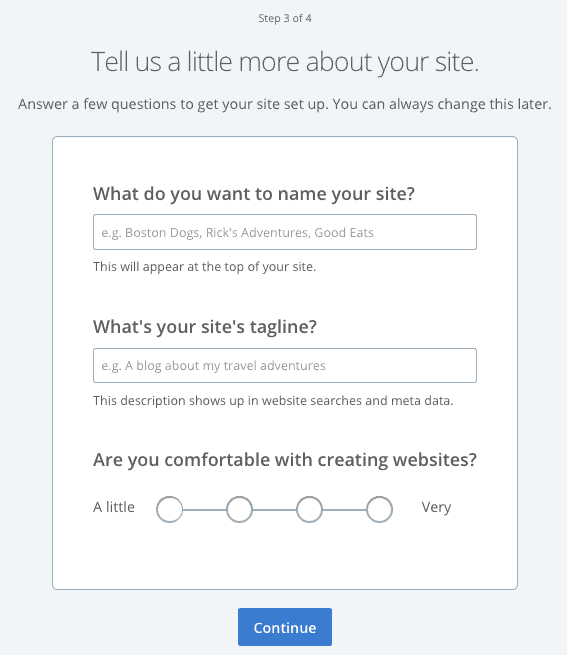 In step 3, you can give your site a name and tagline, and select how comfortable you are with creating websites.
Bluehost then will install WordPress automatically for you. This was a bit surprising because it didn't even ask if I wanted to use WordPress.
I think this setup is good for beginners, because it means you don't have to do any technical setup or make decisions yourself. As a more experienced user, I don't like how controlling it is.
From the Bluehost dashboard, go to My Sites and you will see your new WordPress website. You can click buttons to "Manage Site", or to "Log into WordPress" directly.
If you've bought your own domain, go to Manage Site > Settings and update the Site URL to your correct domain.
How to add a free SSL certificate in Bluehost
The next thing you should do is add a free SSL certificate, so that your domain address is https://, not http://. This will give it the nice green padlock in browser address bars and keep visitor data secure. Using SSL is also essential for SEO.
From the Bluehost dashboard, navigate to Manage Site > Security and check if your SSL certificate is turned on.
I was all ready to add a SSL certificate to my account, but for some reason it was "unavailable".
Remember that all Bluehost accounts are supposed to get a free SSL certificate via Let's Encrypt. They claim this typically costs $79.99, which is insane since Let's Encrypt is widely available for free from many other hosts.
I checked back later and my SSL certificate was on:
Delete WordPress plugins you don't need
When you log into WordPress for the first time, you'll see a lot of clutter.
That's because Bluehost has pre-installed a lot of junk plugins that you didn't ask for. Namely these are:
Google Analytics for WordPress by MonsterInsights
OptinMonster API
WPForms Lite
Jetpack by WordPress.com
I assume Bluehost has done some sort of deal with these companies to supply their plugins as standard.
There is also a Bluehost plugin, which modifies the WordPress dashboard a lot, and adds a lot of dark patterns to suggested plugins, themes and services that they want you to buy/use.
I advise you to delete all plugins, including the Bluehost one.
There will still be 3 must-use and 2 drop-in plugins that you won't be able to remove:
Install important plugins
Here are some free plugins I suggest you install to help keep your site secure and SEO-optimized:
Choose a WordPress themes

Bluehost installs 5 themes onto your WordPress website. I suggest you use GeneratePress (free or premium version) instead and delete the ones Bluehost bundled with your install.
GeneratePress is fast-loading and easy to customize. It came top of our fastest WordPress themes test.
Using cPanel
cPanel is website and server control panel that's widely used on most shared hosting platforms. If you're coming to Bluehost from a different provider, you'll probably have already used cPanel to manage your website.
With Bluehost, you can use cPanel if you want to, or you can ignore it and use Bluehost's custom dashboard instead. For complete beginners, Bluehost's panel is easier to understand than cPanel, but if you want to have more control over your site and setup features without spending money on add-ons, you'll need to learn how to use cPanel.
Setting up email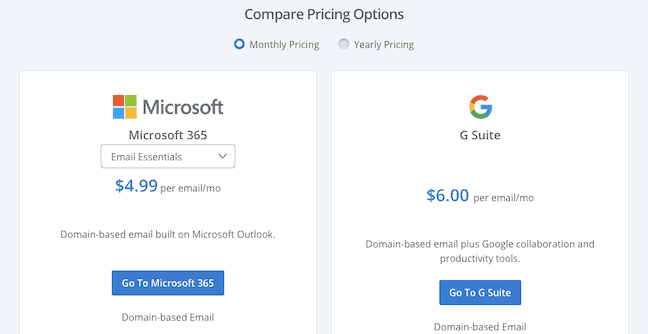 If you use Bluehost's control panel, you'll be offered a choice between Microsoft 365 and G Suite. Both of these are premium options, which you probably don't need.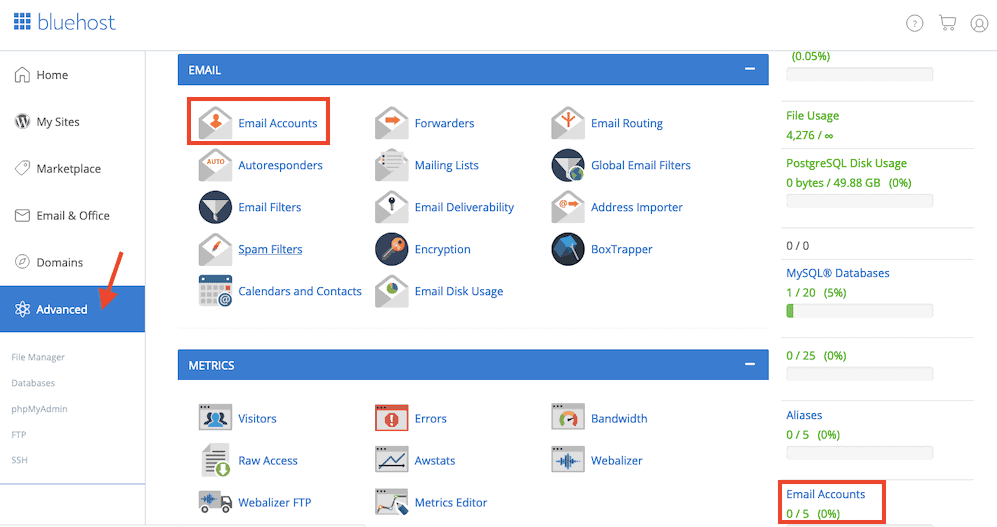 Instead, you can set up a free email account (up to 5 addresses) from cPanel. Go to your Bluehost dashboard, then click "Advanced" and scroll to the Email section and select "Email Accounts".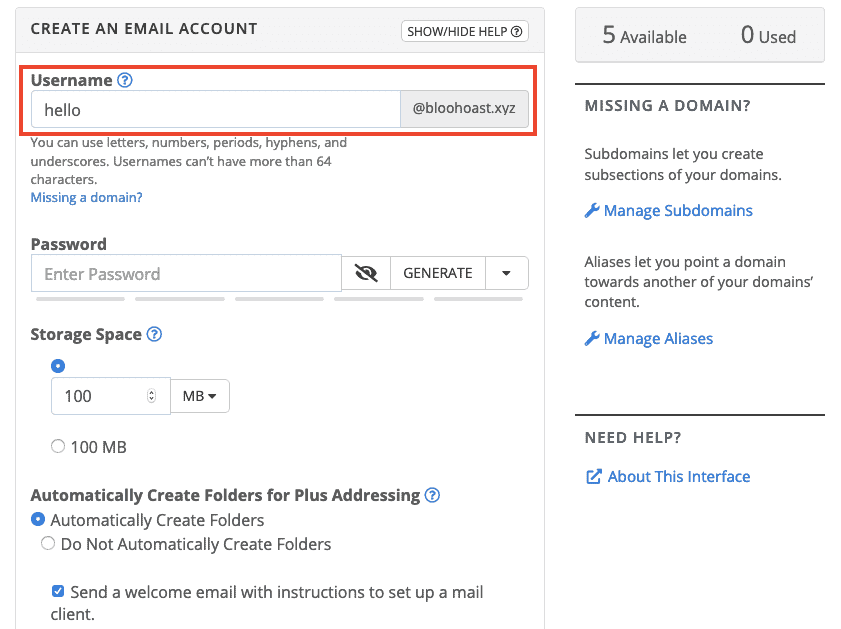 Create a new email address and password (I chose [email protected]), and click "Create".
To read your email in the future, you can go to the Email & Office section of your Bluehost account, then click the "Check Email" link on the account you want to check.
I sent myself some test emails to see if the Bluehost server was marked as spam, and ProtonMail did but Gmail did not. Not bad!
Setting up backups
Since Bluehost's terms and conditions state that you must keep backups of your site, you're going to want to set up backups right away.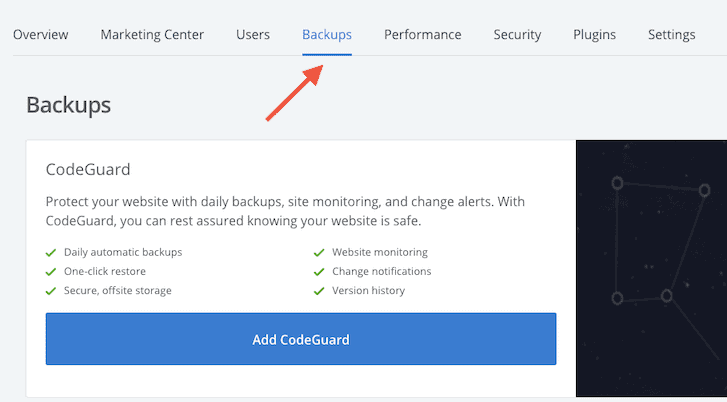 If you go to your Bluehost dashboard and select the "Backups" option, you'll be encouraged to sign up for Codeguard. Codeguard is a premium service and will cost you from $2.99 per month.
You can set up free backups instead. One of the easiest ways to do this is to use a free backup plugin like UpdraftPlus. You can store up to 5 website backups on your Bluehost server (via FTP), but it's better to store your backups in a different location, such as Dropbox or Google Drive, or download and store the backup files on your computer.
How fast is Bluehost?
Now comes the million dollar question: does Bluehost load quickly? If you're short on time, I'll save you the trouble of reading this whole section and just tell you straight up: Bluehost is about as fast as a herd of snails traveling through peanut butter.
In order to speed test Bluehost fairly, I created a dummy blog post with over 2000 words, 7 images, an embedded YouTube video and a table. You can view the dummy blog post here.
I copied the dummy site to my Bluehost site (using the free All-in-One WP Migration plugin) and ran speed tests on the blog post to see how quickly (or slowly) it loaded.
First, I ran my Bluehost test site through Google's PageSpeed Insights test: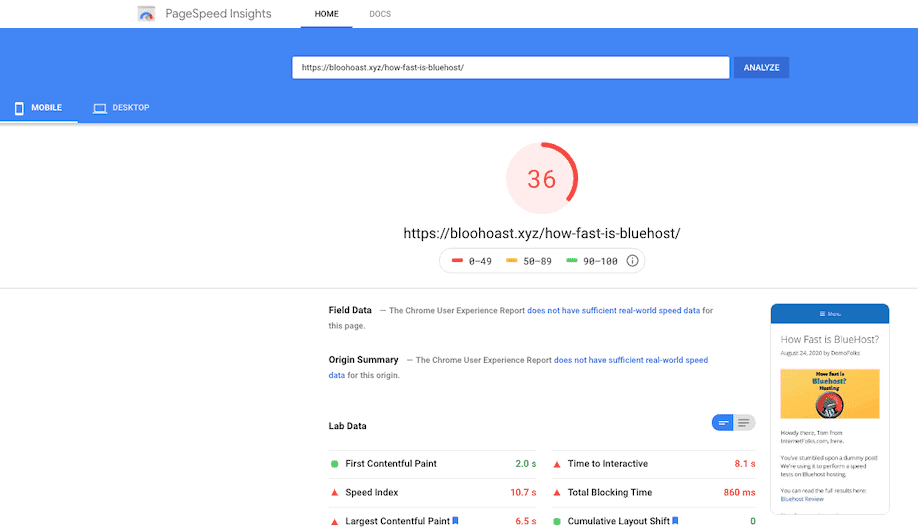 My Bluehost-hosted page score a terrible 36/100 on mobile and 78/100 on desktop. Yikes.
Next, I used WebPageTest to measure how the page loaded. It took over 12 seconds to fully load less than 1 MB of content. That's S.L.O.W.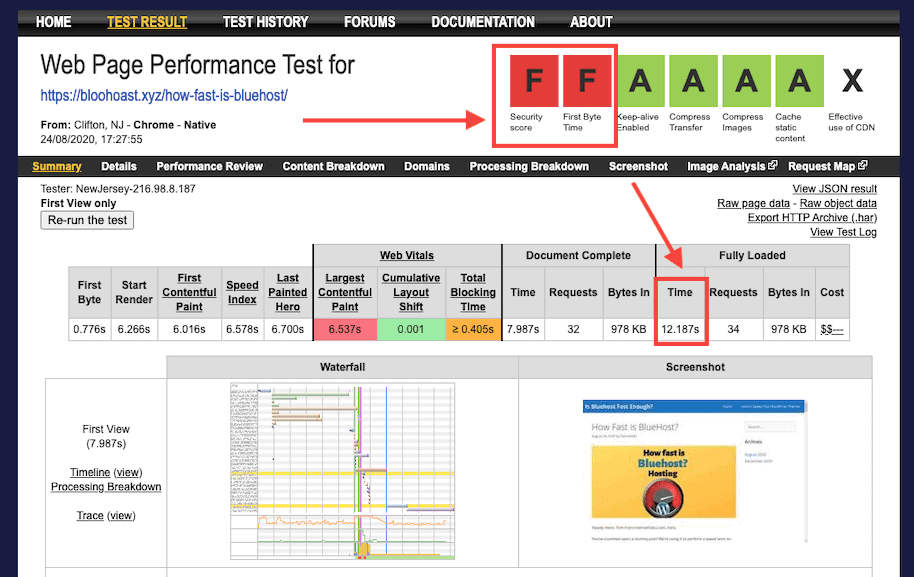 Then, I ran a Pingdom website speed test, and it measured a load time of over 15 seconds. That's ridiculously slow.
Next, I used GTmetrix to measure how was Bluehost was. It came out even worse – almost 18 seconds to fully load the page. Wow.
Bluehost's TTFB is very slow
The TTFB (time to first byte) metric measures the time it takes for the first byte of data to be received from the server. The quicker the better.
In my tests, Bluehost's TTFB was as slow as 3 seconds. That might seem fast, but it's about 10 times slower than you need it to be.
For comparison, I get a TTFB of 115ms, or 0.115 seconds on the exact same page on Cloudways' $10/month DigitalOcean plan. And I use that server to host 5 WordPress websites, so it works out cheaper than Bluehost per site, and there's no contract. Just saying…
If a website's TTFB is slow, more often than not it means the hosting is to blame, and not your website.
The WordPress admin panel takes forever to load
I don't even need a speed test to know that Bluehost is painfully slow… when I was in the WordPress dashboard making changes, it took over 5 seconds to load new pages or use the site appearance customizer. Very frustrating. If you're new to WordPress, you'll probably wrongly assume that all WordPress sites are that slow. They're not!
How to optimize Bluehost's speed settings
Let's try to make Bluehost faster.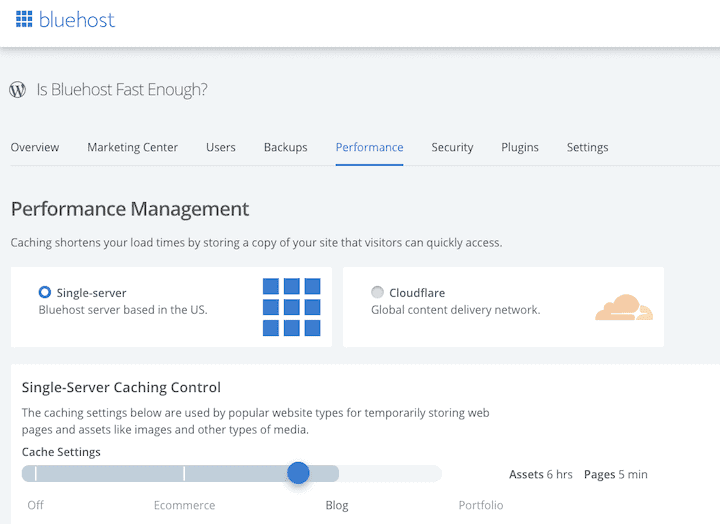 From your main Bluehost dashboard (not in WordPress, on Bluehost.com), navigate to Manage Site > Performance to view some speed settings.
You can click to install Cloudflare, which will provide a global content delivery network (CDN), which should speed your site up. You don't need to be using Bluehost to use Cloudflare, it's available for free to anyone and I use it with several different hosts (no integration required).
I decided to add Cloudflare manually from Cloudflare's own website.
I also installed the free Autoptimize plugin. I used the plugin to minify CSS, JS, lazy-load images and remove unnecessary scripts like Google fonts.
Even with Cloudflare and Autoptimize set up, the site still loaded slowly, and the TTFB got worse (this will vary depending on how much pressure the server is under when you run the test), although page load times improved significantly according to some tools.
On Google's PageSpeed Insights, my Bluehost blog post now gets 43/100 on mobile and 83/100 on desktop.
WebPageTest shows a load time of close to 5 seconds, and a TTFB of almost 2 seconds.
Pingdom shows a load time of 2.19 seconds, which is surprisingly decent.

GTMetrix shows  page load time of 4.5 seconds.
I used FastorSlow.com to run a global speed test, and my page performed poorly in all locations, even the US. TTFB was almost 10 seconds. Yikes.
As you can see from Google's PageSpeed suggestions, the primary thing slowing the site down is the slow server response time.
After 24 hours of caching, using Cloudflare and Autoptimize, I ran my test site through Sucuri's Load Time Tester tool, and still got poor TTFB load times in all locations, even the US, where Bluehost's servers are located.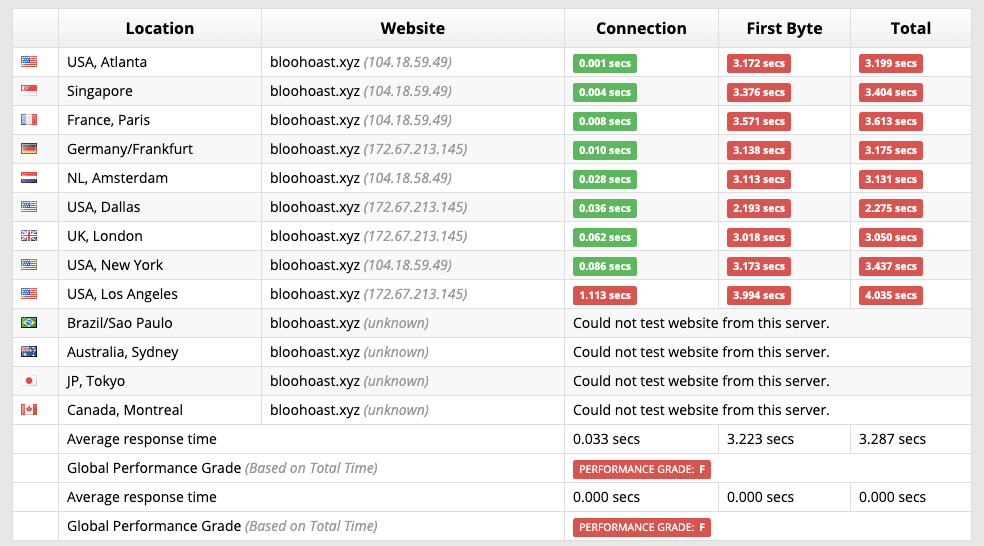 Bear in mind that I many years' experience running WordPress sites, have been actively working on WordPress speed optimization methods and I still can't get this Bluehost site to load quickly. It's down to the slow server response time and there's nothing you can do about it.
And if you're not as diligent with optimizing your site as I am, it's not improbable that you'll get 10+ second load times.
How good is Bluehost's support?
After using Bluehost for 1 day, I'm already desperate to talk to support to figure out what's going on.
First, I'll give Bluehost credit for offering both US telephone support and online chat support. You can access support at Bluehost.com/contact.
I'm going to test out the online chat feature. If you're an existing customer, you need to provide your name and the domain name or email or phone number associated with your account so they can find your details. You also need to provide a validation token to prove that it's you – you can find that at: my.bluehost.com/cgi/token.
In my first test, I got a quick response to my question about whether it's ok to use a backup plugin to store local backups on the server:
Next up, I needed to contact support to see how to upgrade from PHP 7.0 to 7.4, as WordPress was showing that my site was using an outdated version. It only took 7 minutes on a chat for the support agent to upgrade my server for me, that's pretty good.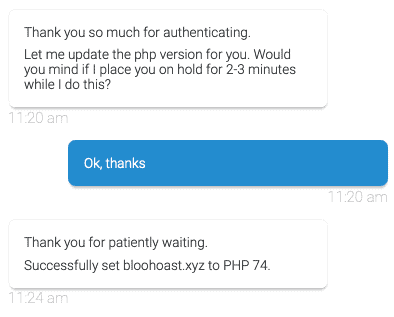 I took a look at what some of the support staff were saying about Bluehost on Glassdoor and it's a mixed bag. I got the impression that customer service staff are overworked and feedback from customers is not taken on board.
As you can see from Endurance's job adverts, they hire people without WordPress knowledge and train them up. There's nothing wrong with this in theory, but it does mean that you're not going to be talking to WordPress experts when you contact support.
How to get the 30-Day Money-Back Guarantee from Bluehost
First up, you have to telephone Bluehost within 30 days of creating your account to get a refund. You can also use the online chat feature, which is good news.
Go to Bluehost.com/contact and start a chat.
Select "Close Your Account" as your issue. As my reason, I wrote: "close account for 30-day money-back guarantee refund please".
It took 1 minute for me to be connected to a support agent.
In the meantime, I took a look at Bluehost's refund policy.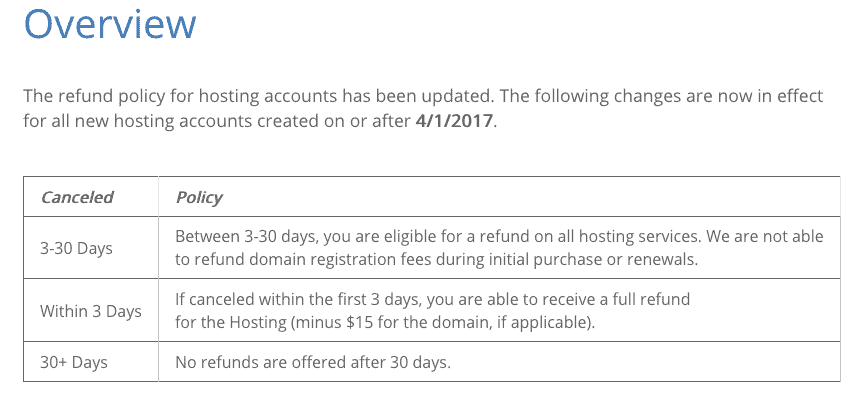 I'm not sure what the different between "Within 3 Days" and "3-30 Days" is, but for the purposes of this experiment, I was cancelling after 2 days.
Of course, the customer support agent tried to convince me not to cancel. Here's an edited version of the chat:

After 16 minutes on the chat, my cancellation had been activated. I received a full refund of $71.28 after 1 day.
Overall, I can't complain about Bluehost's support. Perhaps they make more of an effort in the first 30 days, but I was pleased with the responses I got during each chat I had with support.
Is Bluehost hosting secure?
When I logged into my new WordPress website, I got a warning message that the PHP version my site used was outdated. What? I just joined Bluehost and created this site 20 minutes ago, how is it already out of date?

Turns out that Bluehost uses an old version of PHP for new customers. Not sure why they do that.
In order to upgrade the PHP version, I need to use cPanel. In the Bluehost dashboard, go to Advanced then scroll down to the Software section and click "MultiPHP Manager".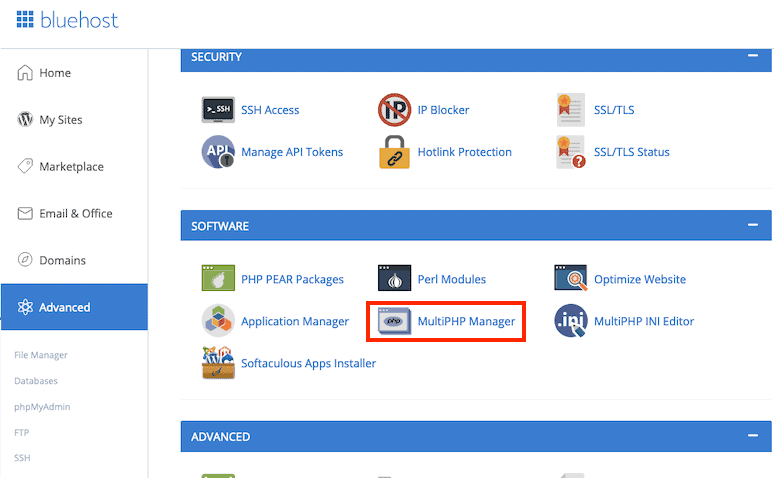 My WordPress site is currently using PHP 7.0. I selected the latest version, 7.4 from the drop-down, and clicked "Apply".
Turns out the "Apply" button was greyed out and I was unable to update PHP myself. Instead, I had to contact support to get it done. Eventually, my site was updated to PHP 7.4.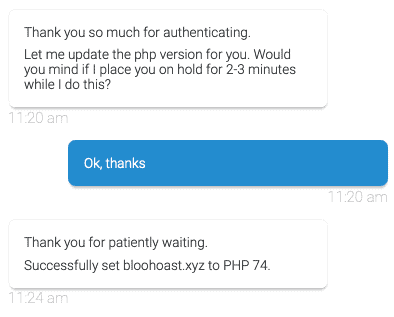 I don't understand why you'd launch new websites on outdated software and force customers to contact support to update it.
According to what software engineers at Bluehost say on Glassdoor, it appears as if Bluehost's codebase is not as secure as it could be: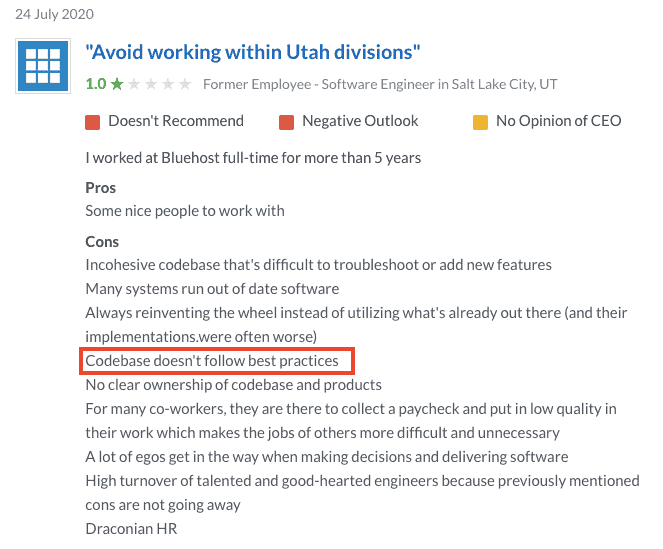 Bluehost's security features
Bluehost provide a free SSL certificate from Let's Encrypt, which is easy to turn on in your account under Manage Site > Security
There's a 1-click File Integrity Check, which will scan your WordPress core files for errors.
I recommend you use a WordPress security plugin like Wordfence to help keep it secure. And never install plugins or themes that are "nulled" or you've downloaded from anywhere other than the WordPress repository or the developer's official website.
You're sharing a Bluehost server with hundreds of other websites
Of course shared hosting means that you're sharing servers with other websites, but do you have any idea just how many websites you'll be sharing servers with?
I did a reverse IP lookup on my Bluehost server and found that 1,295 websites are using the same IP address. That's a crazy number.
Sharing a server with this many websites can have some major downsides:
If just one of those websites gets a spike in traffic or CPU/RAM usage, your site will slow down
If just one of those websites are infected with malware, your site could be infected or associated with the infected site by Google (could negatively affect SEO)
If just one of those sites sends spam emails, your domain could get blacklisted too
Bluehost themselves state that their servers are designed to support several hundred websites, not thousands, so that might explain why they're so slow.
Shared hosting can be very cost effective, but sharing with thousands of websites is just too many.
The alternative is to use shared hosting that guarantees a smaller number of sites per server, or, as I prefer, use cloud hosting and get your own IP address and guaranteed resources. See more about how cloud hosting works in my Cloudways review, or RunCloud vs Cloudways.
Dedicated hosting (where you rent your own exclusive server) is expensive and not an option for most small to medium sites.

I looked at a random site hosted on Hostinger, and found that it only shared a server with 84 websites. That's a much better number compared to 1,295.
Bluehost will put adverts on your 404 pages
While poking around in my account, I noticed that, by default, Bluehost has you opt in to allowing Bluehost advertisements on your website's 404 pages.
What?!
Uncheck that box immediately. This is really unacceptable, especially for a hosting service that you're paying good money for.
Final Verdict: Is Bluehost any good?
Ultimately, I did not enjoy testing Bluehost and found the whole experience poor. There's a lot more bad than good, so here are my final thoughts for you to think about before signing up.
9 things I hate about Bluehost
Endless upsells in your account and WordPress dashboard, it's relentless
Dark patterns, when signing up and when you've already paid (auto opted in ads on 404 pages)
Prices don't include tax, can't pay monthly, expensive compared to competition
No clear CPU or RAM limits, unclear how much traffic you can get before you get cut off with no or little notice
WordPress install is full of bloat and necessary plugins (more upsells)
TTFB is very slow, so even if you have the fastest WordPress site, it will slow you down
You'll share a server with a lot of other websites (and if they are slow or have malware, you can get affected too)
Server uses outdated PHP as standard (security risk), and need to contact support to upgrade
You have to set up email and backups yourself via cPanel or a plugin if you don't want to pay extra for premium add-ons
3 things that Bluehost does well
The custom control panel is easy for beginners to understand
Support chat resolves technical requests quickly, 24/7 chat is useful
Generous storage allowance (50GB) that you'll never exceed with 1 website
The decision is yours, but I genuinely believe that most people will be happier with either a cheaper shared hosting plan (e.g. Namecheap or Hostinger), or a slightly more expensive cloud hosting plan (e.g. Cloudways). Bluehost isn't ideal for many users.
I'll leave you with Bluehost's Trustpilot reviews.
83% "bad" is not what I'm looking for in a website host.
Not to brag or anything, but I'm glad I use Cloudways:
Bluehost Hosting FAQs
Here's everything I wasn't able to cover in more detail above.
How easy is it to move a WordPress website to Bluehost?
It's very easy to migrate an existing website to Bluehost; there's an official Bluehost Site Migrator plugin to help you do it. Bluehost don't offer managed migrations unless you pay extra.
Can I pay for Bluehost monthly?
No, Bluehost only bills you for 12, 24 or 36 month terms (aka 1, 2 or 3 years). You will be billed based on the billing period you selected when signing up. For the basic plan, the renewal cost is $7.99/month, but you will have to pay for the entire period in one go. Your account will automatically renew and you will be charged unless you turn auto renewal off.
I found a loophole in this system. After I cancelled my Bluehost account, I received an offer to sign up for 1 month, 3 months… up to 60 months. The pricing was higher than advertised elsewhere – $9.99/month. I can't guarantee that you'll get the same offer, and it's poor value anyway. For $10/month, you can get fast managed cloud hosting from Cloudways.
How do I cancel Bluehost auto renewal?

Log into your Bluehost account, go to My Products, and click the "Renew" button.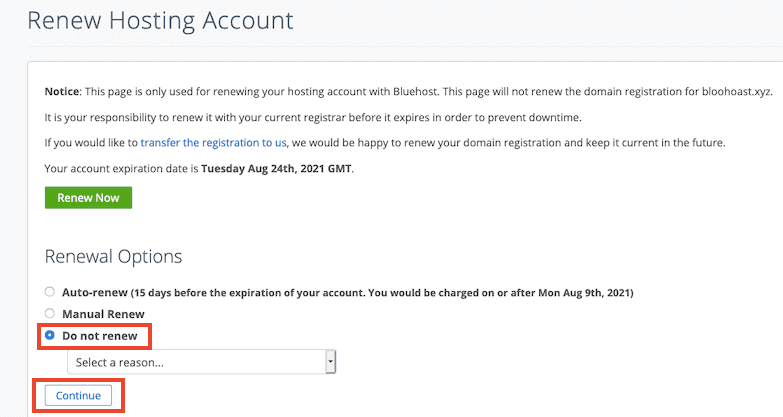 Select "Do not renew". You do not have to choose a reason from the drop-down menu. Click "Continue". Ignore all the pop-ups.
You'll now see the account expiry date and you've successfully turned auto-renew off.