A picture paints a thousand words, so the saying goes, and by now in 2020 most of us understand the importance of publishing our blog posts and articles with images to help readers stay interested in our content when they're scrolling on through.
Gone are the days where it's acceptable to do a Google image search and copy/paste any images you find (and "stealing" images can lead to you getting sued for copyright infringement).
Unless you're very good with a camera, you're going to need to find a cheap source of stock photos and royalty-free images.
This list of cheap stock photo websites includes free, open source and low-cost options for you to use on your website.
For the purposes of comparison, I will be using example stock photos with the theme of "work" to show photo quality and selection.
Let's get straight to it.
Short Answer: Best Cheap Stock Photos
Best free stock photos: Pixabay
Free access to over 1.7 million stock photos.
$16.50/month for unlimited access to over 50 million photos, plus graphics, audio and video files.
Biggest selection of cheap stock photos: DepositPhotos
Selection of over 155 million stock photos from $29/month for 30 downloads.
Take a look at this comparison table to see how different sources of cheap stock photos stack up against each other.
1. Flickr (free)
Flickr is the single greatest source of amateur photography online.
There are millions of photos available for free commercial and derivative use, provided you're able to provide correct attribution.
The good thing is the price and added authenticity of some of the images. The downside is that, as most photos are taken by amateurs, the quality is variable. Still, there are many high-quality images available, making Flickr a great first point-of-call when you're looking for a new photo, and super budget-friendly to boot.
How to find free stock photos on Flickr
Go to Flickr.com, search for the topic you need a photo for, and select "Commercial use & mods allowed" to find photos that you can use and edit freely for commercial projects. You can also use other licenses as necessary (for example, if you don't need to modify the image).
You need to provide proper image attribution, but Flickr also have a free photo embedding option that already codes the correct attribution to the creator.
2. Unsplash (free)
Unsplash is a free image library, providing thousands of high-resolution images. Unlike Flickr, you are free to use, modify and share Unsplash images without attribution.
All photos published on Unsplash can be used for free. You can use them for commercial and noncommercial purposes. You do not need to ask permission from or provide credit to the photographer or Unsplash, although it is appreciated when possible.
While you won't find images for really specific projects, if you need generic, modern photos, Unsplash will usually have something suitable, with over 1 million different images to choose from.
3. Envato Elements (from $16.50/month for unlimited photos)
Envato Elements is a cheap stock digital asset subscription service that bundles stock photography and illustrations with videos, audio, fonts and WordPress themes and plugins. At the time of writing, there are 1,055,428 royalty-free stock photos and 28,440 graphics on the platform.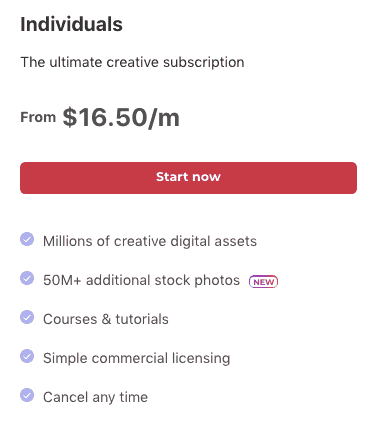 Envato Elements has the added bonus of 50 million additional stock photos, via its partnership with Twenty20.
You can access the entire library of stock photos and more from $16.50/month (excluding tax).
I particularly like the cheap subscription cost, which allows you to use unlimited photos. The illustrations and graphics are an added bonus, and if you ever need stock video and audio, then it works out even cheaper.
4. BigStock (from $79/month for 150 photos)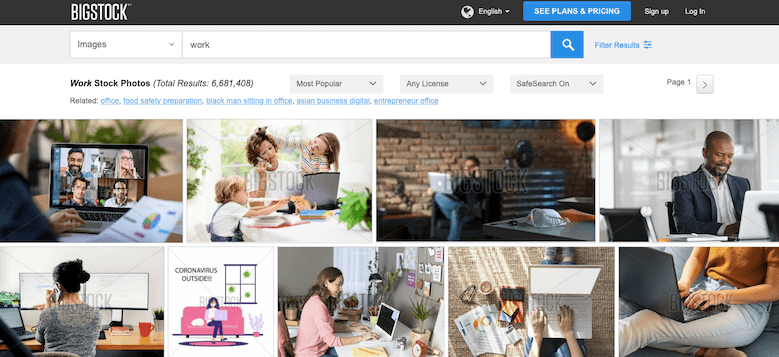 BigStock is a premium stock image service that offers a cheap subscription (150 images/month for $79, or 300 for $99). They currently have over 95 million royalty-free photographs and illustrations, which is huge. Most of the cheap and free photo sites are about a tenth of the size of BigStock, so bear that in mind when making a choice.
Compared to other large stock photo marketplaces, BigStock gives you a much more affordable price-point. If you use the 5 images/day $79/month tier, each photo will only cost you around 50 cents per image.
5. YayImages (from $29/month for 35 photos)
YayImages is a premium stock photo website, that has an ambitious goal of reaching 40 million stock images by the end of 2020. Currently, there are at least 1 million unique images on the site.
Subscription packages start at $29 for 35 images, which works out at $0.83 per photo. The $99/month package brings the per-photo cost down to a clean 50 cents.
YayImages works out much cheaper than its bigger-name competitors like Shutterstock.
6. StockUnlimited (from $79/year for unlimited photos)
StockUnlimited is a cheap stock photo marketplace with library of over 1 million royalty-free content assets, including stock photography, vectors, icons, fonts and templates.
StockUnlimited offers a range of subscription and download options. The $79/year subscription gives you unlimited downloads. With over 1 million photos, StockUnlimited is smaller than
7. Pixabay (free)
Another free stock image site, Pixabay has a larger library than Unsplash, with over 1.7 million images at the time of writing.
Image credits and links aren't required, but are encouraged to support the creators.
8. DepositPhotos
DepositPhotos is a cheap stock photo archive, with over 155 million images to choose from at the time of writing. Compared to market leader Shutterstock, DepositPhotos is about half the size (Shutterstock carries around 300 million photos), but it is far less than half the price.
For the cheapest plan, you can pay $29/month for 30 images, with additional savings if you pay annually. Shutterstock will cost you from $49/month for only 10 images.
DepositPhotos is not the cheapest stock photography resource out there, but it is the cheapest in relation to the amount of choice you will get. If having a massive library of images to choose from is important to you, DepositPhotos is an excellent cheap alternative to Shutterstock.
Cheap Stock Photo FAQs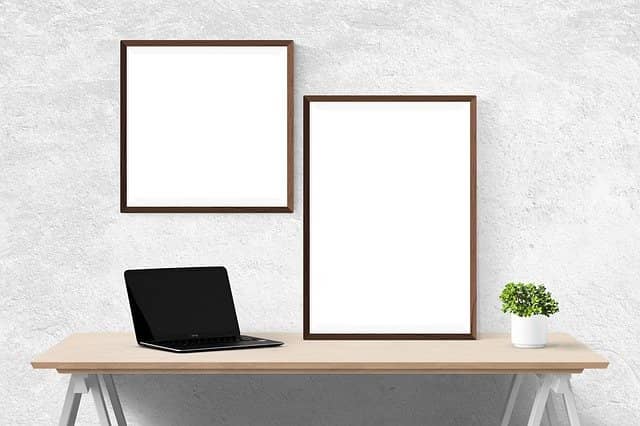 What does stock photo mean?
A "stock photo" is any image that can be licensed for use by websites or anyone that wants to use the photo. Different licensing types permit different uses.
Where can I buy cheap stock images?
Here's our  list of the best cheap stock photos sources in a handy comparison table.
How much does a stock photo cost?
Stock photos can cost anything from free to $15, depending on where you find them. Free stock photos can be found on websites like Pixabay, whereas stock photo market leader Shutterstock charges from $15 per stock image.
Where can I get free photos?
There are many free stock photo websites to choose from. Some of the most popular with the biggest selections include:
Where can I buy stock images?
You can buy stock images from many stock photography agencies, including:
Where can I get images without copyright?
Copyright-free images are classed as having a Creative Commons CC0 license, which means they are in the public domain. You can find public domain images without copyright by searching the Creative Commons database.
StockSnap.io also provides images under CC0 license, or you can use CC0 copyright-free aggregator LibreStock to search multiple sources at once (including StockSnap).
Copyright-free images still maintain some license conditions for example you "cannot imply endorsement by the author or the affirmer" (for example using a stock photo as a testimonial image). Make sure you check all license requirements before using free or paid images on any project.
Extra tips: How to find even cheaper stock photos
Check the free stock photo sites first before using premium credits
Look for coupons and free trials
Final tip: wherever you get your stock photos from, don't forget to make sure you resize and compress images to ensure fast website loading times.