WordPress is by far the most popular content management system (CMS) around, powering over 28 million websites (source, Jan 2021).
Most WordPress websites rely on organic search engine traffic for at least some of their visitor numbers, so getting WordPress SEO right is essential.
Out-of-the-box, WordPress performs ok SEO-wise, but the standard WordPress installation is lacking certain key SEO features, like the ability to set a title tag or meta description, or publish a sitemap.
That's where WordPress SEO plugins come into play. Anyone looking to drive organic search traffic from Google or any other search engine (Bing, anyone?) is forced to use an SEO plugin, short of coding their own custom solution.
And, for some reason, most people turn to Yoast SEO as their plugin of choice. In this short post, I'm going to explain why Yoast SEO is not the best WordPress SEO plugin, and why and how to switch to SEOPress instead.
Why does everyone use Yoast SEO?
If you've ever asked anyone for WordPress SEO recommendations, chances are you've heard the word "Yoast" being thrown around. Why, you ask? I think it's mostly habit.
The Yoast SEO plugin was created in 2010 (known at the time as "WordPress SEO"). It satisfied a demand for more SEO settings that the standard WordPress install lacked. In 2013, Yoast was on the official WordPress plugin repository with the very SEO-friendly URL slug "wordpress-SEO".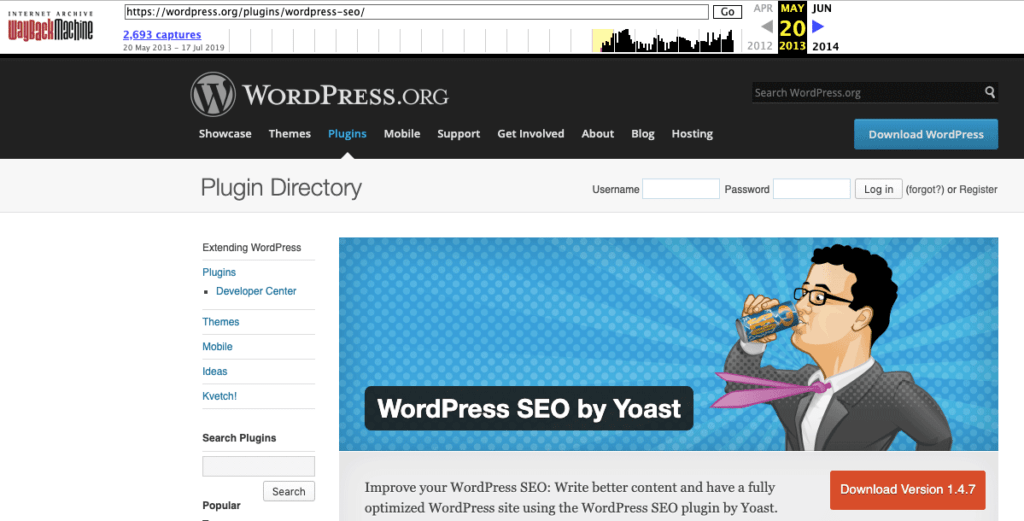 Yoast might have been the best (or only) SEO plugin back in 2010, but in 2021, there are far better options available.
The major problems with Yoast SEO
I have two major issues with Yoast SEO: security vulnerabilities and feature bloat.
Yoast's security vulnerabilities
Yoast has had several major security problems in recent years, but the most widely known was the version 9.1 vulnerability in 2018. While Yoast fixed the problem with an update, they did not communicate the issue to users and, as a result, many people carried on using the old, unsecure version of the plugin.
A quick search of WPScan will show you the numerous Yoast vulnerabilities found over the years, with the most recent being an cross-site scripting issue in July 2019.
We all know that it's good practice to keep plugins updated, but in reality many users simply forget to do so. And even updating immediately doesn't stop the original vulnerability from being eploited before the update goes live.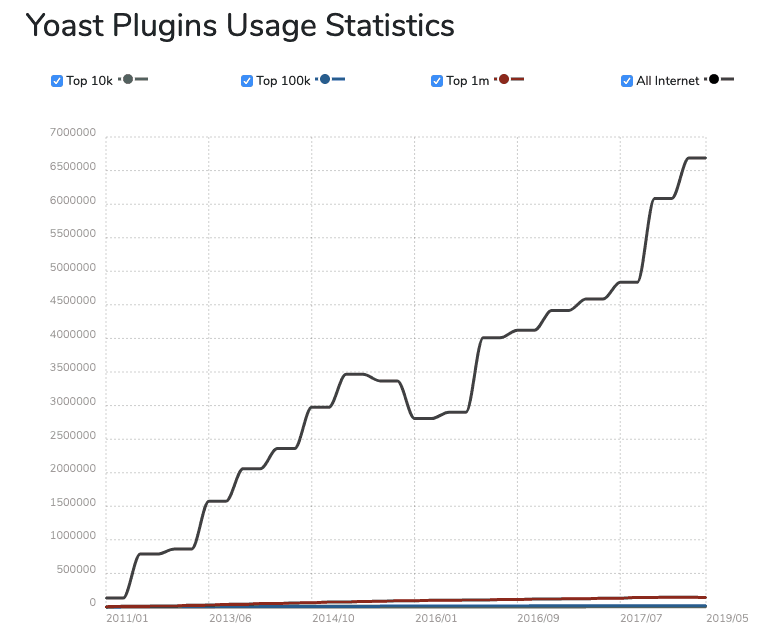 To date, almost 8 million WordPress websites have Yoast SEO installed. In fact, it's the most popular WordPress plugin on the entire web. That makes it a prime target for hackers. Coupled with Yoast's patchy track record for keeping the plugin secure, it's a risk I would not recommend anyone take with their site.
Yoast SEO caused sites to lose rankings
I think @Yoast owe the WordPress based SEO Community an apology. Pretty sure they were single handedly responsible for helping Google wipe out tons of sites with the recent core algo updates. Please get rid of that god awful default media index issue.

— Charles Floate (@Charles_SEO) May 16, 2018
Back in 2018, version 7.0 of Yoast SEO rolled out and caused a big problem for users, including reported ranking drops. In short, the bug created indexable pages for every single image upload. That's a huge SEO problem due to Google's delicate crawl budget and thin content penalties.
Oh yes, and let's not forget that it took Yoast 3 months to fix the issue with a new update.
Yoast settings are bloated and confusing
On-page SEO in WordPress is not that hard once you understand the basics. But Yoast comes with so many settings and so-called 'analysis' built-in, I believe it actually makes it harder for people (especially those that are not professional SEOs) to use.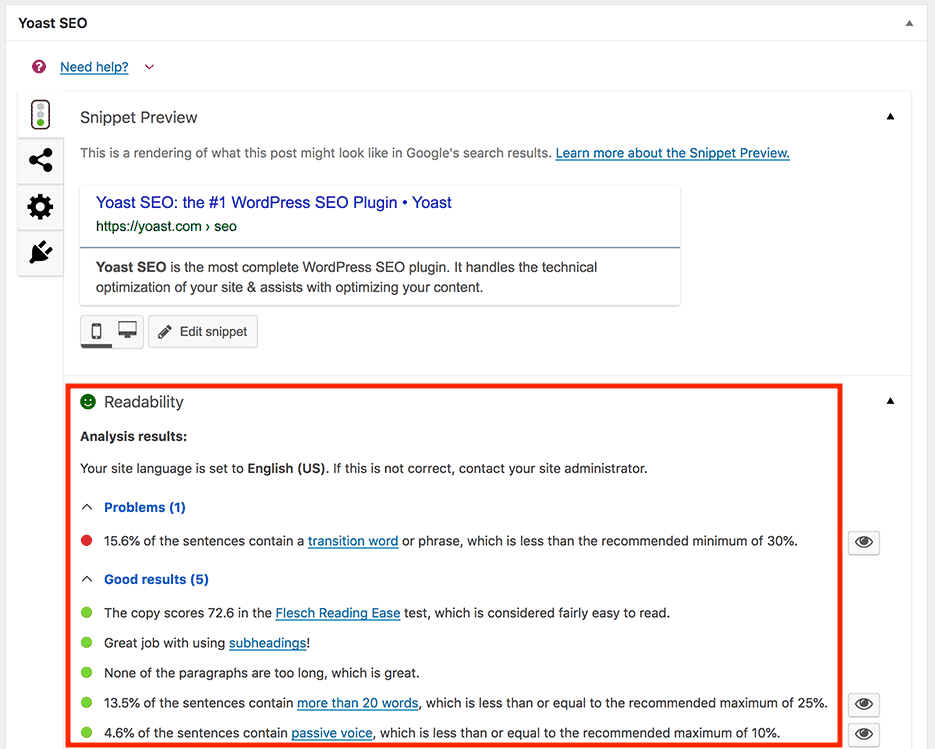 Case-in point: Yoast's readability suggestions are arbitrary at best. Blindly following these suggestions will not help your SEO, and can be a huge distraction in the post dashboard.
Why you should use SEOPress instead of Yoast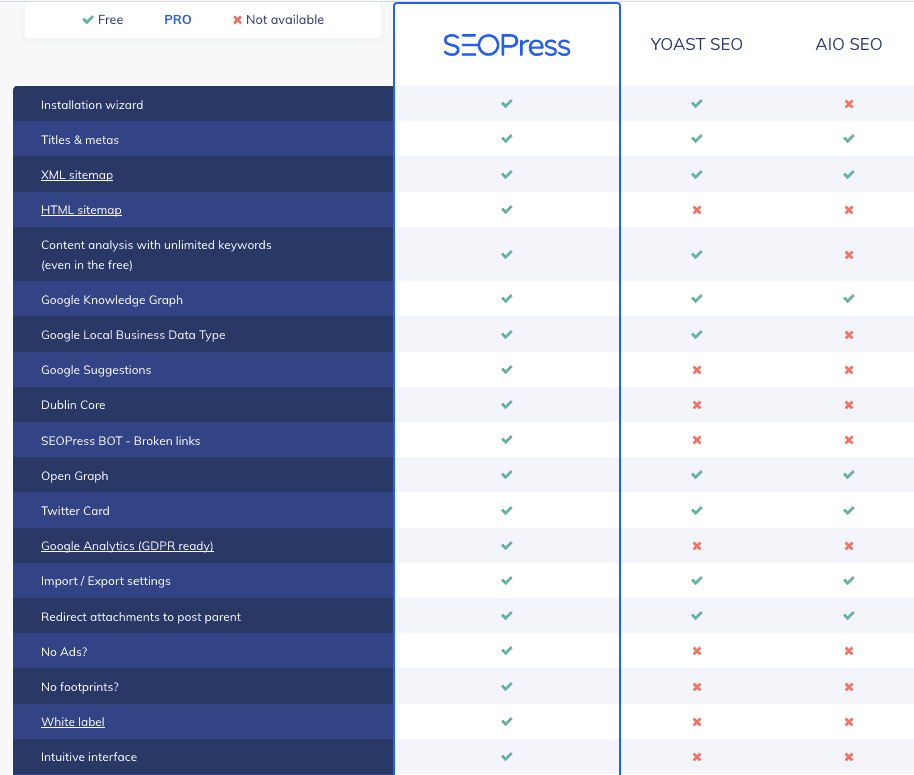 Fed up with Yoast, I made the choice to switch to SEOPress last year, and I haven't regretted it. As of last year, I've also successfully migrated all client sites away from Yoast.
Here are just a few reasons why I believe SEOPress is better than Yoast:
Fewer security vulnerabilities (none known to date)
Simple setup and interface
Advanced features available if required
Google Analytics integration
Useful content analysis (checks for keywords in H2/3 and meta, missing alt tags, nofollow links and noindex tags)
There is a premium version of SEOPress available, which has some important extra features that structured data markup (schema). But for most users, the free version will be more than enough.
How to switch from Yoast SEO to SEOPress
Switching from Yoast to SEOPress is really easy, and you can keep all your SEO data by migrating it to SEOPress. Here's how to do it.
1. Leave the Yoast SEO plugin active
Leave Yoast installed on your WordPress installation and keep it active, don't remove the plugin just yet. We need it in order to copy the data over to SEOPress.
2. Install and activate SEOPress
On the WordPress admin sidebar, go to Plugins > Add New and search for SEOPress.
Click "Install Now" and then, once the plugin has been downloaded, hit "Activate".
3. Migrate Yoast data to SEOPress
On the Dashboard sidebar, click the SEOPress tab and then Tools.
Navigate to the Plugin tab and under "Import posts and terms metadata from Yoast" hit "Migrate Now".
You'll see green text stating "Migration Complete" once it's all finished (it won't take long).
4. Check that your meta descriptions have transferred correctly
Go into the Plugin dashboard and deactivate Yoast SEO.
Double-check your meta descriptions and other settings have been trasferred correctly by going into a post and looking at the SEOPress settings.
You should also go through the SEOPress settings to make sure everything's setup how you want it.
5. Delete the Yoast SEO plugin
Once you're confident that your SEO settings are correct, it's time to do the honors and delete the Yoast SEO plugin for good.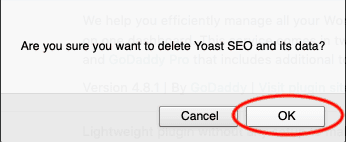 Yes, I'm sure. Bye!