Thrive Theme Builder is a new WordPress theme from Thrive Themes. You may know Thrive Themes as the company behind Thrive Architect (read a review or see it in action here), a visual page builder plugin, and popular WordPress themes like Pressive, Rise and Squared (see examples here).
Thrive Themes members have been waiting over 2 years for Thrive Theme Builder to get out of beta and finally be released for sale. Yes, you read that correctly: Thrive Theme Builder has been in development for over 2 years! I first wrote about it way back in 2018, when it was known as Thrive Visual Theme Builder.
That's a long time!
Now it's finally out, it's time to dig into how Thrive Theme Builder works, what its features are, how it sizes up to the speed and usability of other themes, and whether it's worth switching to in 2020.
Let's dive into it.
What is Thrive Theme Builder?
Thrive Theme Builder is a visual theme builder framework for WordPress, which allows you to build, edit and customize your WordPress website using a drag-and-drop interface.
Thrive Theme Builder is essentially a theme framework with the functionality of Thrive Architect's visual editor baked right into it: instead of making CSS changes to your theme design, simply drag and drop elements.
Thrive Theme Builder works alongside companion themes. Think of it like Genesis or Thesis: Thrive Theme Builder is a framework that you can use to build your own WordPress theme. The first companion layout to launch alongside Thrive Theme Builder is called Shapeshift.
Thrive Theme Builder is a brand new theme, built from the ground up. It's not an update of any of Thrive's previous themes, which are now no longer being updated, although they remain available to members.
Why did Thrive Themes stop updating their old themes?
If you've heard of Thrive Themes over the last 6 years or so, you'll probably be familiar with some of their popular themes, like Pressive or Rise.
A few years ago, Thrive stopped selling individual themes, and only made them available to subscribed members. They also stopped updating all their old themes in 2018.
Why did Thrive stop selling their popular themes? Because they wanted to develop one new super theme instead: Thrive Theme Builder.
In the words of Thrive Themes founder Shane Melaugh:
We stopped selling our previous themes and we stopped updating them… we don't want to make incremental improvements anymore, we don't want to slowly build up… We wanted to completely revolutionize this product and that's what we did and that's also why it took so long.
When does Thrive Theme Builder launch?
Thrive Theme Builder officially launched on the 2nd of March, 2020.
Thrive Theme Builder is available to current Thrive Themes Members. Members also have free access to the first Thrive Theme Builder companion theme, called Shapeshift.
If you want to buy Thrive Theme Builder as a stand-alone theme, you'll need to wait a bit longer as it's not due for release for at least a few months (perhaps June 2020).
Can I upgrade from an old Thrive Theme to Thrive Theme Builder?
Yes, anyone can change their WordPress theme to Thrive Theme Builder. The process will require a complete theme change, even if you already use Rise, Squared or Pressive or any of Thrive's old themes.
The user interface and features in Thrive Theme Builder are completely different to Thrive's old themes, so bear that in mind if you want to switch over.
What can Thrive Theme Builder do?
Everything about your entire WordPress website is now editable the way a page is editable in Thrive Architect.
With Thrive Theme Builder installed on your WordPress site, every single element can be edited using a drag-and-drop visual editor, including:
Header
Footer
Single post
Single page
Blog page
Archive page
404 page
Content area
Page layout
Sidebar
Author box
Post meta
Related posts
Social sharing
Breadcrumbs
That's essentially it. Thrive Theme Builder can be easily customized to provide any WordPress website layout you need.
As well as customizing everything about your WordPress theme, Thrive is also developing pre-designed templates for you to edit. There's only one at the moment (Shapeshift), but more are in the pipeline (watch this space).
How does Thrive Theme Builder work?
Once you've installed and activated Thrive Theme Builder, you can install Thrive's companion theme as a starting point for your website design.
The first companion theme is called Shapeshift. There will be more added in the near future, but having just one is not a big deal, since everything about the theme is completely customizable.
How to use Thrive Theme Builder to customize your WordPress website
First up, you're going to want to go into the Site Wizard setup, which takes you through the basic elements of your site: from logo upload to archive page layout.
Some steps are very simple (like logo upload), while others give you more choices. For example, while in the header editing panel, you can choose from a bunch of pre-designed header layouts. Plus, don't forget, you can make tweaks to any of the header templates you choose.

Simply carry on through the wizard and choose the layout that suit you. It's very easy to navigate and select from the available options.

Sidenote: sometimes, the hardest thing about designing a website can be to know how you want each website to look. Before you start customizing Thrive Theme Builder, pick a couple of websites you like the look of so you have something to inform your design.
Overall, I really like the editing interface in Thrive Theme Builder. It's very similar to Thrive Architect, and you can tell that the company has had plenty of years of experience getting things right. It's clear and simple to use, and the tooltips in the Site Wizard make it easy for beginners to find their way around.
Complete Thrive Theme Builder Setup Tutorial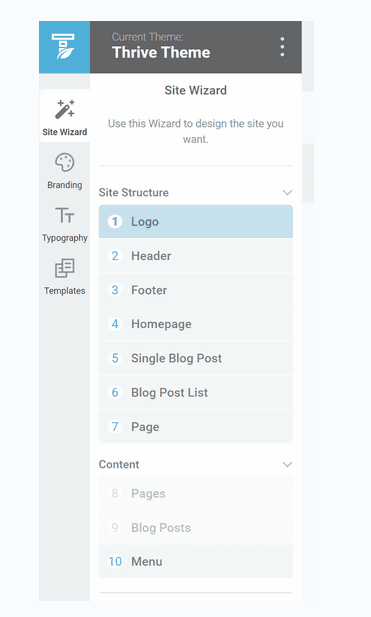 Editing theme elements with Thrive Theme Builder is very similar to editing landing pages in Thrive Architect – you select an element, then make changes using the drag-and-drop options.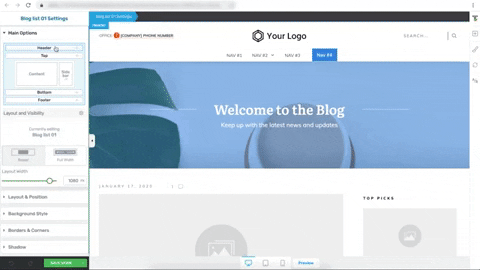 For a complete Thrive Theme Builder tutorial, try this free video and written guide (video is 1 hour long), taught by Thrive creator Shane Melaugh.
The tutorial takes you through basic theme setup, from typography to template page design. It also takes you through some conversion optimization design ideas that are ideal for solopreneur websites.
If you're switching from an existing WordPress theme, don't forget to move over any custom code or settings from your old theme. My guide on how to switch to GeneratePress will help you remember what you need, even if you're switching to Thrive Theme Builder instead.
Thrive Theme Builder Demo and Examples
The best way to get a feel for a new theme and see how it performs is to look at it on a real website.
There is an official demo of the Shapeshift theme for Thrive Theme Builder you can look at.
Thrive's founder Shane Melaugh also uses Thrive Theme Builder on his marketing blog, ActiveGrowth.com, so let's take a look at how it looks and performs on a couple of speed tests. (Note: Shane is using the beta version of Thrive Theme Builder so the final version may perform differently).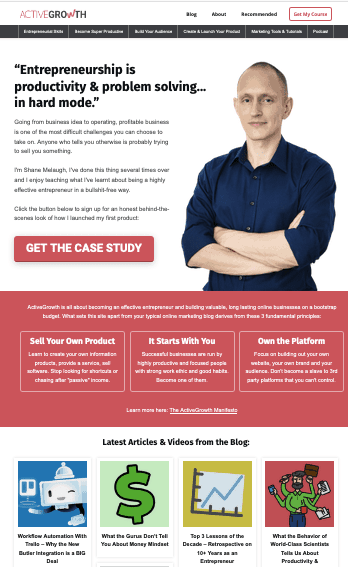 Visually, ActiveGrowth.com is good example of a personally branded marketing site, with a large hero image and clear call-to-action for a case study and course. The menu is very clear, and further down the page, there are a few page sections and nice blog archive.
However, looks can only get your website so far, and I'm more concerned about how the site performs speed-wise (important for both SEO and UX).
Spoiler alert: it's not good.
How fast is Thrive Theme Builder?
The homepage for ActiveGrowth.com, currently running Thrive Theme Builder, took 3.721 seconds to load a page size of 5.7 MB.
ActiveGrowth is hosted by WPX Hosting, which is performing well as you can see from the TTFB (time to first byte) speed of 0.113 seconds.
What's slowing the page down is the sheer size of it – 5.7MB is just too large. Most of the bulk is coming from images.
The theme is pulling full-size thumbnails in the archive view. For example, this small graph icon is a whopping 4MB:

There's just no need to have such large image files in tiny thumbnails. This problem could be solved manually (upload smaller files, use a plugin like ShortPixel to compress images), but it's important to note that Thrive Theme Builder does nothing to fix this issue on its own.
As a result of these massive images, ActiveGrowth only gets a mobile speed score of 9/100 on Google's PageSpeed Insights, and 62/100 on desktop.
I also tested a landing page to get a better idea of how the site loaded, and the result was actually worse, scoring 8/100 on mobile and 60/100 on desktop:
Again, these slow speeds are down to pulling massive images from blog post thumbnails.
Because Thrive Theme Builder lets you build a related posts feature (which is a good thing), the issue of large thumbnail images becomes a problem across the website.
Takeaway: If you use Thrive Theme Builder, do not neglect image compression or your site speed will suffer.
I'm not the only person to notice Thrive's speed issues: in response to a comment on their blog, Hanne from Thrive Themes also stated that Thrive Theme Builder is best-suited to users looking for easy design control, not barebones speed:
If all you need is a basic but blazingly fast website, Thrive Theme Builder is probably not your best pick (we'll never beat a handcoded website). If on the other hand, you want full drag-and-drop customizability, conversion focused design and a fast loading site we're confident that Thrive Theme Builder is what you're looking for.
Got to respect that honesty.
Thrive Theme Builder FAQs
What is the difference between Thrive Architect and Thrive Theme Builder?
Thrive Architect is a visual page builder plugin that you can use to design individual WordPress pages and posts. Thrive Theme Builder is a WordPress theme that you can use to create layout templates that work across your website.
Both Thrive Architect and Thrive Theme Builder offer drag-and-drop visual design, but Thrive Theme Builder is for creating theme elements (e.g. archive page layout or footer layout), whereas Thrive Architect is for creating individual pages and posts.
Do I still need Thrive Architect if I use Thrive Theme Builder?
No, you don't need Thrive Architect to use Thrive Theme Builder. However, if you join Thrive Themes as a member, you'll have access to both.
Is Thrive Theme Builder a plugin?
No, Thrive Theme Builder is not a plugin, it is a theme. You need to use it as your only WordPress theme.
Does Thrive Theme Builder work with WooCommerce?
No, at the moment Thrive Theme Builder is not compatible with WooCommerce. However, Thrive have said they are working on adding WooCommerce features in a future update to the theme.
Can I buy Thrive Theme Builder as a stand-alone theme?
No, currently Thrive Theme Builder is only available to Thrive Themes Members. This is because Thrive wants to keep the theme roll-out slow in order to stay on top of support requests and potential bugs. They anticipate releasing the theme as a stand-alone product in the next few months (from June 2020), but have not announced an official release date yet.
Can I still use an old Thrive Theme?
Yes, the full set of previous Thrive Themes (Rise, Squared, Luxe, Storied, Performag, FocusBlog, Pressive, Minus) are still available with Thrive Themes Membership. However, they are no longer receiving updates.
Do I need to use a child theme with Thrive Theme Builder?
No, Thrive Theme Builder does not require child themes. You can design your layout using Thrive Theme Builder from scratch, or start with a pre-designed template (supplied by Thrive), like Shapeshift.
Are there any Thrive Theme Builder coupons or discounts?
To their credit, Thrive Themes is one of the few WordPress development companies that do not use coupon codes or offers to increase sales. Even during Black Friday and Cyber Monday, Thrive Themes donate to Kiva.org instead of discounting products.
The cheapest way to get Thrive Theme Builder is to sign up for the annual Thrive Themes Membership plan, which works out at $19/month ($228 paid upfront).
If you sign up for the quarterly plan (every 3 months), it works out at $30/month ($90 per quarter, paid upfront).
If you cancel your Thrive Themes Membership at any time, you will still keep access to all their plugins and themes (including Thrive Theme Builder) and you will continue to receive updates for all products you've already installed.
Final Verdict: Is Thrive Theme Builder worth it?
Pros:
✅ Drag-and-drop editing
✅ WYSIWYG editor
✅ Unlimited layout options
✅ Responsive design
✅ Works great with other Thrive plugins
✅ Good tutorials and documentation
✅ Cheaper than other themes if you're already using other Thrive plugins
Cons:
❌ Slow loading times compared to faster WordPress themes
❌ No SEO features
❌ Does not work with Woocommerce
❌ Only available to Thrive Themes Members
So is Thrive Theme Builder worth switching to in 2020? The short answer is, no.
I've been using WordPress for a while now, so I admit that I'm no beginner when it comes to making code tweaks to CSS and PHP files to get WordPress to perform, which means I'm not the target market for Thrive Theme Builder. However, I'm not a developer either, and still rely on well-coded and designed WordPress plugins and themes to get the functionality I need.
I'm telling you this because while Thrive Theme Builder promises to be very easy to use – simply drag-and-drop to build theme templates with no coding knowledge – the problem with slow loading speed is not worth it, even if it can make your website look nicer.
If you drive website traffic using SEO, or value your users' time while they browse your pages, you should use the fastest WordPress theme possible. And Thrive Theme Builder is not it. Designing with conversion optimization in mind won't work if customers get fed up with slow loading speeds and Google overlooks your landing pages.
In my 2020 report, GeneratePress out-performed the other top-selling WordPress themes on the market in terms of speed. That's why I use GeneratePress Premium on this site, and that's why my site gets 97/100 on mobile and 100/100 on desktop on cheap $10/month Cloudways hosting.
Check the score for yourself.
I recommend all small businesses and independent bloggers focus on having a site with ok design and lightning fast speed any day of the week.
If Thrive Theme Builder gets faster in a future update, I'll happily take another look and recommend it. Keep your eyes peeled for updates.