Thrive Apprentice is a popular WordPress course plugin (sometimes called an LMS – Learning Management System) from Thrive Themes that allows anyone to sell a courses and digital products on their WordPress site.
But how do you know if Thrive Apprentice is right for you? Looking at a demo site, showcase or sales page might give you a list of features and glossy mock-ups, but the only way to get a feel for how a plugin can really look and perform is to see it in action in the wild.
And that's exactly what you'll get here: below are 4 examples of real sites using Thrive Apprentice to power their courses. I'll take you through which of Thrive Apprentice's features each site is using and how fast (or slowly) pages load, so you can make your own mind up about the plugin.
Let's get straight to it.
1. Ikario.com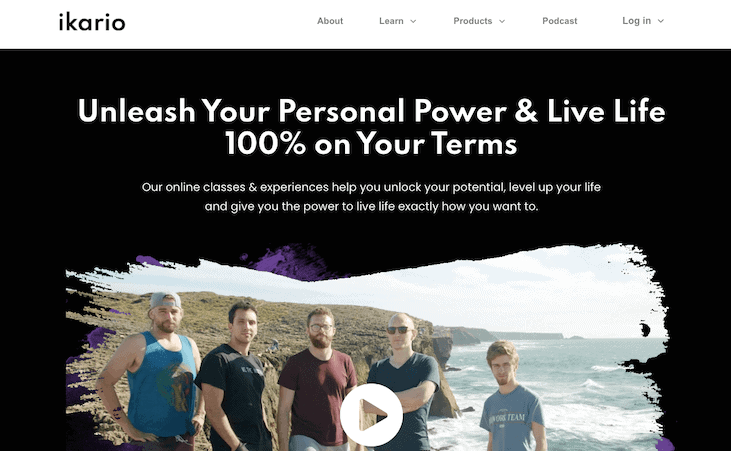 Ikario is a self-improvement site that was co-created by Thrive Themes co-creator Shane Melaugh. Small world! Ikario offers a range of courses on finance, entrepreneurship, and personal development. Here's how Thrive Apprentice looks on the main course overview page: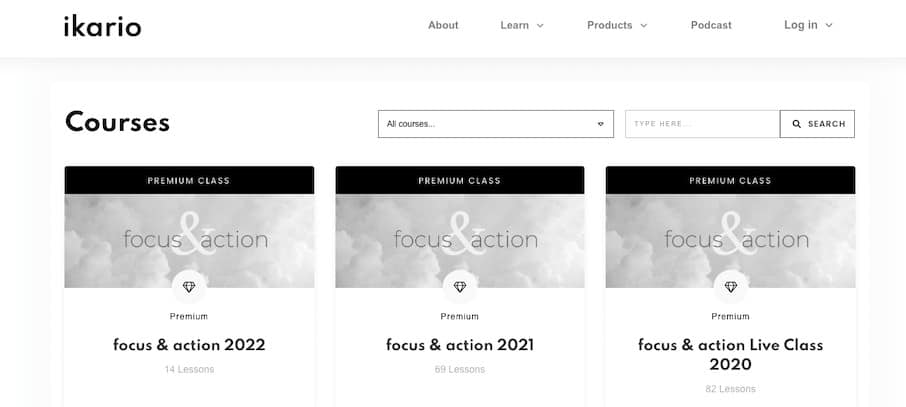 If you click into a specific course, you'll see the course landing page with a video explaining what it's about, how may lessons it is, and a progress counter (which you can use to mark your progress if you're logged in):
Further down the page, you'll see a course outline, explaining what you'll get from each lesson. Getting an overview is great, but I'd really like to see how long each lesson will take beforeI commit to a course, even if it's just an estimate.

There's also an author box at the bottom so you know who's teaching the classes:

If you really want to get a feel for how Thrive Apprentice performs, you can even sign up for a free course on Ikario and take it for a test drive. Don't forget that the main purpose of your course or membership program is to provide value to your users, so the front-end of any course plugin matters a lot.
The main course landing page loads fairly quickly on desktop, even with an embedded video and plenty of external scripts (incl. Facebook, Hotjar, and Google Analytics).
Google's PageSpeed Insights gives the course landing page a score of 81/100 on desktop, however the mobile score is only 20/100. I don't think this will be a major issue for the site, as I'd imagine most people will be using a laptop with a good internet connection when sitting down to take a course.
If you think a portion of your audience will want to take your course on mobile, you might want to check the loading speeds of other LMS examples to see if they can improve on these scores.
2. AccordionLove.com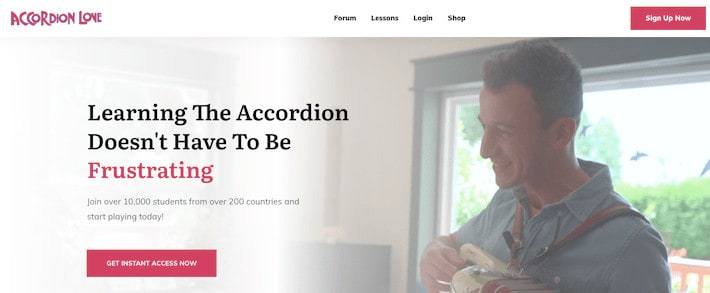 Accordion Love offers courses on how to learn to play the accordion, run by accordion teacher Ronen. In addition to using Thrive Apprentice to power all of his courses, Ronen also uses other parts of Thrive Suite on the site, including Thrive Architect to design landing pages, and Thrive Leads to manage email sign-ups and make pop-ups like this one: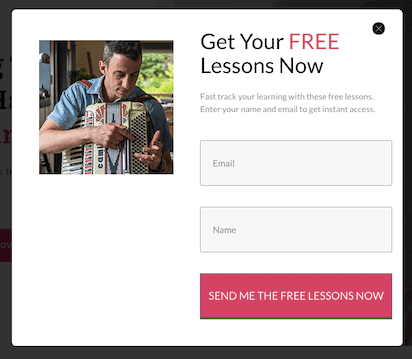 Accordian Love's main course page is similar to Ikario's in terms of layout, but showcases the way Thrive Apprentice lets you style your content by using bright green accents. Each course is tagged with its format (text, video, etc), the number of lessons, and if it's available for all visitors or members only.
On an individual course page, there's a header image and overview of the course chapters in the right sidebar. Users click into each course lesson to go to the relevant page:
Right now, Accordian Love is using Thrive Apprentice alongside MemberMouse, a WordPress membership plugin that allows you to accept payments, sell products, and manage members-only parts of a site.
Thrive Apprentice integrates with membership plugins like MemberMouse and MemberPress, BUT as of January 2022, it now offers the same features itself, saving users the hassle (and expense) of getting additional plugins. I'd expect the creator of Accordian Love to transition away from MemberMouse in the near future (we'll see what happens….).
Unlike Ikario, Accordian Love doesn't load quickly on desktop, with a random course page achieving only 26/100 on Google's PageSpeed Insights tool, and a worse 16/100 on mobile.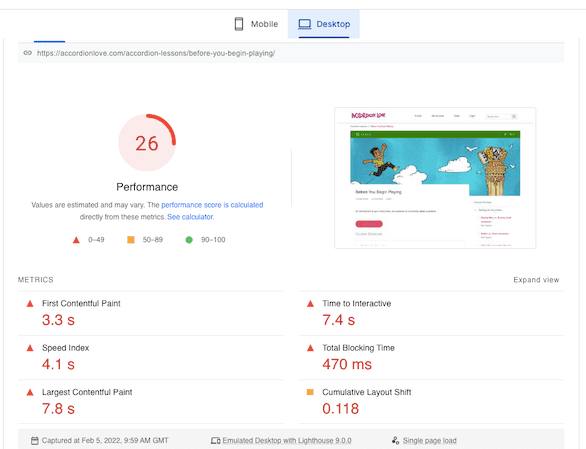 Generally, course-takers will spend a lot of time on a single page, especially if there's video to watch on there, so slow loading times aren't going to be too frustrating. Something to bear in mind.
3. Vocalize.fr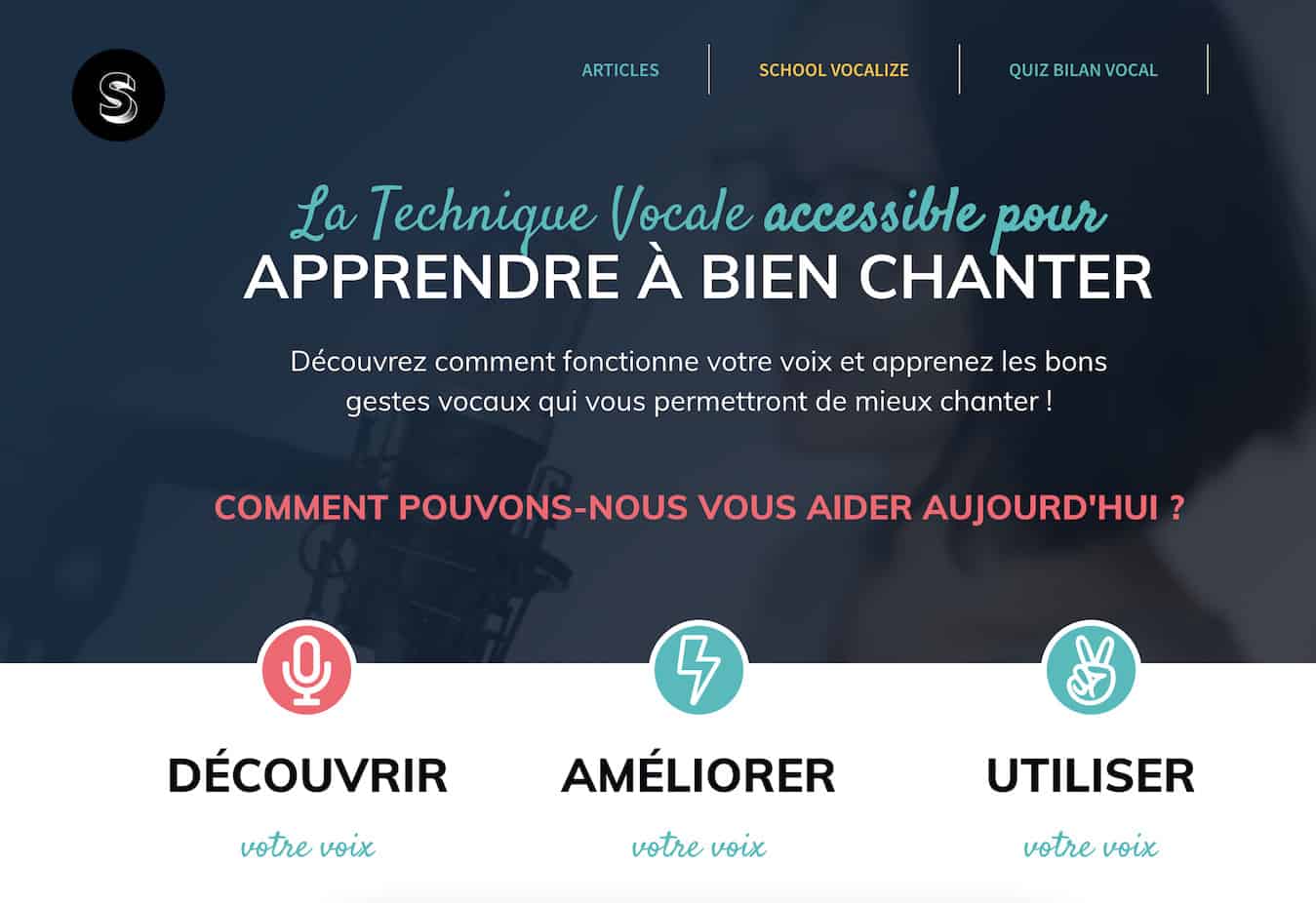 Vocalize.fr is a french-language website offering courses in singing techniques. Its creator, Vahn, offers a range of e-learning courses, live classes, and a private community.
Vahn uses Thrive Theme Builder and Thrive Architect to build her membership landing page, and offers members a monthly or annual subscription instead of charging for courses on an individual basis:
The site uses Thrive Cart (no relation to Thrive Themes!) to power the payment process:
It's also nice to see good use of Thrive Quiz Builder, another part of Thrive Suite, on the site, with a quiz that helps undecided members learn if the courses on offer will suit them.
4. Thrive University
Thrive University is Thrive Themes' official course repository. Unsurprisingly, Thrive University is an amazing showcase of how Thrive Apprentice can be used, plus you'll actually find courses on there to help you learn how to use the plugin!
Thrive University offers both free and premium courses, and they're all visible in a tabbed window on the main course landing page:
One slight issue I noticed is that the description of some courses is cut off and you need to scroll to read more, making it difficult to skim-read what each course is about.
Popular courses are highlighted at the top of the page, and premium and free courses are in separate sections (sidenote: if you're looking for a good SEO course, Thrive's premium SEO Sprint course is worth considering!).
The course layout is excellent – you can see a summary of each lesson on the left sidebar, and the lesson videos, text and resources are on the right. There's even a comments section on each lesson so you can ask questions or see what others thought of it.
To try it for yourself, have a look at this free course on how to sell online courses with Thrive Apprentice.
Speed-wise, Thrive University performs poorly, even on desktop, with a page load time of over 16 seconds.
While this seems terrible, most of the loading issues came from a poor server response time (also known as TTFB or Time To First Byte), which is down to poor hosting rather than any plugin performance.
Is Thrive Apprentice worth it?
Based on the examples you've seen above, you should now have a good idea about whether Thrive Apprentice is right for you. If not, you'll find a lot more information about individual features and how they work on the official sales page.
As of February 2022, Thrive Apprentice is available as a standalone plugin (for $97/year), or as part of a Thrive Suite membership ($299/year), which will also give you access to all of Thrive's other products, including Thrive Theme Builder, Thrive Leads, and Thrive Architect.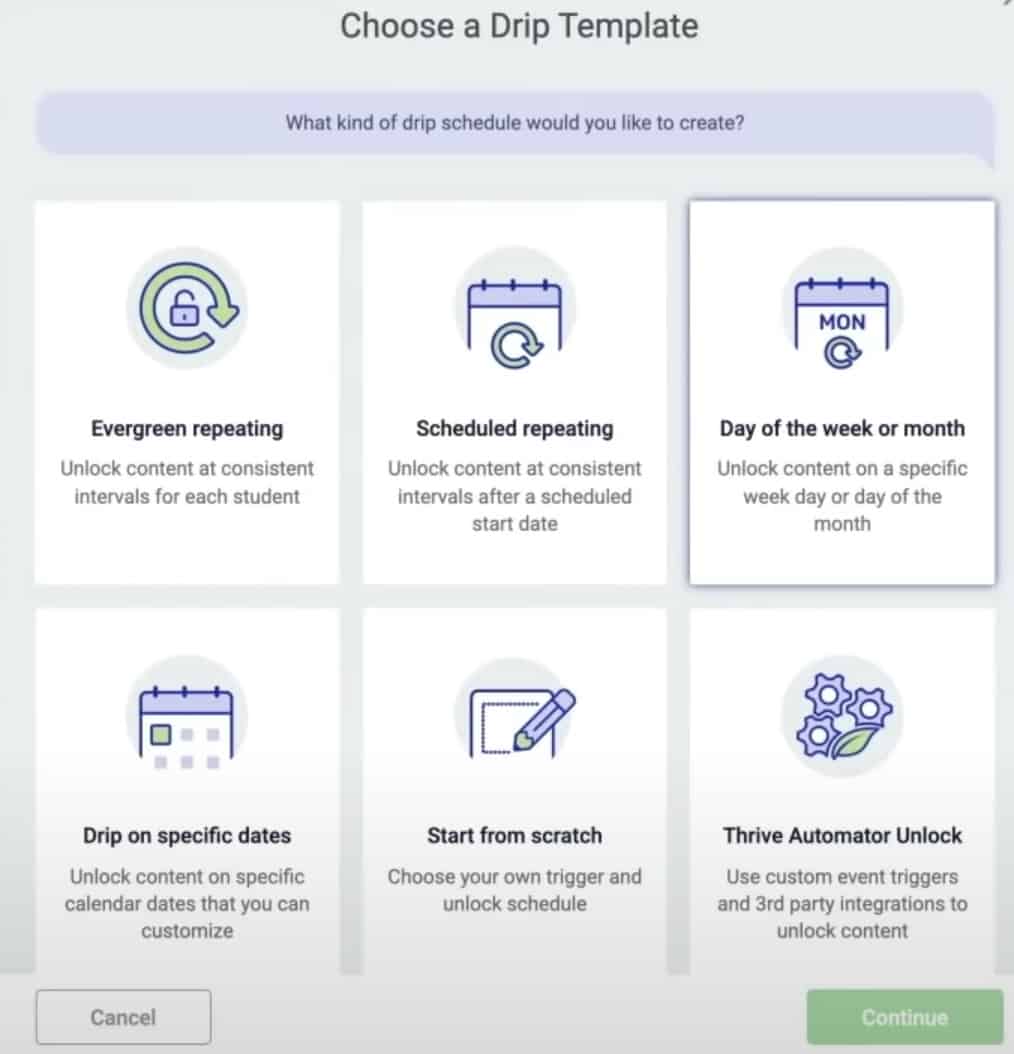 Now that Thrive Apprentice 4.0 has been released, there are a ton more premium features included in the plugin, giving you the option to sell digital products (ebooks, pdfs, docs etc), and drip course lessons. That means Thrive Apprentice can replace other expensive plugins like MemberPress and Easy Digital Downloads.
What's more, Thrive Apprentice works well with the rest of Thrive Suite, as you can build a complete membership site on WordPress from scratch without worrying about compatibility, plus you get help from all of Thrive Themes' tutorials (see Thrive University!).
Ultimately, Thrive Apprentice offers a better price to feature ratio than its more expensive competitors (i.e. LearnDash and LifterLMS), and it integrates perfectly within the Thrive ecosystem. There are a couple of irritating issues I spotted (e.g. cut off descriptions, lack of a course length tag), and website speed could be an issue.
If you're looking for a free alternative, there's always LearnPress, which is currently used on over 100k WordPress sites.
And that's a wrap! If you'd like to see an example of how Thrive Apprentice looks in the WordPress dashboard, I recommend this tutorial on how to create a course in Thrive Apprentice.