There are plenty of membership websites out there, and a good selection of them use WordPress as the site's backbone. To fully transform WordPress into a membership site will require a ton of coding, or the addition of a membership plugin.
Enter: MemberPress. One of the most popular WordPress membership plugins on the market.
Before you take the plunge and commit to buying MemberPress for your website, look at these 7 MemberPress examples – real, live popular membership sites that rely on the plugin for their functionality. You'll learn how MemberPress can function in the real world, and make an informed decision about whether it's the right membership plugin for you.
I've tried to cover a wide range of sites to give you plenty of different use-cases for MemberPress, from music lessons to medical journals.
Let's get to it.
What is MemberPress?
MemberPress is a premium WordPress membership plugin that lets you add membership options to your website to create members-only content, accept payments, create member profiles, gate content behind a login and/or paywall, sell digital downloads and more.
MemberPress is currently used by over 17,000 live WordPress websites.
MemberPress costs from $249 for a 1-site license and 1 year of updates, although it is almost always available on sale for $149.
7 MemberPress Examples
1. IdeaPod
Theme: Bimber
Plugins: MemberPress, WP Rocket, WooCommerce
Traffic Estimate: 530,000 monthly pageviews
Hosting: routed through Cloudflare
IdeaPod.com is a hugely successful course platform that offers a range of masterclasses and workshops on creativity and self-improvement. According to the site, over 10,000 people have taken IdeaPod's masterclasses.
Functionality-wise, IdeaPod relies on a combination of MemberPress and WooCommerce to sell and administer courses. They also use WebinarJam to deliver webinars.
2. SkillCrush
Theme: Custom
Plugins: MemberPress, WP Courseware, PopupAlley Pro
Traffic Estimate: 680,000 monthly pageviews
Hosting: GoDaddy
SkillCrush.com is an online coding, design, UX and marketing course platform. According to their site, over 19,000 students have taken courses on SkillCrush.
SkillCrush uses MemberPress on its course subdomain learn.skillcrush.com. If you want to get a feel for what it's like to sign up and use the MemberPress plugin from a front-end perspective then you can take a SkillCrush course for free.
3. See Jackson Hole
Theme: Enfold
Plugins: MemberPress, ElasticPress, WP Rocket
Traffic Estimate: 100,000 monthly pageviews
Hosting: routed through Cloudflare
SeeJH.com is a travel information site centered on the Jackson Hole area in Wyoming. SeeJH offers membership packages with access to ad-free and high-resolution webcam feeds. Members selecting the annual option unlock additional perks like merchandise and activity discounts.
SeeJH is a great example of a website with a really focused niche audience using membership to generate revenue and provide premium features to users.
4. Salesforce Ben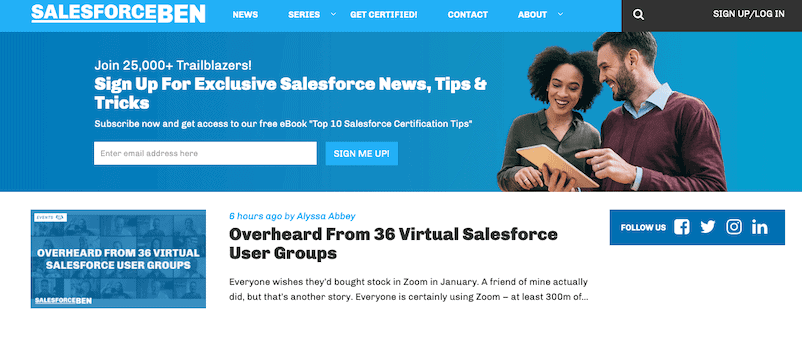 Theme: GoMedia
Plugins: MemberPress, The Events Calendar
Traffic Estimate: 180,000 monthly pageviews
Hosting: routed through Cloudflare
SalesforceBen.com is a Salesforce blog, which helps teach people how to use Salesforce, a popular customer relationship management (CRM) tool.
Salesforce Ben has more than 5,000 members, and uses MemberPress to administer members. Lifetime membership costs $20 and provides access to Salesforce guides and mock exams. Payments are processed by PayPal, which is integrated with MemberPress.
I like that Salesforce Ben offers simple and clear membership pricing, and the cost makes it easy for potential members to see the benefit of signing up.
5. SmartRapper
Theme: Astra
Plugins: MemberPress,  Elementor
Traffic Estimate: 71,000 monthly pageviews
Hosting: BlueHost
SmartRapper uses MemberPress to administer their members-only community called Rapper's Shortcut. Inside, members can access courses on how to rap and write rap music.
Unlike some membership sites, SmartRapper only opens membership at certain times during the year.
6. The Journal of Urgent Care Medicine
Theme: Spacious
Plugins: MemberPress,  Elementor
Traffic Estimate: 30,000 monthly pageviews
Hosting: routed through Cloudflare
JUCM.com is the official website of The Journal of Urgent Care Medicine.
JUCM uses MemberPress to manage their free and paid subscription options – readers can subscribe to access print and digital versions of the peer-reviewed journal. Once logged in, members can access a PDF journal archive dating back to 2006.
7. Vicious Syndicate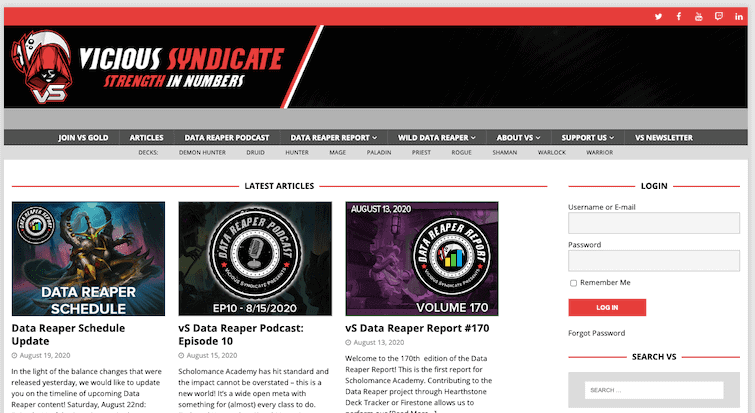 Theme: MH Magazine
Plugins: MemberPress, Jetpack
Traffic Estimate: 235,000 monthly pageviews
Hosting: routed through Cloudflare
ViciousSyndicate.com is a fan community and game data site for the digital card game Hearthstone.
Vicious Syndicate use MemberPress to offer vS Gold, a premium membership tier where members can access an exclusive app with game data. There's also a free trial option, something that MemberPress makes possible
MemberPress Alternatives
As you can see from the diverse examples above, MemberPress is very flexible and can be utilized on many types of website, to provide membership for multiple different purposes, from magazine subscriptions to app access, exclusive training to mock exams.
Think MemberPress is not quite what you need? Here are some alternative WordPress membership and course plugins you may prefer: