Divi is the world's most popular WordPress theme, so naturally you're considering using it on your website.
Sure, you can play around with the Divi demo to get a feel for how it works. But, if you're anything like me, you'll be curious to look at how other real websites are using Divi. It's one part inspiration-seeking and one part unashamed nosiness!
In this post, I'll show you Divi examples from popular websites and small independent sites. I've also included some website stats to help you see how much traffic they get, website speed and hosting, and which WordPress plugins they use. Because looks aren't everything!
Just looking to buy Divi? Get 20% off Divi with this link.
What is the Divi theme?
Divi is a WordPress theme created by Elegant Themes and first launched in 2013.
Today, Divi is used on over 1.3 million WordPress websites. That's more than double the number of users of the second-most-popular WordPress theme, Avada.
Divi is available as part of an Elegant Themes membership and is definitely one of the more expensive WordPress themes available. You can pay $89/year or $249 for lifetime access.
Tip: Divi is always discounted during Black Friday and Cyber Monday and if you can wait until then, you'll get a sizeable discount (last year it was 25% off).
Plus, you can get is 20% off Divi if you use this link (no coupon code required).
Why is Divi so popular?
Divi's popularity among WordPress users is likely down to its flexibility: you can create almost any type of website using Divi.
As you'll quickly spot in the following examples, there's almost no limit to what you can build using Divi.
7 Awesome Divi Theme Examples
1. SkillSurvey.com
Theme: Divi
Plugins: Social Polls, WP Simple Firewall
Traffic Estimate:  574,000 monthly pageviews
Speed: 10.7 seconds to load 3.3MB
Hosting: Rackspace
SkillSurvey.com is a reference checking service for employers. The homepage looks great (and it's not immediately obvious they are using WordPress!), and manages to organize a ton of information in a way that's easy to read. There's a nice testimonial section and a well-structured footer with useful site links.
SkillSurvey is a good example of how you can use Divi to create a professional business website.
In terms of speed, SkillSurvey has some room for improvement – it took over 10 seconds for the homepage to fully load.
2. InfinityDish.com
Theme: Divi
Plugins: Popups For Divi
Traffic Estimate:  225,000 monthly pageviews
Speed: 4.5 seconds to load 2MB
Hosting: Routed through Cloudflare
InfinityDish.com is a television and internet service provider. They pack a ton of visuals onto their homepage, with eye-catching graphics, photos and a red, black and white color palate.
Given all the graphics, InfinityDish loads reasonably quickly (fully loaded in 5.5 seconds) and manages to keep the homepage size down to 2MB.
3. Lycamobile.us
Theme: Divi
Plugins: Contact Form 7, Lazy Load
Traffic Estimate:  470,000 monthly pageviews
Speed: 39 seconds to load 2MB
Hosting: Network Solutions
Lycamobile.us is the US-arm of the world's largest international mobile virtual network operator, Lycamobile.
Built using a Divi child theme, Lycamobile is a testament to just how far you can go with Divi. Lycamobile.us is an ecommerce site (you can buy sim cards), and customers can log in and manage their cell phone accounts.
As far as speed goes, Lycamobile.us is very slow to load, taking 39 seconds to fully load 2MB. There's just a lot going on on the homepage, and it's dragging the site down.
4. PageFreezer.com
Theme: Divi
Plugins: Easy Fancybox, Acme Divi Modules
Traffic Estimate:  5,000 monthly pageviews
Speed: 4.2 seconds to load 4.4MB
Hosting: Amazon Web Services (AWS)

PageFreezer.com is an online data archiving service operating in the US, Europe and Australia.
PageFreezer makes good use of the Divi Builder by adding clear page sections to the homepage that let visitors know what they do and provide plenty of social proof and links to further information.
The PageFreezer homepage is quite large (4.4MB), but still completely loads in 4.2 seconds, which is not bad.
5. SpilGames.com
Theme: Divi
Plugins: Divi Extras, Menu Icons
Traffic Estimate:  405,000 monthly pageviews
Speed: 3.6 seconds to load 4.5MB
SpilGames.com is a free-to-play game provider based in the Netherlands. The SpilGames website is simply designed, with a standard logo and menu bar, attention-grabbing header image and clear page sections.
SpilGames is a corporate website, and, as such, it doesn't have to do much more than provide links to their network of gaming sites and educate visitors about the company's history.
The homepage is quite large (4.5MB), but it manages to load in 3.6 seconds. As a corporate site, that's more than fast enough.
6. WakeEd.org
Theme: Divi
Plugins: Monarch social sharing, Bloom lead gen (also from Elegant Themes),
Traffic Estimate:  7,000 monthly pageviews
Speed: 12 seconds to load 48MB
Hosting: InMotion Hosting

WakeEd.org is the official website of the Wake County Public School System.
It's nice to see WakeEd making full use of their Elegant Themes membership, also using the Monarch social sharing plugin and email opt-in plugin Bloom.
The homepage is very eye-catching, as it uses a large autoplay video header to show several videos about the work WakeEd carries out. While it looks good, the videos are huge and make the homepage a gargantuan 48MB! Amazingly, WakeEd still loads all those megabytes in 12 seconds.
7. TheCarolinaClub.com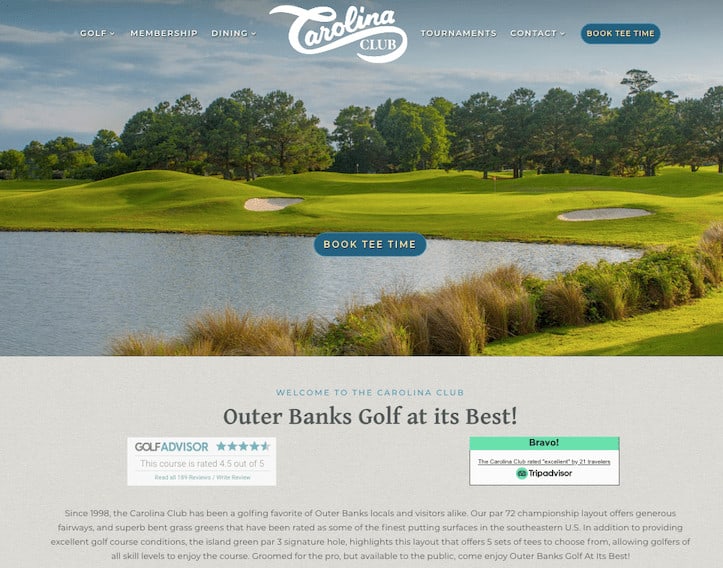 Theme: Divi
Plugins: Divi & Gravity Forms, Divi Testimonial Slider
Traffic Estimate:  2,5000 monthly pageviews
Speed: 5.7 seconds to load 1.7MB
Hosting: Enom

TheCarolinaClub.com is a golf club based in North Carolina.
Designed with Divi Builder, The Carolina Club makes great use of a full-width header photo and clear CTAs (call-to-actions) directing attention to their booking feature.
I particularly like the menu transparency, which really draws attention to the photo of the golf course, which is what you want if you're selling golf course membership!
Speed-wise, The Carolina Club keeps the page size low at 1.7MB, but takes too long to fully load (5.7 seconds).
Is the Divi Theme worth it?
Divi is so popular. If over 1 million websites use it, it can't be all that bad.
However, in my analysis of the fastest WordPress themes, Divi performed well ok desktop but poorly on mobile. That might have something to do with the fact that the Divi theme file is over 6MB.
Divi's strength as a one-size-fits-all theme may also be its downfall when it comes to WordPress speed. Carefully consider if you need to use all of Divi's functionality. If you're running a simple blog, you may find that a simpler theme will perform better.
I recommend GeneratePress Premium, which I use on this blog. helping my homepage fully load in 1.3 seconds.

Until recently, Divi was unmatched by other WordPress themes in terms of its flexibility and drag-and-drop editing. However, Thrive Themes has now launched Thrive Theme Builder which offers similar functionality. You can read more in my Thrive Theme Builder review.
If you're still sold on Divi, get 20% off the Divi Theme and Elegant Theme membership with this link.