Whether you're writing a new post, or trying to refresh an old article, there are many content optimization tools that can help you rank higher.
In this post, I'll take you through 21 tools that help you optimize content for better search engine rankings, so you can choose the best one for your site.
I've used a fair number of these tools myself, so, where applicable, I'll let you know my own experiences. I've covered the top tools in the most detail, but, for the sake of completeness, have tried to make this a comprehensive list of all the SEO content optimization software out there.
Let's get into it.
Content optimization tools compared
Here's a quick summary table so you can see how all the tools compare at a glance.
Prices are based on monthly subscription costs, but some tools offer discounts on annual subscriptions. Check each site for detailed pricing info.

| Tool | Price | Trial | NLP | Google Docs Add-On | WordPress plugin/editor |
| --- | --- | --- | --- | --- | --- |
| Surfer | From $59/month | 7-day trial for $1 | IBM Watson + Google NLP ($99+/month plans) | Via Chrome extension | Via Chrome extension |
| PageOptimizer Pro | From $20/month | 7-day free trial | Google NLP ($78+ agency plans only) | Via Chrome extension | Via Chrome extension |
| Clearscope | From $170/month | No | IBM Watson | Yes | Yes |
| Topic | From $50/month | No | Yes | Yes | No |
| Frase | From free | Yes | Yes | No | No |
| Dashword | From free | 5 free reports | Yes | No | No |
| NeuralText | From $50/month | 7-day free trial | Yes | No | No |
| Cora | $250/month | No | No | No | No |
| Copywritely | From $18/month | 5 pages free | No | No | No |
| Ryte | From free | 10-day free trial | No | No | No |
| Text Tools | From $9.97 for a 3-day pass | No | No | No | No |
| SimilarContent | From $9.99/month +tax | 7-day trial for $1 | No | No | No |
| SEO Scout | From $49/month | 7-day free trial | IBM Watson | No | No |
| Atomic Reach | From $29/month | 14-day free trial | No | No | Yes |
| MarketMuse | From $79/month | 1 month free trial | Yes | No | No |
| Conductor | Contact for pricing | Demo only | Yes | No | No |
| cognitiveSEO | From $129.99/month | 7-day free trial | No | No | No |
| SEMrush | From $99.95/month | 7-day free trial | No | Yes | Yes |
| Searchmetrics | From €89/month | Demo only | "machine learning" | No | No |
| SEO PowerSuite | From free | Demo only | No | No | No |
| GDoc SEO Assistant | Free | n/a | No | Yes | No |
What are content optimization tools?
Content optimization tools provide a framework for writing content that will rank highly in search engines, usually using some form of natural language processing (NLP) and correlations from search engine results page (SERP) data.
Why do you need content optimization tools?
Content optimization tools help you:
Write new optimized posts and articles
You don't need to use any content optimization software, to rank well but there are some benefits:
Save time manually researching and writing outlines
Access NLP and SERP correlation data
Quickly improve rankings for already published content
Help writers keep SEO in mind when writing
There's no substitute for hard work, and you're still going to have to write/optimize the words on the page yourself. You'll also need to spend some time actually using the tools, learning the UI, and making manual tweaks to the suggested keywords and settings each time you run the software. It's not as simple as: "put keyword in tool, get perfect SEO outline", despite what sales pages may lead you to believe.
That's said, these tools can make some of the research easier, give you writing inspiration, and help you work with external writers that may not know as much about SEO as you do.
If you're still keen, here are the top tools you can choose from.
21 Best SEO Content Optimization Tools in 2021
1. Surfer
Surfer (also known as Surfer SEO) is an on-page SEO tool that helps writers/editors optimize content for SEO through keyword research, SERP analysis, content audits and a content editor tool.
That all sounds like a lot, so here are some of the specific ways I have used Surfer to optimize my own content and make recommendations to clients:
Put a keyword in Content Editor, analyze the real-time SERP and get suggested word count, and terms to use
Select specific competitors to measure content against
Check if content is over- or under-optimized for specific keywords
Pull NLP data from Google's API for any keyword
Get a list of questions to answer in an article
Quickly view how competitors write about key topics within the editor
Add notes and send content briefs to writers
Use the Surfer Chrome Extension to get recommendations when writing in Google Docs or WordPress
You may also know Surfer as the company behind the great, free Chrome extension Keyword Surfer, that overlays SERPs with juicy keyword volume estimates.
Surfer uses IBM Watson for article sentiment analysis, plus Google's NLP API to pull relevant entities (i.e. nouns) from your content and the top ranking pages. This helps you cover the right topics, and use the right words to help Google (and any other search engines) recognize your content as relevant to your search term.
Surfer starts at $59/month (or $99/month with NLP), which is more expensive than other software (see PoP below), but compared to enterprise solutions like Clearscope (again, see below), you're getting good value.
2. PageOptimizer Pro
PageOptimizer Pro (also known as PoP) is a dedicated on-page optimization tool that generates keyword and structure suggestions to improve your content based on analyzing the competitors you select.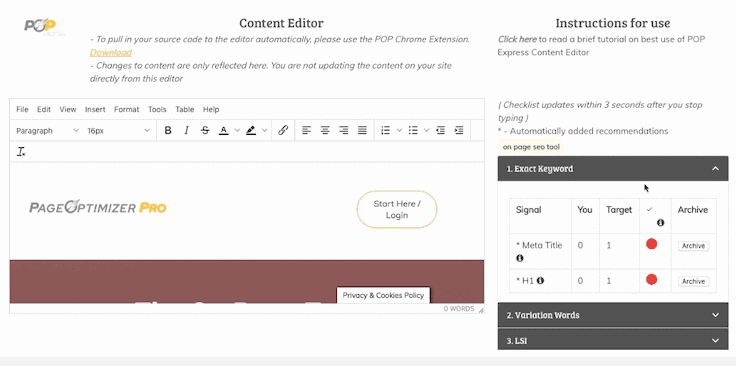 You can analyze existing pages, or get a framework for a new page. There's a Content Editor, and the PageOptimizer Pro Chrome Extension lets you use PoP's recommendations in Google Docs or straight in the WordPress dashboard. It even works if you're using a WordPress page builder plugin like Thrive Architect or Elementor.
PoP starts at $20/month for 12 reports, which is one of the lowest prices you'll find for a respected SEO writing tool. The catch is that you'll only get Google NLP data if you're on an agency plan (from $78/month). That said, if you're new to content optimization, there's nothing wrong with starting without NLP and seeing what improvements you can achieve on a lower budget.
3. Clearscope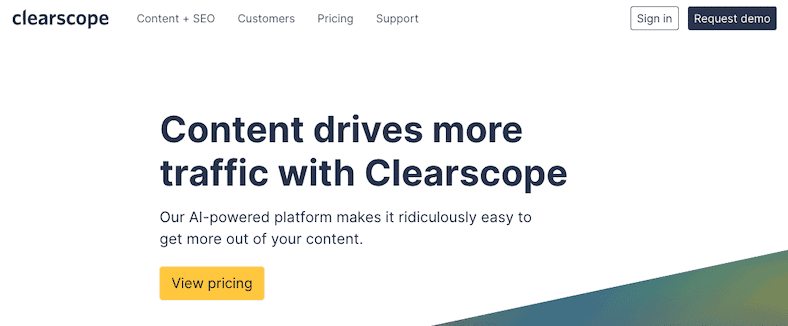 Clearscope is premium content optimization software, and was one of the first SEO writing tools launched back in 2017. It's super simple to use: enter a keyword and get a list of relevant terms to include and a suggested word count.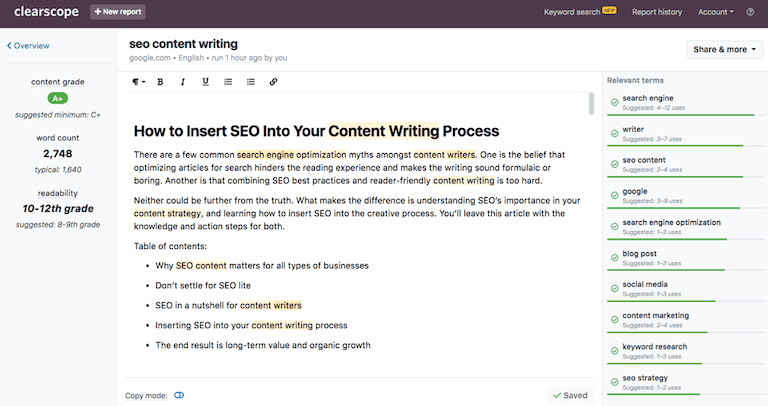 There's a built-in editor, or if you write your content in Google Docs, you can use the free Clearscope add on to automatically check your writing as you go. There's also a new Clearscope WordPress plugin that works with the Gutenberg editor.
I've personally used Clearscope for my own work, and think the data is solid, the UI is the nicest and cleanest to use, and reports are easy to download and send to clients.
As you'd expect at this high price-point, Clearscope uses IBM's Watson AI for natural language processing.
Clearscope recently added a new lower tier to their pricing table, which is good news for lower-budget SEOs and people looking to try it out. Pricing starts at $170/month for 20 reports (which works out at $8.50 per report).
4. Topic
Topic is a dedicated content optimization tool, that's pretty similar to Clearscope, with the addition of a couple of nice features, including an outline builder and suggested questions.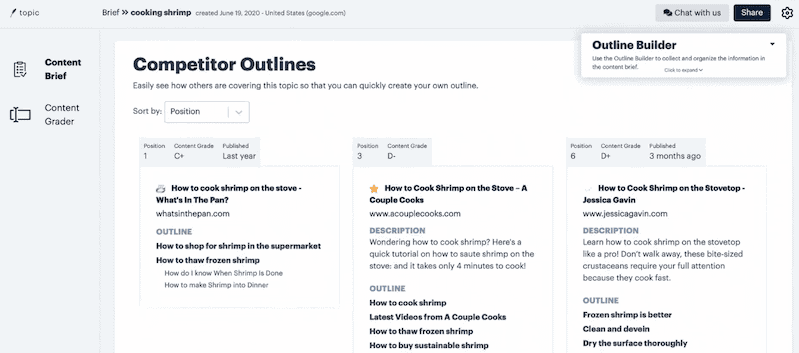 Topic is one of the best tools to help you outline your articles – enter any keyword and view the outlines of the top-ranking pages (aka their header tags, H1, H2s etc), and a list of recommended questions to answer. Click any heading/question to automatically add it to your outline. You'll need to manually move them around and make some changes, but this feature will save you some time.
There's a built-in content editor (called Content Grader), and Topic has a Google Docs add on so you can get editing suggestions directly in your documents.
In terms of NLP, Topic states that they use "NLP technology", but don't elaborate on which API they use.
You can also get started with Topic at a much lower price point than Clearscope (from $50/month for 5 briefs), so it's worth checking out.
5. Frase

Frase is a content optimization and answer chatbot tool. The latter is not of much use to SEOs, so I'll focus solely on Frase's content offering here.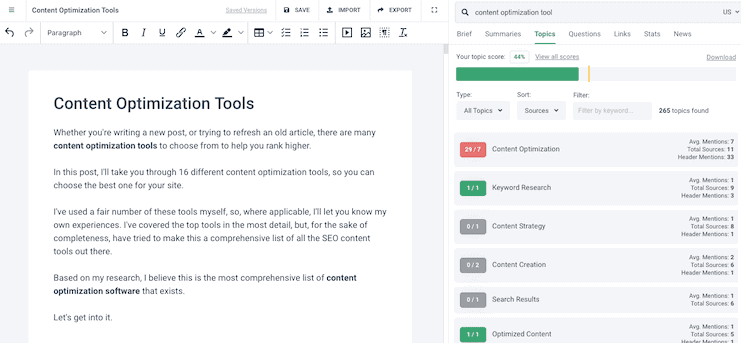 If you enter your keyword into Frase, it will analyze the top-ranking results and give you a list of suggested topics to include, the search intent and suggested word count. You can remove sources from the analysis if you think they're not relevant (for example, a product page when the intent is long-form content), which improves the recommendations.
Frase state that they have their own NLP engine, but no further details are given.
You can use Frase for free for your first 5 documents. Paid accounts start at $39.99/month for 30 documents. For the price, Frase offers good value for money, especially since you can try it for free. They also did an AppSumo lifetime deal recently, so it's worth keeping a look-out for other deals in the future.
6. Dashword
Dashword is a content intelligence tool that looks and feels a lot like Clearscope and Topic.
You enter your keyword into Dashword, and they analyze the top 30 results and calculate an importance score for each term. There's no outline generator, but you can use the content editor to check that you're using the most relevant terms.
Dashword use their own proprietary NLP model, so you're getting some AI, but it's not directly coming from Google's NLP API.
Dashword has a free plan (5 reports/month), or charges a flat fee of $99/month to use it as much as you want. This works out as much better value than Topic or Clearscope if you're going to optimize 12+ pages. Dashword was only launched in summer 2020 so it's worth keeping an eye on it and seeing how the product evolves.
7. NeuralText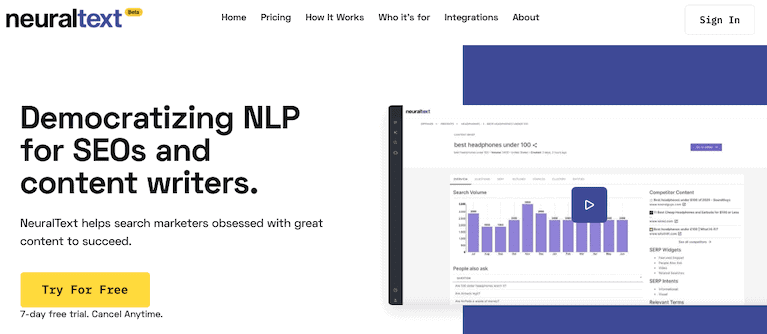 NeuralText is an NLP-powered SEO content tool. NeuralText offers a similar range of features to Topic.
Enter your keyword and NeuralText will generate a list of related questions and PAA (people also ask) questions, and help you build an outline from an overview of outlines (aka headings) from top-ranking pages. You'll get a neat cluster analysis chart, which shows what terms, verbs and adjectives competitors use in their content, plus the most relevant entities to include.
There's no built-in content editor, but NeuralText integrates with Google Docs via an add on. Like Topic and Clearscope, you can share your NeuralText report URL with anyone and they'll be able to use the add on for free.
NeuralText starts at $50/month for 25 briefs, which is very competitive. Given that you're getting NLP data and a nice Google doc add on to help you (or your writer) write, it's well worth checking out. There's apparently an AI writer tool in the pipeline.
8. Cora
Cora is an on-page optimization tool that measures up to 2040 ranking factors and provides suggestions on which ones you should add to/remove from your page to rank higher.
Unlike almost all the other content optimization tools in this list, Cora is not cloud-based, meaning you will need to download (Windows or Mac) and run it locally. Despite that, Cora still comes with a monthly price tag ($250), which makes it the most expensive optimization software you can get. That said, as it's self-hosted, you can run unlimited reports at no extra cost, so the pricing works out cheap for heavy users.
Cora doesn't come with an editor or any add ons: you need to check the generated list of recommendations, implement them, then run another check to get updated suggestions. There's also no NLP at work here – all the data comes from on-page correlations from the top-ranking results.
The data you get from Cora is comprehensive, but it's pricey and the UI is not easy for beginners to wade through. If you're not ready to hit the $250/month trigger, you can try Cora Lite, a stripped down version for $125/month. Or you can order a single Cora report for your chosen keyword for $5 via this Cora service on Fiverr from on-page expert Ryan Hough.
9. Copywritely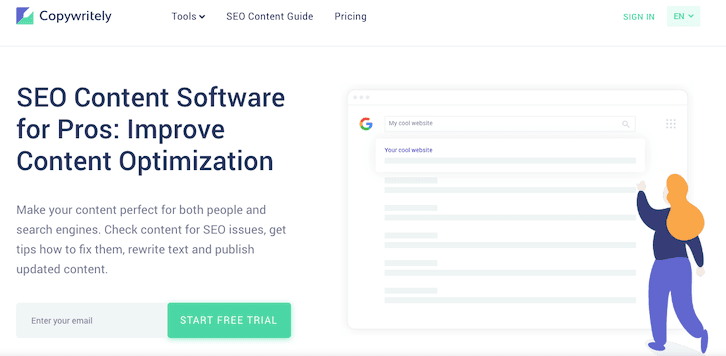 Copywritely is SEO content software that helps you write and edit content to rank higher in search engines.
I tested Copywritely out, and it's a fairly basic offering. If you paste in a post, you'll get scores for uniqueness, keyword stuffing (aka density), readability, grammar and keyword usage. Copywritely does fire off a lot of false positives, for example supposed plagiarism that's only 3 words long, typos that are actually the names of businesses. That said, it also picks up errors that are easy to fix. If you want to get a list of related keywords to include in your post, you'll need to run a separate search in Copywritely, then import those into the editor.
There's not a lot of info about the company or its tool on the website. There's not even a blog or a simple tutorial or video overview of the product that I could find. There's no mention of NLP either, and I don't see any evidence of it at work.
For $18/month it's one of the cheapest content tools, so you're not risking much by trying it out. If you sign up via email, you get to analyze 5 pages for free (up to 2500 words each).
10. Ryte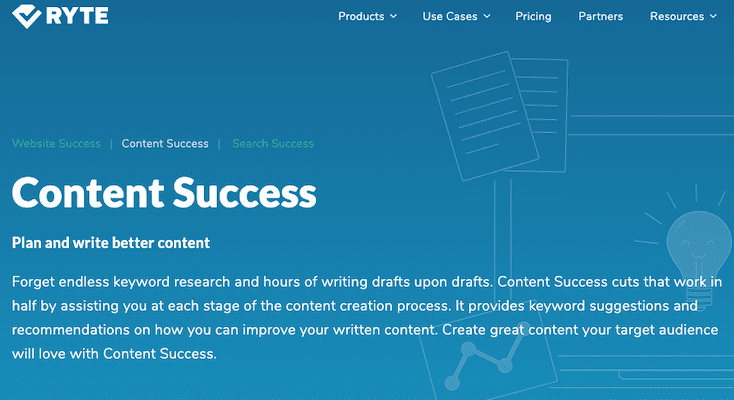 Ryte is a "website quality management platform", which provides a suite of tools for optimizing on-page and off-page SEO performance.
Within the suite, you get Content Success, a content optimization tool that identifies relevant keywords and provides an content editor to monitor keyword usage while writing.
The added benefit of using Ryte is that it has a Google Search Console (GSC) integration so you can automatically find content optimization opportunities.
There's heavy focus on TF*IDF, which can be a useful indication of the importance of words on a page. Some SEOs believe TF*IDF is an out-dated method of content analysis, and inferior to NLP. I believe there's still plenty of optimization to be done using TF*IDF and it has its value, especially since NLP can be cost-prohibitive.
Ryte offers a free account, which will give you 10 TF*IDF analyses a month. Paid accounts start at $119.90/month.
11. Text Tools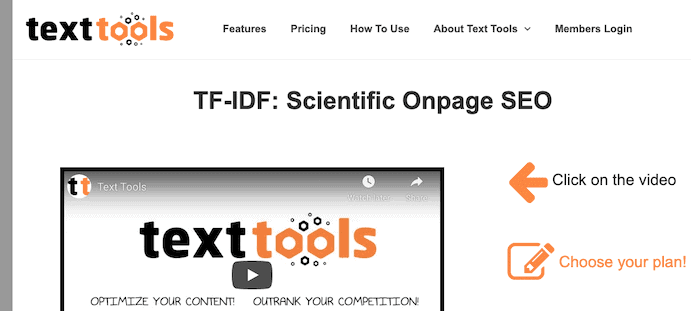 Text Tools is a content optimization app that uses TF*IDF and WDF*IDF to provide content suggestions. You enter a keyword and target language/country and get a TF*IDF chart that shows you which terms to include in your content. You can remove competitor URLs to tailor results, and there's a text input area so that you can paste content or a URL and analyze it against top-ranking pages.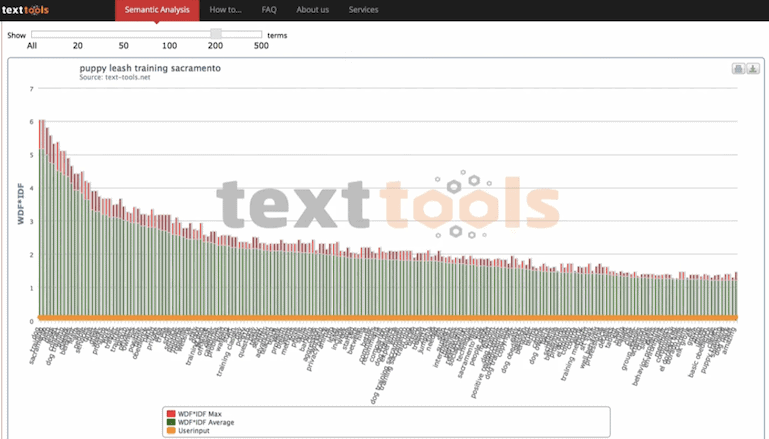 For pure TF*IDF data, Text Tools is good value – prices start at $9.95 for a 3-day unlimited pass.
12. SimilarContent
SimilarContent is a content optimization tool that uses TF*IDF to help you optimize content to rank higher.
There's no NLP, but SimilarContent does have a range of tools, covering topic difficulty, topic idea generation, content optimization and rewriting, questions analysis and headline writing. There's a feature called "AI text analysis" (in English only), but it's not clear what technology is being used.
Plans start at $9.95/month plus VAT, so it's very affordable if you're looking for a TF*IDF-based tool with a built-in editor. SimilarContent ran a (now expired) lifetime deal on AppSumo so it's worth checking the reviews on there. And yes, the current homepage design is strikingly similar to Basecamp's!
13. SEO Scout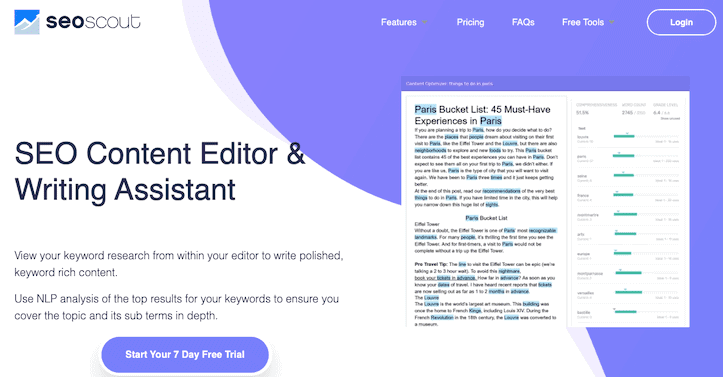 SEO Scout is an SEO rank tracking, keyword optimization and testing tool. There's an SEO writing feature they call the SEO Content Editor & Writing Assistant. You can write or edit your content in SEO Scout's editor, and use NLP (IBM Watson) to get keyword suggestions as you go.
In the content editor, you'll see suggested questions to answer, top entities, recommended word count and an overall content score. There's no Google Doc or WordPress support, so you'll have to use the built-in editor.
SEO Scout starts at $49/month for 10 reports, which is good value considering that you'll also get unlimited rank tracking and on-page optimization for 1000 pages.
14. Atomic Reach
Atomic Reach is an AI-powered content optimization platform.
The main content tool offered by Atomic Reach is called Atomic AI, a content editor and optimization engine. It has some neat features, but it's not targeted to SEO. Instead, it's intended to "rewrites your content in a style your audience prefers and gets you more pageviews, time spent and conversions".
With Atomic AI, you can edit content to make it more concise, correct spelling and grammar, and construct the ideal title. You can also auto-generate a content summary.
I tested it out and it did a pretty decent job rewriting the this post (aside from the "let us deal with that" part!).
There's a WordPress plugin, and you can integrate Atomic Reach with Google Analytics for further insight.
Atomic Reach starts at $29/month, but this only includes a basic writing assistant tool. If you want more content optimization features, you'll need to pay from $249/month (billed quarterly). I only recommend Atomic Reach if you're interested in content optimization that's not SEO-focused. There's a "topics" feature being added to the content editor soon, so hopefully that will be able to pull more keyword data.
15. MarketMuse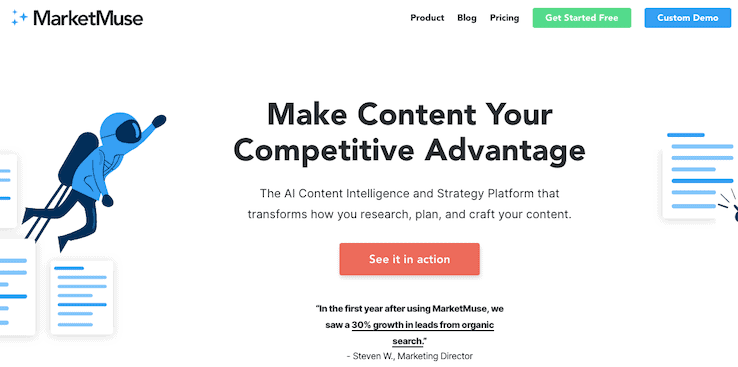 MarketMuse is an enterprise (read: expensive) content optimization platform.
MarketMuse uses NLP and AI to generate recommendations. There's a content editor tool called "Optimize" that will give you suggestions on which topics to include and calculate a content score to measure how optimized it is. You can write directly in the editor, paste text or pull it from a URL. There's no Google Doc add on or WordPress plugin, but you can paste content from MarketMuse directly into either without formatting issues.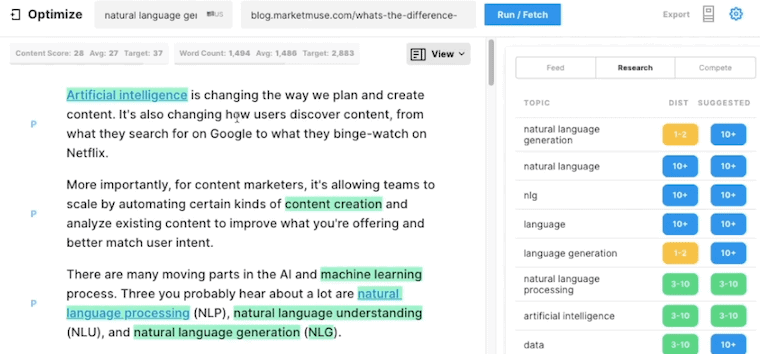 What confuses me about MarketMuse is that it blends AI with human labor in an attempt to make it seem like you just click a button to generate content. For example, what MarketMuse calls their AI-generated content briefs are just best-practice guides that include some keyword research and suggestions (here's an example content brief). You'll still need to write the outline yourself. Other services, like a content optimization plan, are actually created by "a MarketMuse content advisor". As a result, MarketMuse is a strange hybrid of outsourced services and AI tools.
That said, MarketMuse seems to offer the best AI-powered content tools out there. Their "First Draft" AI-writing tool can automatically produce an original piece of work from a content brief.
Unlike a lot of other content optimization tools, MarketMuse only works in English, although you can tailor it to US, UK, Canada, Austalia and New Zealand.
MarketMuse starts at $79/month, which only gives you access to the Optimize tool and analysis of 25 queries. If you want to use MarketMuse's other apps and more advanced features, you'll need to pay at least $179/month, which includes 5 credits for services like content briefs and drafts. I believe you need to get a content brief before you can generate a usable first draft, so generating content will cost 2 credits each time, or over $71.
16. Conductor
Conductor is an enterprise SEO platform and content marketing suite. They bundle a whole bunch of all-in-one tools together, but the most relevant to content optimization is a tool they call "Content Guidance".
Enter you keyword and URL you'll get a list of optimizations to improve your rankings. It will also work for new pages if you don't have a URL yet. Conductor uses an NLP engine, but it's not from Google or IBM. There's no content editor, so Conductor is purely for research only.
Conductor is not transparent about pricing and you'll have to talk to an "Account Development Manager" (aka sales person) to get more details. I'm not a big fan of this approach and, based on how many sales people they're currently hiring, it appears they would rather use sales tactics than be a self-serve tool.
Conductor is unlikely to be good value as solely a content tool, as it doesn't have the best feature set, and you need to sign up to the entire platform for access.
17. cognitiveSEO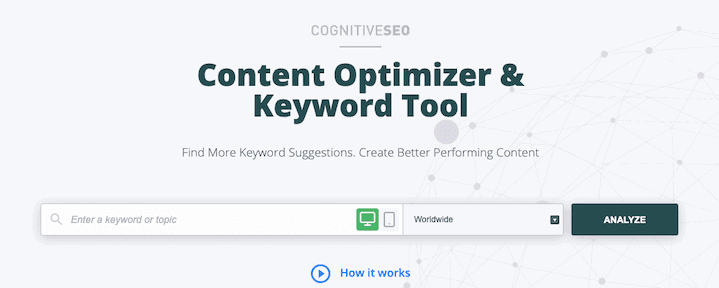 cognitiveSEO is an SEO software suite. One part is the Content Optimizer & Keyword Tool, which uses AI to analyze the SERP and your content to provide optimization recommendations.
Your content will be given a Content Performance score (using NLP), a proprietary metric created by cognitiveSEO, which they claim correlates with ranking position. Your content is graded in terms of readability, word count, and keyword usage. Recommendations include adding and removing terms, to make sure you're covering the right topics but not doing any keyword stuffing.
cognitiveSEO is not cheap (from $129.99/month), so it's probably only worth using for content optimization if you also need its other SEO tools.
18. SEMrush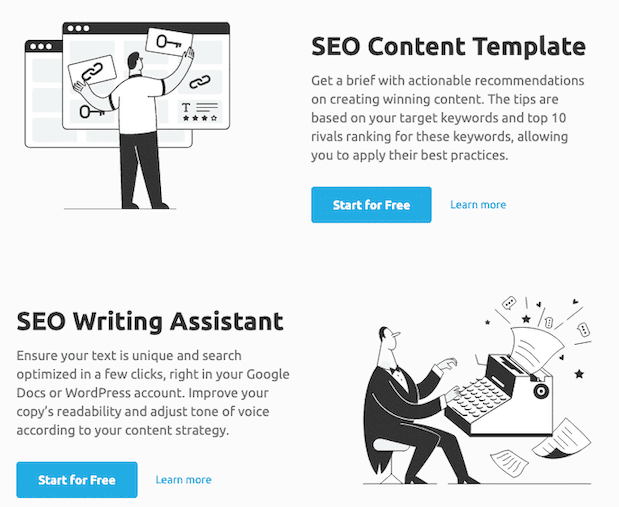 SEMrush is all-in-one SEO software, similar to Ahrefs and Moz.
SEMrush offers two content optimization tools:
SEMrush's content template provides SEO recommendations for your keyword, including a list of semantically-related terms to include and an average word count. There's no NLP, and the recommendations are fairly basic and not much easier to use than if you were to look at the SERP yourself.
SEMrush's writing assistant is a content editor that measures your content optimization level as you write. You get a basic word count, readability, tone of voice and originality score (it checks for plagiarism), plus a list of the target and recommended keywords you've included/need to include. There's a SEMrush SEO writing add on for Google Docs, and a WordPress plugin if you want suggestions as you write.
Of course, SEMrush's Content Analyzer tool is not available as a stand-alone offering, so you're stuck paying full-whack for SEMrush if you choose to use it. If you already use SEMrush as your go-to SEO tool, then you've got nothing to lose by trying their content optimization options. Otherwise, it's not worth paying $99.95+ per month for just SEMrush's content tools.
19. Searchmetrics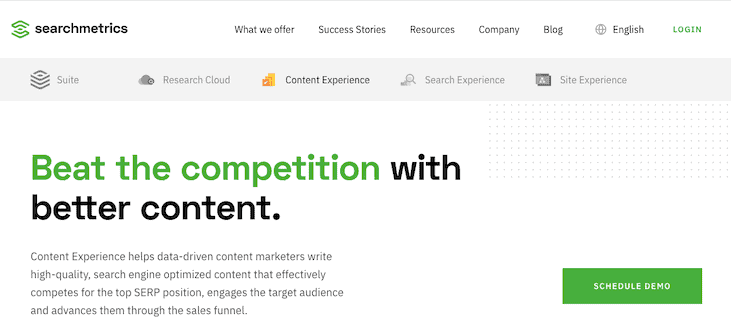 Searchmetrics offers content analysis software that helps "data-driven content marketers write high-quality, search engine optimized content".
You'll get a list of topics clustered by semantic proximity, and a content editor to measure if you're using the right keywords frequently enough. You can also use Searchmetrics in Microsoft Word via an Add-in, or connect any CMS via the Searchmetrics API (if you know how to do that).
There's no mention of the tool using NLP, but Searchmetrics claims that the data comes from "cutting-edge machine learning technology", whatever that means.
Content analysis is just one part of the Searchmetrics SEO suite, so I wouldn't recommend using Searchmetrics solely for content optimization, unless you're also using the rest of their tools. Searchmetrics don't make their pricing very clear, and force you to sign up for a demo first. The Searchmetrics Research Cloud suite costs from €89/month (€10/month discount if you use my affiliate link), but it's not clear whether this includes their content analysis tools.
I sent a request to Searchmetrics for further clarification and they wouldn't give me a straight answer. Make your own mind up, but I prefer self-serve tools that don't need a sales call first.
20. SEO PowerSuite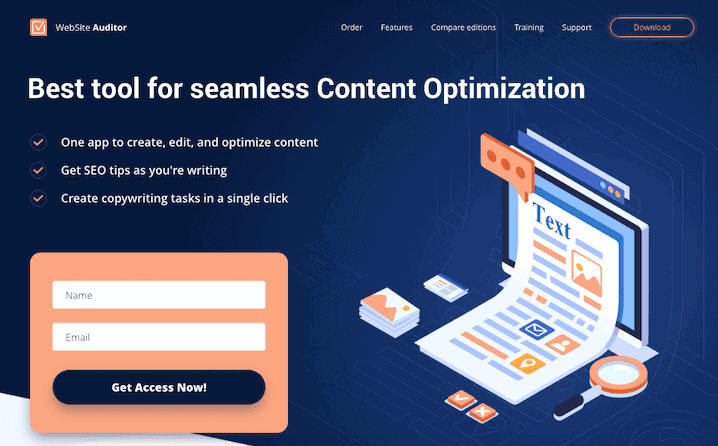 SEO PowerSuite is an all-in-one suite of SEO tools: Rank Tracker, Website Auditor, SEO SpyGlass and LinkAssistant. It's not cloud software, so you'll need to download it to your computer (Windows, Mac or Linux).
As part of SEO PowerSuite's Website Auditor tool, you get 4 content analysis tools:
Keyword Map
Page Audit
Content Editor
TF-IDF Analysis
There's no NLP at work, but you'll get TF*IDF analysis and a content editor to help you add recommended keywords, topics and questions.
I tried out SEO PowerSuite and, for a free tool, the content editor is not bad. It picked up some potential keyword stuffing issues and gave me a list of questions (from People also asked) that I could add to my content.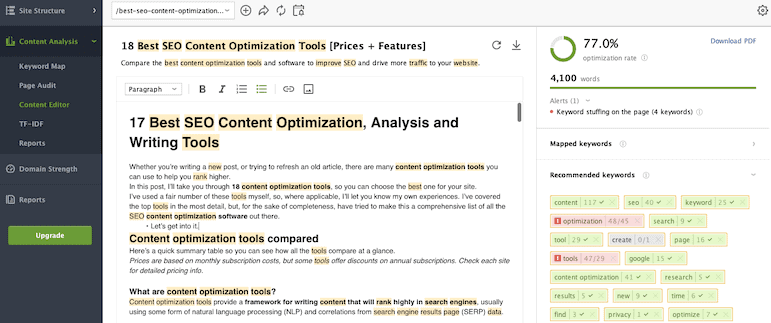 The TF*IDF tool is very clear and easy to use, with recommendations on which terms to use more (or less) frequently.
SEO PowerSuite is available to download for free, but you'll need to pay from $299/year for additional features like the ability to save work, download PDFs and schedule tasks. For a free(ish) tool, it's worth checking out, especially if you're happy with TD*IDF.
21. GDoc SEO Assistant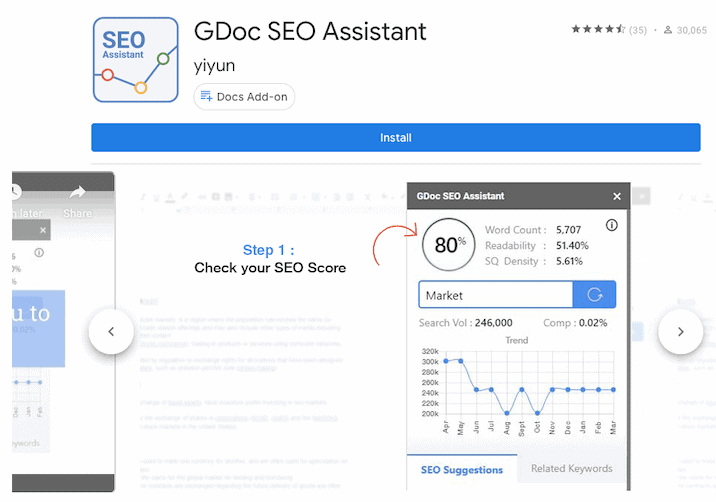 GDoc SEO Assistant is a free Google Docs add on that helps you edit your content to rank for any target keyword. It's linked to a site called Growth Seekers Hub, but there's not much information about them online.
It's simple to use: install the add on and add a target keyword and you'll get an estimated search volume, competition score and trend graph. It also calculates your word count, readability and semantic quality (similar to keyword density). There's a list of related keywords you can add to your content, but you'll need to refresh the tool whenever you want it to recalculate your score.
GDoc SEO Assistant is very basic and there are better tools out there (in this list!), but it may work ok as a writing assistant for complete beginners.
I don't recommend giving access to your Google account to third party tools unless you're certain they are secure, so it's best to create a new or spare Google account to use with GDoc SEO Assistant.
All-in-one SEO vs specialist content tools
I'm a big fan of cherry-picking your SEO toolkit from the best of the best. There are a whole bunch of all-in-one SEO tools that offer some sort of content optimization option (like SEMrush, Searchmetrics and cognitiveSEO), but it's never going to be the core of their product. If you're already using an all-in-one tool for other SEO uses then, sure, try their content options. But I believe the best content optimization tools out there are always going to be the ones built specifically for the job.
In other words, specialist SEO content tools like Surfer, PoP, Clearscope and Topic are always going to be better at what they do than the generic tools. Feel free to show me some evidence if you think this is wrong!
Try Google's NLP for free
If you're curious about NLP, you can test out Google's Natural Language API for free.
Go to Google's Natural Language page, scroll down to the Natural Language API demo section, and paste in the text from your article (or a competitor's article). It will take a minute to process, and you might have to fill in a CAPTCHA first.
You'll get a list of entities, color-coded by consumer good, work of art, people/companies etc.
As you can see from the above example, Google recognizes "content optimization software" as a consumer good, but "content optimization tools" as a generic entity.
You'll also get the document and sentence level sentiment (positive, negative or neutral), syntax structure and category. For example, Google's NLP API determined that the category of this post is "Business Services" and "Web Services". Sounds about right to me!
Content optimization tools will only take you so far…
Using any content optimization tool is going to help you write better content because they make it impossible to ignore key topics and concepts that your readers are likely looking for.
But there's a catch. You run the risk of becoming an echo chamber. If you only write content so that you get an A+ rating on Clearscope, you're missing out on adding your unique perspective to the topic. If you only cover what's already out there, you're unlikely to impress anyone enough to get those clicks and shares (also good for SEO, by the way!) you could earn.
The answer? Use content optimization tools to make sure you're work is not going to get missed by Google. But write in your own voice. Don't worry about bringing in topics that educate or inspire your readers with new ideas.
Take this section, for example. There's no data to suggest that I needed to write this conclusion about why you could go wrong by relying solely on content optimization tools. But here it is!
In my option, tools + your own unique angle = a much better recipe for SEO and overall business success.
If you think there's a content optimization tool I've missed from this list, drop me a message on Twitter @tomtheseoguy.