Thrive Optimize is the first new plugin released by the Thrive Themes team in 2018. I'm pretty excited to review this one, as it's no secret that I'm a fan of Shane Melaugh's previous plugins (namely Thrive Architect and Thrive Quiz Builder). Let's get stuck into the review!
What is Thrive Optimize?
Thrive Optimize is a WordPress A/B testing plugin. If you're not familiar with A/B testing, it's quite simple: it's an optimization technique where you design 2 (or more) versions of a website page, and then let them compete against each other. Your website visitors will be randomly sent to different pages, and then data is collected to see which page variation leads to more conversions. A 'conversion' is simply an action that you want users to take, like signing up for your mailing list, buying a product, or clicking an affiliate link.
How does Thrive Optimize work?
The first thing you need to know is that Thrive Optimize is not a stand-alone WordPress plugin: it is an add-on plugin that works with Thrive Architect (previously Thrive Content Builder). Therefore, you will need to either be a member of Thrive Themes (which comes with access to all their products), or have already purchased Thrive Architect before getting the Optimize plugin. You can read my review of Thrive Architect, if you're not already familiar with the plugin.
How to set up an A/B test with Thrive Optimize
My favorite thing about Thrive Optimize is that it uses the same 'drag and drop' on-page editing that I love about Thrive Architect. Once you have the plugin installed, you just create additional page variations and let them compete against each other. You can do whatever you like with the variations, but common changes include different headlines, moving a CTA (call to action) and using different text. If you need tips or ideas before you start creating variations, I recommend you read Neil Patel's list of 50 split testing ideas.
Here's a basic overview of the different steps you'll need to follow to set up an A/B test with Thrive Optimize:
Click "Create new A/B test" button in the top-right corner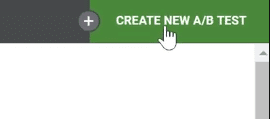 Clone your landing page to create a duplicate 'variation'

Click "Edit variation" to make changes

Use the visual editor to make changes to the variation
Click "Setup & Start A/B test" in the top-right corner

You can enable the "Automatic winner" settings if you don't want to manually choose a winner. You can select the minimum number of conversions, testing days and percentage improvement you need before a winner is declared.

Your test goal can be revenue (i.e. getting customers to make a purchase), goal page (sending traffic to another page on your site), or subscriptions (getting email sign-ups).
Click the green "Setup & Start A/B test" confirmation button
And your test is now live! Depending on the amount of traffic your landing page gets, your test could take anytime from days to weeks to conclude.
You can view the test stats live anytime from the WordPress admin page view. The data will update every time you get a new visitor to the page.
You can also view more detail stats by clicking "View Test Details":
If you selected the 'automatic winner', or you manually want to call a winner, the most successful page variation will served to all visitors and the A/B test will be concluded.
Why A/B test on a WordPress website?
A/B testing is a great way of finding out how your website visitors respond to different page designs and content. It also takes the risk out of website and page redesigns because you don't have to guess what people might like – you just test a new page on a selection of users and let their actions tell you if it's good or not!
Top 5 Thrive Optimize Features
1. It works with any WordPress theme
Thrive Optimize is a WordPress plugin so it works with any WordPress theme. So you don't need to make major changes. You will just
2. You can design a landing page by 'drag and drop'
WordPress design can be fiddly, but if you make the landing page using the drag and drop features of Thrive Architect, then you can do the same in Thrive Optimize.
3. No limits on traffic or subscription costs
Once you've bought the plugin, it's yours for life and you can run as few or as many A/B tests as you like.
Uh oh! The Bad Bits
It's not all roses! I have a couple of issues with Thrive Optimize at the moment:
1. You can only use it on WordPress pages (not posts!)
I really don't know why this is, because Thrive Architect can be used to create both post and pages. It's basically only for use on 'landing pages', which I understand are definitely pages that need optimizing the most, but why not posts too?  Personally, I would love test variations of my WordPress posts, as I don't use pages very often.
2. You can't track external link clicks
Thrive Optimize uses several 'goals' to determine if a test is successful. You can use a link click as one of those goals, but only if it is an internal link. This kind of sucks, because quite a few of my websites have a goal of getting clicks on external links. I can see this really affecting how many affiliate marketers are interested in Thrive Optimize.
3. A/B testing is not ideal for low traffic sites
Ok, this is more of a criticism of A/B testing in general, but I think people need to know that without a decent amount of traffic (I'd say at least 1000 views a month on a specific page), your results will not have statistical significance.
How does Thrive Optimize compare to other A/B testing tools?
If you have a self-hosted WordPress website, then you can use an A/B testing plugin like Thrive Optimize. It's not the first plugin of its kind: others include Nelio and Simple Page Tester. Thrive Optimize is unique thanks to the visual page building functionality it inherits from Thrive Architect. However, it's also fairly limited (see the bad bits above!).
There are also other A/B testing options like VWO and Optimizely, but I consider these to be more costly options in the long-run because of their subscription pricing models, and they have a much bigger learning curve.
Final verdict: is Thrive Optimize worth it?
Overall, I'd say that Thrive Optimize is a no-brainer add-on for Thrive Architect users and anyone looking for a simple WordPress A/B testing plugin with drag and drop functionality. It's also easy to integrate the plugin with Thrive Leads (WordPress list building plugin) to increase subscribers. In fact, all of Thrive's suite of themes and plugins work seamlessly together, so if you're interested in a couple of them, it makes sense to become a Thrive Themes member and get unlimited access to all of them at once. I did a recent review of some of Thrive's WordPress themes in action if you want to learn more.
In terms of price, don't forget that you must also own Thrive Architect for Thrive Optimize to work. At the time of writing this review, Thrive Architect costs from $97 for a single site license (one-time cost) so it's definitely a premium plugin.
If you don't have Thrive Architect yet, it's cheaper to buy Thrive Optimize bundled with Thrive Architect (from $167 for a single site license). If you just need the Optimize add on, it's from $97 for a single site license.
As I said before, A/B testing will need a decent amount of traffic, so I would not recommend Thrive Optimize to beginners; it's a good fit if you have a medium-sized WordPress site (in terms of traffic) and are looking to improve conversions on your WordPress landing pages.