In this to-the-point review, I'm going to run through the details of Thrive Themes' latest plugin release, Thrive Automator, and let you know what it is, what it can do for your WordPress site, if it's worth paying for (yep, there's no free version), and what alternative plugins you could use to achieve similar results.
Let's get straight to it.
What is Thrive Automator?
Thrive Automator is a WordPress automation plugin that allows you to set up workflows that trigger actions on your site. For example, when a user completes a form (the trigger) they can be added to an email list (the action).
There are a few other solid WordPress automator plugins out there, but Thrive's offering is built specifically with their members in mind, and integrates with all other Thrive Suite plugins.
Update: As of Monday, May 16th 2022, Thrive Automator is out of beta, is free for any WordPress user, and can be used both with and without Thrive Themes products.
How can I get Thrive Automator?
Update: As of Monday, May 16th 2022, Thrive Automator is now a free plugin and available to any WordPress user!
Another update: You can now download or install Thrive Automator for free from the WordPress plugin directory!
What can Thrive Automator do?
Thrive Automator acts like a middleman in your WordPress site. It can be set up to trigger actions based on parameters you choose. For example, you can automatically tag an email subscriber when they complete a course, or send users to a specific offer page if they log in after more than 30 days away.
Here's a quick run-down of how Thrive Automator works, with some screenshots of the dashboards you'll be using if you decide to buy the plugin:
How does Thrive Automator work?
When you create an automation in Thrive Automator, you give it a title and select a trigger from the drop-down list. Some triggers are for standard WordPress events, like when a user logs in, while others are for WooCommerce, like when a user completes an order. However, most triggers are specific to Thrive's other plugins, for example when a user completes a quiz (in Thrive Quiz Builder), or when a user enrolls in an course (created with Thrive Apprentice).
Here's a tip: you'll only see the triggers available to you based on the compatible plugins you have active on your site, so if you're not using Thrive Quiz Builder, for example, you won't see any triggers for it.
Next, choose an action you want Thrive Automator to, well, automate! You can add filters to narrow down the times when the action is triggered (i.e. the user has to log into the account AND have last logged in more than 30 days ago), and delays, which simply delay when an action occurs.
And that's it! You're only limited by 2 things: your imagination, and Thrive Automator's compatible plugins.
Some example use-cases for Thrive Automator
Tag an email subscriber when they complete a lesson or course so they can get more relevant emails
Send a user to a timed offer page when they complete a lesson or course to drive more sales
Add a customer to a mailing list when they purchase a specific product to send them relevant offers
Is Thrive Automator worth it?
Since Thrive Automator is only available as part of Thrive Suite, it's not worth signing up if you're only interested in using its automation features. Thrive Automator works best if you need to get more from other Thrive Suite plugins, particularly Thrive Apprentice, the course-building plugin.
While Thrive Automator can work with WordPress and WooCommerce actions and some third-party tools (mainly email providers like Mailchimp, ActiveCampaign, Drip etc), it's clearly designed to work as an automator for Thrive's other plugins. That said, the plugin is currently in beta, so it's too early to know what functionality it may have when it gets a proper release, and Thrive have stated that they're currently working on expanding the plugin's functionality to integrate with more third party apps.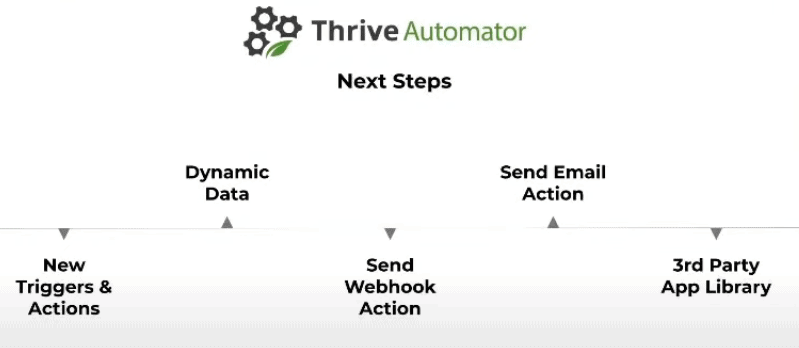 In short, if you only need an automation plugin for WordPress, you're better off with a more established tool like AutomatorWP, which offers a free version and integrates with a greater number of popular plugins like MemberPress and Ninja Forms.
But if you need an all-in-one WordPress theme and plugin suite that can set you up with everything needed to create and manage a WordPress business, Thrive Suite is a reliable choice and the addition of Thrive Automator makes the deal even better value. Let's see how the Thrive team updates Automator in the coming months!