Whether you're a huge conglomerate or an indie blogger like me, you can benefit 1000%* (*not a verified statistic!) from having a well-written social media strategy.
If you have a website, chances are you've already opened a few social media accounts. With billions of users, updates, likes and comments popping up online every day, it's easy to get completely lost in a sea of social feeds, flailing around while trying to get people to buy your (no doubt awesome) product.
Some of the companies I've worked with in the past were even reluctant to open social accounts in the first place, citing:
"we don't have time"
"there's no money to hire an expert"
"it would take too long to learn how"
"it's not part of our marketing plan"
These so-called "reasons", are an example of a reluctance to embrace change, brought on, in part, by a lack of understanding about how to tackle social media in a business-like fashion. Execs get whiff of viral content and assume facebook and twitter are full of weirdos.
Nobody, however, can refute these stats:
#1 People Use The Internet
Well over a 35% of the world had Internet access. That's around 3.5 billion people.
#2 People Use Social Media
Almost 1/4 of the global population use social media.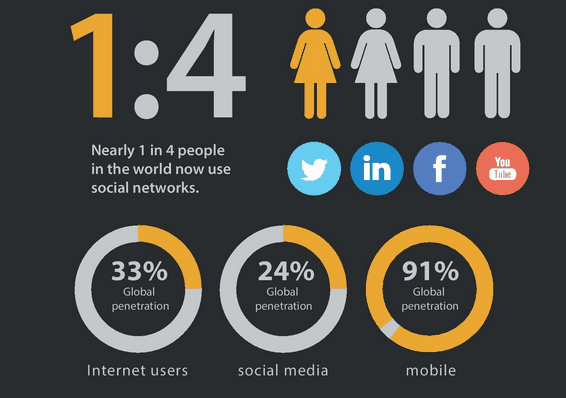 Chances are, whatever it is that you're selling, your target market is using some form of social media. Your job is to go out, find them, and reel them in.
5 Ways To Waste Your Time On Social Media
Now you're sold on social media, let's go ahead and open an account on twitter, linkedin, instagram, facebook…..WOAH THERE COWBOY! Blindly opening a bunch of accounts in the hope of magically connecting with your customers is a rookie mistake. With social media, just showing up is not enough. Here are 5 ways to completely waste your time on social media:
Opening accounts on every network
Only posting self-serving links back to your website
Not adding original graphics/profile photos to accounts
Rarely posting content
Reposting the same content on all networks
Trust me, some/all of the above points are employed all the time by agencies and companies that should know better. Before you click "like", it's first time to dive into some basic market research, laying the foundations for your social media strategy plan.
Know Your Market
Most businesses know their products. They know what kind of people to market too, whittled down by gender, age, location, income…the list goes on. If you don't know that stuff about your business, you've got bigger problems than social media. This guide will help you out.
In a nutshell, you need to define:
Customer demographics (age, gender, income bracket. ethnicity etc)
Customer personalities (interests, values, lifestyle, behaviour etc)
Once you have defined the persona of your different consumers, it's time to match personas with social networks. If you need more help defining personas, this Moz blog post is an excellent place to start.
The Right Social Media For Your Market
Nobody can (or wants to) be a Jack-Of-All-Trades when it comes to social networking. Even some of the world's largest brands focus on a few key platforms, and for good reason.
To pick the right social networks for our businesses, we need to know a little more about who uses them.
Here is a list of the predominant users on each of the major social media platforms. Bear in mind that data will differ for each country, so if you're targeting users in specific locations, spend some time researching those countries/cities in more detail.
Data has been extracted from the 2013 social media report undertaken by Pew Research and refers to the United States only. Only statistically significant data has been included to improve results (i.e. all social networks have higher female usage, but I only report it when it's by a larger margin).
Most FACEBOOK users are:
male + female
18-49
earning less than $50,000/year
Most TWITTER users are:
male
18-29
college graduates
Most LINKEDIN members are:
male
30-64
college graduates
earning over $75,000
Most PINTEREST users are:
female
18-49
college graduates
earning over $75,000
Most INSTAGRAM users are:
Pew Research neglected Google+ in their study, so I pulled the data from Pardot:
Most GOOGLE+ users are:
male
18-29
college graduates
It's now much easier to see that if you're selling high-end goods (think designer watches, leather handbags) for women, Pinterest is your network of choice. Similarly, facebook is ideal for lower cost, mass appeal things like snack foods. Sell professional services? Head over to LinkedIn or Google+.
If you don't like reading stats, pass this infographic along instead: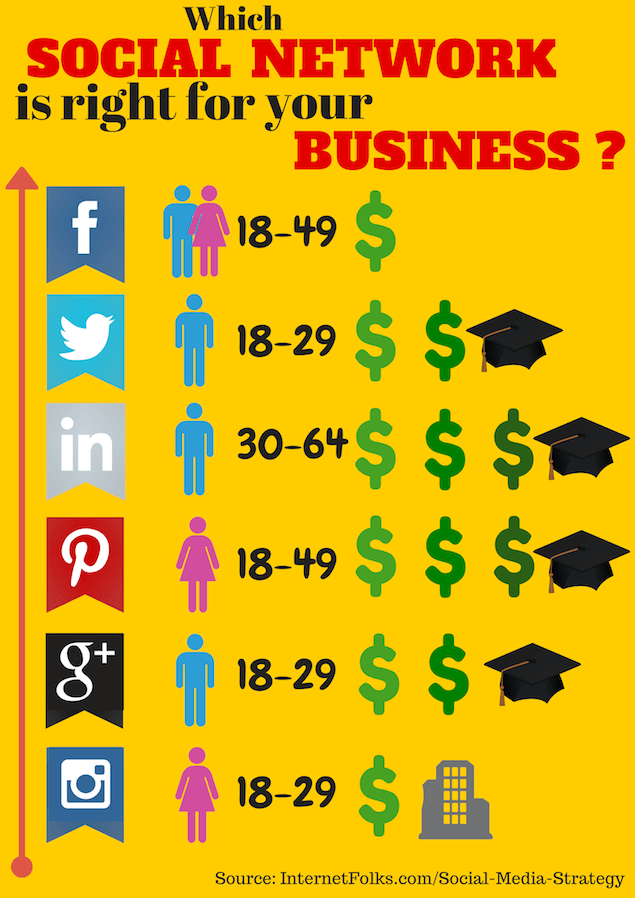 How To Use Each Social Network
As you can see, each social network appeals to a vastly different crowd and part of the reason behind this is the way they work. Some networks are image-focused, like Pinterest and Instagram, while others are more about sharing links and updates. Before you finalise your list of networks, take a look at how you can use each one:
Why Facebook?
Facebook is great for:
Releasing news to customers
Publicising events
Building brand reputation
With facebook, you bring your customers to you. If you're already a large brand or have a following elsewhere, facebook is a great place to keep building that fanbase. You also need to acknowledge that facebook is by far the most-used social network in the world.
Why Twitter?
Twitter is ideal for:
Customer service (talking directly to customers)
Finding new customers
Getting involved in topical conversations
Trend-setting with hashtags
With twitter, you can tweet at any (public) user and likewise be contacted by anyone. The small character limit makes it easy to have to-the-point conversations without wasting hours. You can also start trends by encouraging users to tweet your hashtags once you have a following.
Why LinkedIn?
LinkedIn is great for:
Networking with industry leaders
Advertising vacancies
Building brand reputation
LinkedIn is great for individuals looking to network for extra employability, but it's also useful for businesses that work closely with professionals in a certain market. You can join industry groups and share newsworthy or useful content to help build your brand's reputation.
Why Pinterest?
Pinterest is ideal for:
Bringing in new customers
Building brand reputation
Website referrals
Pinterest, being almost entirely image-based, is perfect for any product-based businesses that want to attract new customers. By pinning images of your products (old and new) onto specialised boards, you can reach a huge market of interested consumers. Data shows that Pinterest is also the second-best social network for bringing referral traffic through to your website (after facebook).
Why Google+?
Google+ is good for:
Virtual events (hangouts, q&a sessions)
Getting involved in topical conversations
I like to think of G+ as the lovechild of facebook and LinkedIn – it's more informal then the latter, but has a definite professional slant. Google likes to cite the successful Cadbury case study as an example of what you can achieve on the network and thanks to some handy YouTube integration, G+ is the most technically-competent major social network around.
Why Instagram?
Instagram is perfect for:
Building brand reputation
Reaching new customers
With most of its users accessing a smartphone app, Instagram is all about sharing pretty images (thanks to its attractive filters). Businesses offering visual products, especially clothes, can attract new customers and build their brand by sharing photos of their products, offices and team. For more reading, find out how Shopatrend, an online fashion boutique, used Instagram to get new customers.
To pick the best social networks for your business, simply cross-reference each network's functionality with their market.
Goal Setting
In order to measure ROI, you'll need to set yourself some social goals. Here are some examples to start you off:
achieve X% more website visitors
get 1000 followers/likes/repins
Once you know what it is that you want to succeed, it will be much easier to a) write your strategy and, b) evaluate your success.
Writing The Strategy
Now we have done 4 essential things:
defined our market and target customer personas
selected the most relevant 2/3 social networks for our market
understood how we can use each network
defined what we want to achieve from social media marketing
All that's left to do is put pen to paper and define our social media strategy.
To make things easier, here's a social media strategy template for you to edit/print.
A good strategy is broken down into 3 key sections:
Posting Strategy
Engagement Strategy
Growth Strategy
Posting refers to anything you add to accounts and can include uploading photos, writing a status or sharing a link. Engagement is about connecting with people, from answering questions to liking other posts. Growth is about reaching out to increase your following; this is usually achieved by following other accounts or engaging (yes there's crossover!) in conversations with new people. Don't forget that strategies can also span over to how you run your website, for example adding social share buttons or extra content for people that "like" your page on facebook.
For an excellent example of a social strategy done right, read SearchEngineJournal's complete social media strategy.
Evaluating Your Success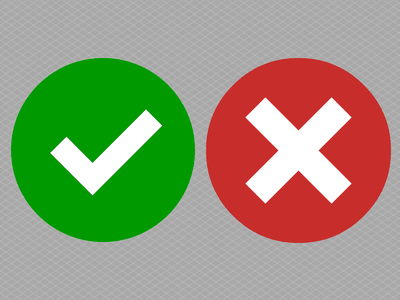 Your social media strategy needs to have an expiration date in order to let you step back and re-assess the situation. At the end of your initial period of, say, 3 months, you can ask:
Did we meet our goals?
If YES: Think bigger and set more goals for the next period.
If NO: Do some research and consider what changes can be made for the next quarter.
So, that's it – now you know the framework behind a good social media strategy (and how to write one). Now get to it!
---
For further research/reference, try the following:
Social Media Examiner: http://www.socialmediaexaminer.com/
Digital Marketing Magazine (UK): http://digitalmarketingmagazine.co.uk/
Media Post: http://www.mediapost.com/publications/social-media-marketing-daily/
Entrepreneur: http://www.entrepreneur.com/socialmedia/index.html