Welcome to Part 1 of The Big Spam Project. In this first case study, I analyse Sky's linking practices and reveal how they rank for a high-competition keyword ("Fantasy Football") that gets 1.2 million exact searches per month.
The Big Spam Project sets out to explain:
a) How big brands leverage SERP boosts with web spam.
b) Why Google's algorithms favour size over relevance.
c) How small sites can compete.
You can read the project overview here.
The sections:
1) How Sky Ranks For "Fantasy Football" With Mass Web Spam (you're already here!)
2) Coming Soon
3) Coming Soon
4) Coming Soon
5) Coming Soon
6) Coming Soon
Let's get cracking with Part 1…

Sky is a major satellite television network based in the UK. The overarching company is called BSkyB, which operates multiple websites and services, including Sky.com (television and broadband services), SkyBetting.com (gambling) and SkySports.com (sports news and programming).
BSkyB's revenue is more than £7 billion each year (that's more than $10 billion). Just this week, BSkyB announced a £5 billion takeover to create a new mega-network "Sky Europe".
What SEO methods is this multi-billion pound company using to rank? Old school web spam.
How Sky.com Ranks With Spam
Take a look at this cricket website: http://www.cricket365.co.za.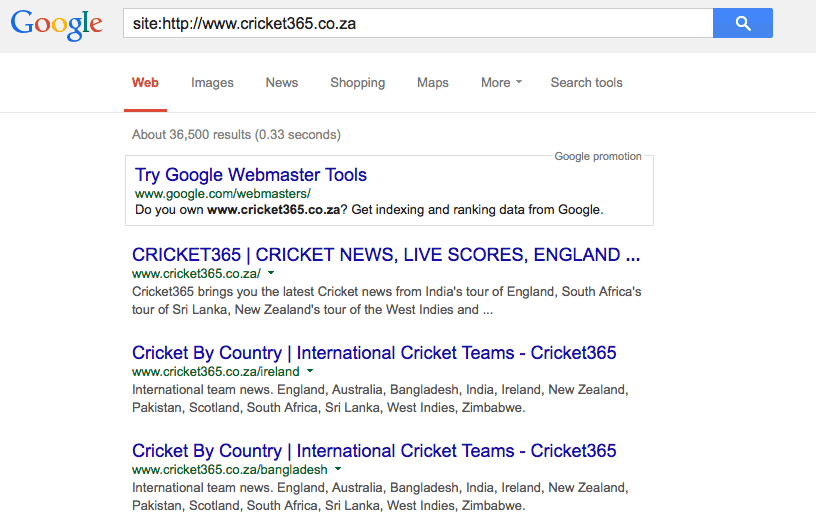 As you can see from a quick Google search, the site currently has 36,500 pages indexed. On each page, there's a footer stuffed with exact-match keywords and branded keywords, all linking out to various Sky network websites.
They're dofollow links, of course.
Here's just a few examples:
"Play Games Online" – http://games.sky.com
"Fantasy Football" – http://www.skysports.com/fantasyfootball
"Virtual Football" – http://www.skybet.com/betting/virtual-football/c10000092.html
the list goes on…
The company behind Cricket365.co.za, TEAMtalk media, and its parent company 365 Media Group, also run the following sites:
PlanetRugby.com (114,000 pages)
Golf365.com (18,500 pages)
PlanetF1.com (142,000 pages)
Football411.com (51,600 pages)
Extreme365.com (256 pages)
Cricket365.com (168,000 pages)
SARugby.com (18,200 pages)
TeamTalk.com (4,630,000 pages)
SportingLife.com (291,000 pages)
These sites have a combined total of approximately 5.5 million indexed pages.
Guess what you'll find on the footer of each of those sites? Yep, the same keyword-stuffed dofollow links to Sky's sporting and gaming sites.
Building The Link Farm
TEAMtalk media was acquired by 365 Media Group, a Leeds-based company in the UK. According to the company's Wikipedia entry, 365 Media Group was purchased by BSkyB (the company behind Sky.com). This article from The Guardian confirms that, in December 2006, BSkyB paid £96 million ($150 million) for 365 Media Group. That's an expensive link farm.
Obviously there were other (primary) reasons for Sky to purchase 365 Media Group (the company had several betting sites which were swallowed up by SkyBet.com, for instance), however the link farm is still providing great value to Sky and its many sites.
Here's the footer from TeamTalk.com (365 Media Group's biggest site) from December 2006, before the buy-out:
The keyword-anchored links point to other sites, for example:
"Casino Checker" – casino.oddschecker.com
"Betting Zone" – bettingzone.co.uk
By May 2007, a few months after the buy-out, the SEO team had already started to drip through some links to, amongst others, Sky sites:

"Sky Bet" – skybet.com
"Sky Poker" – skypoker.com
"Sky Bet Vegas" – skybetvegas.com
The anchors remained branded until November 2008, when a new footer was rolled out on TeamTalk.com and the rest of the 365 Media Group sites:
While these anchor-stuffed links definitely represent bad practice, we need to measure their effectiveness. Is Sky getting any SEO value from these links at all? Let's take a look.
How Well Does Sky Rank?
Let's take a look at some of the non-branded keywords used as anchors on Sky's link farms. Do the sites rank for the exact terms?
Google.co.uk rankings 25th July 2014
Sky ranks well with two exceptions: "Webcam Games" and "Play Online Games". According to archive.org's records, WebcamGames.Sky.com was last live in September 2012. Since then, all visitors to the site are met with an error page: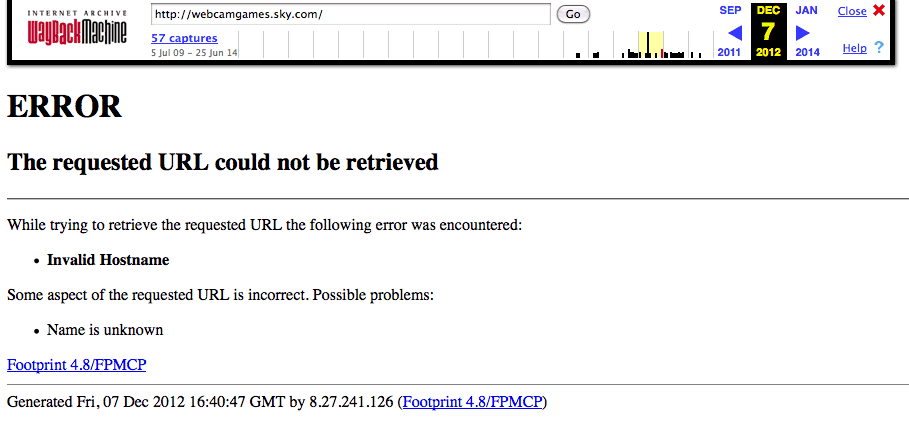 Understandably, Sky does not rank on Google.co.uk for the phrase "Webcam Games" as a result of the domain not actually existing. What's hard to comprehend is why Sky's link farm sites are still sending millions of links to a dead site. It would reasonable if the site went down a month or 2 ago, but nearly 2 years?
Sky ranks poorly for "Play Online Games", yet hits position 2 for "Fantasy Football". With the same number of links per domain, why does one site perform so much better? I suspect this is down to a 301 redirect.
Ranking for "Fantasy Football"
To understand why the 301 redirect works, we have to compare "Fantasy Football" links to "Play Online Games" links. Sky didn't have much luck with the links it sent to Games.Sky.com (it currently ranks at the bottom of Page 3) . Yes, "Play Online Games" is a competitive phrase (1,900 exact UK searches per month), but much smaller sites like TwoPlayerGames.org and GameHouse.com easily outrank Sky – why?
Moz's OSE picks up close to 200,000 links to games.sky.com, but only 61 unique root domains. This shows that the majority of inbound links Games.Sky.com receives are sitewide footer links. Why is a site with DA91, PA62 and PR6 (subdomain) not ranking better than position 29 for its primary keyword? I will hazard a guess and posit that these unnatural links may have triggered a Google penalty.
I checked to see if the "Play Online Games" footer link campaign was new (too new to affect the SERPs yet) – nope, the links were rolled out in 2012 (before that, the phrase "Free Online Games" was used for a while).
"Fantasy Football", however, gets 1.2 million monthly searches in the UK alone. Sky Sports currently ranks #2 for "Fantasy Football" with the same link profile Games.Sky.com has for "Play Online Games".
But there's one key difference.
Millions of links go to http://skysports.com/fantasyfootball in the footers of all Sky-owned sites:
But http://skysports.com/fantasyfootball 301 redirects to http://fantasyfootball.skysports.com.
The below screenshots from Open Site Explorer show that all the link juice is pushed from http://skysports.com/fantasyfootball (which appears to have no links) to http://fantasyfootball.skysports.com.
I suspect the 301 may be helping the site rank by avoiding a penalty (assuming Google wants to penalise footer links like these).
Sky Sports has never put real content on "http://skysports.com/fantasyfootball". When the page was created in 2008, it was full of links to another site, FantasyLeague.com. By 2009, it was redirecting to http://fantasyfootball.sky.com. 4 years later, the footer links still point to the old landing page. Why?
Compare the number of "Root Domains" Fantasy.PremierLeague.com, the #1 result for "Fantasy Football", gets:
Clearly, there are more genuine links going to Fantasy.PremierLeague.com, given that the domain diversity is so much higher than Sky's (1,229 unique domains, compared to just 98 for Sky). However, if we look at the #3 result, there's another link farm at work:

250k links across only 84 root domains works out to be around 3,000 links per domain! Clearly, these are not earned links, and most of them come from telegraph.co.uk or its subdomains:
Of course, it's possible that the search term "Fantasy Football" has not received a manual review by the Google web spam team, since there are other examples of footer link weight in the Page 1 results. For Sky, perhaps the footer links are carrying enough juice regardless of the 301 redirect – only time will tell.
 Why Google Likes Big Sites
Footer links are a controversial topic in SEO, and Google's standpoint not too clear either. In a Webmaster video from 2013, one user asked "If I have 20 domains, should I link them all together?". Matt Cutts responded by saying:
"I probably wouldn't link all the domains even in the footer all by themselves, because that's a little bit strange. […] Country top-level domains is one of the only areas I can think of where you'd really need to have 20 different domains. In theory, you might have a blog network, but even then, you know, I've seen very large blog networks and if you've got that footer at the bottom that has a lot of unrelated domains, at some point it gets pretty big; even then, you'd probably only have, like, 10 domains and a maybe few posts on each domain that are linking to each other. "
It's a grey area: we know that non-contextual footer links carry less weight, but we also know that links from popular and trusted domains carry more weight.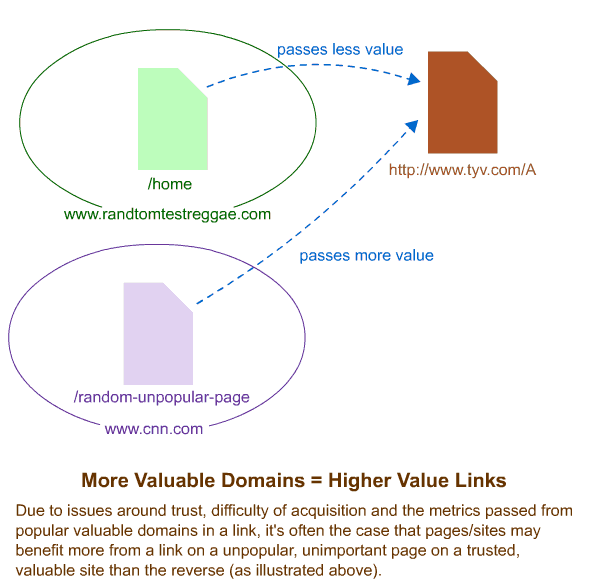 In the end, it's difficult to deny that Google favours large sites. We've seen this happen over the last 5 years, since Google launched the 'Vince' update in 2009.
The problem comes down to two things: trust and reputation. Google's manual and algorithmic website audits must establish these two parameters. Unfortunately, unless you've met the webmasters in person, trust and reputation and impossible to measure fairly. As a result, trust and rep are measured by looking at the size of a site and the number of reviews, comments and links it receives. Amazon gets a lot of product reviews, so they have a good reputation. Wikipedia becomes a "trusted source" because it's popular and peer-reviewed (even though so much of the data is inaccurate). Maybe "tinylittleencyclopedia.com" is much more reliable, but Google will never know about it because Google can't effectively measure small-scale trust.
Manual reviews don't help much either; just look at some of the examples Google shows its Search Quality evaluators represent high quality (dated March 2014):
According to Google, a site is of the "highest quality" if it has tonnes of reviews or has won 100 Pulitzer Prizes. Is this an achievable goal for small site owners? I tracked down the latter example and found it was an article posted on the New York Times' parenting blog called "Should Strollers Be Banned?". The author, Lisa Belkin, has also worked for The Huffington Post and Yahoo. Does this make her an expert? Yes. The "highest quality" expert? It's impossible to say. But Google makes that assumption regardless.
Want to know more about big-brand web spam? Then check out the rest of The Big Spam Project:
1) How Sky Ranks For "Fantasy Football" With Mass Web Spam (you're already here!)
2) Coming Soon
3) Coming Soon
4) Coming Soon
5) Coming Soon
6) Coming Soon