CoinCentral.com is a cryptocurrency blog that launched in August 2017; 4 months later (December 2017) its traffic is estimated at 2.7 million monthly visitors. This site caught my attention because of its massive organic traffic reach in a very short space of time (over 77% of traffic is estimated to come from organic search results).
In this case study, I'm going to dive into the details and reveal how this newly launched site came to dominate the SERPs in just a few months, providing some insight that you can use to help your SEO in 2018. I like to delve into as much data as possible, covering both on-page and off-page SEO to give a better overall picture of the strategies that are paying off. I'm not suggesting that you (or I) should copy this site exactly, but looking 'under the hood' at a successful site helps figure out some of the practices that Google's rewarding right now, and that's a great place to start innovating from.
Disclaimer: I am in no way affiliated with Coin Central or its marketing contractors. I am analyzing the site's on-page and off-page SEO and marketing strategies using third party tools and have no access to the site's backend or analytics software.
Let's dive straight in.
Winning Strategy 1: Pick an emerging niche
Coin Central is a crypotocurrency information site. It provides blog posts with opinions, news and explanations of popular and emerging cryptocurrencies like Bitcoin and Ethereum. It is what I'd call a niche site (focusing on just one topic) – in this case it is a cryptocurrency and blockchain technology niche site.
There's no doubt in my mind that a good chunk of Coin Central's success is due to the recent cryptocurrency boom. A quite narrow topic has suddenly become mainstream, with regular coverage in the 'big name' publications. Just look at Google Trends for things like "blockchain". Aside from its recent growth, cryptocurrency is a good niche for an affiliate or income site because it's a topic that most people need to read about, and it lends itself to purchases/investment.
So is the cryptocurrency niche saturated now? I don't think so. I am of the firm belief that there's no such thing as 'saturation' online, where there are millions of websites but billions of readers. Some niches might be harder to compete in, but sometimes all it takes is a new perspective. If I was interested in starting a cryptocurrency blog right now (I'm not), I'd be fairly confident that there's plenty of room in the SERPs for a new site.
You can see from the SERP for the keyword "how to make money with bitcoin" that there's still room in the top 10 for newcomers (the clue is that Quora and YouTube rank).
Winning Strategy 2: Get a head start with an aged domain
The domain CoinCentral.com was first registered in 1997. Archive.org shows that it was originally a coin collector site between 1999 and 2002, then remained unused until 2017. The domain history indicates that it was dropped from the original owner and then listed for sale on Sedo.
The site as we see it today began in August 2017. I can't find the Sedo sale price, but it was listed for offers over £75. I'm sure it sold for quite a bit more than that.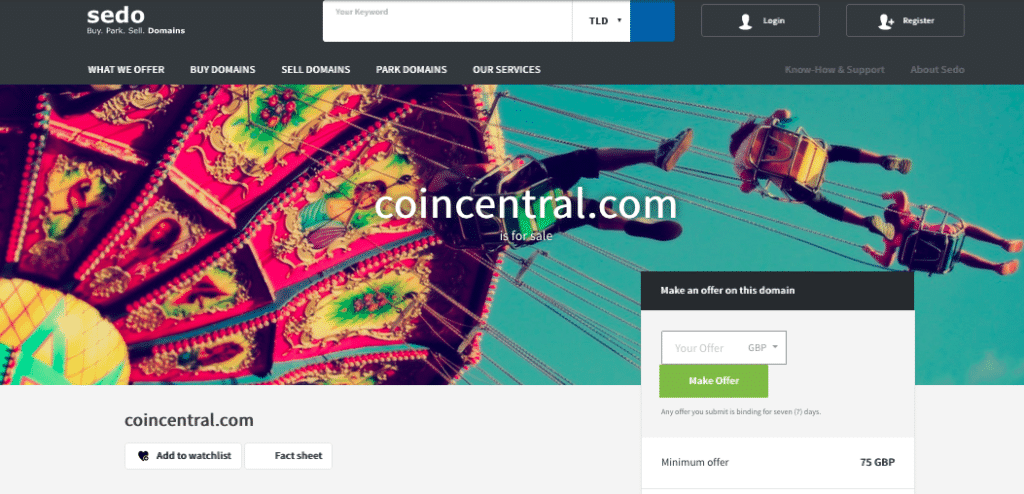 The name "Coin Central" is great for SEO: it's brandable, but has clear niche intent.
According to Majestic, CoinCentral.com didn't have many historic backlinks before it was turned into a cryptocurrency blog, so it didn't get too much of a backlink head start before August 2017.
However, in my experience, starting a new project with an aged domain can really help with SEO in the initial months, allowing backlinks to be built at a higher velocity with less risk of getting sandboxed. Don't be fooled, though: it's not quite as simple as "buy aged domain, make ton of backlinks", as I'll get into later on when I analyze Coin Central's initial backlink stategy.
Winning Strategy 3: Setup a simple WordPress website
CoinCentral.com is a WordPress site that uses Cloudflare for DNS. The site uses caching plugin WP Rocket, review layout plugin WP Review Pro and Yoast SEO. The theme is custom, built using the Beaver Builder plugin. It also uses https:// as standard, which has become something of a best practice in the SEO world, and is at the very least a good trust indicator for users.
Google's PageSpeed insights rank the site as ok in terms of page load speed, placing it in the middle third of all websites on both mobile and desktop (although it performs a little worse on desktop).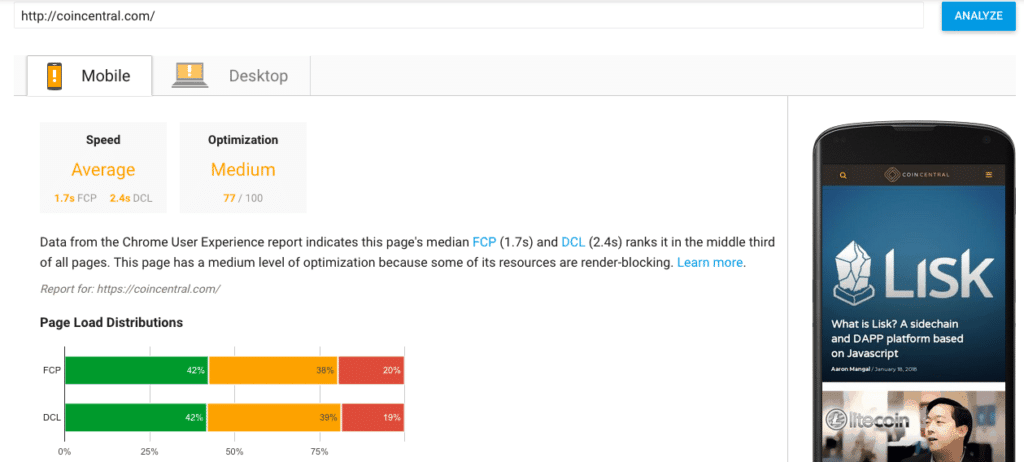 Pingdom's website speed test records the server taking 1.94 seconds to load 2.7MB on the homepage, which is ok but nothing remarkable. Overall, Coin Central is no different to the kind of affiliate or niche site anyone could set up with a budget of under $100 (for plugins, hosting etc).
Winning Strategy 4: Leverage some initial PR/social exposure
CoinCentral was created by professional poker player Doug Polk. He has a successful YouTube channel dedicated to poker, and recently created one about cryptocurrency, too. However, Doug himself does not get any author credits on the site; aside from a merchandise link to UpSwing Poker (Doug's poker strategy website), which I think is a coding error (did someone copy the UpSwing site template?!) there's no acknowledgement of him on Coin Central.
Did Doug's 'celebrity' and existing following help him launch the site? Absolutely. Polk officially announced the site to his 80k+ followers in October 2017, shortly before site traffic took off.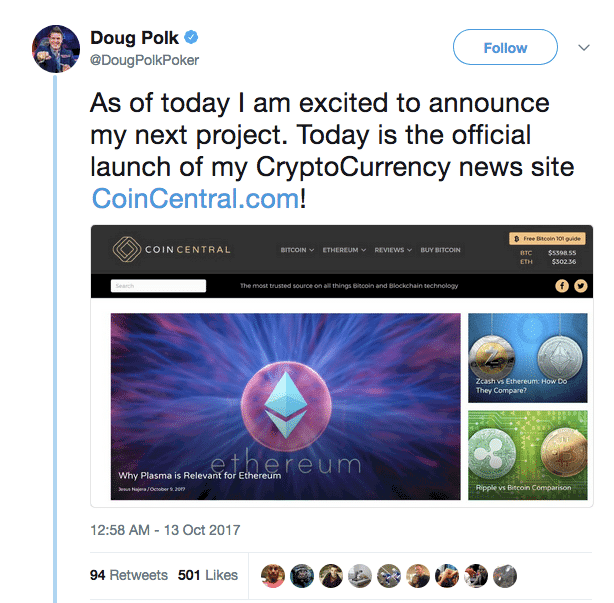 Some Poker-related news sites also picked up the launch story and provided an initial round of backlinks to the site.
It's also worth noting that the poker community is a good fit with cryptocurrency. Doug Polk is also a very successful poker player, recently winning over $3.5 million in a World Series of Poker event. Doug might have plenty of cash to launch a new site, and his existing network (and email list) might have helped with the launch, but attaining 2.7 million monthly visits from mostly organic search traffic speaks to the success of the site itself, not just its founder. It would have been easy for Doug to throw PPC money at Coin Central, or send traffic via YouTube or his poker email list, but the traffic stats show that this was not the case.
There is, however, one key way that Doug's initial PR boost helped Coin Central with its organic SEO reach: it likely triggered Google's viral sensors. This is only a theory as Google doesn't like to make its algorithms too clear, but I'm not the first SEO to notice that if a site gets viral signals (like getting a lot of retweets, or to the front page of Reddit), backlink velocity can increase without triggering a penalty.
For Coin Central, Doug Polk's initial tweet, posts on Reddit and launch of a cryptocurrency YouTube channel (with links in the description) would have been more than enough viral juice to both give the site an initial ranking boost, and allow link velocity to soar without it looking unnatural.

According to Majestic, link velocity took off around the 19th November 2017. You can see a spike around December 9th, when Doug launched his Cryptocurrency YouTube channel. Exposure on Reddit also began to boom around this time.
https://www.reddit.com/domain/coincentral.com/top/?sort=top&t=all
Hint: use the above URL (changing the domain, obviously) to find the top reddit shares of any site.
As I'll explain later on, the site has plenty of 'blackhat' links mixed in with the natural ones, and I'd guess that the viral boost helped these go unnoticed (for now).
Winning Strategy 5: Content quality over quantity
At the time of writing (Jan 2018), CoinCentral.com has 314 indexed pages on Google. Looking at the sitemaps (auto-generated thanks to the Yoast SEO plugin), there are currently 190 posts and 28 pages. Not that many for a site that brings in millions of uniques each month.
Coin Central's content strategy invested in high word counts. One of its most successful posts on "What is the next Bitcoin?" has over 3000 words and 20 images. I ran most of the sitemap through a word counter and found a definite word count pattern:
Major content (like "What is Bitcoin") always over 3000 words
"How to" and "Review" posts always over 1000 words
While the site might only have 300 pages, in terms of word count, I estimate the site to contain more than 500,000 words. Now the organic reach becomes a little more understandable, thanks to a ton of longtail keywords that will naturally find their way to the SERPs. I must make it clear, though, that writing waffle to reach a word count is probably of little use (but by all means run an experiment and prove me wrong).
So who's writing all this content? Doug Polk doesn't write a word (at least not with credit), but the site's major writer is Alex Moscov (a professional writer/entrepreneur). Some of the other writers with bylines include Bennett Garner (a writer who works on UpWork), and Aaron Mangal (a writer who also works at CoinStructive). Clearly these are not your run-of-the-mill fiverr content writers and I think it's clear where Doug Polk's biggest investment in Coin Central has been: its content. If you start an affiliate site in a technical niche and expect to rank effortlessly with $5 content, you're going to waste a lot of time. Also, as I'll explain when I get stuck into CoinCentral's backlinks later on, quality content is more resilient against link building techniques (even 'black hat' ones) and provides a extra layer of future-proofing that makes a site more of a sound long-term investment. It's nothing we didn't know before, but hiring decent writers seems to be one of the strategies that helped Coin Central dominate the SERPs in just a few months after content was published.
Winning Strategy 6: Focus on keywords that drive traffic
It's clear that the site is not just a bunch of random cryptocurrency articles. The keyword strategy is very deliberate and is paying off. Here are the keyword categories that the site uses as a framework:
"What is…?"
"What is" keywords are great for catching searchers who are looking for information about something in your niche. Coin Central uses this keyword technique heavily, with content like "what is lisk?" and "what is dragonchain?". For me, the "What is" keywords are usually the least valuable in terms of bringing in affiliate sales (too far up the funnel), but since Coin Central also monetizes with AdWords, all traffic is good traffic. Furthermore, "What is" keywords are great for both internal linking and external link building (especially once you rank, ironically enough).
"Best…"
I want to hate "best" keywords, but I can't help but admit that they really are the best (*groan*). Searchers want to fast-track their way to the 'best' of whatever they're looking for and there's no synonym ("greatest", "most amazing", "top") that compares in terms of search impact (at least, I haven't found one yet, top comes close). Coin Central uses "best" keywords sparingly, but it pays off. For example "best bitcoin wallets" is climbing up the SERPs fast.
"A versus B"
Another classic keyword technique that works. Searchers want to make a decision between a couple of options, and your content can help. Coin Central does a lot of cryptocurrency comparison content like "moreo vs bitcoin" and "coinbase vs bitstamp".
"…review"
Coin Central has WP Review Pro installed for a reason: they use review keywords to get ranked for terms with greater buyer intent. Examples include "Coinbase review" and "Gemini review".
Aside from making sure that keywords strike the right chord with actual visitors, it's also important to make sure you can compete in the SERPs when you launch a new site by analyzing keyword difficulty. A bunch of tools like ahrefs and SEMrush will give you an automatic calculation of 'KD' (worth it for mass research), but you can achieve the same effect by just looking at the SERP yourself. Coin Central is dominating a number of 'easy' keywords (aka ones with low KD) in the cryptocurrency niche, for example "anonymous bitcoin wallet". The SERP shows low authority sites, reddit and forums in the top 10, indicating that it's easy to rank for (if you want to measure 'authority', you can use Moz's free browser plugin).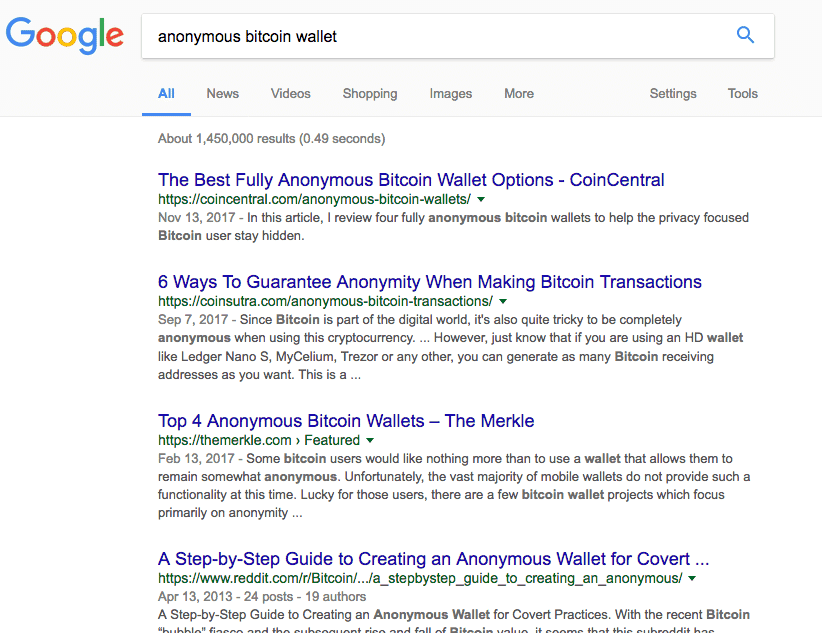 You can see how important keyword selection is when it comes to ranking a new site by looking at how Coin Central is struggling to rank for the term "how to buy bitcoin". The page 1 SERP is filled with very high authority domains like LifeHacker, Fortune and the official Bitcoin website.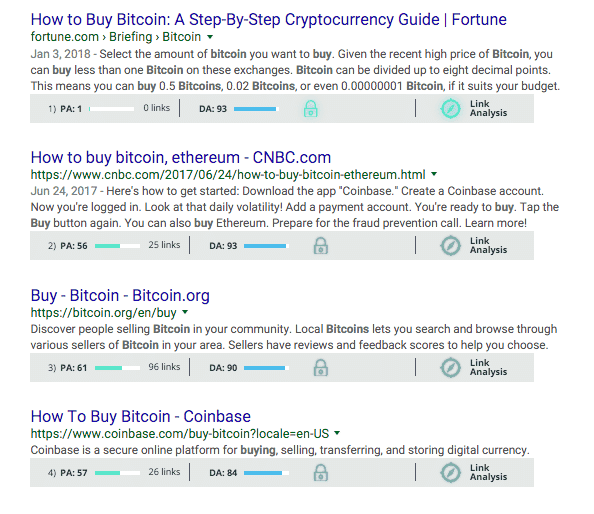 Coin Central is currently lagging at around position 100; I've been tracking it for a few weeks and it's not showing any movement. The lesson learned here is that longtail/low competition keywords are your friends, especially if you have a new site with low authority.
Winning Strategy 7: Get a blackhat head start (BHS)
British readers might recognise BHS as the high street department store, but I like to use the acronym to stand for Blackhat Head Start, a technique that Coin Central has definitely benefited from in the last few months.
So what is a BHS? The principle is to create an authority domain with high-quality on-page metrics (great content, keywords etc) and get a head-start on the SERPs by building some targeted blackhat links. A lots of SEOs would probably criticize this technique, as many claim that you must wait x amount of months until you build links to a new site (blah blah blah). Bottom line is that if your content and site are high quality, they can take blackhat links from the start, provided they are selected correctly (I'm not talking about sending a bunch of GSA spam here).
I'm not going to go reveal some of the links I found powering Coin Central's success (hint: PBNs), because they've taken the time to hide them as much as possible, and I don't think it's right to be too specific when it come to 'outing' other sites. I will just repeat that a new site with smart keyword selection, good on-page and strong content can get away with some initial blackhat links, especially if the domain is aged and has plenty of natural links are coming in via social and news sites (don't forget that Doug Polk's got a bit of celebrity to leverage).
One backlink strategy I will reveal, however, is Wikipedia link bulding.
If you look at the Wikipedia entry for Ethereum, you'll see that Coin Central is among the sources.

The link was added by a user called "JamesmcC" on 11th September, and didn't get removed by any mods.
Yes, Wikipedia links are 'nofollow', but they're still valuable. Coin Central currently ranks near the top of page 3 for "What is Ethereum", which is pretty good considering the competition for the term. Also, don't forget that a nofollow Wikipedia backlink is a great way to dilute your blackhat efforts early on.
For what its worth, I can find evidence of Coin Central's 'blackhat' link building as far back as early September 2017, less than 1 month after the site launched. If you're going to give a new site a BHS, then make sure you've got a bit of social/press traction first to get the viral advantage.
And if you're feeling adventurous and want to delve into Coin Central's backlink profile yourself, I'll give you one piece of advice: backlink measuring services like ahrefs and Majestic are often blocked by webmasters (usually by .htaccess) to stop competitors/Google finding them easily. If you want to be a proper PBN detective, you need to look for smaller, less popular crawlers (or better yet, build your own) to find the juicy stuff. Just sayin'.
Room for improvement
Coin Central is doing lots right, and has had impressive growth in just a few short months. However, there's plenty of room for improvement. Here are a few strategies I would prioritize if I was doing SEO on the site.
Optimize anchor text ratios
One of the pages I can see Coin Central struggling to rank for is "What is bitcoin?".

According to Majestic, the page has around 350 backlinks, and over 50% of them are built using the anchor "bitcoin". In my view, this is way too much, and is probably what is holding the page down around position 100.
Diversify backlinks with nofollows and unique domains

Another potential issue with Coin Central's current backlink strategy is that is quite focused on dofollow links (aside from Wikipedia), as a result of the carefully built PBN/301 links (I'm not giving anything else away so don't ask!). Even thought the site has good viral/social stats and quality content metrics, the mass of dofollows from a smaller number of domains is a bit of a red flag. If it were up to me, I'd work on some outreach for the site, probably just starting with simple nofollow blog and forum comments within the cryptocurrency niche, to diversify the link profile a bit more.
Final Takeaways
Coin Central grew from 0 to close to 3 million monthly page views using primarily organic SEO techniques. This was achieved by using an aged, brandable, niche-relevant domain, targeting terms with low keyword difficulty, creating long-form content from 1000 to 3000 words per post, gaining initial social exposure on Twitter, Reddit and Facebook (thanks to Doug Polk's celebrity, but you can do the same with ads/blackhat), and boosting efforts with blackhat link building.
The site's traffic is surely going to grow further in the coming months and I expect organic traffic to rise too, based on Coin Central's recent inclusion in Google News results, after choosing a more news-based strategy for new content.
I'm also impressed with their list-building campaign, a weekly email roundup of cryptocurrency news called "This week in Cryptocurrency". The 'news' section of the site is likely to bring in a lot more traffic and links, both via Google News and social media, but it requires a lot of investment in content. Coin Central didn't add any news or time-sensitive content until October 2017, and I think that i was wise to focus on the 'evergreen' niche content first.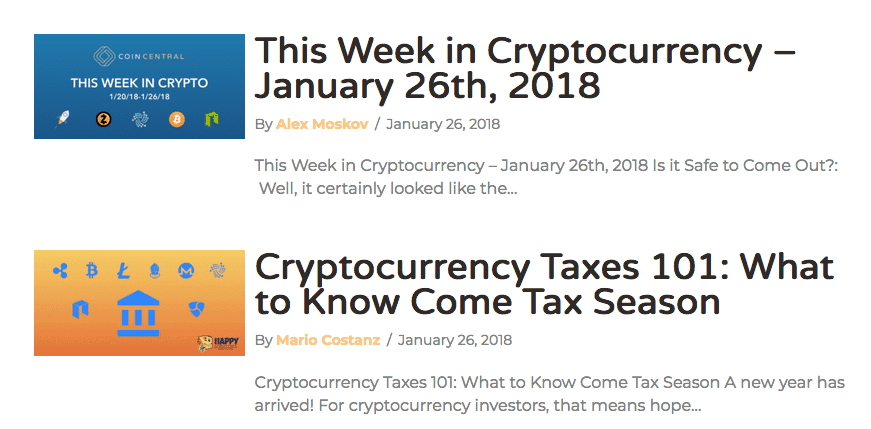 I'm not going to sugar-coat it: Coin Central's success cannot be equaled without a significant investment (primarily in content), but you could easily match its success on a smaller scale with a tiny budget. I've certainly learned a lot from studying Coin Central. If you have too, check back later as I have more case studies in the pipeline soon! In the meantime, drop me a message on Twitter or here in the comments.