It's every website owner's dream: type in a keyword, hit the "Write" button, and watch as a perfectly-written, unique, article appears on the screen. No freelancers, no overhead, just an infinite well of amazing content.
I hate to break it to you, but AI content generator software cannot replace human writers (yet…). But, if you're willing to do some heavy editing, they can save you some time and help your tiny human brain generate ideas.
In this post, I'm going to take you through some of the best content writing software on the market, and show you real examples of the content they generate. To have some fun with it, I'll be using each tool to write sections of this post.
Let's see how they do… (spoiler alert: mixed results ahead!).
Quick answer: best AI content generator software compared
Here's a quick overview of the tools I review in this post:
| Tool | Users | Languages | AI | Price | My Verdict |
| --- | --- | --- | --- | --- | --- |
| Rytr | 750,000 | English + 35 more | GPT-3 | From free | 8/10 |
| CopyAI | 500,000 | English + 24 more | GPT-3 | From free | 6/10 |
| Jasper | 50,000 | English + 23 more | GPT-3 | From $29 | 7/10 |
| Frase | 30,000 | English only | Frase NLG | From $19.99 (+ $35) | 5/10 |
| Bramework | 1,000 | English only | GPT-3 | From $9 | 3/10 |
Rytr is an AI writing tool founded in India in 2021. It's grown very quickly and now has a user base of over 750,000.
What technology does Rytr use?
Rytr uses GPT-3 (provided by OpenAI) as its language model.
Which languages does Rytr write in?
Rytr writes in 34 languages: Arabic, Bulgarian, Chinese (S), Chinese (T), Czech, Danish, Dutch, English, Farsi, Filipino, Finnish, French, German, Greek, Hebrew, Hindi, Hungarian, Indonesian, Italian, Japanese, Korean, Lithuanian, Malay, Norwegian, Polish, Portuguese, Romanian, Russian, Slovak, Spanish, Swedish, Thai, Turkish, and Vietnamese.
How much does Rytr cost?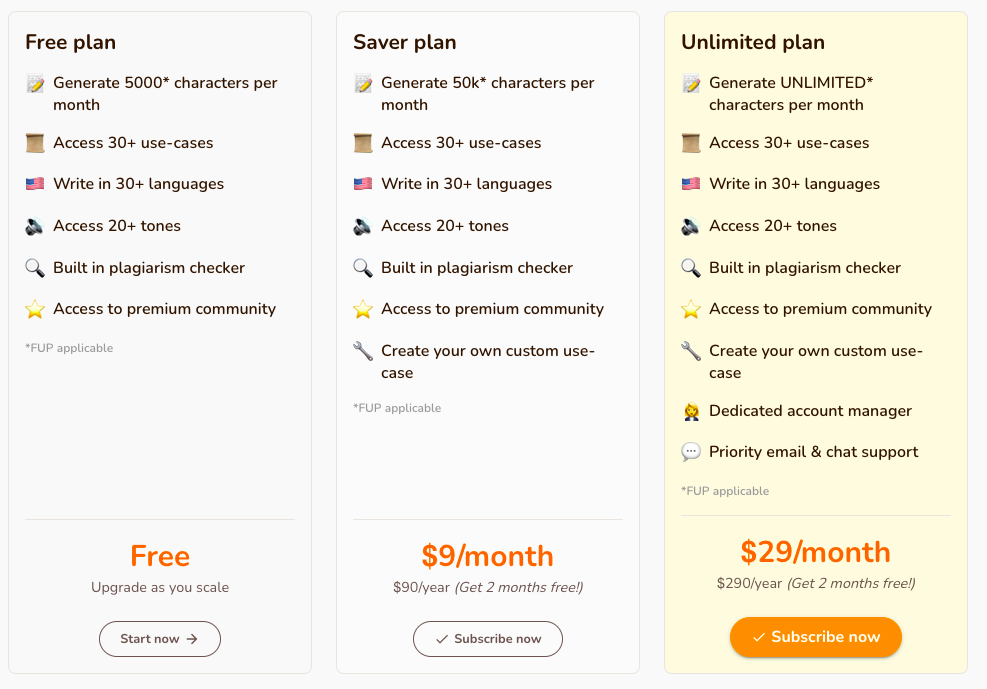 Rytr is very affordable: there's a limited free plan to get started (5000 characters a month), and $9/month and $29/month tiers, which offer higher character limits. If you pay annually, you'll get 2 months free.
Limits are based on characters, starting at 5000 characters on the free plan. As a guide, expect 5000 characters to give you 1000 words.
Rytr writing sample
I tasked Rytr with writing this very blog post by giving it my main keyword as the topic ("best AI content generator"), and a couple of related keywords to get it started. Here's what it came up with (no editing done by me):
There are many AI content generators out there that you can use to generate content for your company. However, not all of them are created equal. You should consider the following factors before choosing an AI content generator:

– What is the quality of the generated content? Is it readable? Is it grammatically correct?

– How much does the service cost per month or per year? What is the price for a single article or blog post?

– How easy is it to use this service? Is there a user interface with clear instructions on how to use it with ease? Is there a tutorial on how to get started with this service if needed?
Honestly, it's not bad! It works as a perfectly decent blog post introduction. When I tried to generate more content, it sort of just re-wrote the same intro. To get better content, you need to feed it short sections, for example I then asked it to write a definition for "what is an AI content generator?", and it came up with this:
An AI content generator is a software that can generate content for a given topic or niche.

The first step in the process of generating content is to input the topic into the AI. The AI will then search through its database and find any relevant information. It will then create a list of ideas related to the topic and provide them to the user.
Again, it's pretty good!
Next, I asked Rytr to review itself:
And finally, I fed Rytr the keyword "Rytr vs Frase":
Rytr is a content marketing platform that uses AI to generate relevant content for its clients. Frase is another AI writing assistant that helps its clients generate blog posts, articles, and other types of written content.

Both Frase and Rytr are AI writing assistants that can help companies create more content for their clients. They both have different features and use cases which make them better suited for certain tasks than others.
Hmm. You can see the limitations of Rytr (and AI-written content in general) here: it's great at providing summaries, but cannot make a specific or concise argument. For example, when summarizing Rytr vs Frase, you'd expect to see a comparison of prices and features. Rytr's AI-written text essentially waffles about nothing.
If you have a solid blog post outline, you could easily fill in sections that require definitions and summaries with Rytr. However, for more specific, nuanced or technical content, you'll still need a human.
My verdict: 8/10
Overall, I'm impressed with Rytr: the free plan lets you play around with tool (5000 characters works out at around 1000 words) and the pricing for premium plans is very competitive. The editor is simple and really easy to use and the quality of content is good if you want to generate short definitions. It does what it's supposed without a ton of unnecessary features.
CopyAI is an automated writing tool for marketers. CopyAI was founded in Memphis, Tennessee in 2020 by Chris Lu and Paul Yacoubian. CopyAI boasts around 500,000 users as of 2022.
What technology does CopyAI use?
CopyAI uses GPT-3 as its AI.
Which languages does CopyAI write in?
CopyAI writes in 26 languages: German, English (Britain), English (American), French, Italian, Japanese, Spanish, Dutch, Polish, Portuguese, Portuguese (Brazil), Russian, Chinese (Simplified), Bulgarian, Czech, Danish, Estonian, Finnish, Greek, Hungarian, Latvian, Lithuanian, Romanian, Slovak, Slovenian, and Swedish.
How much does CopyAI cost?
CopyAI has 3 plans: Free, $35/month, and custom. Free users get 10 credits a month, which means you can click "generate content" 10 times. It's not much, but new users also get 100 bonus credits for the first month.
CopyAI writing sample
One thing that bugged me right away with CopyAI was that you can only sign up with a Google or Facebook account. What happened to email?!
Putting my annoyance aside, I tried to get CopyAI to write an intro about AI content generators using one of its 'Blog Tools':
It generated 12 intros (you have to scroll down to see them, they do not appear in the editor on the right, as I was expecting!). A lot of them were weird but these are the 2 best ones (they are unedited):
Have you ever wondered what is the best content generator? Or what's the best tool for generating blog content? The search for this tool has been a number one problem for some time now, and we have created a solution to it. We are proud to present you with the very latest in Artificial Intelligence technology – AI content generator!

Whether you are looking to cut down your blogging time in half, increase your keyword density, or simply improve your writing flow—there's no denying that a "content generator" can make the difference between a successful blog post and an average one.
Next, I used CopyAI's 'Freestyle' blog tool to get it to define "what is an AI content generator?". It spat out 6 options, and this was the best:
AI content generators are programs that create content for you. They range from simple tools like thesaurus.com to more advanced programs that can write full-length books, articles, and even screenplays.
It's not bad, although I'm not sure that Thesaurus.com really counts as AI.
Then, I asked CopyAI to review itself by inputting the keyword "CopyAI review", and got this:
Most of the other suggestions included an incorrect description of the company, which was frustrating. Also, it's weird that there's a gap where the [person] who founded CopyAI should be. It highlights the limitations of the tool when it comes to pulling in facts or statistics.
Finally, I asked CopyAI to compare itself to Rytr by feeding it the topic "CopyAI vs Rytr". This was the best of what it generated:
We're going to talk about two companies: CopyAI and Rytr.

CopyAI makes a product that is a program that helps scan and digitize documents at a faster rate than conventional methods. Rytr is an artificial intelligence company that can write emails for you.

The two products have the same goals and target customers, yet they differ in their marketing strategies, pricing, and approach.

We're going to go over the pros and cons of each so you can decide which one you would rather invest in.
It's not bad as an introduction, but it wrote a completely incorrect definition of its own company!
My verdict: 6/10
CopyAI could be used for writing blog post sections, but heavy editing would be required to make anything publishable. CopyAI is not the cheapest AI content writer out there, and its accuracy needs improvement. Overall, CopyAI could have its uses, but it's not a major time-saver in its current state so I don't recommend it.
Jasper is an AI writing assistant that used to be known as Jarvis (they changed their name after Marvel aka Disney threatened them for breaching their IP – J.A.R.V.I.S. is Tony Stark's computer system). Jasper also used to be known as Conversion.ai.
Jasper was co-founded by Chris Hull, John Philip Morgan, and Dave Rogenmoser in 2017 in Austin, Texas, and currently has around 50,000 users.
What technology does Jasper use?
Jasper uses GPT-3 as its AI and can also pull data from SurferSEO (separate subscription required).
Which languages does Jasper write in?
Jasper writes in 24 languages: Bulgarian, Chinese, Czech, Danish, Dutch, English, Estonian, Finnish, French, German, Greek, Hungarian, Italian, Japanese, Latvian, Lithuanian, Polish, Portuguese, Romanian, Russian, Slovak, Slovenian, Spanish, and Swedish.
How much does Jasper cost?
Jasper has two pricing plans, but each has variable pricing depending on how many words you want to generate. The starter plan begins at $29/month. The 'Boss Mode' plan starts at $59/month for up to 50,000 words/month, and includes additional features for long-form writing like a document editor and integrations with SurferSEO, Copyscape, and Grammarly (you'll need to pay for those separately). Signing up annually gets you 2 months' free.
There's no free plan for Jasper, but you can try any plan free for 5 days (credit card required). You will need to remember to cancel before the end of the trial or you'll be charged for the full monthly amount.
Jasper writing sample
Since I'm testing AI on blog posts, I am using Jasper's 'Boss Mode' plan to generate these samples.
First, I entered the document editor in the "Long-Form Assistant" tool and gave Jasper the same input as the other tools I'm testing. However, it couldn't generate anything useful with my limited guidance:
I had to give it more of a helping hand by adding a better content description and a title. It then gave me this:
Better. The first sentence is alright, but the rest isn't relevant.
To try again, i moved away from the "Long-Form Assistant" tool and into the "Blog Post Intro Paragraph" tool (available on all plans). It gave much better results:
A bit generic maybe, but very usable.
Next, I went back to the "Long-Form Assistant" and tried again, this time using Jasper's template to fill in my keywords. It generated a blog post title and introduction for me, which were both very good:
The Best AI Content Generator Tools: How to Create Engaging Content Fast

As a business owner, you know that content is key. You need to create engaging content that will keep your readers coming back for more. But sometimes, creating content can be time-consuming and difficult. That's where AI content generator tools come in! In this blog post, we will discuss the best AI content generator tools and how to use them to create engaging content fast.
I stuck with the "Long-Form Assistant" and changed the inputs to generate new sections on "what is an AI content generator?", "Jasper AI review", and "Jasper vs Rytr". The most irritating thing about the process was having to completely delete and re-write the input content in the left column to get more content to generate. This took me more than time than Rytr's simple editor, which only required a topic and keyword each time.
The content was decent, but I had to remove a few half-written sentences to clean it up, plus it was factually inaccurate.
My verdict: 7/10
Overall, Jasper was capable of writing some decent content, and came the closest in style to human writing. It also understood different types of content (reviews, comparisons). However, the long-form editor is clunky to use and takes some practice to get decent results. The pricing is also higher than others (from $59 for the long-form tools). I'd use Jasper, but only second to Rytr in its current state.
Frase is an AI content writing and optimization platform founded in Boston in 2016 by Cody Jacques and Tomas Ratia. Frase currently has around 30,000 users.
What technology does Frase use?
Frase uses its own NLG (Natural Language Generation) AI instead of GPT-3.
Which languages does Frase write in?
Frase currently only creates AI generated text in English.
How much does Frase cost?
Frase has 3 pricing plans that range from $19.99/month to $114.99/month, with a 15% discount if you pay annually. There's also an SEO add-on for a flat $35/month extra which will give you access to Frase's AI writer and SEO data. Frase does not offer a free plan or a free trial. You can get a 7-day trial by paying $1 by credit card.
Instead of having word limits, Frase offers document credits instead, which is much better value if you're creating long blog posts.
Frase writing sample
Since I'm going to be reviewing Frase's AI writing capabilities, I will be using it with the extra $35 add-on to test it out.
Once I had signed up, Frase directed me to create a new document and add my keyword. I like that the focus is on keyword-optimized content.
Frase then scrapes the top 20 search results for your keyword and generates a summary and suggested word count:
You then have a couple of options… I tried simply clicking the "write for me" button and Frase generated a decent introduction:
How would you describe artificial intelligence (AI)? Is it something new or has it always existed?

Artificial Intelligence (AI) is a field of computer science that focuses on creating intelligent machines that perform tasks normally requiring human thought. The term was coined in 1956 by John McCarthy at Dartmouth College.

Today, AI is everywhere. From self-driving cars to smart speakers, AI is being used in almost every aspect of our lives. In fact, AI is already changing the way we live, work, play, shop, date, and even sleep.
While it's nicely written, it's not quite on-topic. Next, I went to the outline tool, which lets you manually select heading ideas from the top-ranking results:
I typed my own headings into the editor so Frase would write about the same content as the other tools in my test. Getting it to write was very easy: highlight the title then click the "AI Writer" button and select "Write about this". The UI is great but sadly the generated content was very poor, and it changed my heading into bizarre and unrelated ones (unedited):
Frase has a bunch more SEO-focused tools, like an optimization panel which shows you recommended keywords to include in your content (like what you'd get from SurferSEO or MarketMuse), which add value but ultimately don't help Frase generate better content for you.
My verdict 5/10
Overall, the quality of Frase's AI generated content was average at best. Yes, the tool has some nice SEO features, but the quality of the AI writer add-on ($35/month) doesn't justify the cost, especially when you compare its content to better offerings from Rytr, Jasper, or CopyAI. In my opinion, you'd be be better off using a tool like Rytr and then pasting content into a dedicated SEO editor like SurferSEO.
Bramework is an AI-powered writing assistant with a focus writing SEO-friendly long-form content. Bramework was founded in 2019 by Handy Metellus, who's based in Florida.
What technology does Bramework use?
Bramework uses GPT-3 and can also pulls SEO data from SEMRush (separate subscription required).
Which languages does Bramework write in?
As of Feb 2022, Bramework only writes in English.
How much does Bramework cost?
Bramework plans go from $9/month to $119/month, with 15% off if you go for an annual plan. There's no free tier but you can get a 7-day free trial with no credit card required.
Bramework writing sample
As an SEO, Bramework appealed to me because of its focus on SEO, so let's put it to the test.
Bramework is keyword-first, like Frase. Using its AI Writing Assistant tool, I gave it my keywords and it generated some titles. I chose one ("The Best AI Content Generator, Your New Best Friend"), and it generated an 'outline'. I clicked to generate a couple more and the third one was okay-ish:
I had to edit a lot of rubbish out – the recommended tools were clearly very outdated/irrelevant (Article Forge?!). I ended up with a decent introduction:
There are a number of content generator tools on the market that promise to help you create content that is both high quality and AI-driven. But which one is the best? And how do you know if they are actually living up to their claims?

In this article, I will compare three of the most popular AI content generators and see how they stack up against each other. I will also take a look at some of the features that make them unique and assess how easy they are to use.
Next, I added the heading "what is an AI content generator?" and Bramework came up with this definition:
An Ai content generator is a software application that helps users create and publish content on the web. This type of software can be used to create articles, blog posts, and other types of content. Some examples of popular Ai content generators are WordPress, Medium, and Google Docs.
Meh, not great. I wish WordPress generated content for me!
I wanted to get Bramework to review itself, but I had to feed it more words than just "Bramework review" as there's a 20-character minimum for generating a paragraph. Here's what it gave me:
Bramework review: is it worth it?

Bramework is a content generation tool that promises to help you create high-quality, engaging content. Is it worth it? We take a look.
It's a good meta description, but not what I wanted.
Finally, here's how Bramework deals with the heading "Bramework vs Frase Writer":
Frankly, it's unusable.
My verdict: 3/10
In its current state, Bramework doesn't generate usable AI written content in the way that other tools do. The editor interface is confusing and, while the focus on long-form content is nice, the tool doesn't deliver. I found it a lot easier to just use Rytr to generate paragraphs and then copy/paste them myself into my own document.
If Bramework wants to compete with the more popular tools out there in the future, it's going to need to improve its AI and make the interface a lot simpler (i.e. enter your keyword, title and headings and click to generate an article or section).
Since it's a relatively new tool, it might improve in the future, but in its current state, I do not recommend using it.
Final Verdict: Which is the best AI content generator?
| Tool | Users | Languages | AI | Price | My Verdict |
| --- | --- | --- | --- | --- | --- |
| Rytr | 750,000 | English + 35 more | GPT-3 | From free | 8/10 |
| CopyAI | 500,000 | English + 24 more | GPT-3 | From free | 6/10 |
| Jasper | 50,000 | English + 23 more | GPT-3 | From $29 | 7/10 |
| Frase | 30,000 | English only | Frase NLG | From $19.99 (+ $35) | 5/10 |
| Bramework | 1,000 | English only | GPT-3 | From $9 | 3/10 |
I went into this review expecting to hate every tool I tried, but overall I was impressed by just how far some AI writing software has come since I last took a look a few years ago.
Based on my tests, Rytr is the best content generator and a clear winner in terms of price, features, and writing quality. It works in the most languages, and the interface is the cleanest, simplest, and fastest to use of all those I tested.
Rytr is a also great free AI writing tool if you stick to the basic plan and only need 1000/words a month. What more do you want?!
AI Content Writer FAQs
What is GPT-3?
GPT-3 is a machine learning model that stands for Generative Pre-trained Transformer 3. GPT-3 has a neural network of 175 billion parameters, making it the largest in existence.
GPT-3 was created in 2020 by OpenAI, a San Fransisco-based research company co-founded in 2015 by Elon Musk. GPT-3 is exclusively licensed by Microsoft.
How does AI generate content?
An AI, like GPT-3 for example, generates content by being trained on a dataset, i.e. millions of web pages or blog posts. It learns patterns and reproduces original content that follows the same patterns.
Can AI create original content?
AI-generated text is typically created by an algorithm that learns from data and then applies that knowledge to new data. This means that the AI can create content that is original, but it will never be the same as human-generated text.
The above definition was written by AI (!) using Rytr. According to a Google search, it is unique!
Can AI content replace human writers?
No! There are many use cases of AI writing tool. One of them is generating content ideas at scale. This is especially useful when the copywriter needs help with writer's block or when they need to produce a lot of content in a short period of time. Another use case is finding synonyms and generating sentences so that the copywriter does not have to do it themselves.