A few weeks ago I wrote about the domain purchase of Vacation.Rentals for $500,300, and why I thought the new owner's SEO plan, to rank the site for the exact match term "Vacation Rentals" was a long-shot, to say the least.
Well, I might have to eat my words, because I just read an update on Domain Name Wire that Vacation.Rentals is now ranking Page 1 for their desired keyword. Color me impressed/confused.
Turns out, I wasn't the only person who was more than a bit skeptical about the potential of Vacation.Rentals. Michael Kugler, the site's owner replied to a blog post on another site with the following comment:
And for people saying it will have no impact on search engines, let me state this – you are wrong, period. I have irrefutable proof that it is working.
Fighting talk.
Naturally, I was inspired to put on my Sherlock Holmes hat and run some analysis on Vacation.Rentals to see how this brand new site (first registered on 4th December 2017, site live in mid-March ) with very little content was managing to rank for a 175,000 monthly search volume term, competing with the likes of AirBnB and HomeAway.
Here's what I learned.
Some stats about Vacation.Rentals
Before I delve into the backlink profile, I like to know the basic site setup.
Design: The site still looks the same as it did when I first reviewed it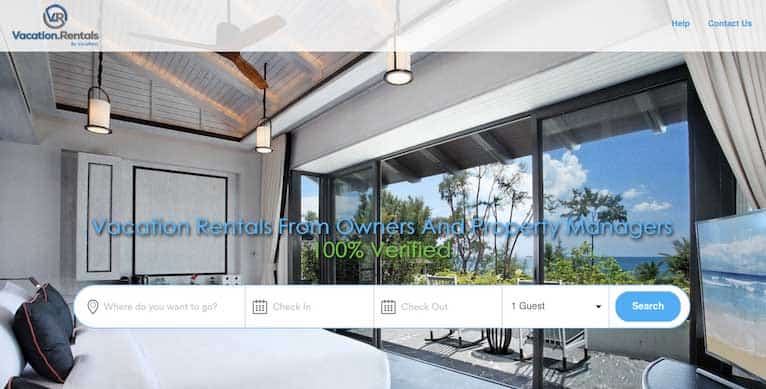 Hosting: InMotion Hosting
Site built with: Lavarel, a PHP framework
SSL: COMODO certificate, no ownership information supplied
Indexed Pages: 112
Content: Very thin. I can't find a page with more than few hundred words on it.
Natural (and unnatural) backlinks
Disclaimer: I am reporting on the partial backlink profile of a website using data made available by third party tools. My commentary is on the links themselves, and I have no way of knowing if they were built by the owners of Vacation.Rentals or other parties (either knowingly or not).
Anyone who's tried to SEO a new (less than 6 month old) site in the last few years has probably learned to go easy on the backlinks, especially the blacker hat ones. However, Vacation.Rentals appears to have taken a different approach.
As I covered in my cryptocurrency SEO case study, there's evidence of a part of Google's algorithm that makes allowances for faster backlink acquisition if your site gets viral traffic (for example, after being covered in the news or getting a lot of social buzz). Thanks to its high acquisition cost, Vacation.Rentals definitely had potential to trigger this viral ranking button on the back of the press it got from the domain industry.
Here are some of the natural dofollow backlinks Vacation.Rentals picked up from the domain sale:
I edited the list to show the domain-related links. There are also nice links from the Donuts blog (the registrar that sold the domain), another other smaller blog sites (like this one, haha!).
But we're not talking front page news here, so how can these modest backlinks power a Page 1 result for a competitive term like "Vacation Rentals"? I'm not sure they can.
Enter, the blog comments.
There are good blog comments and bad blog comments. A good blog comment would be the kind that Michael made on the aforementioned blog post about his purchase, with a link back to Vacation.Rentals of course. The blackhat kind would be on an .EDU blog post unrelated to your niche with 200 outbound links from spammy sites on it.
Like this:
I'm not going to list the sites all these links are from, but it's not hard to find them if you're curious. You'll see sites with a ridiculous number of comments, like this:
Of course, there's no way of knowing if these were made intentionally or not, or if they're working or being disavowed, but given that the links were built in February (before the sale of Vacation.Rentals was announced), I have a suspicion that somebody bought some dofollow comments…
I'm all for experimenting with SEO, but frankly I wouldn't risk such blackhat backlinking on a site I paid $500,300 for, because getting a Google penalty could sink my investment.
Anchor text free pass
Here's the main benefit of having an exact match domain (EMD) when doing SEO – a free pass to do a ton of exact match anchor text link building!
As you can see from the anchor text profile of Vacation.Rentals, a huge percentage of links have been built using the naked URL as anchor text. It's standard practice these days, and Google's unlikely to penalize it.
Does this change when you have an new TLD that negates the .COM? I see this as a huge benefit. Obviously if you own VacationRentals.com, you can build a lot of links with the anchor "Vacation Rentals" as it's also your brand, but with the new TLD, naked homepage links are basically exact match keywords. It seems to be working well so far, but is unlikely to help the site rank for longer tail terms, like the location-specific ones it is attempting (e.g. "california vacation rentals").
Maybe "Vacation Rentals" is not such a competitive term
I began to wonder, if a new website can rank on Page 1 after 6 weeks with a few natural backlinks, a few unnatural backlinks and very thin content, maybe the keyword is not that competitive.
KWFinder.com gives "Vacation Rentals" a difficulty score of 69/100, which it labels as "hard". Still, it's not "very hard" or "impossible", so I had a look at the competition.

If you look at the top 4 results, the LPS (link profile score, assigned by KWFinder) scores are rock-solid. Each ranking domain, and the actual ranking URL, has lots of link juice flowing to it. But compare that to results 10 to 15 (screenshot above); pages rank for "Vacation Rentals" with few or no links. URLs with LPS scores of under 30 are ranking.
What does that tell us? That ranking for "Vacation Rentals" at the bottom of Page 1 or Page 2 is not that hard.
According to SEMRush, Vacation.Rentals is currently at position 7 for its desired search term, but of course that's subject to change and will depend on where the searcher is located etc. For example, KWFinder does not list it as ranking, but I ran a search myself and saw it at number 7 too:

As any SEO will know, Page 1 results sound nice but in terms of CTR and traffic, it's top 3 or nothing. I highly doubt Vacation.Rentals can shake the top 4 results given its current content and backlink profile.
Is Vacation.Rentals worth $500,300 now?
Was I wrong about Vacation.Rentals?
Yes and no. I will definitely eat my hat and say that I am surprised Vacation.Rentals made it to Page 1 for its main keyword after 6 weeks. I really am. However, I think many of my original points are still valid (and there's a canyon between the bottom and top half of page 1!):
Focusing on a single keyword is a huge mistake (read my original post. TL;DR – longtail brings more traffic and search intent is better for conversions)
The real valuable keywords in the vacation niche are location-specific (e.g. vacation rentals california) and will require a huge investment in content/outreach in order to rank (an EMD is not helping with that)
Site design and UX should not be overlooked, for both SEO and conversion benefits
A generic domain name loses branding potential and recognition, especially one that has a similar .COM counterpart (vacationrentals.com)
I maintain that investing $500,290 (+ $10 is for domain name!) into content and outreach would provide far greater returns in the mid- to long-term than an exact match domain ever could.
Nevertheless, Vacation.Rentals is generating organic traffic (around 10k visitors a month so far, according to SEMRush), and that will continue to grow as they add more content to the site.
I will admit that the exact match domain name has provided a head-start with ranking. But SEO is not a sprint, and while the hare might appear to be ahead at the moment, that tortoise with a $10 domain has plenty of time to get to the finish line first.