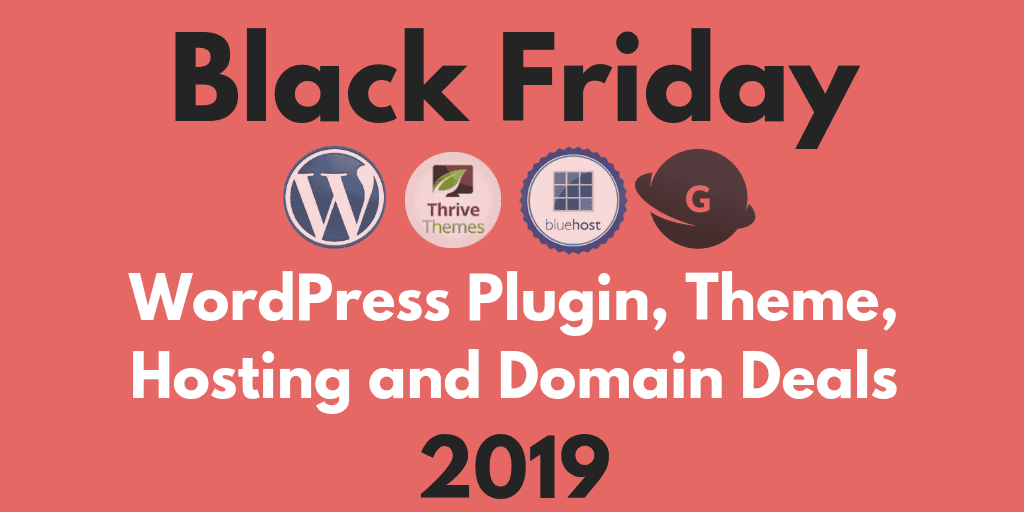 It's that time of year again… the most wonderful time of the year. No, not Christmas. It's Black Friday!
While shoppers go crazy in the big box stores, we can sit back and snap up digital products like WordPress themes, WordPress plugins, website hosting and domain name registration at massive discounts during Black Friday and Cyber Monday sales.
When do Black Friday and Cyber Monday sales start?
Black Friday is on Friday 29th November 2019. Cyber Monday is on Monday 2nd December 2019.
Black Friday and Cyber Monday are falling late this year.
But don't be fooled by those dates – often Black Friday deals on WordPress themes, plugins, hosting and domain names often start much sooner.
How to use this guide
We're working overtime to scour the web and report back on the best WordPress theme and plugin deals, cheap domain name bargains and awesome hosting deals. We'll keep it updated before and during the sales to make sure every deal you find here is available.
If you find a great deal you think we've missed, drop me a DM on Twitter @tomtheseoguy.
We've sorted the offers into categories:
WordPress Plugins
WordPress Themes
Website Hosting
Domain Name Registration
SEO Tools
We'll also note the top Black Friday and Cyber Monday deals in the "Best Deals" section below.
Deals are sorted by discount size where possible; affiliate links are used when available, at no extra cost to you. Thanks for the support!
Best Black Friday 2019 Deals
We'll update this space soon – check back soon.
Black Friday WordPress Plugin Deals 2019
35% off all licenses from 20th to 27th November.
25% off all licenses.
note: I just grabbed this deal!
30% off all licenses
Coupon Code: BLACKWEEKEND2018
Valid from Friday, 23th November 2018 (from 00:00)
Valid until Monday, 26th November 2018 (until 23:59)
25% off with code BLACKFRIDAY
50% off all licenses, automatically applied.
60% off with code BF2018.
Lifetime plugin deal: $99. Available November 20th to 26th.
50% off everything until Tuesday 27th November 2018.
Use code BOOM50
Black Friday WordPress Theme Discounts 2019
$99.47 membership bundle. Offer valid from Monday 19th November until midnight (EST) 24th November 2018.
Thrive is donating 50% of revenue from membership sales to Kiva.org as part of Black UnFriday.
Biggest discount of the year promised. Launching 23rd November 2018.
25% discount expected.
20% off all themes until 30th November with this link.
30% off new membership and agency plans between 23rd and 26th November 2018.
90% off with code BLACKFRIDAY90 until 27th November 2018.
Black Friday Hosting Deals 2019
30% off for 3 months.
Use coupon code BFCM18 when signing up through this link.
20% off all plans until 30th November with this link.
35% off with coupon code cyberwpe2018 between Thursday 22nd and Monday 26th November 2018.
$2.65/month hosting until November 26th.
Up to 97% off hosting. Play Namecheap's Game of Deals from Friday 23rd November.
Up to 90% off hosting. Starts Monday 26th November.
Black Friday Domain Name Deals 2019
$6.99 .COM registrations, save an additional 10% with code SAVE10.
Up to 98% off domain registrations (incl. .COM). Play Namecheap's Game of Deals from Friday 23rd November.
$0.88 domain registrations here.
Black Friday SEO Deals
30% off annual plans with code blackfriday2018
Lifetime 30% discount on all plans. No code needed.
40% off everything with coupon BF40.